After the carnage in the MotoGP Free Practice session three prior to the Moto2 class making their way out for their final practice session, the 600cc class seemed almost dull in comparison. The sun was out but temperatures were still cool at MotorLand Aragon, however three was plenty of action as Estrella Galicia 0,0 Marc VDS rider Alex Marquez became the fastest man ahead of Qualifying where Sam Lowes (Federal Oil Gresini Moto2) claimed pole.
Rins struggling in Aragon
Within moments of the session getting underway, Paginas Amarillas HP 40 rider Alex Rins had a close call as he ran off after missing the braking point at one of the left-handed turns. The track is run anti-clockwise, and is predominantly made up of left-handed turns so it is the right hand side of the tyre where riders will find it will be harder to retain heat.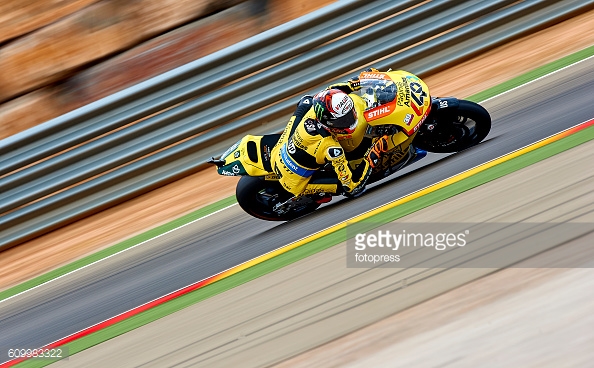 Straight away, riders made improvements on their times from day one. Sam Lowes (Federal Oil Gresini Moto2), Estrella Galicia 0,0 Marc VDS teammates Marquez and Franco Morbidelli were all improving instantly with the Italian's time 1:54.529 becoming the time to beat for a short while.
Turn one is a harsh corner on the front end
The riders were again seen struggling as they braked into turn one. The front tyre is under a lot of stress as the riders do what they can to control the bike as the rear end lifts and tries to get out of shape as they enter the turn at the end of the start-finish straight.
Simon and Cortese crash out at beginning of the circuit
Just 13 minutes into the session came the first crash as Julian Simon (QMMF Racing) came off at turn two when the front end tucked and his bike slid out; he was unhurt and got straight back up to his feet. Moments later Sandro Cortese (Dynavolt Intact GP) came off at turn three when the front end of his bike did the same and the bike slid onto the long tarmac run-off area. Both the rider and bike slid but Cortese was also unhurt.
Folger foes top
Dynavolt Intact GP rider Jonas Folger went to the top of the timesheets midway throught he session as he was able to improve the fastest time by 0.252 seconds. His lead did not last long as Johann Zarco (Ajo Motorsport) took over as he improved on Folger's time by just 0.21 seconds.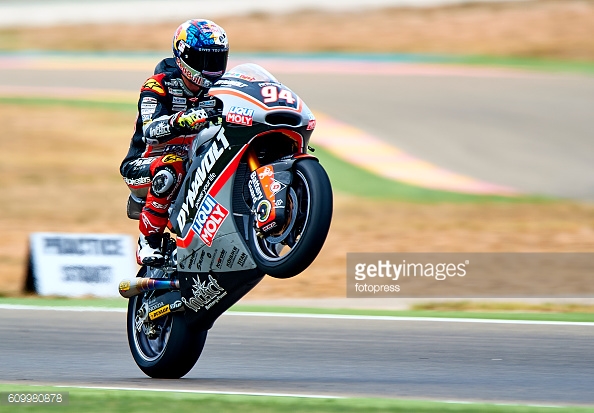 Kent off at turn two
More crashes followed as Danny Kent (Leopard Racing) came off at turn two with two minutes remaining. Kent appeared unhurt as he returned to the pits without his bike. With six minutes remaining Luca Marini (Forward Racing) crashed at the same corner when the front tucked under. He was thrown over which caused his airbags to go off, and then he slid into the gravel. Marshals were able to get him going again.
Marquez affords teaching lessons to Rins
In the closing stages of Free Practice3, Marquez returned to the top of the timesheet as he set a quick lap of 1:53.340. He could have improved again but he aborted the end of his lap and decided to let Paginas Amarillas HP 40 rider Alex Rins past; it may have been an attempt to prevent the Spanish rider from following him and learning from him.
Unfortunately Rins though, who has struggled so far at Aragon, he crashed heading into turn two when he tucked the front. Rins looked terribly frustrated as it was the end of the session when he made the mistake.
Marquez quickest at end of Moto2 Free Practice
It was Marquez who was quickest at the end of the final Free Practice session for the Moto2; Zarco was second quickest ahead of Lowes, Folger and Takaaki Nakagami (IDEMITSU Honda Team Asia) who made up the top five runners.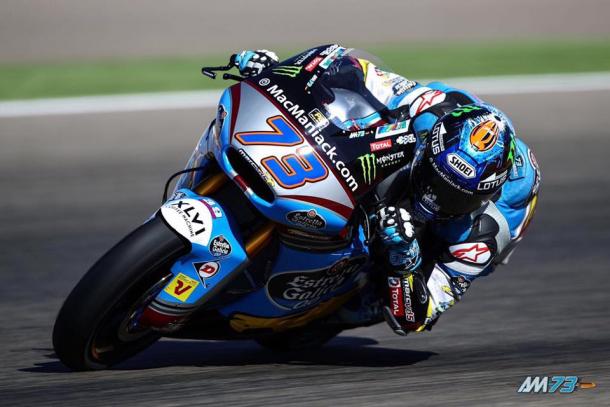 Folger takes the lead in Qualifying
When Moto2 Qualifying got underway at Aragon it was Folger who took the lead early on with a time of 1:53.501. It was early days though and there were plenty of riders hungry for a front row start.
Morbidelli, who will lose a grid position as a penalty for the incident involving Miguel Oliveira (Leopard Racing) on day one which has left the Portuguese rider ruled out with a broken collarbone, looking angry as other riders were in his way as he tried to push.
Midway through the session Lorenzo Baldassarri, who won his first Moto2 in Misano last round, crashed his Forward Team Kalex at turn five. The front wheel tucked and he fell off, but then the bike ran over him. He came to a halt but his bike continued on into the gravel. He appeared unhurt.
Watch out for Lowes
Marquez regained the lead with 20 minutes to go with a time of 1:53.261. Nakagami made his way up to second moments later. But then Lowes started his surge.
With 12 minutes remaining Lowes was on pace but the rear end slid (more than usual) when he came over the crest of the hill which spoilt his momentum and lost him time so he went up to fourth on the timesheet instead. His next lap allowed him to improve to second as he came within 0.026 seconds of Marquez's time.
It turned out to be third time lucky for Lowes as he lapped the next time at 1:53.207 which claimed him pole position. He returned to the pits where he looked like he was fuming as he demonstrated issues with the front end to his team; he returned to the track after a little minute.
Marquez shot out of the pits
Instantly, when Marquez who was sat in his pits, seen Lowes go top, he jumped up out of his seat and then left the garage in an attempt to reclaim pole in the closing stages. However, it did not go to plan as he had to bail on a lap at the corkscrew and used the slip-road to avoid the gravel when he returned to track.
A few minutes later after the flag had gone out the last crash of the day came from Xavi Vierge at the same spot. He had completed the right hand turn and as he flipped the bike over to make the left hand turn down the hill the front tucked under and he slid off. Luckily the gravel trap 'did its job' and prevented both the rider and the bike from re-entering the track in front of oncoming riders.
Lowes on pole ahead of the Moto2 race at the Gran Premio Movistar de Aragon
Lowes claimed pole ahead of the Gran Premio Movistar de Aragon Moto2 race in Spain. He will be joined on the front row by Marquez and Nakagami. Folger will start the race in fourth ahead of Zarco and Baldassarri. Morbidelli heads the third row ahead of Luthi and Axel Pons. Mattia Pasini (Italtrans Racing Team) starts from tenth ahead of the fastest Speed Up rider Simone Corsi (Speed Up Racing) and Petronas Raceline Malaysia rider Hafitzh Syahrin in 12th.
After struggling all weekend, Rins could only salvage 13th on the grid, ahead of Cortese and Simon, who both also crashed on day two. Marcel Schrotter (AGR Team) will start from 16th ahead of Xavier Simeon (QMMF Racing) and wildcard Steven Odendaal riding for the AGR Team and starting from the back of the sixth row.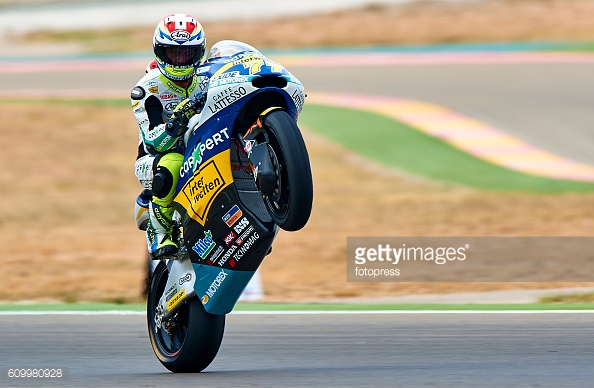 Dominique Aegerter (CarXpert Interwetten) returns to Aragon from injury and will start from 19th ahead of Vierge, wildcard rider Tetsuta Nagashima (Ajo motorsport Academy) and Raffin in 22nd. Edgar Pons (Paginas Amarillas HP 40) will start from 23rd ahead of Robin Mulhauser (Car Xpert Interwetten), and Remy Gardner (Tasca Racing Scuderia Moto2) who is moving to Tech 3 Racing next year (Simeon will replace him).
Wildcard Alan Techer (NTS T Pro Project) will start from 26th on the grid ahead of Marini, Kent, Ratthapart Wilairot (Idemitsu Honda Team Asia) and Isaac Vinales (Tech 3 Racing) who completes the grid in 30th position as Oliveira is ruled out with his broken collarbone.