As Repsol Honda rider Marc Marquez pursues the 2016 MotoGP Championship title, he has dominated at MotorLand Aragon so far this weekend and has secured his sixth pole position of the season in an attempt to help secure it.
Marquez has dominated so far at Aragon
The Spanish rider was fastest at the third Spanish circuit that the MotoGP class have visited so far this year, during Free Practice 1, and was a very close second at the end of day one as his teammate just pipped him to the top spot.
But on day two of the meeting in Aragon he was at least 0.8 seconds quicker than anyone in FP3 and FP4 and then qualified 0.631 seconds quicker than anyone ahead of the race; despite being involved in a scary crash early on the day.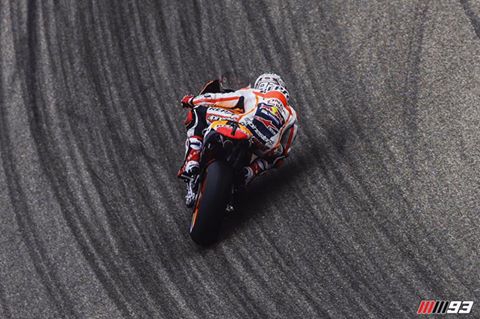 Marquez crashed into Espargaro who nearly hit Hayden and the Marshals
Marquez replicated the crash that involved Pol Espargaro (Monster Tech 3 Yamaha) and Danilo Petrucci (Octo Pramac Yakhnich Ducati); Pol came off at turn 2 and his bike hit Petrucci was not expecting a bike to come flying at him as he entered the pits.
Later on at the same term, Nicky Hayden had just tucked the front of Jack Miller's Estrella Galicia 0,0 Marc VDS Honda, and slid down the slip road. As Hayden and the Marshals were picking it up, Marquez tucked the front on his Honda which then hit Pol Espargaro as he left the pits.
Marquez's bike came to a halt on the slip road, but then Pol's continued sliding towards the previous incident, and everyone had to bail and drop the bike to avoid being hit.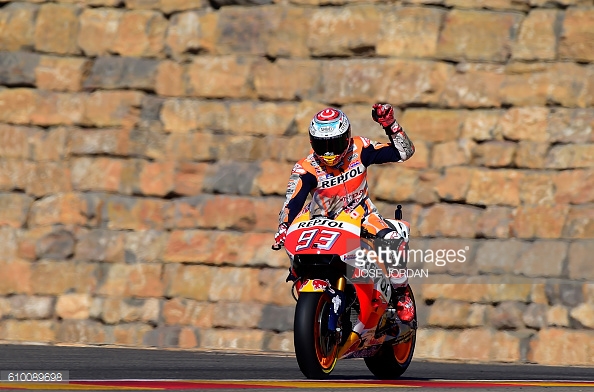 Big achievement for Marquez
Marquez returned from the pits on his second bike fitted with a hard front Michelin tyre again but he was unable to improve on his flying lap that secured him pole position during qualifying earlier on. What is his sixth pole this season, is also the 26th in the MotoGP, and the 64th in his entire Grand Prix career!
Great setup on the Repsol Honda
Marquez was "very happy with how the day went" and was "especially" happy with "the pace" he had in FP4 which he felt was "very good". He said that his team today "found a good setup for the bike" which meant he was "able to improve on yesterday". However he did say, "It was a shame about the crash this morning."
He spoke of how he was "very comfortable" on his first lap of qualifying, a time when he thinks "the tyre has its maximum potential". He said that he "also pushed" on his second limit but was "not as clost to the limit". He found that the increase in temperature on day two meant they were "able to work very well with the front end".
Marquez worried about the weather
He is hoping that "the good weather continues tomorrow" as he thinks that "if it gets colder" that they will have to "reassess the front tyre choice". However he said, "Regardless, I'm satisfied. Like every year, I feel very good at this track and I hope we can finish well on Sunday."