Movistar Yamaha rider Jorge Lorenzo has made it an all Spanish front row ahead of the Gran Premio Movistar de Aragon; the 14th round of the 2016 MotoGP season in Spain. The 2015 MotoGP champion left it until the very end of the main qualifying session to complete a quick enough lap to secure him third on the grid.
Great start needed to take on Marquez
Lorenzo's time of 1:47.778 was just 0.03 seconds slower than the time Maverick Vinales (Team Suzuki Ecstar) set to secure second on the grid, however Marc Marquez's qualifying time on his Repsol Honda was 0.661 seconds quicker than Lorenzo, so if the Spaniard wants to challenge for the win, he will certainly have his work cut out.
Qualifying strategy paid off for Lorenzo
Lorenzo was one of the last riders to make his way onto the track towards the end of the qualifying session in an attempt to find a clear track and to get optimum use of his tyres. His first laps in the session left him seventh on the grid but then his next and final attempt led him to his quick lap which was enough to get him a front row start.
The Mallorcan rider spoke of how in the morning "with the soft tyre" he found that he was "competitive, just like yesterday" during Free Practice; he finished the day seventh overall after he set the fifth fastest time during FP1.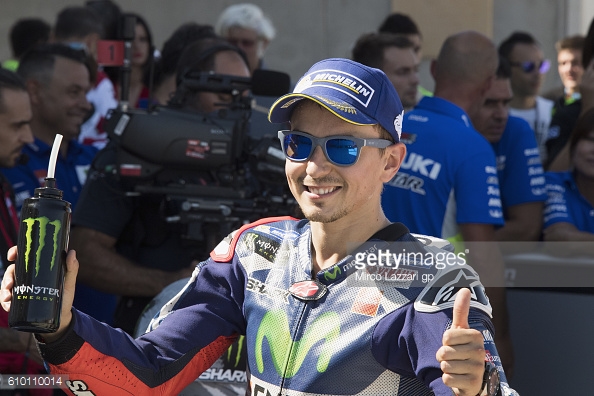 Lorenzo's main focus ahead of race is tyres
Talking about tyres they discovered that whet they used a "hard and hard combination on this bike", this mixed with his riding meant he was "too slow". He noticed the "other's don't suffer so much and can be competitive" and so he said that they "have to decide if tomorrow it's possible to use the soft rear tyre".
With the soft tyre option he feels they are "maybe not as fast as our main rival", which in this case is Marquez, but he said they "are OK". However he found "with the hard one" that things are "difficult" so he may see "if the soft tyre is the right option" because he said with the hard tyre "it looks like after 10 or 15 laps especially the right side is destroyed".
Lorenzo currently third in championship
Although, because of a lack of more desirable results, Lorenzo is out of the championship contention (not completely as it is still slightly possible). The Spaniard has won the Aragon GP the last two years on his M1 and a win could mean he is still within a chance of closing the gap between him and teammate Valentino Rossi (Movistar Yamaha) who recently took second from him.