As usual the Moto3 riders took a tactful approach to Qualifying ahead of the Gran Premio Movistar de Aragon where they will compete in the 4th round of the Moto2 season. Gresini Racing Moto3 rider Enea Bastianini claimed pole position; along with Moto2 rider Sam Lowes who took it in his class, it made it a double reason to celebrate for the Gresini Racing Team.
Bastianini in contention for the win at Aragon
Bastianini was very much in contention of winning in Aragon in 2015 only he got involved in a crash with current championship leader Brad Binder (Red Bull KTM Ajo), which was his fault, which meant they didn't finish the race. A win from Binder in Aragon could mean he has the championship wrapped up and Bastianini would have to settle for second at the most.
Third pole of the season for the Italian
Anyway, back to qualifying, during the last quarter of the session was when Bastianini completed his lap at a time of 1:58.293 which ended up being enough to claim his third pole so far this season. Normally, the pole position lap comes in the final 'time attack' at the end of the session but today that wasn't the case.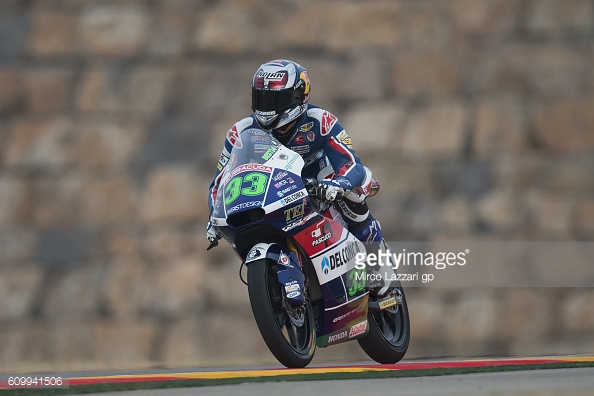 Luckily for the Italian, Brad Binder, whose pace was quick enough to steal it from him, had his final attempt at a flying lap spoiled as he and two other riders ran off into the tarmac run-off areas to avoid a crash. The flag had gone out and it was game over for Brad Binder who finished up in seventh on the grid.
Bastianini satisfied with everything so far at Aragon
Bastianini said he was "really satisfied" because after "yesterday and this morning's performance" he and his team had "hoped to take the pole position" however they "knew it would be difficult". But, he found that during the afternoons' qualifying session that the "feeling with the bike was immediately good" and that "as a result" of this, he was able to "make a very good lap".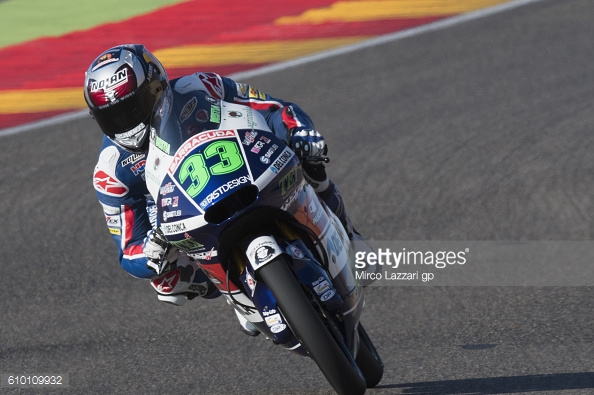 In order to achieve his lap he spoke of how he "took advantage of the slipstream" from another rider in front of him on the straight. He felt that in the final stages he could have tried to "improve further" as he was felt so good with the bike, but on his lap he described how when "trying to overtake another rider" that he was forced "to take a wider line" which is when he "lost grip at the rear on the exit of the corner".
Bastianini hoping to have fun during the race
Still he felt, "today everything went well" but he said that during the warm-up on race day they "still need to figure out" if they "have a good pace and not only the fastest lap". He said that they "managed to get a good grip and a good stability" and so hopes that if they "continue to work in the right direction" he will be able to "have fun tomorrow".