Conditions were much cooler than Qualifying as the MotoGP riders lined up on the grid for the Gran Premio Movistar de Aragon. Repsol Honda rider Marc Marquez was on pole for what he considers to be his home round and looking to extend his championship lead with a win. However he was joined by two other Spaniard's, Team Suzuki Ecstar rider Maverick Vinales and Movistar Yamaha rider Jorge Lorenzo also looking to do well at the 14th round of the season.
Lowes ruled out of the Aragon GP
Alex Lowes was meant to be completing his third round of the MotoGP in Aragon as he was brought in to replace injured Bradley Smith on the Monster Tech 3 Yamaha. Unfortunately for the British rider, he crashed out during Free Practice 3 at the fast turn 13. He was assisted off track by Marshals and taken to the medical centre where they gave him an X-Ray.
Lowes did not break any bones, but it had swelled significantly and there were contusions. He avoided participating during the rest of the day in order in order to try and be fit to race the following day but it was not possible and instead he flew home.
Marquez led into the first turn of the Aragon GP
It was Marquez who led into the first turn, but Lorenzo was determined not to let him get away and he ran around the outside of the Spaniard in the opening corners. Never to be underestimated, Vinales went up the inside of the two of them to take the lead.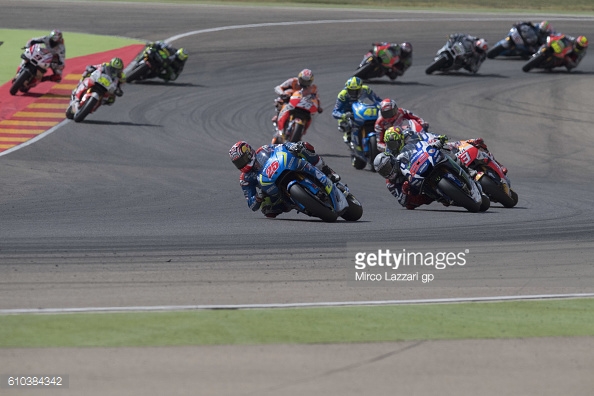 It was not for long though as Marquez made his way back to the front again, but he went wide again allowing Vinales to take the lead but this time Lorenzo was able to also sneak through. Marquez was in third ahead of Rossi.
Laverty runs off track at turn one
When the lights go out, the riders barely get into second gear on the short straight before the first turn where they have to brake heavily; it is a corner where the front end comes under immense pressure as the rear tends to lift up.
The majority of the riders got through cleanly, but unfortunately for Eugene Laverty, he was forced wide onto the tarmac run-off area on his Pull & Bear Aspar Ducati. Fortunately he stayed on the bike but he lost a lot of time.
Aggressive move from Marquez on Lorenzo
Meanwhile back at the front, Marquez stuffed it up the inside of Lorenzo at the tight left handed turn 15. Knowing the 2015 MotoGP champion doesn't like 'aggressive' moves (which aren't necessarily aggressive), Marquez waved to apologise to Lorenzo who may have been surprised by the move as he left him to fight off his teammate Valentino Rossi (Movistar Yamaha).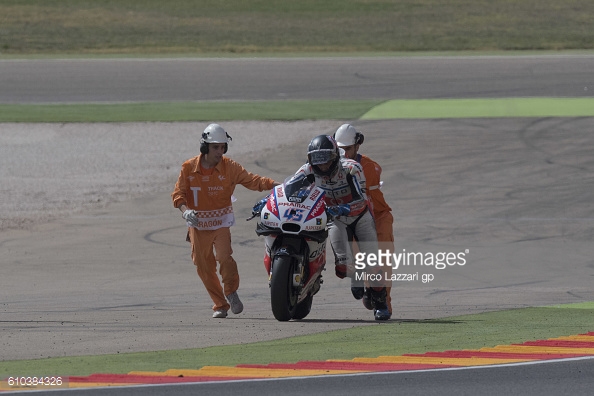 Petrux takes out his teammate causing the first crash of the race
An incident between Octo Pramac Yakhnich Ducati teammates Scott Redding and Danilo Petrucci led to Redding crashing out at turn 12. As a result, Race Direction penalised the Italian and he had a drive-through penalty awarded him which just added to the misfortune he experienced all weekend.
Vinales leads in Aragon
As they crossed the line to start the second lap it was Vinales who led ahead of Marquez, Lorenzo and his teammate in fourth. Behind him Ducati Team rider Andrea Dovizioso was in fifth ahead of Aleix Espargaro (Team Suzuki Ecstar), Dani Pedrosa (Repsol Honda) and Cal Crutchlow (LCR Honda).
Making the same move he had done previously to Lorenzo at Turn 15, Marquez took the lead from Vinales however the Spanish rider put up a good fight back in an attempt to regain the lead. Behind him Lorenzo went wide but retained third as Crutchlow set the fastest lap.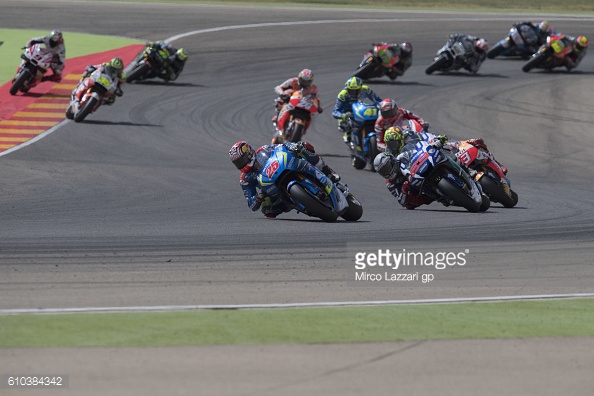 Marquez loses four places
On lap three Marquez was leading before he went wide and in the process lost four places. Vinales now led ahead of Vinales, Lorenzo, Rossi and Dovizioso who had managed to get through.
He had run into the corner too hot, the front tucked and he saved it with his knee; Rossi almost clipped the back of them as he went past. Dovizioso made an attempt to pass Rossi on the start-finish straight as they started the next lap but Rossi out-braked him as Vinales began to pull away at the front.
Dovizioso then went wide on lap five allowing Marquez to close in while Rossi was all over the back of Lorenzo, who had a totally different line to his teammate. When they came to turn 15, Marquez did his 'favourite' move for the third time this time on Dovizioso who immediately retaliated but had to give up the place to the Spaniard.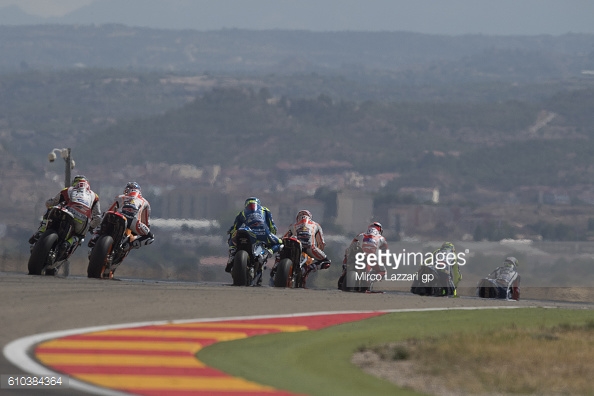 Rossi overtakes his teammate
As they approached turn one of lap six, Rossi got past Lorenzo with a smooth, clean pass. He had just set the fastest lap of the race so far. Meanwhile Dovizioso lost another place to Aleix Espargaro who was running well on the nimble Suzuki, and who was now in fourth.
As Petrucci completed his ride-through penalty that took him out of 11th place, Rossi was closing in on Vinales; Rossi definitely had the pace to pass him as the two completed different lines.
Marquez teaches Lorenzo the same lesson a second time
As they approached turn 15, and after already practicing the move earlier in the race, Marquez passed Lorenzo on the inside to claim third from the fellow Spaniard. Rossi was lining up a move on Vinales at the front ahead of them but decided not to overtake heading in to Turn 1.
Rossi had to pass him soon as Marquez was closing in on him. Although Rossi was all over Vinales, the Spanish Suzuki rider wanted to win after getting the taste of it when he won in Silverstone.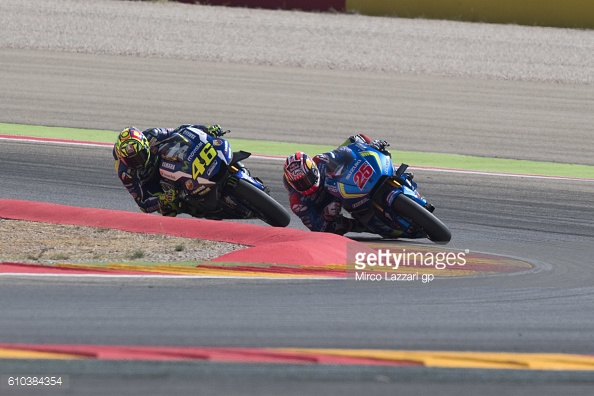 Rossi takes the lead at Aragon
Towards the start of lap 15 Rossi was able to overtake Vinales on the inside of an early left hand corner in the lap. Vinales sat behind Rossi trying to stop the nine times world champion from breaking away. But he was too close at one point, after they came down the start-finish straight to begin the tenth lap, Vinales as to bail as they entered turn one and ran off into the run off area.
He stayed second but it allowed Marquez to close right up and he was able to take advantage within the next few corners; it was not long before he was within half a second of leader Rossi. Lorenzo now became Vinales' problem and it was not long before the Yamaha rider overtook him.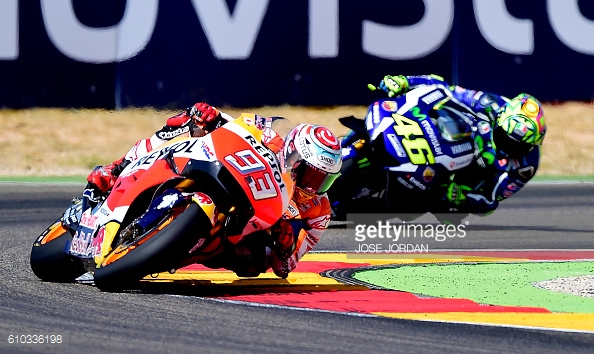 Rossi goes wide allowing Marquez through to take the lead
Marquez worked on closing the gap for the lead, and within two laps he was sat comfortably about 0.2 seconds behind Rossi. This is when Rossi went wide which allowed Marquez to overtake him again at turn 15; it was turning out to be quite a lucky corner for the Spaniard. His tyre choice was paying off; he had opted for the hard compound front and rear Michelins where Rossi and Lorenzo had both opted for the medium front.
Unwilling to miss out on a podium, Vinales was right on the back of Lorenzo's M1, as was Rossi with Marquez. As they made their way through the corkscrew on lap 15 Vinales nearly came into contact with Lorenzo.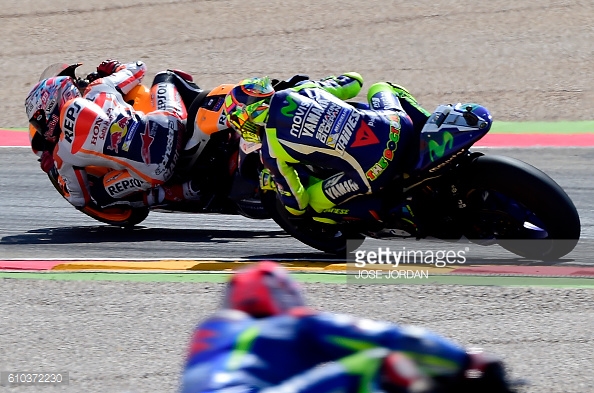 The Hondas bypass Aleix Espargaro
While all this was going on Pedrosa was getting ever so close to the back of Aleix Espargaro and looked set to pounce at any time. Eventually he got past him, as did Crutchlow. Entering turn one of lap 17, Crutchlow was able to overtake Pedrosa to become the second highest placed Honda rider on track. The distractions allowed Aleix to catch back up to Pedrosa.
Further down the field, Dovizioso appeared to be going backwards as he was dropping slightly down the rankings. Pol Espargaro (Monster Tech 3 Yamaha) managed to overtake him towards the end of the lap, and the Ducati Team rider was starting to come under pressure from the Aprilia Racing Team Gresini duo of Alvaro Bautista and Stefan Bradl.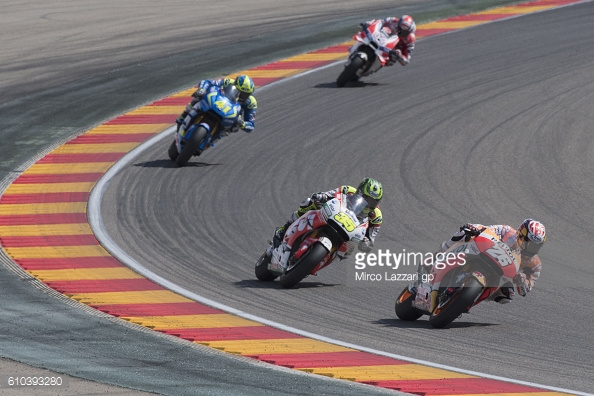 Marquez began to break away
As Marquez began to break away and extend a lead of approximately 2.5 seconds, Lorenzo had closed in on Rossi and was looking to pass at any moment. Unfortunately for Vinales, his tyres had gone and at one point he ran wide; the Spaniard had to do what he could to remain in fourth until the end of the race.
Rabat has second crash of the day
Unfortunately for Tito Rabat (Estrella Galicia 0,0 Marc VDS), he crashed out at turn five on lap 17. He was unhurt but was forced to retire from the race. It was his second crash of the day as he also fell off at turn 2 in the morning warm-up session.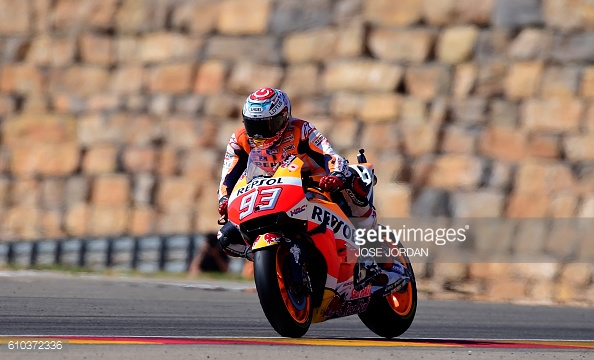 Lorenzo takes second from his teammate
With five laps remaining Lorenzo made his first attempt to pass his Italian teammate on the start-finish straight but Rossi out-braked him heading into turn one. Lorenzo was able to pass him later on at the corkscrew though as they took to the left hander heading down the hill. Rossi looked as if he was going to snap back immediately. He chased him for as many laps as he could before his tyres went off and looked to be stronger in the first half of the lap; the grip just wasn't there for him.
As Marquez stretched his lead out to over three seconds, Rossi appeared as if he was stalking Lorenzo, watching him and figuring out when would be the best time to pass him to re-gain second position.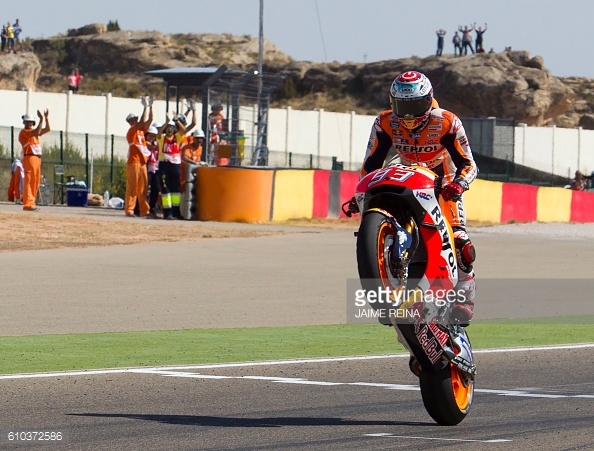 On the penultimate lap Rossi was as close as possible before he made his attack, he went for it, but missed his braking point and went wide. He ran off into the tarmac run off area and although he did not crash he lost so much time that Lorenzo was able to get away, and there was no way he could catch him by the end of the race.
Marquez wins the Aragon GP
It was race over, they completed the final lap without issues and Marquez went on to win his home round at the Gran Premio Movistar de Aragon. Lorenzo finished second and Rossi had to settle for the last spot on the podium in third. Vinales took fourth ahead of Crutchlow who remained the second fastest Honda and was the top independent team rider again.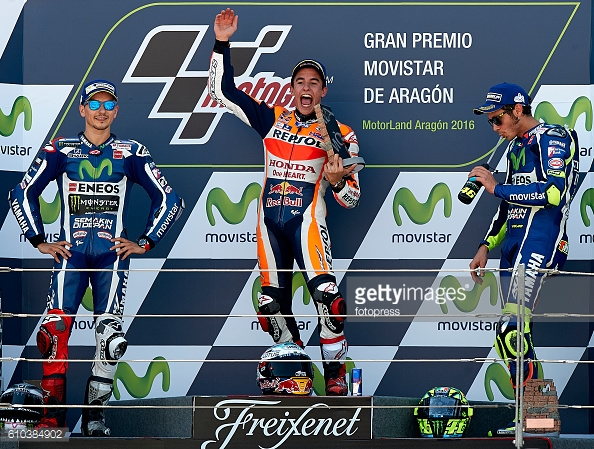 A last minute battle took place between Aleix Espargaro and Pedrosa; it was the Repsol Honda rider who came out on top and he took sixth leaving Aleix in seventh ahead of his brother Pol in eighth. Bautista and Bradl collected brilliant results in Aragon finishing behind them and completing the top 10.
Wildcard Pirro finishes in 11th
Dovizioso was 11th ahead of Michele Pirro who became a last minute stand in on day two of the meeting as Andrea Iannone declared himself unfit to ride the factory Ducati after breaking his vertebrae in the previous round at Misano.
Despite running off track at the first turn of the race, Pull & Bear Aspar MotoGP Ducati rider Laverty recovered and made his way up to 13th ahead of Avintia Ducati rider Hector Barbera. Experience paid off for former MotoGP star Nicky Hayden who was replacing injured Jack Miller on the Estrella Galicia 0,0 Marc VDS Honda. A great ride from the American World Superbike Honda rider saw him finish in the points collecting the last one available in 15th.
Yonny Hernandez (Pull & Bear Aspar MotoGP) was 16th ahead of Petrucci who finished in 17th after his ride through penalty. Injured Loris Baz (Avintia Ducati) was 18th and Redding, who returned to the track after his crash and continued with the race, completed the field in 19th.