Repsol Honda rider Marc Marquez was set to start his home round of the MotoGP season at MotorLand Aragon after he set a fantastic pole lap time in the heat which was 0.6 seconds quicker than anyone else that day.
Marquez in third after opening corners
The Spaniard got a great start, but immediately came under attack from his competitors who were determined that he was not going to break away. He fought back and after being forced down to third he acted quickly to try and recover.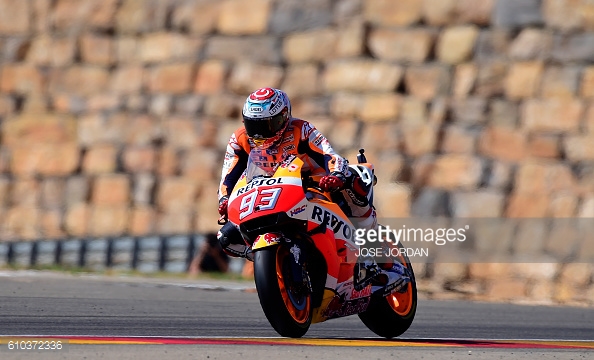 Movistar Yamaha rider Jorge Lorenzo was his first target, he made an aggressive yet effective move on the 2015 MotoGP champion, stuffing his Honda up the inside of him on the sharp left handed turn 15; he later waved to apologise to him.
On the next lap, he did the same to race leader Team Suzuki Ecstar rider Maverick Vinales, at the exact same spot only a bit less aggressive this time. This corner was definitely going to prove significant and favourable to the Spanish rider.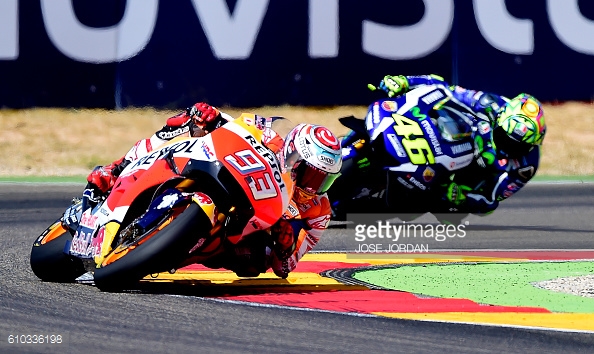 Marquez takes the lead but not for long
Marquez now led but then on the third lap he ran wide and subsequently lost four positions on track to Vinales, Lorenzo, Movistar Yamaha rider Valentino Rossi and Ducati Team rider Andrea Dovizioso. The front tucked under on him on turn seven and he nearly went, but was able to save it with his knee; Rossi narrowly avoided making contact with him in the meantime.
The race wasn't decided though as he had opted for the hard compound front and rear Michelin tyres that helped to produce the fast pole lap, and he they were about to get to their optimum performance ready for his attack.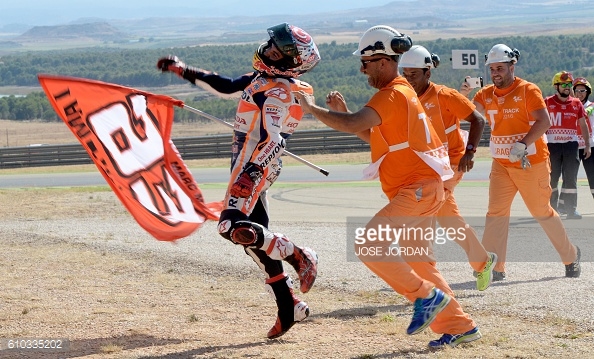 Marquez's recovery begins
After several failed attempts to pass Rossi, Dovizioso eventually made a mistake and went wide allowing Marquez to close in, Rossi focused on overtaking his teammate as Marquez made his move at his favourite turn on lap five. He was now fourth and just two laps later, he passed Lorenzo for the second time in the same spot after setting the fastest lap so far.
Rossi appeared to be getting held up by Vinales who was leading. The gap between Rossi was becoming smaller and smaller as Rossi couldn't figure out a way past. On the ninth lap Rossi took the lead, it seemed Vinales' tyres had started to go off and he went wide at turn one after having to bail on a move he was attempting on the Italian. Vinales stayed in second momentarily but Marquez took full advantage and overtook Vinales moments later.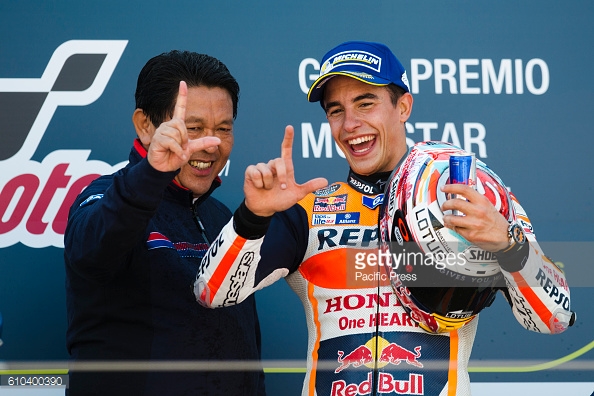 Marquez takes the lead and vital championship points from Rossi
The next few laps Marquez spent reducing the gap between him and now race leader Rossi. He kept it at approximately 0.3 seconds until he saw Rossi go wide; Marquez again gained from this advantage immediately and overtook him again at Turn 15.
Marquez was now in the front and although Rossi was able to apply pressure to him for several laps, he soon began to lose grip in his tyres and then had to battle with his teammate Lorenzo for second instead.
Marquez went on to win the race with over a three second lead; it is the first time in years that he has been successful on home turf. He managed to extend his championship lead against Rossi, undoing the progress the Italian had made in the fight during the previous round in Misano. He is now on 248 points, 54 ahead of Rossi in second on 196 points.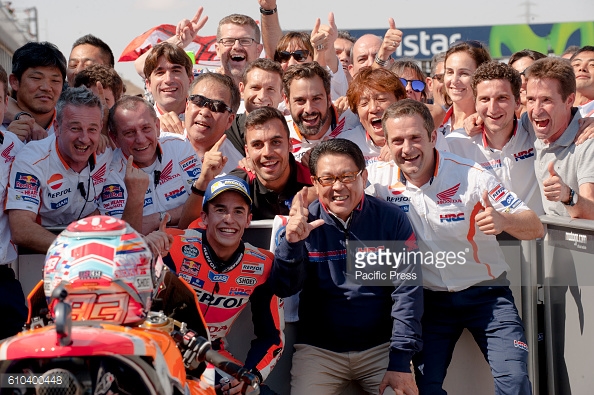 Spaniard happy to win at home
Marquez was "very happy to have taken the win at a home Grand Prix" and said the Aragon GP was one of his "favourite races". A race he had been "waiting for" and what he said was a "red point" on the calendar for him, he viewed the race as "one where [he] wanted to attack" and where he felt he "could win the race".
He described his win in Aragon as "an important victory" where the championship is concerned but noted that "nothing is finished yet". He is aware that "something can always happen in a race" and he also felt that it was a "miracle" that he "didn't crash today" as he spoke of how he "almost lost it in turn seven".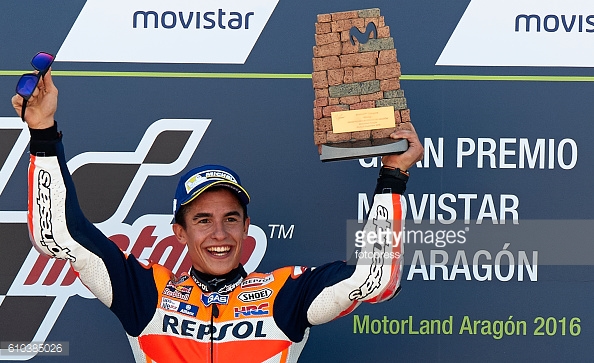 Marquez took a different approach
After this incident is when he "decided to relax a little" and he chose to return to his "mentality from practice of riding precisely and braking in the right places". He felt that "all this made for a more entertaining race" which included "many overtaking moves at the start" and the second part which was where he was able to "gap Valentino", a move he said "was important".
Speaking about the championship Marquez was aware of how Rossi "had gone several race gaining points" on his championship race and he "wanted to stop that trend" before it would "boost his morale" and then in turn "perhaps create doubt" for the Repsol Honda Team. He pointed out that they "now leave Aragon with a larger advantage and more convinced ahead of the flyaways".
Double success for the Marquez family
Speaking of the sentimentally of the Aragon podium, he said he "was very happy on the podium", however he found the "most emotional moment" for him on race day at MotorLand Aragon was when his brother "Alex scored his first Moto2 podium"; Marquez said, "That was really special for me!"