What a turn of form it has been for Movistar Yamaha rider Jorge Lorenzo, who after another Spanish round, not too far away from his home town of Mallorca, the current 2015 MotoGP champion secured second at the Gran Premio Movistar de Aragon despite crashing in the morning war-up session; in front of his current team's sponsors too.
Front row start for Lorenzo on home ground
Starting from the back of the front row after a late qualifying lap gained him third on the grid, Lorenzo made a great start and both he and Team Suzuki Ecstar rider Maverick Vinales were able to force their way past pole position man Marc Marquez on his Repsol Honda.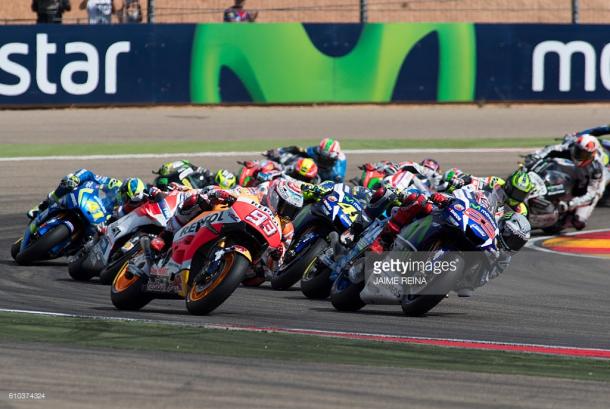 Lorenzo attempted to settle in second position at the beginning of the race pursuing Vinales for the lead when on lap two Marquez passed the Spaniard quite aggressively at turn 15. He was in third and becoming at risk to his teammate Valentino Rossi (Movistar Yamaha) who tucked him behind him on his M1.
Marquez crashed but recovered instantly
On lap three though, Marquez crashed, but in true Marquez style he also recovered it and was able to continue within the race. The front had tucked under at turn seven and luckily he stopped his Honda from sliding out with his knee; he did lose four places when he went wide though and that allowed Lorenzo to regain second position.
As Lorenzo continued in pursuit of Vinales, Marquez began his recovery by first overtaking Andrea Dovizioso (Ducati Team). This pressure that Rossi was under, led to the Italian overtaking his teammate at turn one of the sixth lap. On the next lap, Lorenzo came under attack from Marquez who overtook him in the exact same spot as he did previously. It worked the first time so why not?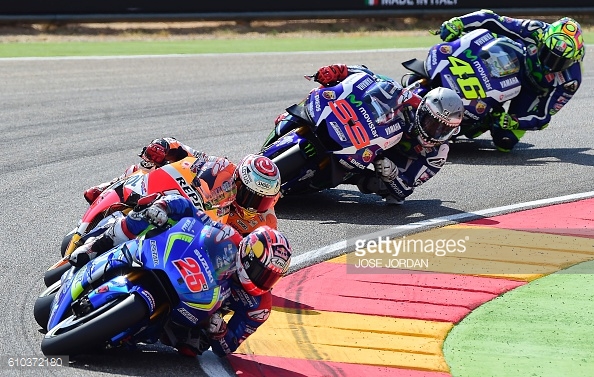 Rossi then took the lead from Vinales, and Marquez then passed him to leave him to battle for third with Lorenzo. On lap 10, he made his move and was within reach of a place on the podium. A mistake from Rossi several laps later meant Marquez was able to gain on him, and then he passed him to take the lead.
Lorenzo applied the pressure to his teammate
Rossi was struggling with his tyres towards the end of the race and was under immense pressure from his teammate by lap 17. On lap 1 Lorenzo first attempted to pass him as they made their way down the long straight, but he was unable to outbrake Rossi. But then as they made their way through the corkscrew, Lorenzo made his move on the left handed downhill turn which enabled him to claim second.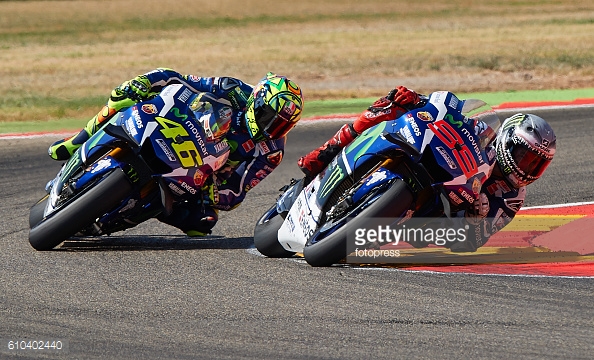 Aware of the possibility that Marquez could extend his championship lead later, Rossi stayed hot on Lorenzo's tail for the remainder of the race. Rossi looked to be the stronger out of the two however it may have been down to the completely different riding styles the dup have compared to each other.
On the penultimate lap Rossi made his move in attempt to take second, he missed and was forced to run wide losing lots of time and allowing Lorenzo on to claim second with ease.
Lorenzo describes his second place finish at the Aragon GP
After the race Lorenzo described how "sometimes a bad situation or a bad thing brings you a good thing" which is what he felt happened when he crashed. Speaking about it he said he was "almost injured and was almost in pain", something he said has "happened in the past".
The crash made him "do two warming up laps", testing both the hard and soft compound front tyres. He found that on the hard tyre it "suddenly" gave him "good confidence", and even though he was "very slow" he found that his "instinct" led him to complete the race with the hard front.
Lorenzo "didn't expect to finish on the podium" and instead though he would "finish maybe sixth or seventh" and said that "the race again was surprising". He described how it was a good end to a "difficult weekend" for him but "sometimes these kinds of situations bring you to the top".
How the championship looks for Lorenzo
After receiving 20 points for his second place finish in Aragon, Lorenzo (182 points) has managed to close the gap slightly between him and his teammate Rossi (196 points) who is still pursuing championship leader Marquez who is now currently on 248 points with four rounds remaining.