At what he considers to be his home round of the season, Moto2 rider Alex Marquez collected his best ever result at the Gran Premio Movistar de Aragon, when he overcome a last minute battle with his teammate to take the second spot on the podium.
Several crashes by Marquez on lead up to race
The Estrella Galicia 0,0 Marc VDS rider had looked strong all weekend despite making several mistakes as he pushed to go faster at the Spanish track carved out of the mountains. He qualified to start from second on the grids, and as soon as the lights went out he shot to the front of the pack on his 600cc Kalex to take the lead in to turn one.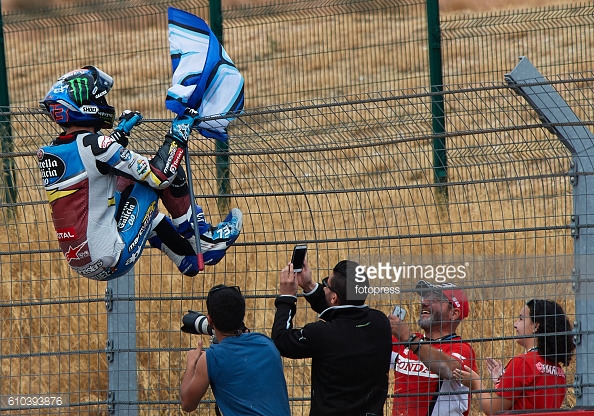 Marquez loses his leads to Sam Lowes
He was immediately under pressure from Sam Lowes (Federal Oil Gresini Moto2) who was also incredibly strong at MotorLand Aragon, and who was confident he had the race pace to go on and win. After a few attempts at the beginning of the first lap, Lowes made his move on Marquez at the corkscrew and took the lead which is where he remained until the end.
Marquez did initially apply pressure to the British rider, hoping to be in a position to retaliate he pursued him closely for as long as he possibly could. His only opportunity for a pass came on the second lap when Lowes went wide, Marquez was able to close the gap but not pass, and then as Lowes settled he gradually pulled away from the Spaniard.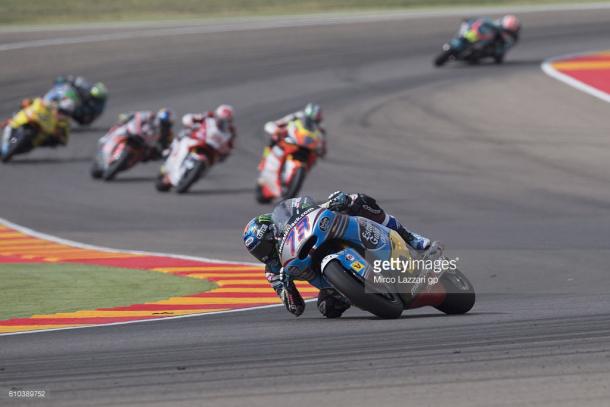 Watch out Marquez, your teammate is coming
It looked like Marquez, if he could just continue with what he was doing, could gain his best Moto2 result so far. It appeared that this would be the case until the very end though, when his teammate Franco Morbidelli (Estrella Galicia 0,0 Marc VDS), who was eighth near the start of the race, battled his way through the pack up to third where he then had his sights on his teammate.
His pace was fantastic, after lap 14, when he had just passed Garage Plus Interwetten rider Thomas Luthi, Morbidelli's attention turned to Marquez who on the same lap experienced a 'moment' when the rear of his Kalex slid. This helped Morbidelli to close in on him and on the last lap (21) the Italian was right behind Marquez.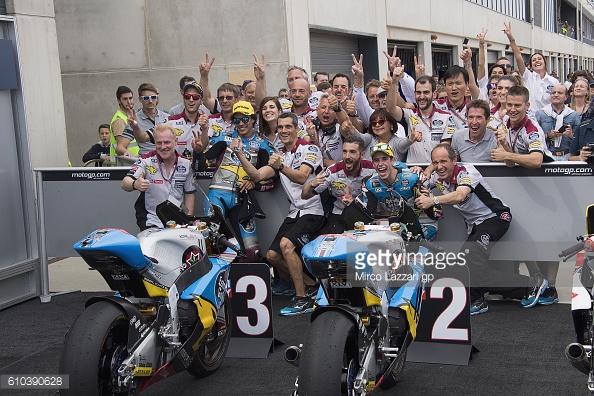 Marquez wins the battle at the end of the race
In a dramatic end to the Moto2 race, Morbidelli made his move on Marquez overtaking him, but Marquez retaliated immediately. It was a drag race to the end and although he finished 3.289 seconds behind leader Lowes, the gap of 0.033 seconds was enough to secure him second and his teammate to remain in third.
First Moto2 podium for the Spaniard
Marquez was "really happy to finally be on the podium" in what is now his "second season in Moto2". He admitted that "last year was not easy" for him and he felt that a "result like this can really build [his] confidence" and so he said it was "an important moment" for him.
Talking about the start of the race he felt "really good" and found that he "was able to follow the pace of Sam Lowes". However, "at the end" he explained how he was "struggling with rear grip" and that it was "difficult" but he was "prepared for Franco" when he said he "saw him inside on the final corner".
He was very grateful to his team, thanking them for "believing" in him, something he felt is "not easy when a rider has a lot of crashes". His aim is to now "keep this level for the next race in Japan".