Many couldn't help but feel bad for Gresini Racing Moto3 rider Enea Bastianini at the end of the Gran Premio Movistar de Aragon Moto3 race. The Italian rider finished third in the 250cc class and although he should have been celebrating a fantastic podium after a long fought battle, it was clear all he could think about was the lost championship.
Bastianini on pole for the Aragon Moto3
After securing pole position with almost a quarter of Qualifying to go, he was hoping to win, and for Brad Binder (Red Bull KTM Ajo) to finish behind him to keep his 2016 championship dreams alive. Preventing Binder from winning the championship was going to be a long shot after the season the South African has had so far, but no rider passionate about what he does is going to stand by and hand it to someone.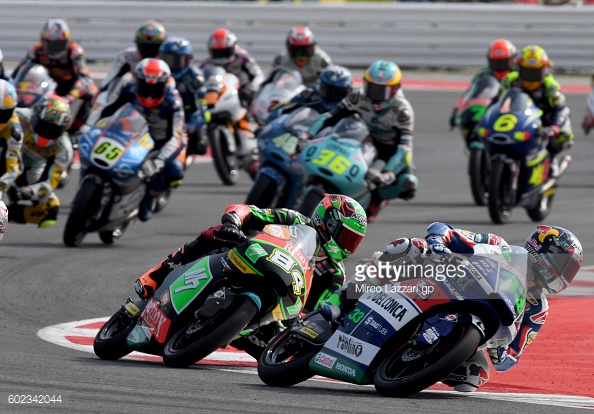 Bastianini got a fantastic start and led into the first corner of the Moto3 lace at MotorLand Aragon. Immediately he and Estrella Galicia 0,0 rider Jorge Navarro, who is also amongst the small group leading the championship, began to pull away creating a small gap. Binder led the group behind though and he worked at breaking down the gap and in turn brought a small group of riders with him.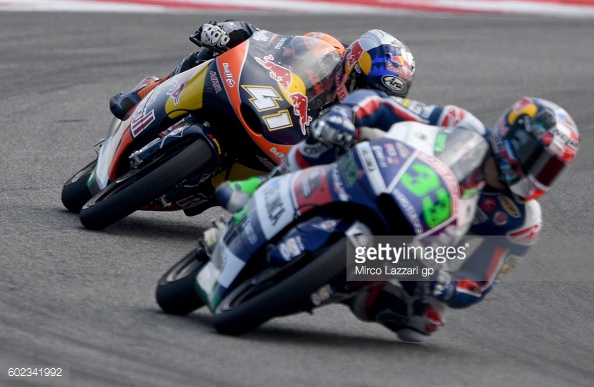 Bastianini forced to settle for third as battle became more intense at end of race
The leader changed on several occasions as they made their way through several overtaking hotspots including turn one, on the approach and at the exit of turn 15 and along the long straight that joins it up to turn 16, and basically anywhere else they could make their bikes fit. Sometimes it was four-a-breast for a corner.
Bastianini regained his lead several times, but in the end a last minute surge from Binder allowed him to take the lead, before Navarro forced his way forward at the end of the race and Bastianini had to settle for third.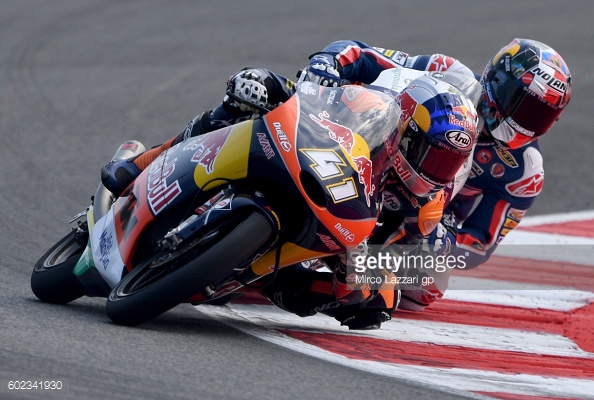 Bittersweet result for Bastianini
He put up a great fight as did the others who were in contention of the win. But Binder finishing ahead of him, and collecting just four more points than him, was enough to secure the championship win. It must have been such a bittersweet moment for the Italian; he tried to smile as he collected his third place trophy but that poor lad was gutted.
He still remained second in the championship, however that is not yet secure as Navarro's race win meant that Navarro who is on 139 points, is now just four points behind Bastianini on 143 points, with just three international and one more European round left.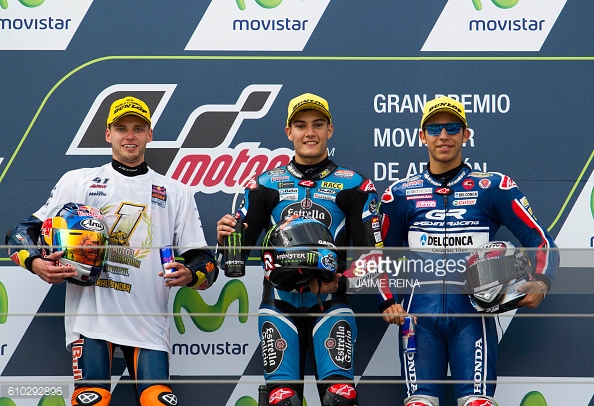 Bastianini reveals tactics from the start of the race
Describing the star of the race Bastianini said how "in the first few laps" that he was in the lead with Navarro and they "pushed a lot in an attempt to pull a gap on the other riders". He "noticed on the big screen" that the two of them "were opening a little gap" and so he "followed Jorge without disturbing him and letting him do his pace".
Then he mentioned how "Binder and other riders" had "managed to come back in" and he decided at that point to "relax and preserve tyres", in the meantime he was attempted to "remain always in the top three positions to avoid risking too much". Knowing that "Binder was very fast on the long straight before the final corner" he was prepared to defend himself towards the end of the race but then on the last lap he "saw that behind [him] there was Navarro".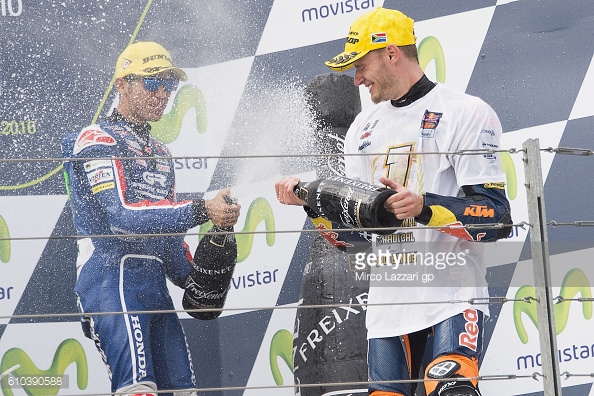 Binder had the pace to pass on the outside
To avoid losing another place he, "pushed hard to try to gain a few metres" in the hope that "Jorge would not be as fast as Binder". Unfortunately for the Italian he said that "Binder managed to pass me and Jorge at the end of the straight though, taking an outside line", as a way of retaliating he said, "I gave my best taking the inside line but I was already at the limit with the bike, that was moving a lot, and so it was not possible to win."
Saying what happened at Aragon was "too bad", he explained how they are "often fighting for victory" but "for some reason" he has found that they have "not yet managed to take on this season". Still he remains motivated saying, "We must continue to work hard to succeed!"