2002. After a breakthrough debut season in 2000, 2001 had been an almighty struggle for the newest British driver on the Formula One grid. Having to leave the sanctuary of Williams to make way for Juan Pablo Montoya in 2001, Jenson Button made the move to Benneton.
After a debut season which will live long in the memory, the Frome-born racer was soon brought back down to earth with a dose of F1 reality. 17th in the standings was a disappointing result in a car which was far from the class of the field, the Ferrari F2001.
To make matters worse toward the end of 2001, Benetton team boss Flavio Briatore went on record by saying ""Either he shows he's super-good or he leaves the top echelon of drivers", branding the young Brit a "playboy" in the process. Typically in the 'Piranha Club' that is F1, there was little sympathy or sentiments. Either you performed or you were out and someone else was in.
2002 was a massive improve by Button, and he scored 14 points, an increase of 12 from 2001 and he catapulted himself into seventh in the standings. Despite this improvement he was shoved out the Enstone door at the end of the year, to make way for Briatore's newest hotshot, one Fernando Alonso.
In just his fourth season of F1, Button was onto his third team, BAR Honda where he stayed until the end of 2009, through three incarnations of the Brackley based team. Third in the 2004 championship and a clutch of podiums proved that Button belonged in the "top echelon of drivers", before a sensational maiden win in Hungary 2006 kick-started his career fully.
Honda pulled out in late 2008, leaving Button in limbo for 2009, before like a Phoenix, the team rose from the ashes, as Brawn GP to allow Button to claim his maiden world crown in Brazil that year.
A move to McLaren for 2010 was a just reward for the silky-smooth racer, who in 2011, became the only driver to beat Lewis Hamilton over a season and out-scored his fellow Brit over their three-year stint together at Woking.
Earlier this month, the news broke that Button would be taking a sabbatical for 2017, before potentially returning in 2018 if McLaren need him to do so.
However, this weekend at the Malaysian Grand Prix, Button will reach a milestone which only Rubens Barrichello and ​Michael Schumacher ​have reached, taking part in their 300th Grand Prix,as Barrichello reached 322 and Schumacher 306.
To mark the occasion, here Vavel takes a trip down memory lane to remember 10 of Button's finest drives as he prepares to drop the clutch for the 300th time.
2000 British Grand Prix - F1? A doddle
Typically, the British Grand Prix is held in late June or early July, as that is when the variable British weather decides to play ball. However, in 2000, the race was moved. To April. To say there was mud would be an understatement. The conditions for the fans were terrible, but on-track Button made it all worthwhile for their dedication.
To qualify P6 in just your fourth race, at home, behind just the Ferrari's, McLaren's and a Jordan was a lot more then what was expected. In conditions which he has become renowned for Button expertly and skilfully hauled his Williams FW22 to a startling fifth place finish, gaining two points in the process.
Although he performed so well in his debut British GP, Button has never managed a podium finish at Silverstone, a number of fourth place finishes and a loose 2011 tyre cost him the chance to be adored by the home crowd.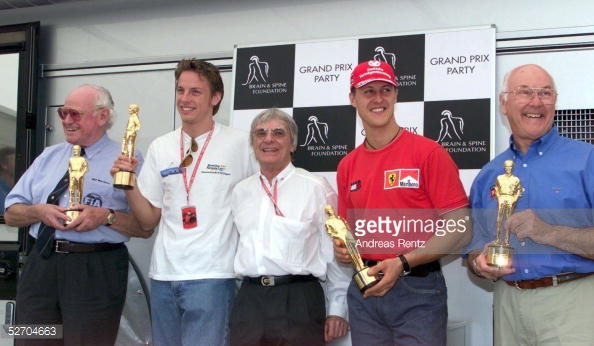 2004 Malaysian Grand Prix - the first podium
Button's silky smooth and precise style has always suited the Sepang circuit, especially through the twisty second sector. Two years previously, heading into the final lap, in third place, the suspension broke, demoting him to fourth, but Button would not be denied in 2004.
A strong BAR strategy had him in contention in difficult conditions, during which he diced for position with Jarno Trulli in the Renault.
Eventually Button held off the challenge of Barrichello, by two seconds, to claim the first of 50 podiums, so far. 2004 proved to be Button's coming of age, and he hauled 10 podiums in 18 races, 85 points, and third in the standings, behind the runaway Ferrari's.
2004 German Grand Prix - Hold on tight
This race is more remembered for what Button had to do in the closing stages, rather than the result, a P2 finish behind Schumacher. The podium seemed like an impossible aim after qualifying, a 10-place penalty leaving him in P13.
However, he charged through the field, seemingly coasting to the line. But, with a handful of laps left, his helmet straps broke. This meant down the long straights, the air rushing over the car, was lifting the helmet from Button's head, asphyxiating him in the process, through the corners it was okay.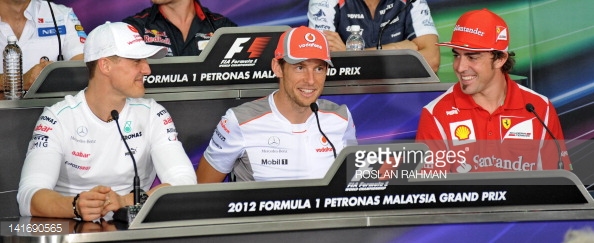 In 'real boys own stuff', he clung on to the helmet down the straights, holding it position, before managing to claim the very-well deserved eight points.
2006 Hungarian Grand Prix - Finally
Despite showing strong pace with a clutch of podiums in his six-and-a-half years in the sport, it seemed as though Button was destined never to win a Grand Prix. Until the 113th attempt that is.
At a track, not known for overtaking by the bucket-loads, qualifying P4 was a good start, but he was already in the knowledge that he would be starting P14, the legacy of an engine change.
In the first ever wet Hungarian GP, Button bulldozed the field, and was in P4 by lap 10. Schumacher was quickly despatched as he set off after Kimi Raikkonen and Alonso.
Finally, the stroke of luck Button had been missing struck. Whilst the Safety Car was out to clean up Raikkonen's crash into Vitantonio Liuzzi, Alonso pitted for dry-tyres, but a wheel-nut became detached on track, and he crashed out. After that, Button just had to negotiate the remaining laps to claim and emotional first win, and display the widest eyes in F1 history during the celebrations in Parc Ferme.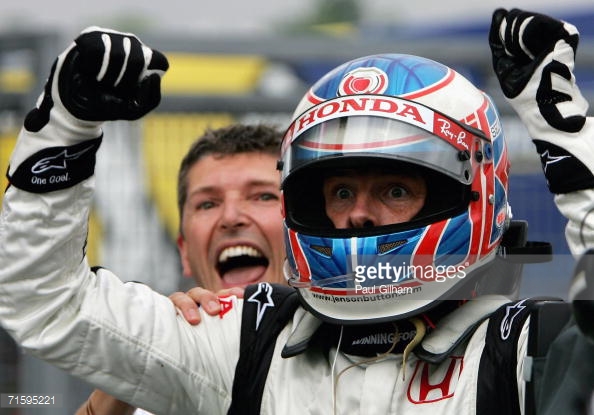 2009 Australian Grand Prix - the story begins
All good stories have their beginning. F1's greatest story was told in 2009, with Brawn GP and Button winning both titles, just over a year since they thought they'd be out of a job after Honda's pull-out.
Chapter 1. Saturday 14th March 2009. After impressing in pre-season, Brawn were optimistic that they could have a good season. Their goals may've shifted after qualifying. Button P1, Barrichello P2.
Chapter 2. Sunday 15th March 2009. A first corner collision between the slow-starting Barrichello and Mark Webber started a chain reaction that involved a majority of the field, which was soon quickly cleared up and by lap six, Button had a 4s lead over Sebastian Vettel.
Safety car periods were relatively routine for the Brit to handle, although a lap 56 collision between Vettel and Robert Kubica meant that the race ended behind the Safety Car. That was fine for Button and Barrichello who sensationally crossed the line 1-2 to claim the first win on debut for a team since Mercedes in France 1954.
The only negative side to Button's weekend was that he was denied a 'Grand Slam', pole, race win, lead every lap and fastest lap, by Nico Rosberg's effort on lap 48. But the first chapter had been written, and Button had started as he meant to go on.
2009 Monaco Grand Prix - Monaco. Tick
Chapter six. They say, if you can't win at home, Monaco is the best substitute. All the greats have won around the Monegasque streets. Starting on the SuperSoft tyre, Button, Barrichello were able to escape, with Raikkonen on Softs, when Vettel started to struggle on his Super-Softs.
After that, Button carefully managed the gap to Barrichello, eventually crossing the line 7.6s clear of his team-mate, although that gap had halved as Button eased off to avoid traffic late on.
Memorably, he parked in the pits, and not in front of the podium, as is custom in Monaco, leading to the sight of him running down the track, still with his helmet on, high-fiving mechanics as he went.
Just four points had been dropped in six races, P3 in China, (half-points were awarded in Malaysia due to rain), leaving Button with a tally of 51 out of an awardable total of 55. He followed it up with his sixth, and final win of the season in Turkey next time out, to be in the unfamiliar position of championship favourite.
2009 Brazilian Grand Prix - the story ends
Chapter 16. As other teams had out-developed Brawn, mid-season became a struggle, although Button still posted good points throughout. But on Sunday 18th October 2009 the dream became a reality. The story had its ending.
It was simple. Finish within four points of Barrichello, and hope Vettel was not first or second and Button would be the 31st Formula One World Champion.
Simple, you might think, but in true F1 style, it was anything but. A storm interrupted Qualifying, with the one-hour session, taking two hours, 41 minutes, a record. In the difficult conditions, Button could only manage P14, behind three rookies, Alguersauri, Kobayashi and Grosjean. Barrichello took pole and Vettel was down in P15.
After avoiding three incidents on lap 1, Button was up in P9, although he was frustrated when trying to dispatch Kobayashi, who held him up. Button quickly pulled a gap to the Japanese rookie when finally in front.
A chaotic mid race, saw the pendulum swing back and forth, with Button in fifth and his title rivals ahead, both on one-stops, with Webber and Hamilton also in the top four.
Coming out behind Heikki Kovalainen wasn't ideal, although when he pitted, Button was up to sixth, before Hamilton attempted a move on Barrichello, puncturing the Brawn's tyre, dropping the pole-sitter well-down.
Crossing the line, to become the 10th British World Champion, joining Mike Hawthorn, Graham Hill, Jim Clark, John Surtees, Jackie Stewart, James Hunt, Nigel Mansell, Damon Hill and Lewis Hamilton was the culmination of all that Button had ever wanted. Embracing his father, the late John Button, was a highlight of the entire season, and the title was finally signed, sealed and delivered with a handshake from Bernie. He even belted out the Queen hit, 'We are the champions' on the in-lap, although his voice left a lot to be desired.
2010 Australian Grand Prix - strategy master
Taking a gamble by signing for McLaren in 2010, paid off his just in second outing for the Woking team. In wet conditions, Button overcame a collision with Alonso, and early Safety Car, to make an inspired strategy call, on lap seven which would win him the race.
As the rain intensified, the world champion elected to pit in, for slick tyres, pounding through puddles as he struggled in. Almost immediately however, the rain started to ease off and by lap 10, the majority of the field were in for slicks.
When everything had settled down, Button was in P2, behind Vettel, although on lap 21, the RB6 slid off the road and into retirement, the result of vibrations from the left-front.
It was rather easy after that for Button, who took a maiden win for McLaren and showed that in changeable conditions, he is the best in the world, something he attributed to his father's refusal to "buy wet tyres", during the karting years. Two races later, in China, he repeated the performance in the wet, leading home a McLaren 1-2, to be the new 'Rainmaster' of Formula One.
2011 Canadian Grand Prix - the best race
When deciding on the 10 races to include, Vavel could've quite easily picked anyone of Button's three 2011 victories, in Canada, Hungary and Japan. He finished runner-up to Vettel and out-scored Hamilton, the only time he has lost to a team-mate over the course of a season.
After thinking about in 50 years, what race will we all remember Jenson Button for, the choice was clear. The 2011 Canadian Grand Prix.
They say, if you are to lead a lap, make sure it's the last one. They also say fortunes can change in F1 in an instant and to never give up. On that Sunday afternoon in June five years ago, Button did exactly that.
If you can think of it, it probably happened to Button during the longest race in F1 history, at 4:04:39.537. The race was stopped for two hours during a torrential storm that battered the circuit, but Button had already been involved in quite a few incidents.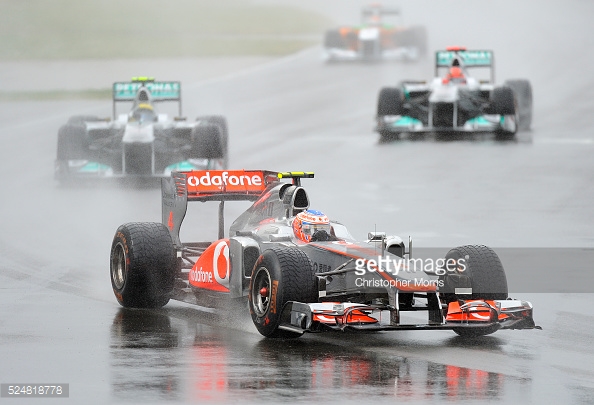 Lap 7, on the pit-straight. A poor exit from the chicane for Button, led to Hamilton getting better drive and taking the inside line. The duo then hit each other, F1's biggest no-no. Hamilton was forced to retire, whilst Button was unscathed, but apportioned blame quite quickly.
A five lap SC period was enough for Button to make a pit-stop from wets to Inters, and pick up a drive-through for speeding behind the SC. Just six laps later however, on lap 19, the rain came back again, forcing amongst others, Button and Alonso to pit-in again for wets, dropping them back down the field again. The race was the suspended for two-hours on lap 26 as even at SC speeds, visibility was at a premium.
When racing was back underway, on lap 36 Button pitted for Inters. Exiting close to Alonso, the two touched at T3, leaving the Ferrari beached and the McLaren with a puncture. He was last as a result.
As it began to dry, he was on fire, switching to slicks, and began to chase down the leaders, Vettel, Schumacher and Webber. The last two were quickly dispatched, before the hunt began for Vettel. Lap 70. The final lap. 0.9 was the gap between the Red Bull and McLaren. But at T6, looking in his mirrors, Vettel slid wide, promoting the charging Brit to P1. Tip-toeing around the remainder of the final lap, Button claimed his first win of the season, and third for McLaren, all in wet conditions. Six pit-stops remains the record for the winner of a Grand Prix.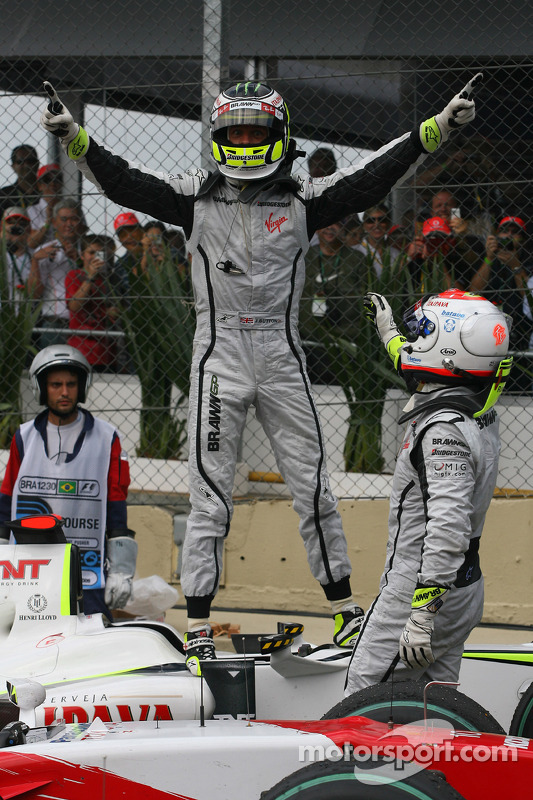 To date, out of Button's 15 career wins, six have been in wet-dry races, and five for McLaren.
2012 Belgian Grand Prix - Serene and Supreme.
Button's style makes it hard for him to generate heat in the tyres, if the car isn't balanced 100% and track conditions optimum. However, at Spa in 2012, Button was on it, from FP1 to the chequer flying come Sunday.
His first McLaren pole, and first since his Brawn days meant that he avoided the horror crash caused by Grosjean at the start, and after the SC period to clean it up, was never seen. Drivers dream about races like this, and Button got one. He was serene and supreme, easing home for his 14th victory and one of the best drives the sport has ever seen. He was faultless all weekend.
The future:
As Jenson Alexander Lyons Button heads into sabbatical for 2017 and possible retirement after that, it's clear that the 'playboy' of F1 has grown into one of the most loved and respected drivers in the sport today. F1 will be a poorer place with JB, but while we can let's celebrate the achievements so far and hope that in the final six races of the season, more Jenson can deliver at least one more moment of magic.