There are two factory teams that are new to the MotoGP world championships compared to others. Two factory teams who are still very much in development stages, but that are also looking like they are eventually going to become as competitive as hell. Team Suzuki Ecstar is within its second year since Suzuki's return, as is Aprilia Racing Team Gresini and for both teams, the results from the last round in Aragon were fantastic.
Another solid performance from Team Suzuki Ecstar
The Team Suzuki Ecstar riders Maverick Viñales and Aleix Espargaro looked very strong throughout the weekend of the Gran Premio Movistar de Aragon. Viñales qualified from third on the front row and Espargaro started two rows behind him in ninth.
Viñales got a great start and was initially challenging for the lead. He had passed Marc Marquez (Repsol Honda) and had fought off Movistar Yamaha rider Jorge Lorenzo and led the Aragon GP. But Marquez, who had been flying all weekend had took it from him on lap two; at his favourite overtaking spot of turn 15 where he had just mugged Lorenzo on the lap previous.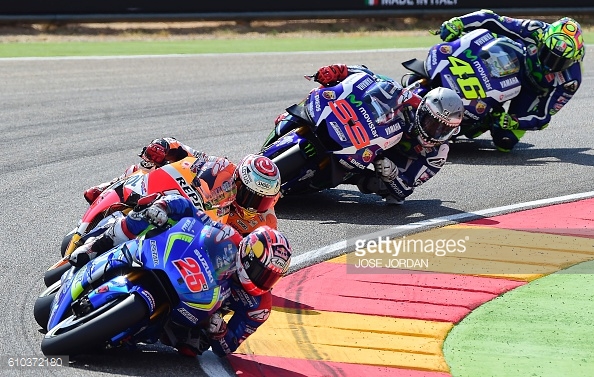 Vinales battled throughout the Aragon GP
Viñales remained on the pace though and on the next lap found himself leading again as Marquez made a mistake and ran wide, with a clear track ahead of him he was able to break away slightly setting the quickest lap so far on lap three. A few laps later he had started to come under pressure from his future teammate at Movistar Yamaha, nine times world champion Valentino Rossi.
There was a clear difference between the race lines that Vinales and Rossi were taking as they lapped at Aragon; Rossi was all over the back of Vinales by lap eight, and on turn one of the next lap the Italian made his move. Vinales tried to retaliate, he stuck with Rossi and looked to repeat the move he had just had done to him on the next lap but the Spaniard had to bail. He ran wide and it allowed Marquez who had overtaken Dovizioso and Lorenzo to take third, to close up on him.
Marquez passed him just corners later and then it was not long before he came victim to Lorenzo who had found his momentum. Vinales soon ended up in fourth but he did what he could to stay behind Lorenzo in the hunt for the last spot of the podium.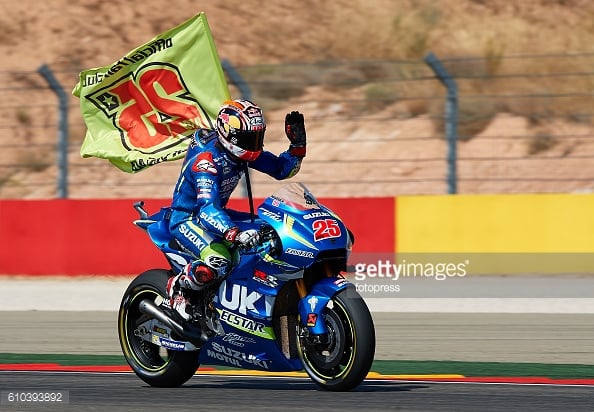 Fourth for Vinales in Aragon
On lap 15, he almost came into contact with Lorenzo as they passed through the corkscrew. Things just got worse for Vinales though, as despite trying what he could, he had to settle for fourth as towards the end of the race he ran wide again due to tyre issues.
Vinales described the Aragon GP as "another positive race" although he admitted he is "never fully satisfied" when he is "off the podium". He spoke of tyre issues throughout the race, he found that when "the grip was supporting" him that he could "do a really good pace" which is when he took the lead as he "felt really confident and the lap-times came quickly and easily".
Tyre issues caused him to slow up
However, he described how "suddenly the rear tyre lost performance due to the consumption" which is when he had to "give it up a little". He then found he "couldn't feel confident with hard braking and also in acceleration" and when he was "trying to force the pace" he ended up making "some mistakes that warned [him] to be more conservative" in his riding.
He knew it was "important not to have a crash and to finish the race" and he knew fourth was better than nothing. Prior to the race he revealed they "knew" that he "could have problems towards the end of the race with a worn tyre" and so to overcome this they "put in some countermeasures with the electronics" but he feels they "still need to better develop this setup".
Evaluating where they are as a team he said, "We are continually learning and my crew did a really good job, we are getting better and better and the results in the last races are evidence on this."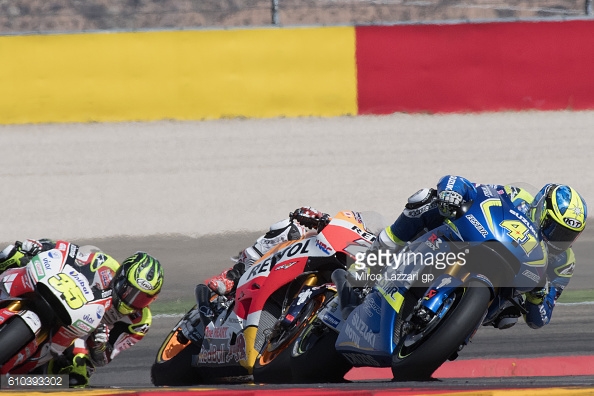 Seventh for Espargaro in Aragon
Teammate to Viñales, Aleix Espargaro ended up finishing the race in seventh. He has also been on good form as late as he has continued to improve on the GSX-RR. While everyone has been wondering who the ninth MotoGP winner of the season will be, and as many have nominated Andrea Dovizioso (Ducati Team), this writer personally feels that Aleix very much has the potential.
Crutchlow was in fifth place earlier on in the race and was leading a duo of Hondas who struggled to get past him for several laps. Dani Pedrosa (Repsol Honda) and Cal Crutchlow (LCR Honda) looked for whatever way they could to get round the Spaniard who was very defensive. He couldn't hold them off though and by lap 16 both had passed him.
They had all managed to bypass Dovizioso on the Ducati who finished the race in 11th, but it took a while to do so. He had still managed to remain behind in contact with Pedrosa as Crutchlow extended a gap after going on to pass the fellow Honda rider. Aleix Espargaro finished the race in seventh just 1.5 seconds behind the factory Honda.
Aleix expected more at Aragon
Espargaro admitted he "had bigger expectations for the race" one of them was "especially to be more competitive at the beginning" as he felt they had made "progress" in the morning warm-up session. Despite having a "positive" start" he found that he "struggled a lot to overtake for the fifth position in the second part of the race". This position he thought was vital as it was the "one needed to keep in contact with the head of the race". He said, "When I succeeded it was too late to catch up."
The Suzuki rider claimed his "feeling was a little better than last races" however he admitted he still is in a "struggle to find a good feeling with the front." He described how he is "not able to interpret the front tyre and exploit its potential". Over the weekend he said they "made a lot of attempts and changes" but still found that he "can't adapt" his riding style and as a result he "cannot be as fast" as he would like to be. In the final laps he said, "I had a really good fight until the end, but finally I made a small mistake on the last lap and I lost sixth position."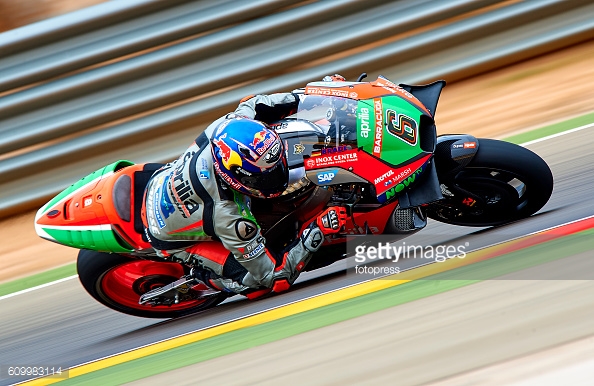 Double top 10 for Aprilia Racing Team Gresini
Now further down the field but just as impressive, the Aprilia riders both finished within the top ten. In the previous at Misano round during qualifying, Alvaro Bautista automatically progressed to Q2 and this time it was Stefan Bradl's turn, but his was a result of being second fastest during Q1. At Aragon Bradl started from 12th and Bautista from 14th.
An incident at the start of the race benefited the two as the Octo Pramac Yakhnich Ducati riders Danilo Petrucci and Scott Redding came together. Redding crashed out but was able to recover his bike and continue with the race at the back of the field. Petrucci was penalised for the incident and immediately given a ride-through penalty which took him out of 11th. This meant they were able to recover two positions each.
Aprilia finished ahead of the factory Ducati
Later on in the race, Dovizioso who had qualified initially lost a position and then recovered it when Marquez went off track after he went wide. He was soon down in fifth again, but like all the other Ducatis he finished outside of the top ten. The factory Ducati rider was the highest placed out of them all, but he lost six places as the Aprilia Racing Team Gresini boys passed them at the end which got them a double top ten finish.
Bradl happy and optimistic for the future
Discussing the race Bradl was "happy with the top 10 and the weekend in general". He found that they "improved during practice" and he would like to "continue this trend in the coming races". He felt they "took a step forward in terms of settings" since the previous round in Misano, significantly he noticed they were "especially improving in the braking phase" which in turn gave him " a better feeling with the front tyre".
He claimed they were able to "further perfect things" in Aragon after they "found a good base straight away on Friday and then working to sort the details". He still feels there is "obviously… still room for improvement", one of the factors being "taking better advantage of the rear tyre to be faster with the new tyres", however he feels they are "not far off". Bradl now says he has "high expectations" for himself ahead of the "season finale".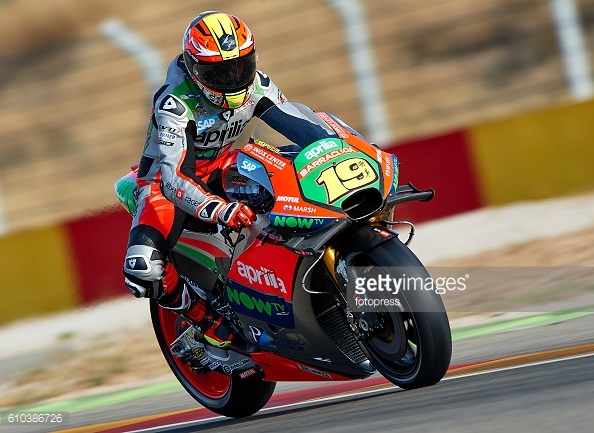 Bautista happy with double success for Aprilia
Bautista also felt it was a "good weekend" for the team after "ending with a double top 10". He said he "had good sensations in the saddle throughout all the practice session" during which he felt they "did a good job". It was during FP4 when he had "consistent pace even with used tyres" when he "realised that [they] could do well in the race".
He spoke of how during the race he "battled with Hernandez and with Dovi, managing to overtake them" and this is when he "fell in behind Pol whose times were very similar" to those he was achieving on the Aprilia. He spoke of how they "maintained a good pace" and that in the final stages he noticed they "continued to make up ground on the group that was battling for fifth place". However like many riders "towards the end of the race" Bautista said he "lost a bit of feeling with the rear tyre".
Overall, he felt that "ninth place is a great result" for both him and the manufacturer "considering Stefan's performance as well". Like his teammate he also feels they have "taken a step forward" since Misano and he went on to "thank the team and the guys who are hard at work at home". He hopes to "continue in this direction to finish the season well".