Heading into the Malaysian GP weekend, it appeared Lewis Hamilton was in danger of being outclassed once again by team-mate Nico Rosberg, the German topping FP1 on Friday morning, before the Brit hit back in the afternoon.
But in Third and final practice for the race, Hamilton showed that his Singapore blip, was just that, with a blistering time, 0.445 clear of what Max Verstappen could manage in his Red Bull.
Rosberg was third quickest, but a massive 0.6 down on what the sister car had managed to do, quite a gap to try and make up for qualifying. The Ferrari's came home fourth and fifth, Kimi Raikkonen once again ahead of ​Sebastian Vettel on the timing screens.
​Daniel Ricciardo looked below par in sixth, but was still ahead of best-of-the-rest Nico Hulkenberg in his Force India. Valtteri Bottas had a strong morning for Williams, with him and team-mate Felipe Massa sandwiching the Toro Rosso of Carlos Sainz Jr in ninth.
Busy session
After an overnight shower at Sepang had washed most of the rubber laid down on Friday away, it was the Renault's who were the initial pace-setters, although their moment of glory was quickly snatched by Ricciardo.
Perez then took P1, although this was only brief as Rosberg then came through to complete a lap that was good enough to replace the VJM09 with the W07 Hybrid.
As final race-pace runs were being completed throughout the field, Hamilton had to wait an extra lap to post a representative time, following Vettel's spin. When he did so, a 1:35.612 was good enough for P1, until Ricciardo went 0.151 quicker, albeit on the Soft compound tyre, compared to Hamilton's medium run.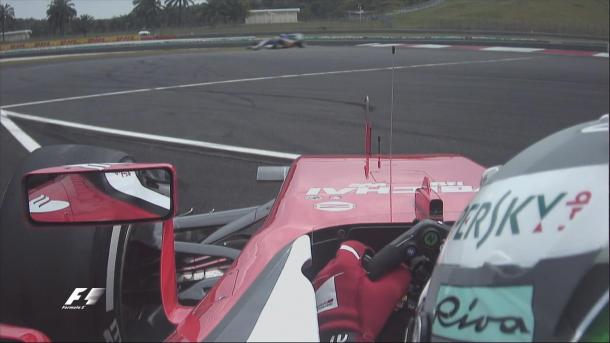 Owing to his now 45 place grid penalty, Fernando Alonso ​spent the final hour of practice focussing on race-pace simulations, as there would be n point in him doing Qualifying work, as he is going to start last in any case. The McLaren ​had been comfortably inside the top 10 in both Friday sessions, thus the team are confident he and Jenson Button ​can score good points.
Qualifying simulations
Only at the end of FP3, when the tanks are drained and engine modes turned up, is the first real qualifying simulations completed. With around 20 minutes left on the clock, Rosberg was the first of the main contenders to do this, a 1:35.293 not the best lap he has ever driven.
Hamilton then responded with a blistering 1:34.434, nearly 1s clear of the sister car, although there were still some handling problems for the Brit to contend with.
Try as they all might, no-one could get within 0.5s of Hamilton, including Rosberg, until right at the end, Verstappen pumped in a 1:34.879 to be the best of the rest.
Malaysian Grand Prix - Third Practice times

| | | | |
| --- | --- | --- | --- |
| Position | Driver | Team | Time/Gap |
| 1. | Lewis Hamilton | Mercedes | 1:34.434 |
| 2. | Max Verstappen | Red Bull | +0.445 |
| 3. | Nico Rosberg | Mercedes | +0.619 |
| 4. | Kimi Raikkonen | Ferrari | +0.716 |
| 5. | Sebastian Vettel | Ferrari | +0.736 |
| 6. | Daniel Ricciardo | Red Bull | +1.027 |
| 7. | Nico Hulkenberg | Force India | +1.342 |
| 8. | Valtteri Bottas | Williams | +1.468 |
| 9. | Carlos Sainz Jr | Toro Rosso | +1.788 |
| 10. | Felipe Massa | Williams | +1.793 |
| 11. | Sergio Perez | Force India | +1.825 |
| 12. | Jenson Button | McLaren | +1.929 |
| 13. | Esteban Gutierrez | Haas | +2.119 |
| 14. | Jolyon Palmer | Renault | +2.170 |
| 15. | Romain Grosjean | Haas | +2.253 |
| 16. | Kevin Magnussen | Renault | +2.307 |
| 17. | Danill Kvyat | Toro Rosso | +2.318 |
| 18. | Marcus Ericsson | Sauber | +2.331 |
| 19. | Felipe Nasr | Sauber | +2.672 |
| 20. | Esteban Ocon | Manor | +3.527 |
| 21. | Pascal Wehrlein | Manor | +3.655 |
| 22. | Fernando Alonso | McLaren | +6.765 |