Having seen his championship lead go from a 19-point lead after the summer break to an eight point deficit just three races after it - and a very off performance in Singapore - it was imperative that Lewis Hamilton stopped the momentum Nico Rosberg has been building of late. This is he in qualifying for tomorrow's Malaysian Grand Prix by storming to a 57th career Pole Position, just eleven behind the record of the great ​Michael Schumacher,​ and eight behind his hero, Ayrton Senna.
​Behind the Mercedes front-row lock-out, it was Noah's Ark, all the way down to P8, with Max Verstappen gaining the upper hand at Red Bull in third, only the third time he has out-qualified Daniel Ricciardo since his promotion to the team in May. Ferrari, and Sebastian Vettel were dissapointed with fifth, although he still got the better of Kimi Raikkonen, surprsing seeing as the Finn has had a (slight) pace advantage all weekend.
The Force India's were seventh and eighth, Sergio Perez claiming intra-team honours from Nico Hulkenberg, before Jenson Button, on his 300th race start weekend claimed a solid ninth for McLaren ahead of the sole Williams in Q3, Felipe Massa.
​Magnussen stars in Q1
​​It is extremely likely that ​Renault will retain either Kevin Magnussen or ​Jolyon Palmer ​for 2017, and so the two are fighting each other for a single seat. Following his fire in FP1 on Friday, Magnussen was on the back-foot, and Palmer impressed throughout all three practice sessions. However, in Q1, in the dying embers, a mistake at the final turn denied Palmer a Q2 opportunity, whilst the sister RS16 ended up in P13, to swing the needle toward the Dane.
Elsewhere, Esteban Ocon in his Manor obtained the ire of Button, blocking him whilst on an in-lap at the T9 hairpin, the 2009 champion, in one of many Q1 rants on the radio informed the world what he thought of the incident by saying "​the Manor has to get a penalty, I had to overtake him under braking"​. Ocon will likely face a meeting with the stewards. Button also had a spin when coming across Magnussen early on.
Q1 was quite rountine with the big teams only doing a single run, to save tyres, and most of the action coming at the bottom of the timing screens. There were some hairy moments for Romain Grosjean, his Haas deciding it didn't want to carry on with it's mirror attached.
Sauber had both cars knocked out again in Q1, although Marcus Ericsson was close to making it through. Fernando Alonso with his 45-place grid penalty did a couple of laos, before pitting in, as there was no point to him continuing and wasting tyres.
Up front, Hamilton had the advantage by just 0.016 from Rosberg, in a sign of things not to come, as the 16 remaining drivers prepared for Q2.
​Button through to Q3
​​Going into Q2, for the mid-field runners, it was predicted to be tight, with a simple mistake or successful risk the difference between a Q3 spot or not. Button was the one who excelled and hauled his McLaren into the top 10 with an extremely credible P8 in the segment.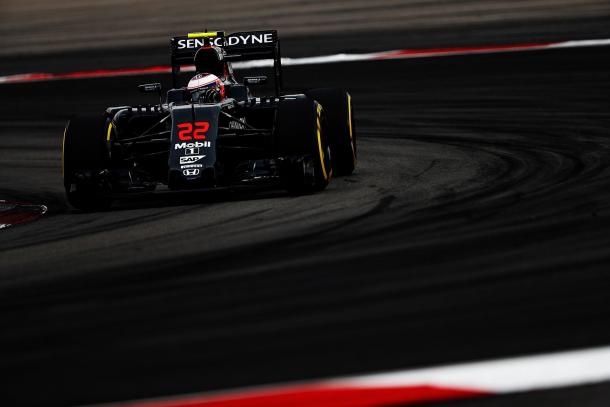 The fight between Williams and Force India was once again in full-flow, with the four cars, fighting over three spots available in the final 12 minutes of Q3. It was Hulkenberg who scraped in in P10, with Valtteri Bottas the unlucky driver to miss out, in P11. The Haas's were P12 and P13, Romain Grosjean ahead of Esteban Gutierrez.
Magnussen continued his strong weekend, with P14, ahead of Danill Kvyat and Carlos Sainz Jr in the Toro Rosso's filling the eighth row of the grid.
Meanwhile, the Mercedes duo played their usual trick and unleashed the W07 Hybrid in Q2 and were a long way up the road, Hamilton again in front, whereas the fight between the Ferrari's and Red Bull's closed even further, with around a quarter of a second the difference between P3 and P6.
Ragged Rosberg rues Q3
On first runs in Q3, Rosberg made a mistake at the fast T5/6 complex, and ended up fourth, evantually fifth. Meanwhile across the garage, Hamilton was busy lapping Sepang in 1:32.850, which is just under 0.3 down on Alonso's 2005 ultimate lap record. That effort put him, 0.5 clear of Verstappen, who was in turn 0.1 up on stable-mate Ricciardo.
As second runs got underway, Button placed his McLaren, on a solitary run in P7, before evantually slipping to P9, still ahead of both Williams cars, as Massa had a poor lap to muster 10th.
The Force India's were overjoyed at a fourth-row lock-out, the best they realistically could've hoped for, whilst a all Ferrari third-row left Vettel feeling that his team had underperformed and that the Red Bull's could've and probably should've been challenged.
Ricciardo improved, but Verstappen was still 0.047 up on his Aussie team-mate, as all attention switched to the charging Rosberg to see if he could make amends from his scruffy first attempt.
Around the lap, he was within 0.1 of Hamilton's benchmark, and heading into the final corner, prehaps slightly ahead, but he got oversteer on turn-in, run well wide and lost a chunk of time, that possibly could've seen him on pole. He ended up clocking a 1:33.264, 0.414 down on Hamilton, who aborted his final lap, the legacy of a mistake early on in it.
2016 Malaysian Grand Prix - The Grid
Grid Position
Driver
Team
1.
Lewis Hamilton
Mercedes
2.
Nico Rosberg
Mercedes
3.
Max Verstappen
Red Bull
4.
Daniel Ricciardo
Red Bull
5.
Sebastian Vettel
Ferrari
6.
Kimi Raikkonen
Ferrari
7.
Sergio Perez
Force India
8.
Nico Hulkenberg
Force India
9.
Jenson Button
McLaren
10.
Felipe Massa
Williams
11.
Valtteri Bottas
Williams
12.
Romain Grosjean
Haas
13.
Esteban Gutierrez
Haas
14.
Kevin Magnussen
Renault
15.
Danill Kvyat
Toro Rosso
16.
Carlos Sainz Jr
Toro Rosso
17.
Marcus Ericsson
Sauber
18.
Felipe Nasr
Sauber
19.
Jolyon Palmer
Renault
20.
Esteban Ocon
Manor
21.
Pascal Wehrlein
Manor
22.

Fernando Alonso

30 place grid penalty for a new Power Unit on Friday

15 place grid penalty for new Power Unit elements on Saturday.

McLaren