It is more than likely that when we look back on deciding factors for this year's Formula 1 World Championship, we look back to lap 41 of last Sunday's Malaysia Grand Prix, when in a sudden twist of fate, Lewis Hamilton's Mercedes power unit cried "I've had enough" going into Turn One.
The anguish in Hamilton's voice was clear, as he painfully wailed "Oh no! No!" with his hand on his head, crawling towards the gravel trap; with Red Bull's eventual winner Daniel Ricciardo 22 seconds behind.
What happened next?
One can only imagine how big the smile was underneath the Australian's crash helmet as he passed the smoking W07 (as if it could've gotten any bigger, that is), with the 'Honey Badger' going on to finally claim that elusive first win of his 2016 season. And along with Max Verstappen bringing home a one-two for the energy drinks giants, they have halted Mercedes sealing their imminent third successive Constructors' Championship for another week, at least.
No doubt that the then fourth placed car, the sister Mercedes of Nico Rosberg, was suffering with conflicting emotions. His heart skipping a beat when seeing Hamilton dejectedly clambering out of his flaming Silver Arrow; but a sweat forming on his brow - not just due to the searing heat of the Klang Valley - as the thought of a failure of his own toyed with his mind.
Fortunately for the German, that threat never materialised, not even a ten second time penalty for an overly-aggressive, uncalculated and heavily uncharacteristic move before Hamilton's ailment could stop Rosberg from claiming an almost unassailable 23-point lead at the top of the Drivers' Championship with five races to go.
I emphasise the almost, as this is Lewis Hamilton we're talking about; a driver who has clawed back bigger deficits in smaller time margins.
Rosberg's charge sneaks under radar
After all the drama over the course of Sunday's 56 laps, it's easy to forget Rosberg's gutsy drive after his first corner misfortune. Spun due to a kamikaze move from Sebastian Vettel, the German dropped too plumb last, but luckily was spared any terminal problems. Vettel wasn't so lucky, his front left suspension buckling under the force of collision.
However, Rosberg carved through the field with great efficiency - his lap times may not have set the world alight - in fact, in the early stages he was lapping around 1.5 seconds slower than the leading duo of Hamilton and Ricciardo.
He produced some fantastic racing. Although fortunate to walk away with a podium due to Hamilton's woes, this wasn't handed to him via strategy, he picked off everyone in his sights. He came close to throwing all his hard work away with an unconventional move on Kimi Raikkonen at Turn Two, which again saw him escape with no damage - except a 10 second time penalty.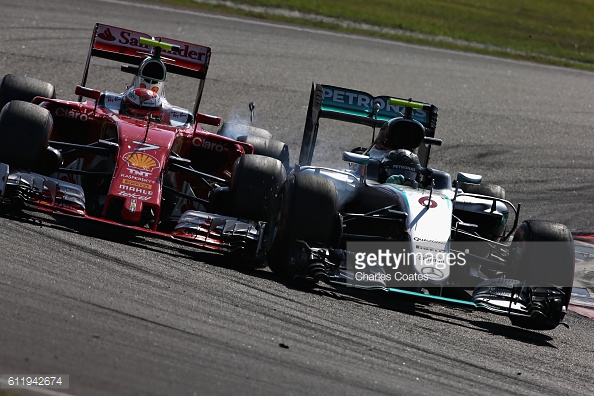 Due to the damage sustained in the collision, Raikkonen couldn't keep within ten seconds of the German to reclaim third place in the classification, his telemetry showing that his pace dropped by around three tenths of a second per lap - equating to a rough total of 8.1 seconds lost. One would be inclined to say that there has to be a revaluation of the penalty system for these types of infringements, as the Finn was subject to an illegal move, but ended up coming off worse than the assailant. Would it have been better in the interest of fairness for Rosberg to concede the position and have another go?
Rosberg also picked up another two points on his super licence for the misdemeanour; his third ticking off of the season. However, I'm not sure he'll mind that, given the high reward for his risk.
Vettel's botched Italian job
In the aftermath of Sunday's events, Sebastian Vettel has come under criticism not only from his own team, but indeed the whole of the Italian press, many citing that the four-times World Champion has fallen into "crisis". It may be a slight overreaction from a very passionate nation, given Ferrari's troubles and Mercedes' domination, but you have to backtrack to his Toro Rosso days to find a worse run of form for the German, now with just one podium in his last eight races. Not even his nightmarish last year with Red Bull in 2014 was as dire as this.
A collection of damning statements will make for heavy reading for Vettel, with Corriere della Sera claiming that Ferrari "urgently needs a successful driver". What do they say about people in the paddock having short memories?
Another publication in La Repubblica even went so far to doubt Vettel's speed and talent.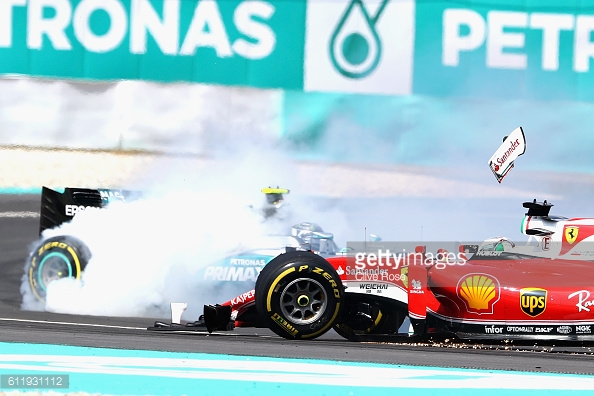 Brandished an "idiot" over the radio by Verstappen and by Niki Lauda, the clumsy incident will have done nothing to alleviate the pressure off of Ferrari and his shoulders, as Red Bull now look like they have cemented second position in the Constructors' Championship, after taking a maximum of 43 points away from Sepang. The gap is now up to 46 points.
Vettel has been handed a three place gird penalty in Suzuka for his moment of madness.
Palmer picks up points
One of the feel good stories of the Malaysia weekend was Jolyon Palmer picking up points for the first time in his Formula 1 career, using a daring one-stop strategy to good effect, dragging his Renault to tenth place after a disastrous Qualifying saw him line up 19th.
"Point-scorer: It feels good," Palmer said when talking to ESPN. "I'm really happy. I think the whole week has been really positive."
It's a much needed boost for Palmer, who is currently fighting for his spot on the Formula 1 grid, with Renault reportedly courting the likes of Nico Hulkenberg and Carlos Sainz for race seats next year; confident they can use their significant budget to good effect in 2017.
On the other side of the Renault garage, Kevin Magnussen endured a trying weekend, a serious and very resilient fire halted his Free Practice 1, with many mechanics shaken by the incidents as they courageously fought the flames. The Dane's race didn't take a turn for the better either, hit by Daniil Kvyat at Turn One in the first lap cluster, sustaining rear diffuser damage and thus losing downforce (if truth be told, the Renault doesn't have it in abundance to start with). He then citied brake issues as the straw that broke the camel's back, retiring on lap 17.
But, a double points finish is promising for the French marque, after Magnussen's 10th in Singapore a fortnight ago.
Hamilton looks to the heavens
In a very cryptic message, Lewis Hamilton blamed his reliability troubles on an extraneous force, claiming that "someone doesn't want me to win." This got many people thinking; was this a jibe at Mercedes, or had he taken his spiritual beliefs further than previously seen?
"A higher power. It feels right now that the man above, or a higher power is intervening a little bit." he told reporters after his race had been run.
Although the Briton was raw and heavily irrational, he doesn't have much cause for complaint, only suffering 11 race ending technical problems throughout the course of his whole career to date - 183 races, a failure rate of just 6.01%; the best reliability rate of any previous World Champion.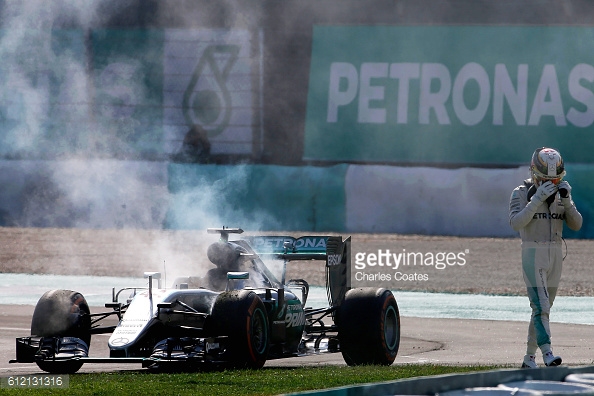 Mercedes Executive Director Toto Wolff couldn't explain the failure either. "It's clear you're seeking an explanation," Wolff told Sky Sports. "But, there are no words.
It looks like a hardware failure on the Internal Combustion Engine, which is very rare and very freak. It could be a supplier's problem; it could be a material problem. It wasn't anything that we saw coming."
But, Hamilton hasn't given up hopes of a fourth title just yet. "You forget I am world champion, so I should be all right. I will find strength from within. If I perform like I did this weekend then, providing the car holds together, good things can come."
Ocon goes beyond the limit
Manor new boy Esteban Ocon suffered the ignominy of two speeding penalties during Sunday's race, a problem acquitted to a wrongly set pit limiter, meaning that through no fault of his own, the young Frenchman exceeded the 50mph speed limit.
"I was doing everything right, slowing down before the line and pressing the limiter," Ocon told reporters. Although the infringements saw him finish in 16th and last place, Ocon was happy with the progress made by the team after Singapore., he even ran in the points in the early stage of the race.
"We were definitely better off here and we've made some real progress since Singapore, no doubt about that."
Red Bull's gamble pays off
The two virtual safety car periods were used to devastating effect by Red Bull, with both Verstappen and Ricciardo profiting heavily from the deployment. Red Bull rolled the dice very early on, calling in their lower placed car Verstappen in in the opening few laps after Vettel's retirement. In turn, this meant that the teenager had in essence the advantage of a pit stop and fresh soft tyres to attack the leaders, a bright move by the Red Bull pit wall.
"We decided to roll the dice with Verstappen," Christian Horner admitted to Motorsport.com. "As he was the second car, and it was more of a risk. But later in the race it looked like it was coming good for him."
After both Esteban Gutierrez and Hamilton's unrelated double retirement triggered a second VSC period, the Milton Keynes outfit opted to stack both cars in the pits, given that both cars would have been very marginal on tyre life at the end, with Rosberg also coming in for a final set of tyres with 16 laps to go.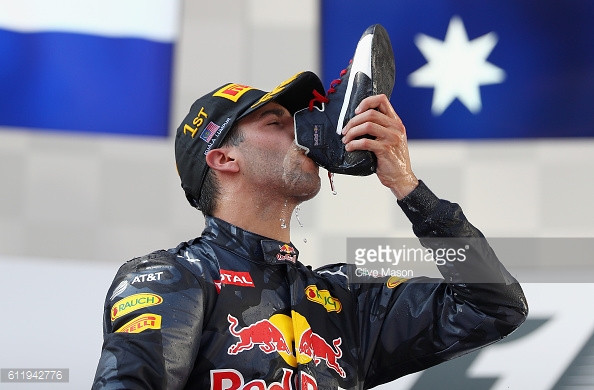 However, the difference was that Verstappen had to make do with a scrubbed set of tyres that he completed Qualifying on, whereas Ricciardo had the privilege of an untouched set, thus meaning that he could pull away from Verstappen in the final few laps as the Dutchman's tyres started to give way.
After all the post-race muscle-flexing and the indigenous podium procedure of a "shoey", that branched out to Rosberg, Verstappen and Horner as well in a stomach turning twist, Ricciardo expressed his relief in scoring his first win since Belgium 2014.
"Pretty overwhelmed right now," he said to Sky Sports, whilst beaming from ear to ear. "It's been a while since the last one."
The Australian also hinted that Japan would be a strong track for the downforce-laden Red Bull cars.
"It is a good circuit for us. We'll go there with some good momentum, good motivation and I think we'll have a good car, so we'll see what happens."