Although in the past, the Japanese Grand Prix has decided many titles, 12 in fact, this weekend's 28th Grand Prix from the legendary Suzuka circuit will not decide the fate of the championship. It will however go a long way in deciding whether Lewis Hamilton can pull off surely the most incredible comeback in Formula One history, or if Nico Rosberg moves even closer to claiming a well-deserved maiden world crown.
The scenario is this. There are 125 points remaining and Hamilton is 23 behind. That means, if Rosberg finishes ahead in just two of the final five races, the title will almost certainly be sealed for the German. Heading to Suzuka, Hamilton will know that any more duff starts on Sunday's and he could lose his crown. He is in the last-chance saloon, but as we know, and saw last weekend in Malaysia, fortunes can change in an instant.
Form Guide
​Since 2014, Rosberg has had an advantage over Hamilton in the two times the sport has visitesd Japan, claiming pole on both occassions. In 2014, he lost out in tricky conditions, and the 2015 start, where Hamilton's over-the-top move around T2, still angers Rosberg to this day. He will want revenge this weekend, for that.
Meanwhile, aside from Mercedes almost certainly wrapping up the constructors this weekend, the battle for second is still close, although Red Bull's 1-2 in Malaysia, pulled the Milton Keynes outfit ahead of Ferrari. The RB12 should be suited to the first sector, the world famous sequence of flowing left and right handers, that is the ultimate test of a cars downforce and stability. Ferrari should come back in the high-speed straight sections of the track, although Red Bull will more than likely still be ahead at the line.
Further down, Force India are growing increasingly confident of claiming fourth in the constructors and should hold an advantage over Williams this weekend, as the FW38 will struggle in S1 espicially with the need for downforce. Elsewhere, McLaren will run the new Honda power unit that Fernando Alonso tested in Malaysia, and hope to continue the recent points-scoring run, while Honda will want to avoid more comparisons to GP2 engines.
​What happened last year?
​Surprisingly for Suzuka, the 2015 race won't go down as one of the more memorable, with all the action coming at the start. From P2, Hamilton managed a better getaway and muscled his way past Rosberg at T2, who dropped to P4. Hamilton then coasted home, largely untroubled as Rosberg fought back to claim P2.
Alonso comparing his power unit as "GP2, engine, GP2", did not go down well at Honda - or indeed McLaren, who were embarrassed by their star driver being so openly critical. But as Alonso is very experienced, he knew full well what he was doing and that the comments would be played over Team Radio.
​Where will there be some overtakes?
Sector one is a big no-go for passing, except into T1, where with the assistance of DRS a move is often caccomplished. Elsewhere, the haiprin at T11 is a good place to try up the inside. A move into 'Spoon curve' (T13) is not impossible, but would take a great deal of bravery. '130R', the previously fearsome, now slightly nullfied T15 is a place to overtake, if you are extremely brave, and the 'Casio Triangle' complex at the end of the lap is a good place to try up the inside, although drivers will want to avoid a Alain Prost-Ayrton Senna esque collision there.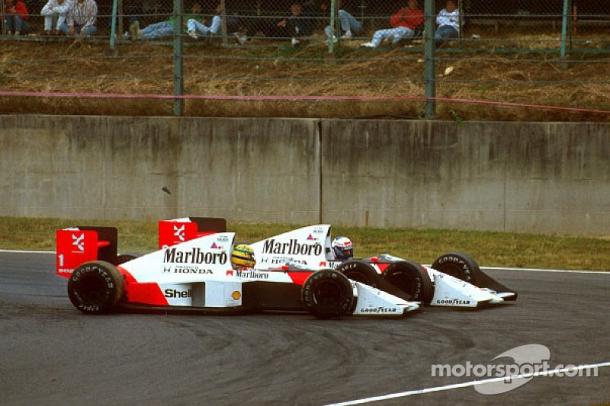 What tyres are Pirelli bringing?
​Pirelli have opted to bring the same tyre compounds as in Malaysia, with the hardest three compounds available. Use of the Hard tyre is mandatory in the race, and can be mixed and matched with the Soft and Medium tyres. As ever, the Intermediate and Wet tyres will be transported to Suzuka.
Will it rain?
​​October is usually typhoon season in Japan, and as we saw in tragic circumstances almost exactly two years to the day, can affect the race. The 2014 race, on October 5th, was hit with Typhoon Phanfone, and on lap 44, Jules Bianchi slid off the track at the Dunlop Curve and hit the recovery tractor dealing with Adrian Sutil's car. He succumbed to his injuries in July 2015.
The 2016 weekend should see a mixed bag, with Friday expected to be dry and cool. Saturday is when the rain has the most chance of appearing, 80% at the time of writing. Sunday should be dry, but the start could be affected by by overnight and morning rain.
When is it on?
​It's a very early start for those back in Europe, with FP1 getting underway at 02:00am on Friday morning. Qualifying is due to start at 07:00am on Saturday morning and the race at 06:00am on Sunday morning. Sky Sports F1 will be showing live coverage of every session, and for freeview viewers, Channel 4 have a comprehensive highlights package on both Saturday and Sunday.
First Practice - Friday - 02:00am - 03:30am
Second Practice - Friday - 06:00am - 07:30am
Third Practice - Saturday - 04:00am - 05:00am
Qualifying - Saturday - 07:00am - 08:00am
Race - the 53 laps of the 2016 Japanese Grand Prix gets underway at 06:00am on Sunday morning.
All times UK.