For only the seventh time in F1's history, do we look back at a race with no retirements, but we didn't need mechanical drama to make this race interesting. Overtakes aplenty with one title settled already, to no one's surprise.

Verstappen asks if Rosberg was cruising. The answer is "A little bit." from the German.

For now, enjoy the podium (sans shoeys) and sit tight for my race review which is imminent. But, I've been James Eagles (Twitter: @therealjeagles), thank you so much for joining me live for the Japanese Grand Prix.

See you in Austin, in two weeks' time.

PROVISIONAL CLASSIFCATION AFTER 53 LAPS

1. Rosberg
2. Verstappen
3. Hamilton
4. Vettel
5. Raikkonen
6. Ricciardo
7. Perez
8. Hulkenberg
9. Massa
10. Bottas

CHEQUERED FLAG: The gap is now 33 points, Nico Rosberg takes an effortless win in Suzuka, with Verstappen second and Hamilton third. Mercedes are Constructors' Champions again.

L53: Hamilton tries round the outside of the chicane, but runs out of road and has to take to the escape road.

L53: Nico Rosberg starts his final lap. Been an easy afternoon for him.

L51: Sainz: "What a f**king nightmare."

Sums up Toro Rosso's day nicely.

L49: Very hairy moment as Palmer nearly loses it whilst letting Verstappen past, Hamilton follows through, but loses time.

L48: Verstappen is holding off Hamilton beautifully, using his battery and seemingly better traction to very good effect.

L46: Raikkonen joins in: "Come on. Get them out of the way." He then has a full blown conversation with his engineer.

L45: We haven't had a McLaren Honda watch for a while. Alonso 16th, Button 18th.

It's happened again.

L45: And now Verstappen's tyres are losing temperature. Hamilton is one second behind, almost in DRS range.

L44: Tony Ross alerts Rosberg: "So, be aware, the front tyres are staring to drop to the bottom of the window."

Seems as if Rosberg is coasting a little too much, maybe singing a little tune.

L43: The gap between Verstappen and Hamilton is under two seconds. The gap to Rosberg is only seven seconds. Fourteen laps to go...

L42: "Blue flag. I mean it can't be true, can it?"

Vettel's miserable afternoon goes from bad to worse.

L41: Hamilton is closing on Verstappen, the gap is just 3.1 seconds.

Verstappen complains about troublesome backmarkers.

L40: As it stands, Mercedes will wrap up the Constrcutors' Championship, with a 1-3.

L38: "[Hamilton]'s pulling away." moans Vettel.

"Keep your head down. The race is not over." is the response.

L37: Vettel is right on Hamilton's tail, utilising those soft tyres, setting a 1:35.118; another fastest lap.

L36: Hamilton nabs it away from the Aussie with a 1:35.458.

L35: Riccirado's fightback starts with a blistering 1:35.596.

L34: In comes Vettel from the lead, he rejoins behind Hamilton. Mercedes have managed to pull off a blinder. The pressure builds on Ferrari. Again.

L33: Indeed, Raikkonen is now past him. Hamilton pits, rejoins on hard tyres in 4th. Raikkonen sets the fastest lap at a 1:35.990 and is right behind the World Champion.

L33: Ricciardo has a nightmare stop, losing three seconds due to a problem with the front right.

How crucial will that be?

L31: Vettel goes on another rant. Martin Brundle reckons he's starting an audiobook on blue flags.

I'd buy it.

L31: "It's ridiculous! I've lost a second." Vettel gets caught out by traffic at the hairpin as Hamilton closes...

L30: Raikkonen sets the fastest lap with a 1:36.018.

L30: Bottas and Massa get past the flustered Sainz for 11th and 10th respectively.

Rosberg pits, rejoins 3rd.

L28: Ricciardo: "Wouldn't go too much longer on these tyres, they're starting to go off."

L28: Verstappen: "Unbelievable mate. They're (Wehrlein and Nasr) just not moving."

He comes into the pits.

L27: Sainz has a go at Alonso, but runs out of road at Turn One.

L26: Nasr: "I've flatspotted, I've flatspotted the tyres."

Raikkonen pits.

L26: Alonso then gets past Nasr into 130R.

L26: Massive lock up into the hairpin by Nasr, Alonso takes evasive action.

L23: Alonso's looking for traction, but finding it is easier said than done.

L21: Now Hulkenberg passes Bottas at the chicane. He purrs "See you later."

Very nice.

L20: Gutierrez goes for a ridiculous move on Sainz at the Casio chicane, but ends up facing the wrong way.

My friend....

L20: Kvyat's angry, he's been passed by Alonso. "Come on, I need more revs. F**k sake."

L20: Another McLaren Honda watch. Button is in 21st, due to a stop and Alonso is up to 17th.

L20: Rosberg sets the fastest lap, with a 1:36.753.

L19: Meanwhile, as Perez passes Bottas in the trend of the race, David Croft says "1,2,3, quack."

L19: "Yeah, understeer a little bit, but oversteer as well."

Verstappen sounds happy.

L18: That was rather quiet for a Raikkonen/Bottas duel, the elder Finn uses the DRS to good effect going into Turn One.

Bottas is now under further attack, courtesy of Perez.

L17: More doom for Williams, as Ricciardo, Raikkonen and Perez all make moves on Bottas and Massa.

L15: Ricciardo and Raikkonen get past Massa, Hamilton passes Bottas. The Williams cars are yet to pit and are struggling.

L15: But the gap between Hamilton and Rosberg is now a fraction over 18 seconds.

L15: Vettel sets the fastest lap at a 1:36.782

L14: Hamilton glides by Ricciardo for 5th, before 130R. He passes Massa going into Turn One. The Brit is up to 4th!

L14: In comes Hamilton, he rejoins in 7th, behind Ricciardo but ahead of Raikkonen.

L12: Rosberg pits, Hamilton stays out and assumes the lead. Game on!

L11: Both Ricciardo and Verstappen pit, and both go onto the hard compound tyre.

L10: Verstappen: "Okay, I'm really struggling with the left rear now."

L10: McLaren Honda watch: Not good, Button 21st and Alonso 22nd having just pit. That'll please the bosses.

L8: Raikkonen runs wide on exit at Degner One. Gets away with it, but his aching tyres will feel that.

L8: Verstappen: "I'm starting to struggle a bit."

L8: The gap between Rosberg and Hamilton stands at 16.069 seconds already.

L7: Hamilton has a look up the inside of 130R on Hulkenberg, but checks back. He makes his move for 7th at Turn 1.

L6: Raikkonen goes for a carbon copy of his legendary move on Giancarlo Fisichella in 2005, going round the outside of Perez for 6th at T1.

Hamilton is losing nearly two seconds a lap due to traffic.

L5: The order as it stands: Rosberg, Verstappen, Vettel, Perez, Ricciardo, Hulkenberg, Raikkonen, Hamilton, Grosjean, Gutierrez

L3: Hamilton's angry, blaming the start on himself. If it stays like this, the gap will be 44 points.

#Team44 anyone?

L1: Vettel gets Ricciardo for 4th going into 130R

L1: Hamilton has an atrocious start again, Rosberg charges away, holds the lead, but his main rival has lost six places. Perez has a great start and is up to 3rd, incredibly!

Drivers' Championship

| | | | | |
| --- | --- | --- | --- | --- |
| Pos | Driver | Nationality | Team | Points |
| 1 | Nico Rosberg | German | Mercedes | 288 |
| 2 | Lewis Hamilton | British | Mercedes | 265 |
| 3 | Daniel Ricciardo | Australian | Red Bull-Racing | 204 |
| 4 | Kimi Raikkonen | Finnish | Ferrari | 160 |
| 5 | Sebastian Vettel | German | Ferrari | 153 |
Hello and welcome back to VAVEL's LIVE coverage of the 2016 Japanese Grand Prix, from the much-loved Suzuka circuit, the formation lap is underway, so around two and a half minutes until lights out!

It's early, but if you're up and on Twitter, keep in touch with me (@therealjeagles) throughout the race.
Another early one for Europe and thus the UK, so join me, bleary-eyed or not at 5:45am Sunday morning, where the live updates will continue.
A sombre spot - However, the last death to have ocurred in Formula 1 to date was due to an accident at the fabled Dunlop Curve, with the talented and charming Jules Bianchi succumbing to colossal brain injuries nine months after hitting a recovery vehicle in the waterlogged 2014 race. Mercifully, safety measures have improved even further, and the weather is set to follow suit; with the race set to be dry, after some morning rain.
Suzuka: Where titles are won and lost

Think about the infamous duels between Ayrton Senna and Alain Prost in 1989 and 1990. Mika Hakkinen taking on and beating Michael Schumacher and Eddie Irvine in 1998 and 1999 respectively. Schumacher sealed Ferrari's first Drivers' title for 21 years here in 2000, before pipping a young Kimi Raikkonen to the 2003 world title by just one solitary point here, and on the other end of the spectrum, all but conceded his chance of a record-extending eighth world title in 2006 - courtesy of a rare Ferrari failure. Suzuka is a track that has decided 13 World Championships since its introduction onto the calendar in 1987 and is truly of the jewels in the F1 crown, providing some great races; who can forget Raikkonen's charge from 17th to 1st in 2005?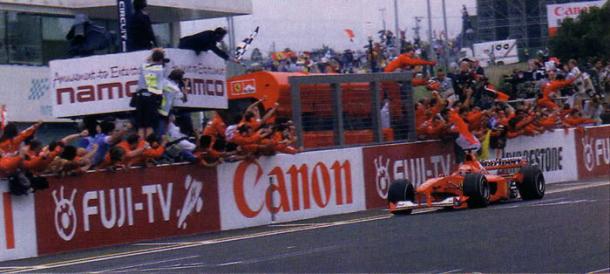 Whilst we have no chance of the 2016 champion being crowned this weekend, we may have a fair idea of who will go onto to claim the tag of the world's best for 2016.
Can Rosberg extend his advantage?

After Turn One in Malaysia last weekend, Nico Rosberg was last. At the end of lap 56, after a stellar, if not controversial drive, the German was celebrating a well-earned podium, with his Mercedes team mate Lewis Hamilton stricken by engine woes, that ended his race prematurely on lap 41, whilst leading by over 20 seconds.

The gap between the two is now 23 points, with Rosberg the form man, having won three of the last four Grand Prix since the summer break. Hamilton has it all to do, but is looking for a hat trick of Suzuka wins, having won the 2015 and the ill-fated 2014 events. Meanwhile, Rosberg has never won here, but has started on pole-position for the last three races around the legendary, 18 turn, 3.6 mile track, situated in Mie Prefecture.
Previous Winners

| | | |
| --- | --- | --- |
| Year | Driver | Constructor |
| 2015 | Lewis Hamilton | Mercedes |
| 2014 | Lewis Hamilton | Mercedes |
| 2013 | Sebastian Vettel | Red Bull-Racing |
| 2012 | Sebastian Vettel | Red Bull-Racing |
| 2011 | Jenson Button | McLaren |
| 2010 | Sebastian Vettel | Red Bull-Racing |
| 2009 | Sebastian Vettel | Red Bull-Racing |
| 2008 | Fernando Alonso | Renault |
| 2007 | Lewis Hamilton | McLaren |
| 2006 | Fernando Alonso | Renault |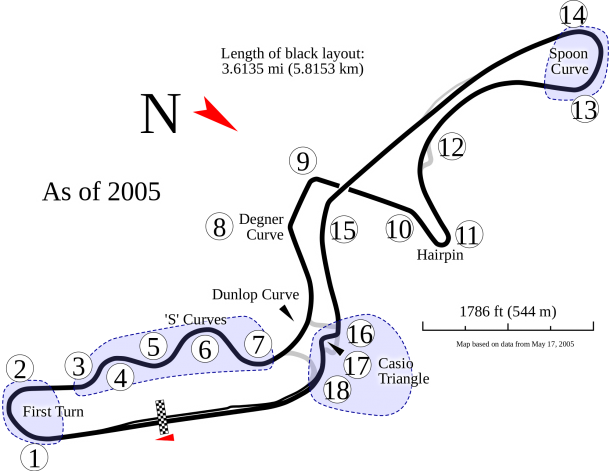 Welcome to VAVEL's live coverage of the 2016 Formula 1 Emirates Japanese Grand Prix, I'm your correspondent James Eagles and will be guiding you through all the events of tomorrow morning's Grand Prix from the iconic Suzuka circuit, in Japan.