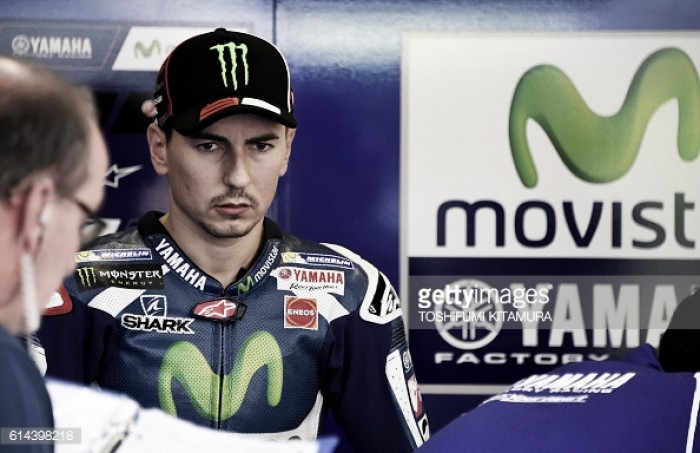 Conditions were great in Japan as the first Free Practice session of the weekend for the MotoGP class got underway. Hoping they had done enough to overcome the jetlag, the riders knew it was important to get out as early and as much as possible.
Iannone out, Barbera promoted, Jones in
Ducati Team rider Andrea Iannone will again miss a round as his fitness is jeopardised as he awaits his fractured vertebrae to mend. Replacing him on the Desmosedici GP16 is Avintia Ducati rider Hector Barbera who stepped up to the factory machinery for the first time. Australian Superbike Ducati rider Mike Jones was brought in to replace Barbera on his Ducati and so it was important for him to get as much time on track as possible.
Riders adjust to riding with injuries
Both Bradley Smith (Monster Tech 3 Yamaha) and Jack Miller (Estrella Galicia 0,0 Marc VDS) are making their return at the Twin Ring Motegi and used Free Practice 1 to come to terms with riding their bikes with the injuries they carry.
Smith damaged ligaments in his knee and Miller's fractured hand is what has ruled them out previously. The British rider was struggling as he was still 10 seconds off the pace with 15 minutes of the session to go.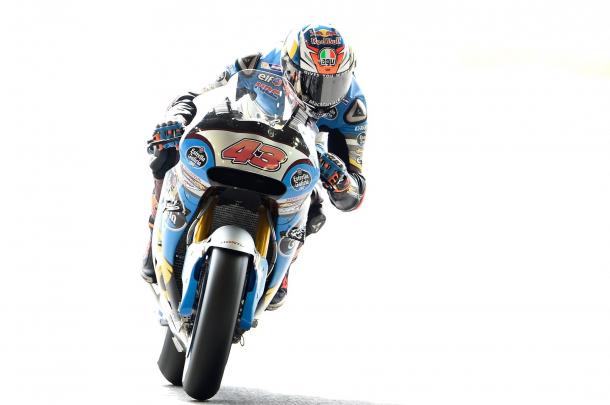 Marquez immediately to the top of the timesheet
Repsol Honda rider Marc Marquez has the chance of securing the MotoGP title this round, but aware that a lot of things need to fall into place in order to achieve it he looked to remain consistent in Japan. He immediately took the top spot on the time sheet, but as the riders began to settle and clock quicker times he was beaten to the top spot by the likes of Cal Crutchlow (LCR Honda) and the Movistar Yamaha riders Jorge Lorenzo and Valentino Rossi who needs to win and finish ahead of Marquez to keep the championship open.
It was not long before Marquez regained the top spot with a low 1:46 minute lap. As he returned to the pits, the Yamaha riders stayed out as Rossi did what he can to match the Spaniard's quickest time. They were both still much off the fastest lap time as they were three seconds slower than Lorenzo's record time of 1:43.790 during Qualifying. The Circuit lap time was also set by the Spaniard but in 2014; a time of 1:45.530 was set during the race.
As Marquez was seen testing some huge Lorenzo-style wings on the front of his Honda, his teammate Dani Pedrosa, who has got a good history in Motegi, had opted to begin the weekend without them.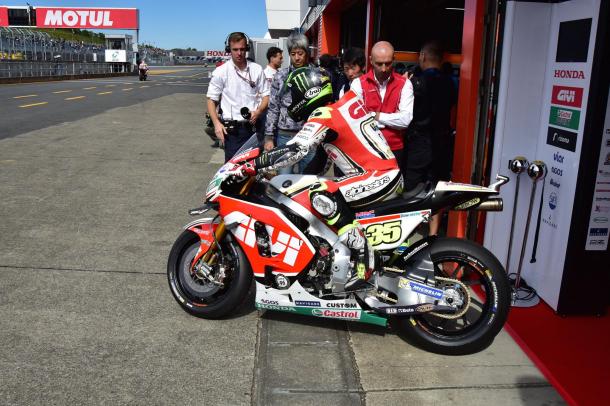 Vinales runs off track
The first 'mistake' came from Team Suzuki Ecstar rider Maverick Vinales who went very deep into a corner. At turn five of the track he missed the braking point and was forced to run off the track. Luckily he remained on the tarmac rea and was able to continue immediately with proceedings.
Vinales appeared to be struggling to turn the Suzuki as he missed the apex on several corners and with just over 15 minutes remaining he took to the gravel trap for the first time, but remained upright and was able to return to track after he continued straight on at turn one.
Pedrosa had a similar moment as he ran in very deep to turn 11; missing the braking point he was able to remain on the tarmac areas and not drop the bike. After rescuing it, he decided to return to his garage in pit lane.
Marquez looking to break the barrier
After his short break in the pits, Marquez returned to the track where he again shaved 0.152 seconds off his time bringing him even closer to breaking through the 1:46 minute barrier; he was just outside with a time of 1:46.031.
In the last five minutes of the session, the majority of the riders were out on track looking to make some final improvements before things came to a close. Quick laps from both Ducati Team rider Andrea Dovizioso and Lorenzo brought them up to the top of the leaderboard.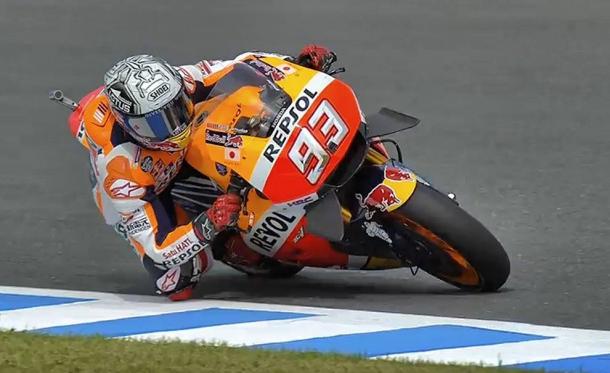 Aleix Espargaro spoils a flying lap
Team Suzuki Ecstar rider Aleix Espargaro was looking strong again throughout the opening session of the weekend. On his last lap, he was on target to set the quickest time which would have took him to the top of the timesheet however he ran in deep to turn 11 spoiling his success as he recovered from ending up in the gravel. He did not fall off the GSX-RR though and was able to return to track in one piece.
Crutchlow crashed off at turn nine and needed to receive help from the marshals although he appeared unhurt. Avintia Ducati rider Loris Baz also crashed at the end of the session but fortunately was able to walk away with no further injuries to the ones he was already carrying.
Dovizioso goes top
Dovizioso went top with his final lap of the session as he was successful in taking 0.245 seconds off Marquez' time making his time of 1:45.786 the time to beat. It was almost the 'perfect lap' set by an Italian rider on Italian machinery on Japanese territory. Was this going to be his weekend? And was he going to become the ninth different winner of MotoGP this season?
Dovizioso quickest at the end of Free Practice One
With Dovizioso now quickest and the only man to break through the 1:46 minute barrier, Marquez had to settle for second quickest in FP1 ahead of Lorenzo, Rossi and Pedrosa who made up the top five. Vinales was sixth quickest ahead of his teammate Aleix Espargaro. The fastest independent team rider was Crutchlow in eighth who along with Alvaro Bautista (Aprilia Racing Team Gresini) and Barbera, completed the top ten.
Smith remained over five seconds off the pace as he learnt how to adjust to the bike with the 'injuries and wildcard Jones fell into the 'not qualified' category as his time of 1:53.191 was out by 107% as he was 7.687 seconds off Dovizioso's race pace on his debut.
Free Practice Two gets underway for the MotoGP
The British rider however was back on track in time for the start of Free Practice 2 despite looking incredibly uncomfortable during the first session. Within moments of the session starting, Rossi was forced to return to the pits as the dummy petrol tank cover on his M1 was loose. It was tightened up in minutes and he was able to return to the track having not lost much time.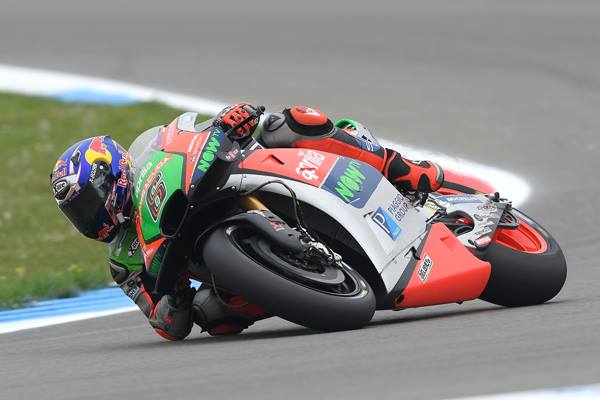 Several riders battling for the top spot
Initially, Lorenzo went to the top of the timesheet at the start of the session and despite a poor third sector on his next lap was able to improve again. Marquez, Dovizioso and Aleix Espargaro (despite a personal best first sector) were on track to beat him. It was Dovizioso's time of 1:45.903 that became the time to beat which was soon almost improved by Aleix Espargaro who lapped quickly but unfortunately Marquez was just that fraction quicker as he regained the lead.
Bradl crashes out
A third of the way into the session Aprilia Racing Team Gresini rider Stefan Bradl crashed out at turn 10. The Marshals were able to get him restarted, moments later Monster Tech 3 Yamaha rider Pol Espargaro also crashed out at turn nine after he lost the front. They struggled to restart the bike and had to free-wheel it back to the pits via the back road despite several attempts to get it running again.
Marquez has a huge moment before crashing out on a following lap
Marquez continued to chip away at his own time for several laps meaning that the others had to aim towards beating his time of 1:45.744 was the one to beat midway through the session. He had a huge moment on track as he 'over-cooked' it heading into turn one. Along came Dovizioso moments later who was able to shave a mere 0.007 seconds off the Spaniard's time but it was enough for him to take the lead.
With less than seven minutes of the session remaining, Marquez crashed out at turn ten, the front end tucked under as he opened the throttle up as he made his way to the start of the start-finish straight causing the back end to spin round. He was able to pick the bike up and immediately get off the line before restarting his bike. He remained on track for the rest of the session.
Huge highside for Pedrosa leaves him with a fractured collarbone
Moments later, Pedrosa suffered a huge highside at turn 11 as he was thrown over the top of the bike and both tumbled rapidly into the gravel trap. The bike was trashed and Pedrosa had to be taken back to the pits via scooter; he was discreetly checking his collar bone as he supported his arm.
When he returned to the garage he was taken immediately to the medical centre; unfortunately it was confirmed that he had broken his right collarbone. It has since been confirmed that the Spaniard will sit out of the round at Motegi as he will fly back to Spain where he will undergo surgery.
He will be replaced by Honda Racing Corporation test rider Hiroshi Aoyama in Motegi; a track he is familiar with as it was built by the Japanese manufacturer and is used for testing by them also.
Big crash for Laverty who also has a highside
More carnage occurred on track as Pull & Bear Aspar Ducati Team rider Eugene Laverty also had a highside, crashing out at turn six. Narrowly missed by one of the Estrella Galicia 0,0 Marc VDS riders, he required medical assistance at track side and had to be carried off on a stretcher; the bike destroyed itself hitting Laverty as it tumbled through the gravel. Laverty was able to walk to the medical centre himself and was later taken to the local hospital via helicopter for a CT scan.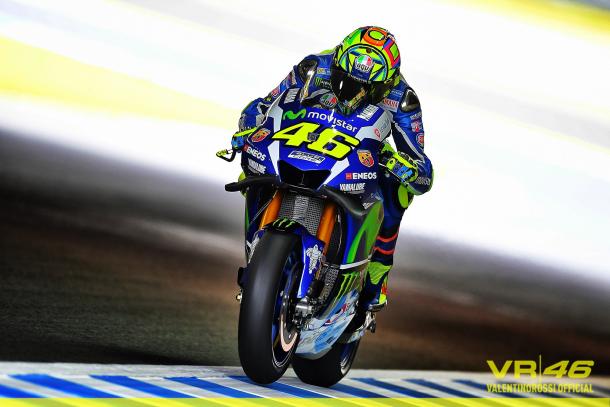 Rossi goes top of the timesheet
With less than four minutes to go, Rossi went to the top of the timesheet with a time of 1:45.684. Dovizioso and Aleix Espargaro were looking like they were going to overtake him. Only Dovizioso was able to improve on Rossi's time by 0.2 seconds as Espargaro's final sector let him down. But then along came Aleix's teammate Vinales who took another 0.436 seconds off Dovizioso's time to go top with a time of 1:45.248.
Miller crashes out in the final staged
Jack Miller (Estrella Galicia 0,0 Marc VDS) crashed out at turn 3 in final minutes of the session adding to the drama. Fortunately he appeared unhurt and was straight back to his feet although he did have an early and abrupt end to his first day returning to the MotoGP.
Lorenzo quickest at the end of the day beating the Circuit Record Lap
Meanwhile as the remaining riders continued to make their final attempts to complete flying laps on track, Lorenzo was able to improve on Vinales' time by 0,097 setting a time of 145.151. Dovizioso and Vinales had one last final attempt but were unable to improve meaning that Lorenzo's time that beat the Circuit Record Lap time that he set in 2014 (but was almost 1.5 seconds slower than his 2015 pole position time) was enough to keep the Spaniard on top at the end of day one.
Dovizioso had to settle for second and Vinales completed the top three. Marquez was fourth quickest and another solid performance from Crutchlow meant he finished fifth as the second highest placed Honda and the top independent team rider at the end of the first day of the Japanese GP.
Aleix needs to improve on the final sector
Aleix Espargaro was sixth quickest, an improvement from him on his final sector will be extremely significant for him. He finished ahead of Rossi who left it late to improve on his time from FP1 and he ended the first day in seventh. Danilo Petrucci (Octo Pramac Yakhnich) slotted in behind him and ahead of Pedrosa and Pol Espargaro who completed the top 10.
Despite crashing Bradl remained the top Aprilia finishing 11th ahead of his teammate Bautista. Laverty was 13th ahead of Barbera making his debut on the factory team Ducati in 14th and Yonny Hernandez (Pull & Bear Aspar Team) completed the top 15.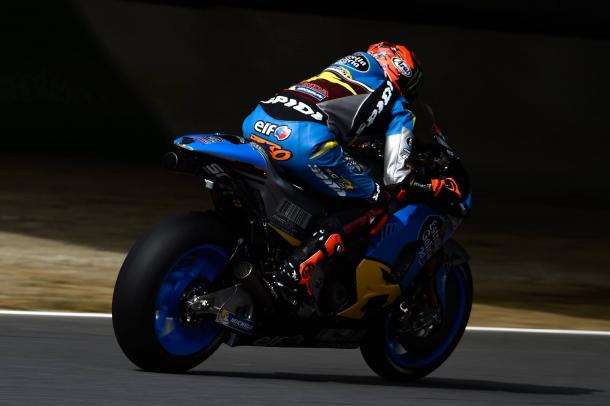 Wildcard appearances and returning riders results
Scott Redding was 16th fastest on his Octo Pramac Yakhnich Ducati ahead of Katsuyuki Nakasuga, the Japanese rider who his making a wildcard appearance on the Yamalube Yamaha Factory Racing Yamaha.
Miller was 18th ahead of his teammate Tito Rabat. Baz, who is still struggling with his right foot that he fractured early on in the season, was 20th ahead of a painful looking Smith who remained almost four seconds off the pace in 21st, but ahead of Jones making his MotoGP debut as a wildcard appearance on Barbera's Avintia Ducati as the Spaniard stepped up to the factory team. Jones remained almost six seconds off the pace.