After a difficult first day that resulted in severeal crashes for the 2016 Moto3 champion Brad Binder (Red Bull KTM Ajo), he managed to turn it around during Free Practice 3 and by the end of the session had became the man to beat; not that it was easy for him.
Perfect conditions for riding a bike in Japan
The conditions at the Twin Ring Motegi were again perfect as the sun was bright in a clear sky. It meant that the 250cc riders were able to push more which in turn though led to more crashes. One of those came from Enea Bastianini who came off his Gresini Racing Moto3 Honda with just 15 minutes of the final ractice sessino to go.
Bastianini crashes out of FP3
The Italian, who is yet to win a round this year, and who is working hard to finish second in the championship that has already been claimed by Binder, came off at turn seven. Rookie Sky Racing Team VR46 rider Nicolo Bulega had placed himself at the top of the timesheets once again, until Bastianini started to push and took the title from him.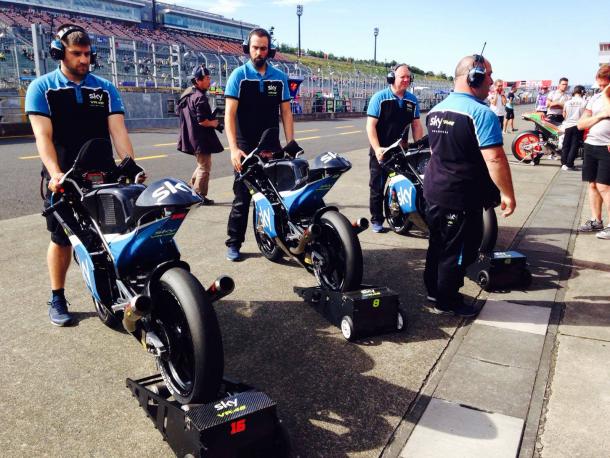 A few laps after going top Bastianini was about to exit the turn, however when he touched the throttle the front folded and he slid off. Unable to get his bike restarted the Italian received a lift back to the pits.
Wildcard Okazaki one of many crashes in the class
Several other riders crashed as they looked to finalise settings before the Qualifying session. One of those included female wildcard rider Shizuka Okazaki who came off her UQ & Teleru Kohara RT Honda in the final stages. She came off at turn 10 after the front of her bike folded.
Moments later, Tatsuki Suzuki (CIP-Unicorn Starker) came off at turn nine of the track. The Japanese rider was narrowly missed by his teammate Fabio Spiranelli who did what he could to avoid him as he slid into the gravel, taking to it himself.
Many riders visited the top of the leaderboard
In the final stages Andrea Migno (Sky Racing Team VR46) and Fabio Quartararo (Leopard Racing) both made brief appeareances at the top of the timesheet after they set the quickest time. Third in the championship, Jorge Navarro (Estrella Galicia 0,0) also went top with just three minutes to go.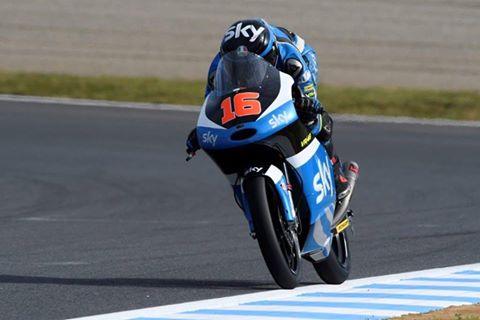 Binder quickest after FP3
But on his final lap of the final practice session, Binder set out on a last surge where he found he was able to go top on his KTM. His time of 1:56.651 that beat the Circuit Record Lap set by Alex Marquez in 2014, and was just 0.167 seconds of the best ever lap completed by Romano Fenati in 2015, was 0.243 seconds quicker than anyone else in the session.
Navarro finished second quickest as the highest placed Honda, ahead of Quartararo and Migno, who along with Niccolo Antonelli (Ongetta-Rivacold) completed the top five. Behind him was Livio Loi (RW Racing GP BV) who has looked incredibly strong in Motegi so far throughout the weekend was sixth at the end of FP3. Bastaianini was pushed down to seventh as he was unable to return to track after his crash.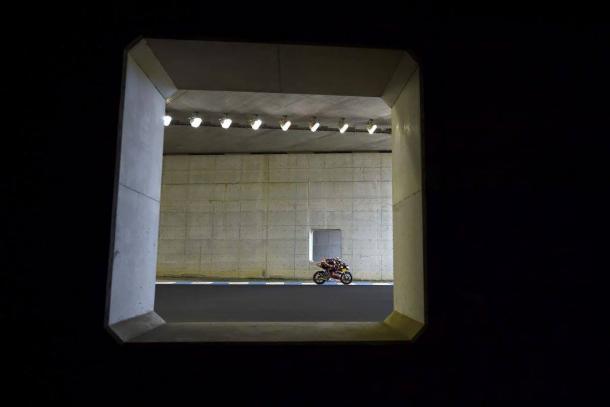 Gabriel Rodrigo (RBA Racing Team) was eighth quickest ahead of rookie Bulega who was pushed down to ninth and local boy Suzuki completed the top 10. He was also the highest placed Mahindra rider; the manufacturer appear to be struggling to adapt to the Japanese circuit.
Riders keen to get out for Qualifing
Qualifying got underway for the Moto3 class and fifteen minutes into the session, Stefano Valtulini crashed at turn two. The 3570 Team Italia Mahindra rider slid out at the turn but immediately was able to get to his feet.
Navarro initially took the top spot of the leaderboard with a time of 1:56.951. However, it was still very much early days especially in the Moto3 250cc class. Navarro remained out on quite an empty track as he worked on improving his own time in an attempt to secure pole. He looked to come close on several occasions midway through the session.
Ono on form at his home round
With just under 20 minutes remaining, Honda Team Asia rider Hiroki Ono improved by almost 0.3 seconds on Navarro's time taking pole from the Spaniard fighting for second in the championship. The Japanese round is a very important one for the local lad who is running with Honda who built and own the track and use it for testing, and is sponsored by Honda Team Asia.
Bulega applying the pressure stealing pole position
His position was far from safe though as rookie Bulega and his teammate Migno worked hard to improve their time together on track, coming close on several occasions and just missing out because of the final sector. However with just over 13 minutes remaining Bulega was able to go top with a time of 1:56.673.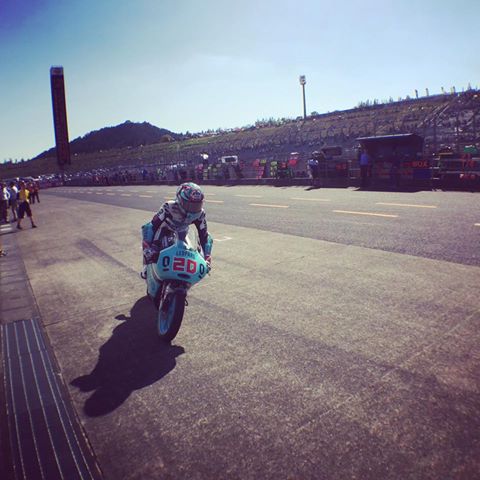 Quartararo crashes out
Quartararo crashed at turn nine of the circuit with just over 17 minutes remaining. He was able to get his KTM restarted after the back end came round as he touched the throttle on the exit of the corner. His team had his work cut out to ensure his bike was read for him to get another chance on track. He was back out on the track within minutes.
In the final stages of the session, Brad Binder led a small group of riders who left the pits behind him which contained his teammate Bo Bendsneyder (Red Bull KTM Ajo) and Fabio Di Giannantonio (Gresini Racing Moto3).
They had just completed their flying lap and were about to start their final attempts to gain a better grid position when they were met by a good majority of the field as they were making their way out on to track; with so many on track it would take some doing to make any further improvements on track.
Bulega working to protect his pole position
In an attempt to stop riders from following him, current pole position man rode through pit lane shaking off a line of riders in the meantime. He had a clean track ahead of him when he returned and continued in his attempts to secure pole.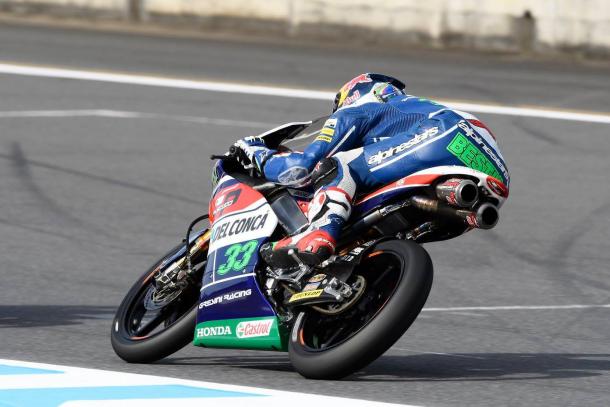 Binder falls victim to turn nine
Darryn Binder became the latest victim of turn nine as the corner has caught out several riders so far this weekend. The Platinum Bay Real Estate rider slid off on the exit of the corner as the front tucked when he began to exit the corner. He was able to get restarted.
Moments later Antonelli and Guevara crashed out at turn four of the track; both riders were OK however Guevara did not look pleased.
Several riders battling for pole position
As the riders completed their final laps, Bastianini had just taken pole, but then a group of riders crossed the line momentarily behind him. Bastianini, Brad Binder and Migno all held pole temporarily, however at the same time Ono completed a flying lap and his time of 1:56.443 was what the riders had to aim for in order to reclaim it.
Ono on pole with record breaking pace in Japan
He had done it, Ono took pole ahead of his home round at the Motul Grand Prix of Japan with his record breaking pace. He had completed the fastest ever lap in the Moto3 class at the Twin Ring Motegi. However, the Japanese rider received a three grid penalty for riding too slow on track.
This means that Migno will start from pole alongside Brad Binder who was promoted to second and Bastianini who moves up to complete the front row while Ono will start from fourth.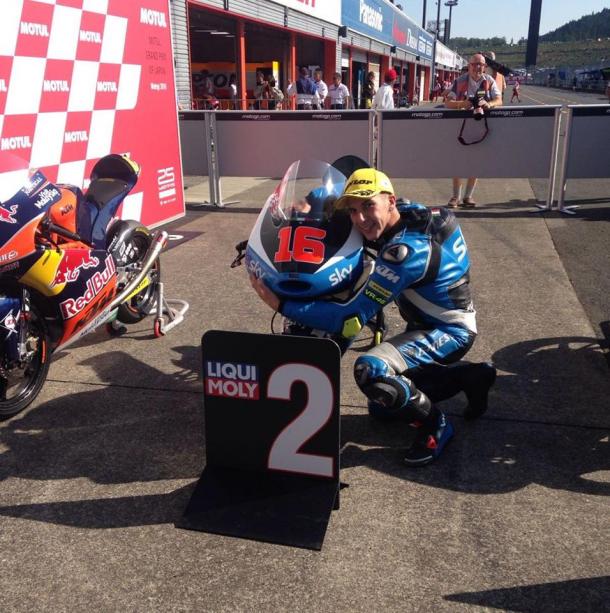 Bulega and Lorenzo Dalla Porta (Sky Racing Team VR46) will join penalised Ono on the second row. Despite his crash at the end, Antonelli will start from seventh ahead of Quartararo and Adam Norrodin (Drive M7 SIC Racing Team). Philipp Oettl (Schedl GP Racing) completed the top ten and will be joined on the fourth row by Navarro and the highest placed Mahindra rider Francesco Bagnaia (Pull & Bear Aspar Mahindra Team).
How the rest line up…
Albert Arenas (Peugeot MC Saxoprint) will start from 13th ahead of Joan Mir (Leopard Racing) and Livio Loi (RW Racing GP BV). British rider John McPhee (Peugeot MC Saxoprint) will start the Japanese round from 16th on the grid and rookie Aron Canet (Estrella Galicia 0,0) and Di Giannantonio will join him on the sixth row.
After crashing, Rodrigo will start ahead of his teammate Guevara from 19th and 20th ahead of Jakub Kornfeil (Drive M7 SIC Racing Team). Khairul Idham Pawi (Honda Team Asia) will start from 22nd ahead of Jorge Martin (Pull & Bear Aspar Mahindra), Jules Danilo (Ongetta-Rivacold) and Suzuki. Marcos Ramirez (Platinum Bay Real Estate), Andrea Locatelli (Leopard Racing) and female rider Maria Herrera (MH6 Team) complete the top 30.
Lorenzo Petrarca wll start from 31st on his 3570 Team Italia Mahindra ahead of Spiranelli and Valtulini who along with wildcard riders Okazaki and Rei Sato (41 Planning IodaRacing Japan) complete the Moto3 grid.