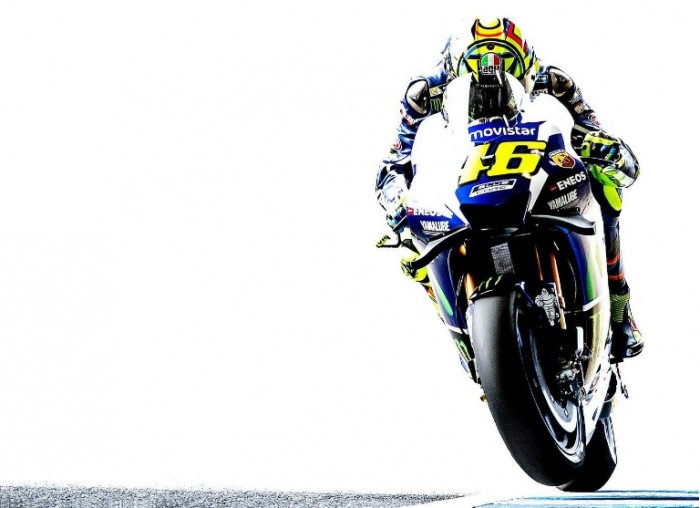 As per usual it was a very eventful MotoGP Free Practice 3 ahead of the Motul Grand Prix of Japan at the Twin Ring Motegi. The conditions were perfect as the riders took to the track under the clear skies; however they were missing Dani Pedrosa (Repsol Honda) who has been ruled out after breaking his collarbone when he suffered a huge highside.
Dani Pedrosa out of the Japanese GP
The Spanish rider travelled back to Spain where he was to undergo surgery on his right collarbone after the impact on the landing. He is to be replaced by Honda test rider Hiroshi Aoyama; at the track created by the manufacturer that the class have competed at since 1999.
Laverty to undergo constant assessment before being permitted to ride
Also missing from FP3, was Pull & Bear Aspar Ducati rider Eugene Laverty, who although he had no injuries following his highside during FP2, and after being cleared by the hospital as he had travelled there to undergo a scan, he as advised that he should sit out of the session as a precaution. He was to be assessed just before FP4 before he was permitted to participate in the afternoon sessions.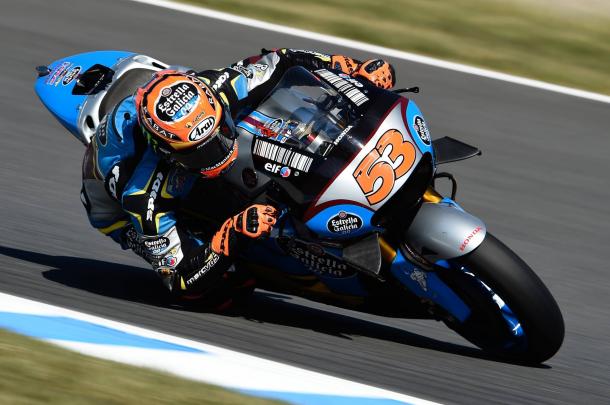 Miller crashes out
Several riders made mistake during FP3 including Jack Miller who crashed from his Estrella Galicia 0,0 Marc VDS Honda on two occasions. After his first crash earlier on, he was able to return to the track later on where he again fell. Luckily it was a 'small' crash as the front tucked at turn nine and he slid. He was able to walk away unhurt from both crashes.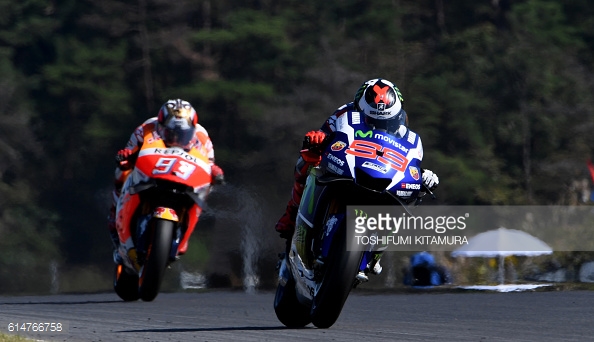 Lorenzo suffers a huge high side
It was Movistar Yamaha rider Jorge Lorenzo's crash that stole the headlines. After being the man to beat on day one of Free Practice at the Twin Ring Motegi, Lorenzo suffered a huge highside at turn two of the track. It was a crash that was as painful to watch as Pedrosa's. In fact he may have been thrown higher before landing hard on the crowd, bouncing on his back and landing in the gravel.
Fortunately, the Spaniard was able to walk after the crash; he limped to the medical centre but was supported in the process. He was then later taken to the local hospital via helicopter where he underwent a CT scan. He was wheeled to the helicopter in a wheelchair with a drip attached to help with fluids. He was declared fit to ride.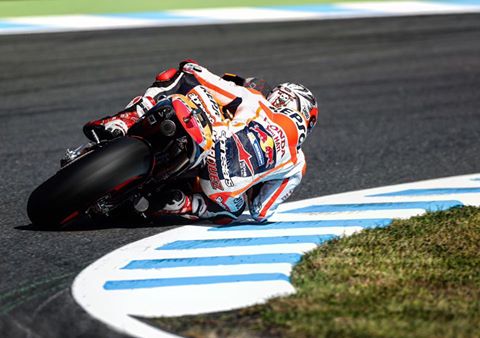 Marquez quickest during FP3 as he tries to seal the championship
Marc Marquez (Repsol Honda) has also been strong at his manufacturer's home track. He was the only rider during the session who was able to lap under 1:45 minutes. Beating the Circuit Record Lap set by Lorenzo in 2014, but not quite matching the best ever lap set by Lorenzo last year, his time of 1:44.987 was enough to keep him on top.
It was double success for the manufacturer as British rider Cal Crutchlow, who has been on fantastic form of late, claimed the second spot aboard his LCR Honda. Lapping at just 0.039 seconds slower than Marquez, it was another fantastic performance from the Brit who was also the top independent team rider.
Barbera fourth after just three sessions on the factory Ducati
The Ducati Team have looked great also so far at Motegi. Andrea Dovizioso (Ducati Team) was third quickest ahead of his temporary teammate Hector Barbera who finished the session in fourth. Barbera, who normally rides for the Avintia Ducati on older machinery was given the opportunity to step up to the factory Ducati as the usual rider Andrea Iannone was ruled out as he is still injured after fracturing vertebrae during practice in Misano.
It has taken just three sessions for the Spaniard to adapt to the newer machinery and fourth during FP3 is a fantastic result; he just needed to repeat it in Qualifying. Replacing Barbera on his Avinitia Ducati is Australian Superbike rider Mike Jones who is swapping his Panigale for the Desmosedici in Japan.
Another strong performance from Aleix Espargaro
Speculation has surrounded the MotoGP which has witnessed eight different races winners so far this season.As many riders thought that it would be Dovizioso who had the highest chances of becoming the ninth rider, another rider who has also looked promising, especially of late, is Team Suzuki Ecstar rider Aleix Espargaro who finished fifth during FP3 ahead of his teammate Maverick Vinales.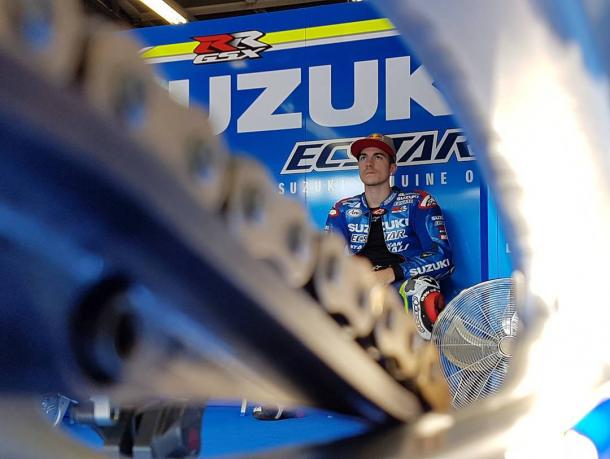 Movistar Yamaha rider Valentino Rossi was seventh quickest. Should he remain in contention of winning his tenth world title, he needs to beat Marquez and finish as far ahead of him as possible as he looks to close down the 52 point gap in the championship; it isn't over yet however a win from Marquez, and 14th or lower from Rossi means the Spaniard will take the crown.
Behind Rossi during FP3 was Monster Tech 3 Yamaha rider Pol Espargaro who finished eighth quickest as the second highest independent team rider. Lorenzo was pushed down to ninth as he received treatment, and Octo Pramac Yakhnich Ducati rider Danilo Petrucci claimed the last spot in the top 10 riders who automatically progress through to Qualifying 2.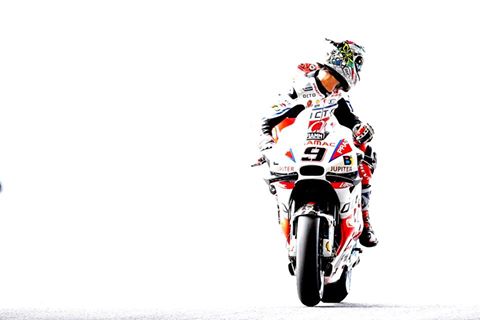 Redding just outside the top ten
British rider Scott Redding (Octo Pramac Yakhnich Ducati) just missed out on the top ten finishing 11th ahead of Aprilia Racing Team Gresini rider Stefan Bradl in 12th. The battle will commence in Qualifying where the top two riders will be allowed to progress on to Qualifying 2 for the chance of starting from the first four rows of the grid ahead of the Motul Grand Prix of Japan.
Riders declared fit for Free Practice 4
Free Practice 4 saw the return of both Irishman Laverty who was given the all-clear to compete after his incident the day before and Lorenzo who had also returned from the local hospital and was declared fit to race.
It was as if nothing had happened to the Spanish Yamaha rider as he immediately made his way to the top of the timesheet working hard to make up for the time lost during FP3. His confidence did not appear to have been affected at all in Motegi.
Hernandez crashes out of Free Practice 4
With 13 minutes of the session remaining, Yonny Hernandez (Pull & Bear Aspar Ducati) crashed out at turn ten of the track. Both he and the bike ended up in the gravel. Hernandez was back up to his feet immediately and walked to the side of the track as the Marshals un-buried his bike from the gravel trap.
It is rumoured that the Columbian rider may be dropped from his team at the end of the season as Karol Abraham who has been working alongside KTM to develop the 2017 bike that will be joining next season is thought to be replacing him.
Aoyama crashes out
With less than five minutes remaining, Pedrosa's replacement Aoyama crashed out of turn seven, a very fast turn on the race track. Fortunately he was up and walking after the track but he chose to wait at the side rather than rush back as he knew he would have not bmade it back out on time.
Marquez remained the quickest man on track at the end of Free Practice 4 which was a chance to finalise settings ahead of the Qualifying sessions that followed. A last minute lap allowed pol Espargaro to tuck in behind the Spaniard on the leaderboard knocking Lorenzo down to third. Dovizoso and Rossi completed the top five.
Redding battles with the Aprilia boys for the top spots in Q1
A fantastic battle took place for the top two spots on the timesheet during Qualifying 1. Redding was competing mainly against the Aprilia Racing Team Gresini boys Bradl and Alvaro Bautista. Smith had made significant improvements from the day previous as he learnt to adjsut each session.Wildcard Nakagami also looked really good on track.
Bradl led ahead of Redding as they had both managed to lap below the 1:46 minute barrier. But then with just less than three minutes remaining, Bautista lapped at 1:45.614, improving on his teammate's time by 0.2 seconds and knocking Redding out of the top two.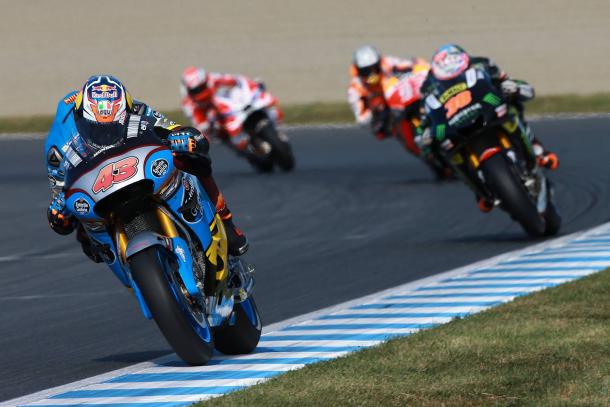 Bradl crashes out of a flying lap
Bradl retliated and a flying lap within the last minute and was looking to take another 0.2 seconds of Bautista's time but unfortunately for the German rider he crashed out turn eleven went the front went front under him; it was such a shame for him as he waved his arms in anger. He had to stand and watch at te side of the track to see whether Redding could do it.
Redding's first two sectors were quicker than Bautista's, but then on the third sector he could only manage a personal best time. He kept pushing as everyone watched in suspense to see if he could do the business. He was unable to beat Bautista's time, but it was enough to push Bradl down to third. Redding had claimed second in Q1 and was going to progress through to Q2 with the Spaniard.
Time to decide the grid positions
Unfortunately for Bautista he began the session with a crash jeopardising his chances of a better grid position imimediately. The important thing was that he was not hurt although he was incredibly disappointed as he stood and looked at his bike.
Marquez came out meaning business. He completed his out-lap and then went on to complete his first flying lap which he did in a fantastic time of 1:44.617. The next lap he improved by 0.483 seconds bringing his time down to 1:44.134.
Dovizioso, Vinales and Rossi were working hard behind him all taking their turn briefly in second place before along came Lorenzo and slotted in behind the Spanish championship leader. Eight minutes remained though and a lot more could happen in such a short time.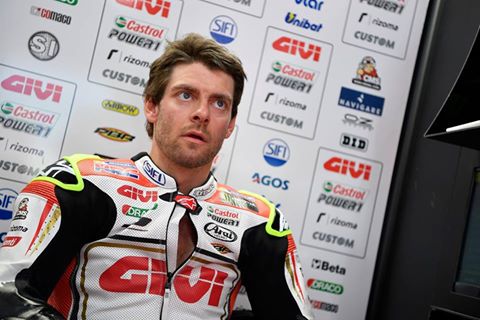 Great lap from Crutchlow
Crutchlow made his presence felt as the independent team Honda rider slotted in in third moments later. As Rossi was pushing he had a moment at turn 14 where he slid the rear end on the right-handed corner and the bike sat up meaning his left foot came off the peg.
A short stop for Marquez, who was quickly joined in the pits by Lorenzo and others, was followed by their last attempt to improve grid positions. Barbera making his debut on the factory Ducati was waiting patiently in the pits to receive a tow from another rider; he left alongside Petrucci but soon Lorenzo left the pits and Barbera tucked in behind him.
Mistakes from Marquez and Crutchlow
Marquez was trying to hard when he returned to the track and as soon as he completed his out-lap he tried to push immediately and hard again however he made a mistake on turn two, and had another wobble a few corners later. He decided to cool off and try again on the next lap.
He found himself behind Rossi who was only a quick lap, but out of the two Marquez was just that fraction wuicker. As they came through the third sector it was still incredibly close until Marquez overcooked it and went wide running off the track. Rossi continued and crossed the line with a time of 1:43.954; he had stolen pole position from Marquez as the first man underneath the 1:44 minute barrier.
Unfortunately for Crutchlow, while trying to improve on his second row start as he was currently in fifth, the British rider crashed out ending his gfinal attempt early.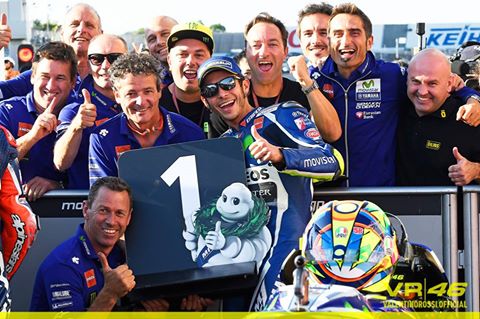 Rossi snatches pole ahead of the Motul Grand Prix of Japan
Rossi continued to push and was quicker during the first two sectors, he lost time on the third sector and had Vinales in front of him. Rossi was unable to improve on his own time due to the slight hold up from his future teammateb but he had done enough to finish on pole position for the tenth time this year.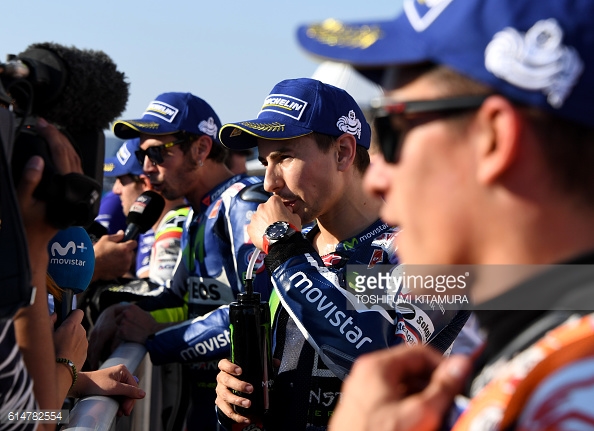 Marquez will start his manufacturer's home race from second on the grid and they will be joined by Lorenzo who claimed a fantastic third position after returning from that big accident. Dovizioso will lead the second row ahead of Crutchlow who remained the top independent team rider in fifth despite crashing out, and they will be joined by Aleix Espargaro who is looking incredibly comfortable on the Suzuki in Motegi.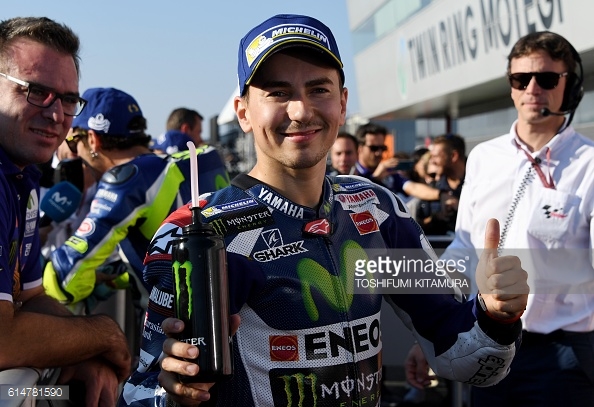 How the remainder of the grid looks
His teammate Vinales will head the third row in seventh ahead of Barbera making his factory Ducati debut in eighth, Pol Espargaro wualified in ninth. Petrucci finished ahead of his teammate Redding and will make up the fourth row with bautista who failed to set a time due to his crash.Bradly will start from 13th alongside recovering riders Miller and Smith.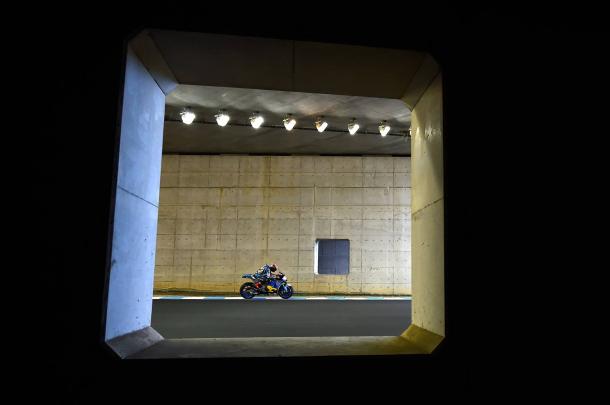 Wildcard rider Katsuyuki Nakasuga put in a solid performance so far on his Yamalube Factory Racing Yamaha and will start from 16th on the grid ahead of Hernandez and rookie Tito Rabat (Estrella Galicia 0,0 Marc VDS) in 18th. A brave Laverty will start from 19th, hopefully after a good long rest overnight.
The modified Avintia Ducati team will start from 20th and 2st with injured Loris Baz started ahead of his temporary teammate Jones. Pedrosa's replacement Hiroshi Aoyama completes the field from 22nd.