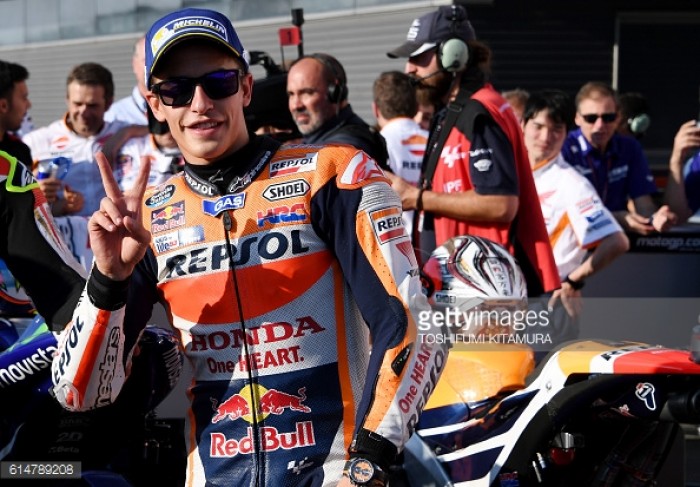 Honda built a track in the Japanese mountains to test their motorcycles at, in 1999 it became one of the circuits on the MotoGP calendar. They since hired a young, highly talented Spanish rider to represent them on the Repsol Honda team. That rider has failed to win at the track so far during his career and looked to start from pole position after Qualifying ahead of the Motul Grand Prix of Japan until a Yamaha rider came and stole that chance from him.
Marquez could become champion in Motegi
Marc Marquez (Repsol Honda) is currently leading the championship over Valentino Rossi (Movistar Yamaha) by 52 points. A win from him at the Twin Ring Motegi, and 14th or lower for Rossi, will mean that the Spaniard will become the 2016 MotoGP Champion.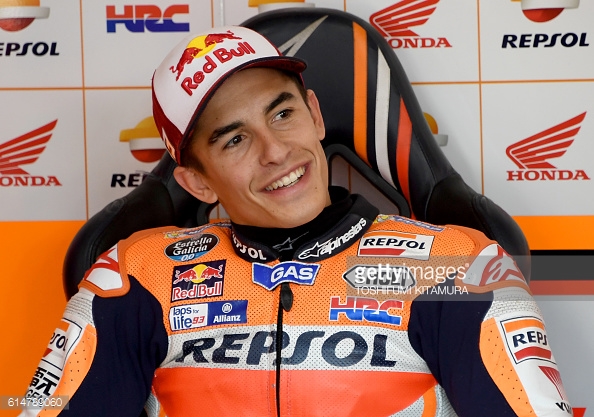 This all looked possible, and flying he still has the potential to do it should all the contributing factors fall into place for him, but after dominating so far throughout the weekend and looking like he had secured another pole ahead of the 15th round, he had it snatched away from him as Rossi completed a late flying lap and taking his third pole of the season.
Early flying lap from the Spaniard placed him in provisional pole
Marquez has looked incredibly strong throughout the weekend and his fastest time came early in the second Qualifying session of the day for the elite class. He had laid down the gauntlet and after a short pit at the end of the session made his way out on track to try and improve in an attempt to secure it.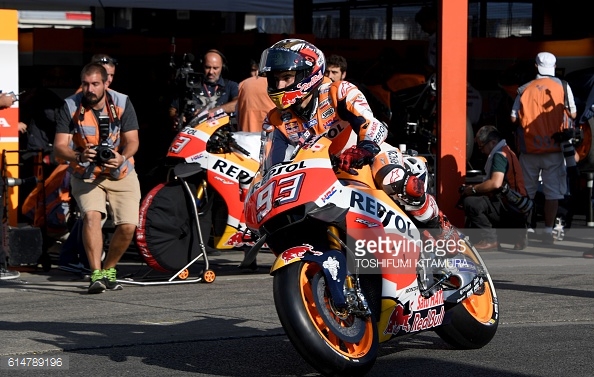 However, he appeared to struggle as he missed braking points on several corners of the track. At one point he was stalking Rossi around Motegi when he ran wide and over the kerb and into the dirt spoiling what would have been his chance to confirm his pole position.
Instead, Rossi lapped under 1:44 minutes; his time of 1:43.954 was enough as Marquez's fastest time was still 0.18 seconds slower, however it was enough to secure him second on the grid meaning a front row start for the Spaniard.
Marquez happy with second on the grid
Marquez knew that "getting pole would have been the best thing for a Saturday", but despite missing out he talked of how he was "happy with second place" as he explained that "this circuit is one at which [he] had expected to struggle a bit more".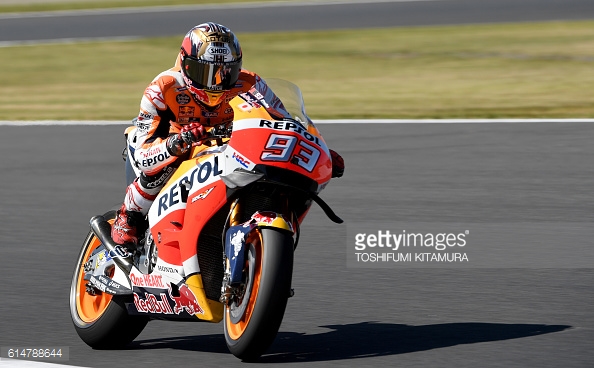 However "as it turns out", he said, he thinks they are "doing pretty well" and that he has "ridden at a good pace throughout the weekend". He described how during the Qualifying in afternoon "the first run went well enough" however he found that when he took his "second bike out" that he "made a small mistake at turn 1 during the first flying lap".
He spoke of how he "has a last possibility to try to improve" in the final stages but that he "saw the yellow flag" that was waved "where Crutchlow had just crashed" and that he "slowed down" as a precaution.