Despite crashing out of the end of Qualifying 2, LCR Honda rider Cal Crutchlow qualified fifth on the grid at the Twin Ring Motegi ahead of the Motul Grand Prix of Japan. At the home of Honda, the British MotoGP rider finished the day as the top independent team rider, and the second highest placed Honda rider.
Crutchlow the strongest independent team rider so far throughout the Motegi meeting
Crutchlow has proved to be the quickest out of all the independent team riders throughout the weekend remaining on top of the timesheets. His best result came during Free Practice 3 where he shot to second tucking in behind fellow Honda rider Marc Marquez (Repsol Honda). Crutchlow's time of 1:45.026 was not only his fastest time so far at that point over the weekend, but was just 0.039 seconds slower than the time set by championship leader Marquez.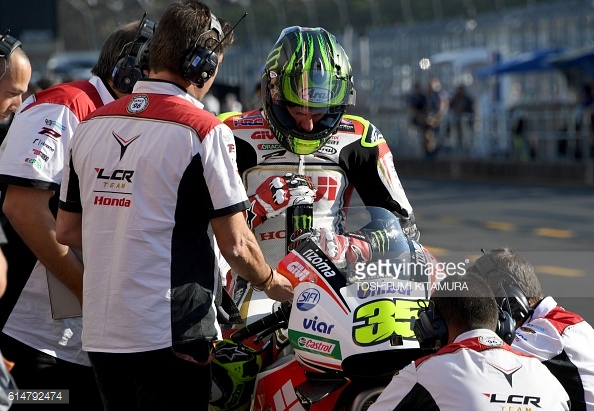 Crutchlow crashes out at the end of Qualifying 2
Crutchlow improved further during Qualifying and after improving by over half a second, his time of 1:44.402 was enough to secure him fifth ahead of the race. As the Qualifying session came to a close, Crutchlow crashed out. It was a smaller crash, especially compared to some of the others witnessed so far over the weekend, and the damage should not take the team long to repair. Crutchlow was uninjured but left feeling annoyed with himself.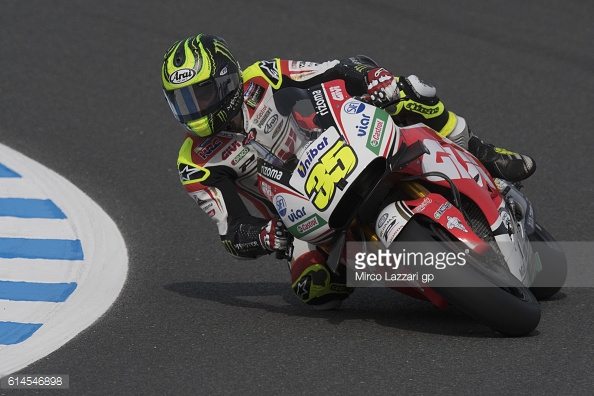 The Brit feels there was a missed opportunity
Discussing the events from two after the Qualifying session, Crutchlow mentioned how he felt there was "a bit of a missed opportunity to get onto the front row" when he crashed out of the session. He described how he "made a small mistake under braking" whilst he was "trying to push" in order to "make up for the lack of acceleration and the speed of the bike" in Motegi.
He still felt that "as a team" that they were "doing a good job" and he explained how he was "very with happy with how [they] are working" and also how he is "riding at the moment". He spoke of how he is "looking forward to a good race on Sunday", and he explain how they "need to do a good job" not only for the LCR Team but also "for Honda" as he hopes to "try and help them out in the constructor's championship if [they] can".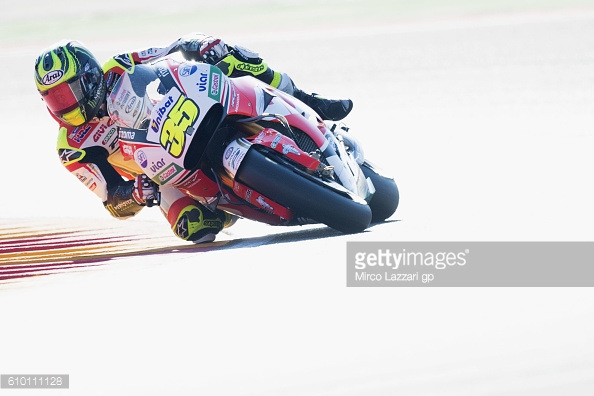 Crutchlow hoping to do well for Honda's constructors' championship hopes
Cruthclow feels it is down to him to "step up a little" to make up for the fact that Dani Pedrosa (Repsol Honda) will not be present due to breaking his collarbone following a huge high-side during Free Practice on day one at Motegi. He is hoping that "Dani comes back soon" and described how he thinks it's a "shame that he's not here to race this weekend."
A win from Crutchlow will help him to extend his lead over Pol Espargaro (Monster Tech 3 Yamaha) in the independent team championship. Crutchlow is currently sixth with 105 points where Pol Espargaro is ninth on 96 points. Finishing above Ducati Team rider Andrea Dovizioso means that the British rider will also be able to extend his lead over the Italian who is behind him in the championship by one point in seventh.