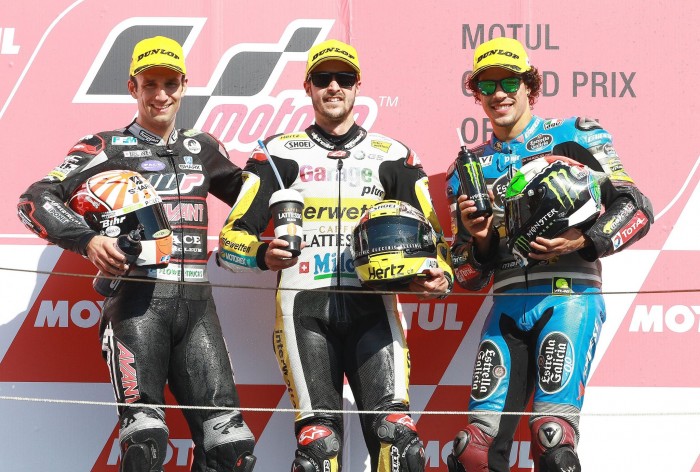 The weather was perfect for a 600cc motorcycle race at the Twin Ring Motegi where the Moto2 class met for the 15th round of the season. Ajo Motorsport rider Johann Zarco was on pole after smashing his own record from the previous year, but it was a great start from Thomas Luthi on his Garage Plus Interwetten Kalex that helped the German rider lead from start to finish as he won the Motul Grand Prix of Japan Moto2 race after also being fastest in the morning warm-up session.
Championship the focus for the Moto2 class
The Moto2 championship is close at the minute, and a lot was depending on the results from Japan. Proior to the race Zarco was leading tha championship by one point of Alex Rins (Paginas Amarillas HP 40) who after a crash during Free Practice was only able to qualify in 22nd on the grid. A great result from third in the championship Sam Lowes (Federal Oil Gresini Moto2) could have allowed him to apply the pressure even more to Zarco.
Let's see what happened…
The lights went out to start the race. A great start from both Franco Morbidelli (Estrella Galicia 0,0 Marc VDS) and Luthi saw them both enter the first corner ahead of the Frenchman on pole. Luthi took the lead immediately and Zarco slotted in behind him. He then lost a position to Morbidelli who overtook Zarco to take second.
Unfortunately for Rins, his struggle at Motegi continued as he crashed out of turn three on the first lap. Making a mistake he slid out and was lucky not to hit anyone as he tumbled into the gravel. He was able to recover and restart his bike and continued on with the race. Zarco's team were quick to inform him via his pit board.
Also at the front of the pack, Lowes got tangled up with Takaaki Nakagami (Idemitsu Honda Team Asia) but fortunately neither rider was affected too much by the incident.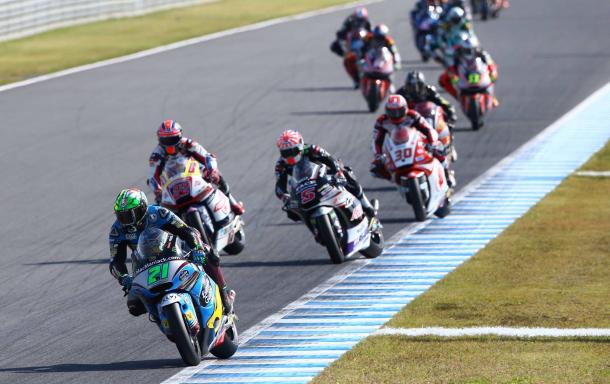 Lowes makes a move on the championship leader
Lowes made his first move of the race on Zarco at turn three of lap two as he tried to take third from the Frenchman. He was forced to sit up though as Zarco was underneath him. Further round the lap Lowes passed Zarco again but he immediately retaliated.
Then unfortunately for the British rider he crashed out at turn 10. There was nothing he could do bar stand at the side of the track and watch as the Moto2 field passed him; he was out of the race.
Meanwhile on track, as Zarco was distracted by the crash, Nakagami was able to pass him taking third from the Frenchman.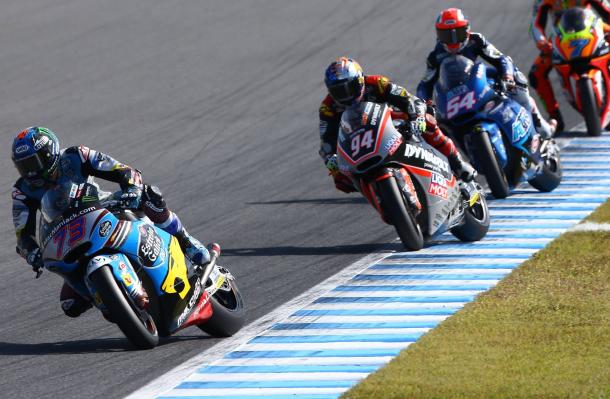 Folger crashes out of the race
The next incident in the race came from Dynavolt Intact GP rider Jonas Folger who crashed out of turn nine on the fifth lap. There was nothing Folger could do either as he was forced to retire, however most importantly he too was unhurt.
Lead two pull away
By lap seven, both Luthi and Morbidelli had managed to break away slightly creating a 1.5 second gap ahead of Nakagami in third. Further down the field Alex Marquez was pushing hard on his Estrella Galicia 0,0 Marc VDS Kalex and had made his way up to seventh passed Marcel Schrotter (AGR Team). He was clearly pushing too hard though as he went too quickly into turn 10 which led to him missing the apex, the front tucked and he crashed out. It was race over for the Spaniard.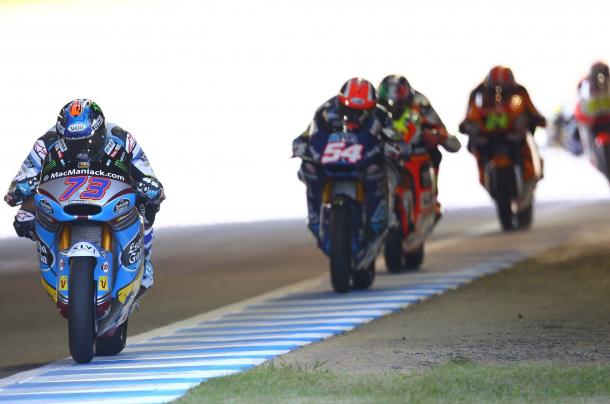 Nakagami reduces the gap
The Japanese rider had worked hard to reduce the gap between him and the leaders to approximately one second by lap tenth. This is when British rider Danny Kent was seen entering the pits on his Leopard Racing Kalex. Unfortunately for him, the gear shift bolt had snapped and he was forced to retire from the Japanese GP.
By lap 11, Sandro Cortese (Dynavolt Intact GP) had made his way up to fifth after passing Axel Pons (AGR Team). Then, Lorenzo Baldassarri (Forward Team) crashed out of eighth position at turn 10 when the front of his bike tucked under him. It was race over for him. On the next lap Axel Pons crashed at the same corner as Baldassarri, fortunately he was OK and was able to re-join the race; he was forced to retire a couple of laps later.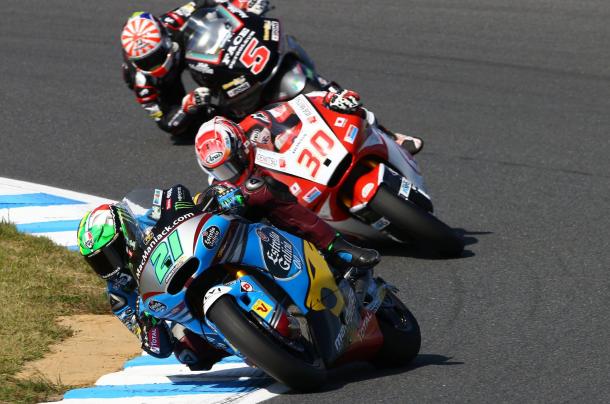 Morbidelli under a lot of pressure
On lap 13, Nakagami made a mistake which led to him running wide and in turn allowed Zarco to pass him with ease. It meant a slight break in pressure for Morbidelli who had fallen off the back of leader Luthi. The Italian was struggling for grip it seemed and had started to lose time and was feeling the pressure from Nakagami before Zarco became his problem instead.
Lap 14 of 23 saw Zarco pass Morbidelli at turn ten of the track. Morbidelli instantly tried to retaliate on turn 11 but failed to make it work. Meanwhile ahead of them, Zarco had reduced the gap between him and leader Luthi. As Zarco chased Luthi, Nakagami chased Mobridelli, stalking them hoping they would make a mistake allowing them through.
With two laps remaining, Morbidelli was struggling for grip however Nakagami went wide. A personal best time from Zarco during the race saw him close the gap between him and Luthi to under half a second.
Nakagami goes for third
On the last lap, Nakagami made his move on the Italian. He struggled to pas on his first attempt, but tried again making a block pass and stealing third from Morbidelli at turn 11.There was nothing he could do but settle for fourth behind him.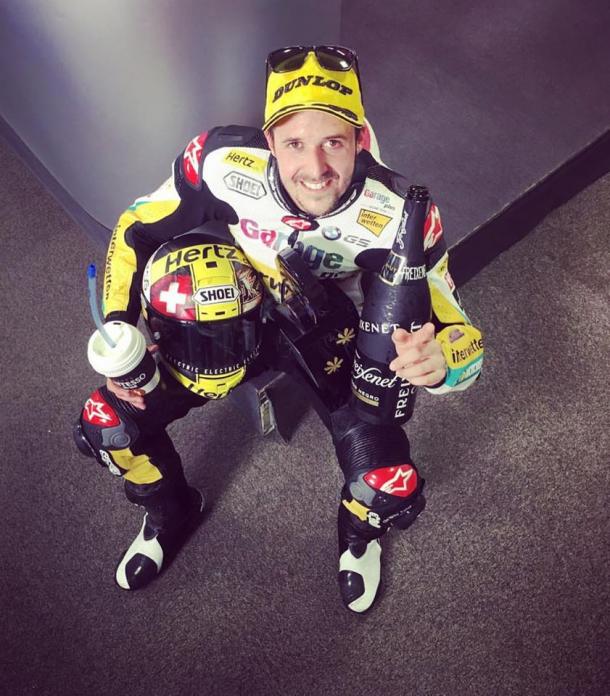 Luthi wins the 2016 Japanese Moto2 race
Luthi won the race. A perfect and faultless ride from start to finish allowed him to claim the Moto2 title at the twin Ring Motegi. Zarco was second and benefited massively from the 20 points he claimed at the 15th round. Nakagami claimed the final spot on the podium at his home track and Morbidelli had to settle for fourth.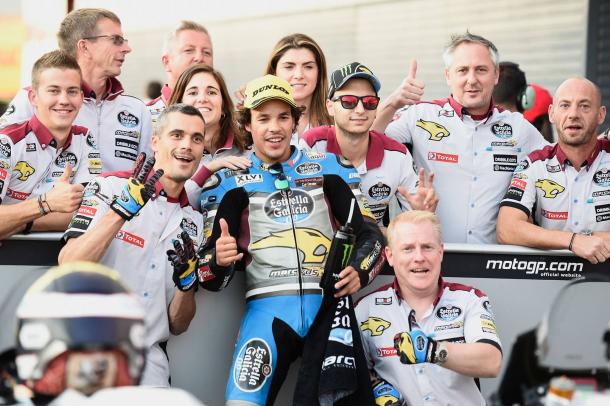 Cortese was fifth ahead of Corsi as the fastest Speed Up rider, and Mattia Pasini (Italtrans Racing Team) in seventh. Julian Simon (QMMF Racing) was eighth ahead of Schrotter and his teammate Xavier Simeon (QMMF Racing) who completed the top ten. Xavi Vierge (Tech 3 Racing) was the quickest Tech 3 rider in 11th ahead of Luca Marini (Forward Team), Hafitzh Syahrin (Petronas Raceline Malaysia), wildcard Tetsuta Nagashima (Ajo Motorsport Academy) and Isaac Vinales (Tech 3 Racing) who completed the top ten.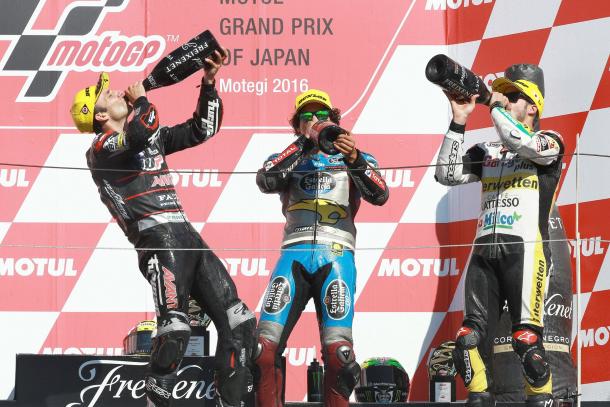 Edgar Pons (Paginas Amarillas HP 40) just missed out on the points in 16th finishing ahead of Jesko Raffin (Sports-Millions0EMWE-SAG), Ratthapark Wilairot (Idemitsu Honda Team Asia), Remy Gardner (Tasca Racing Scuderia Moto2) and his teammate Rins who crossed the line in 20th.Wildcard riders Naomichi Uramoto (Japan-GP2) and Taro Sekiguchi (Team Taro Plus One) competed the field in 21st and 22nd.