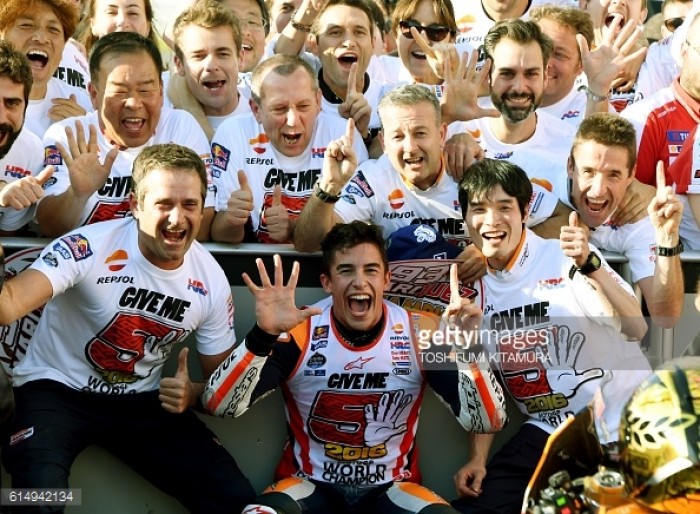 After having pole position stolen from him by Movistar Yamaha rider Valentino Rossi in the final Qualifying session of the day ahead of the Motul Grand Prix of Japan, Marc Marquez (Repsol Honda) was the fastest man in the warm-up session prior to the 15th round of the MotoGP season.
Taking place at the Twin Ring Motegi, a track built by Japanese manufacturer Honda to test their machines at, the track has been included in the MotoGP calendar since 1999. Marquez has never won here and it was possible that he could seal the 2016 MotoGP championship with a win should Rossi place 14th or lower and his teammate Jorge Lorenzo finish third or below.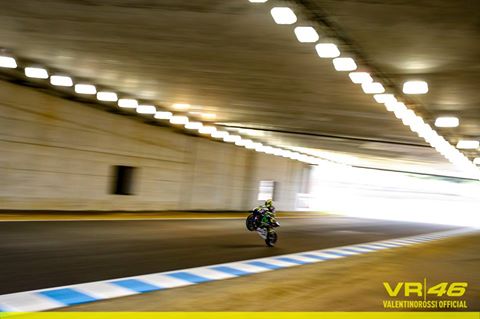 Lorenzo suffered a huge high-side in Free Practice
Rossi was on pole and was joined on the front row by Marquez and his Movistar Yamaha teammate Lorenzo, who gained third on the grid after his heroic efforts that followed a huge high-side that led to the Spaniard being airlifted to hospital for a CT scan. Having damaged his heel and his elbow, he was definitely feeling the impact the morning after.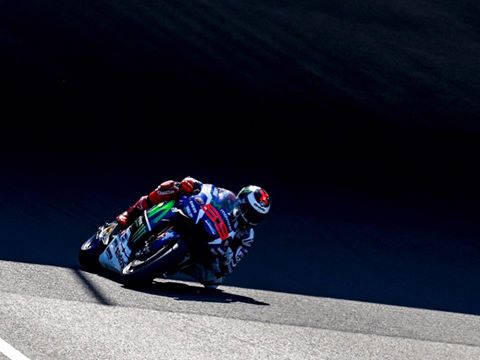 Aleix Espargaro was starting from eighth on his grid aboard his Team Suzuki Ecstar, what was his best ever grid position since he joined the MotoGP. His teammate Maverick Vinales was starting his 100th GP.
Marquez led into the first corner of the Japanese GP
After a strong start, Marquez led into the first corner. It was not for long though as Lorenzo passed him as did Rossi. Aleix Espargaro had made his way up to fourth and Cal Crutchlow (LCR Honda) slotted in in fifth. Marquez had retaliated reclaiming second from Rossi who then lost third to temporarily to Aleix Espargaro; but not wanting the Spaniard and his chance at another championship title to get away, he made it stick.
Before they approached the tunnel on the first lap, Andrea Dovizioso (Ducati Team) passed Crutchlow to take fifth. As they began the second lap, Rossi passed Marquez to take second but he retaliated immediately as the Italian went wide slightly.
Battle continues between Rossi and Marquez
Again Rossi made a move on Marquez to try and take second, but again going wide Marquez was able to again pass him back as they made their way through the chicane. As they battled it allowed Lorenzo to build up a 0.5 second lead and Aleix was able to close in on Rossi again.
Laverty ends an unfortunate Japanese round with a crash
It was the end of an unfortunate weekend in Japan for Irishman Eugene Laverty who crashed out on lap three at turn nine on his Pull & Bear Aspar Ducati. Laverty had already suffered a high-side during Free Practice and was forced to miss a lot of track time as he was not permitted to race again until Free Practice 4. Fortunately, Laverty was OK, but definitely deserved a hard-earned rest.
The leaders began to break away
The front three had begun to break away on track slightly by lap three as Aleix Espargaro found himself under pressure from Dovizioso. Marquez had closed the gap on Lorenzo and was on his tail by lap four, stalking him ready to make his move. It was not long before he cleanly took the lead from the fellow Spaniard. Lorenzo then found himself under pressure from his teammate Rossi who made an attempt to pass him.
Rossi was unable to pass until lap six which his when his pursuit of Marquez began. He had lost a lot of time being stuck behind injured Lorenzo and had a lot of work to do as Marquez continued to fly.
Miller crashes out at fast turn one
On the seventh lap, Jack Miller crashed out oat the fast turn one. He was unhurt as he walked away disappointed leaving the Marhsals to dig up his Estrella Galicia 0,0 Marc VDS Honda out of the gravel.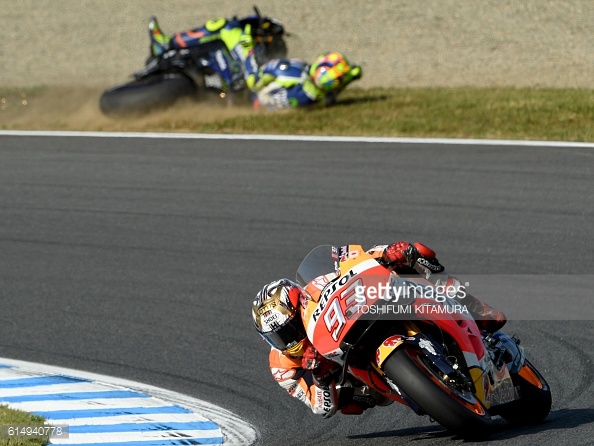 Rossi crashes out of the Japanese GP
As Aprilia Racing Team Gresini rider Alvaro Bautista overtook Danilo Petrucci (Octo Pramac Yakhnich Ducati) to take ninth, Rossi crashed out of the race. He came off at turn 10 that has caught out many riders over the weekend.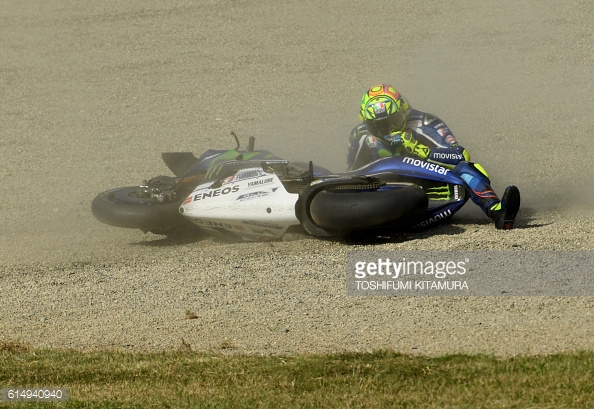 It was race over for the Italian who had no choice but to retire after they got his bike restarted. He was now relying on his teammate Lorenzo to remain in at least second in the race to keep the competition open.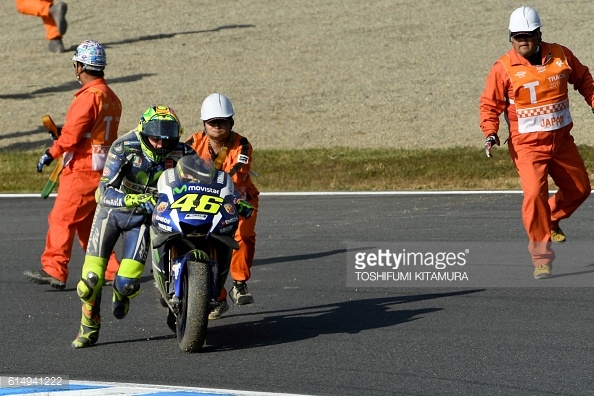 Barbera crashes out on his debut aboard the factory Ducati
With 16 laps remaining Hector Barbera, who was making his debut aboard the factory Ducati, in place of Andrea Iannone who had to sit out the round because of the injuries sustained in Misano, crashed out at turn one of the circuit. He was able to get restarted despite coming off at the fast turn and continued with the race.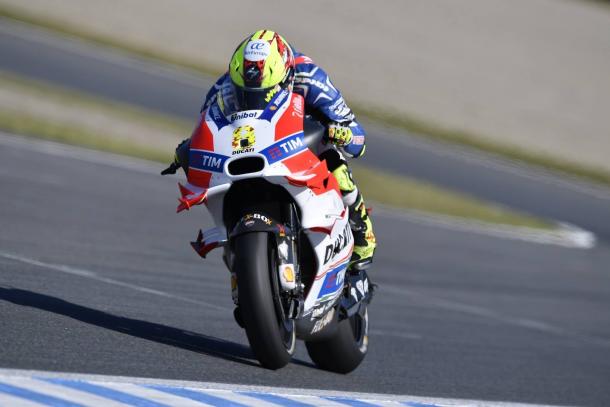 Just 11 laps remained and Aleix Espargaro continued to stand out on track as he continued with his outstanding performance in Japan. He was all over the back of Dovizioso as he pursued the Italian for third position.
Vinales catches Aleix Espargaro
As the race progressed though, Aleix was unable to match the pace of the Ducati and a gap opened up between the two as Dovizioso began to hunt down Lorenzo Aleix was now finding himself under pressure from his teammate Vinales who had caught him with seven laps remaining. Aleix ran wide which allowed Vinales to pass. Aleix tried to retaliate on the next lap but was unsuccessful and Vinales remained fourth.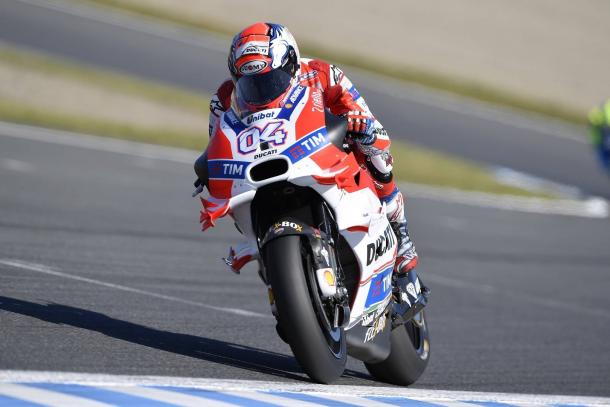 The 'impossible' happened
Then the 'impossible' happened. Prior to the race here had to be a lot of contributing factors that would lead to Marquez winning the championship. If Marquez won, Rossi had finished 14th or below, and Lorenzo third or below, the Spaniard would claim the championship… Lorenzo crashed out with just four laps to go.
The 2015 MotoGP champion dropped his M1 at the 'V' corner at the Twin Ring Motegi, sliding out and the already battered Spaniard had no choice but to retire. It was hard to tell whether Lorenzo did any further damage to himself as he was already beaten up from day two of the meeting. Marquez just had to finish the race now and it was all his.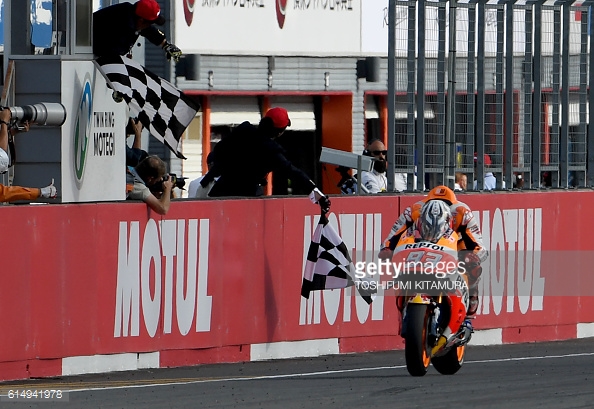 Marquez becomes the 2016 MotoGP champion with his first ever win in Motegi
The Championship was all over… Marc Marquez won his first ever race at the Twin Ring Motegi, the home ground of his manufacturer Honda, he has won the 2016 MotoGP championship; his fifth title ever but his third in the MotoGP class;he has become the youngest rider to reach five world championship titles. It was an amazing triumph for the Spaniard after a flawless performance in Japan all weekend.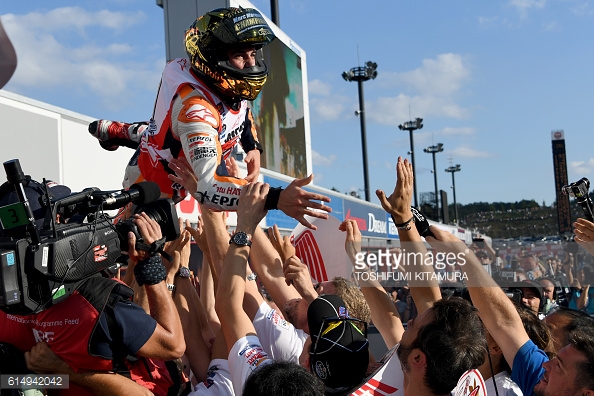 The win left him on 273 points in the championship, with three rounds remaining Rossi, who was on 196 points after the Japanese GP, had no chance of catching him. Even if Marquez decided not to turn up to the remaining three rounds, and Rossi won Marquez would still have the title because of the 77 point difference.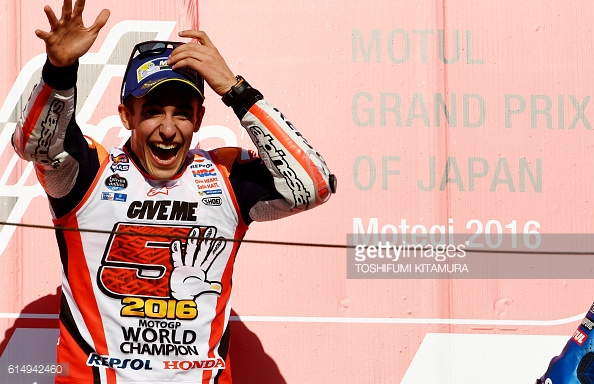 Dovizioso and Vinales complete the podium
Lorenzo's crash meant that Dovizioso finished second and Vinales remained ahead of his teammate to claim the last step of the podium. It meant the podium was made up of three different manufacturers; Honda, Ducati and Suzuki.
Aleix Espargaro had to settle for fourth ahead of Crutchlow in fifth; who was again the top independent team rider and the second highest placed Honda in the field. It meant it was a triple success for Japanese manufacturer Honda at their home track.
Pol Espargaro (Monster Tech 3 Yamaha) was sixth ahead of Bautista, Petrucci, Scott Redding (Octo Pramac Yakhnich Ducati), both of whom are battling for the better bike next year, and Stefan Bradl (Aprilia Racing Team Gresini) completed the top 10.
Great performance from the wildcards
Wildcard rider Katsuyuki Nakasuga who was making an appearance for the Yamalube Yamaha Factory Racing team was 11th ahead of Columbian rider Yonny Hernandez (Pull & Bear Aspar Team) in 12th. Bradley Smith (Monster Tech 3 Yamaha) who was making his return after damaging ligaments in a previous round in the season came back strong finishing 13th and rookie Tito Rabat (Estrella Galicia 0,0 Marc VDS) was 14th.
Hiroshi Aoyama, who was standing in for Dani Pedrosa on the Repsol Honda, as he broke his collarbone after a huge high-side during Free Practice and flew back to Spain to undergo surgery, finished in 15th claiming the last championship available at the Japanese GP.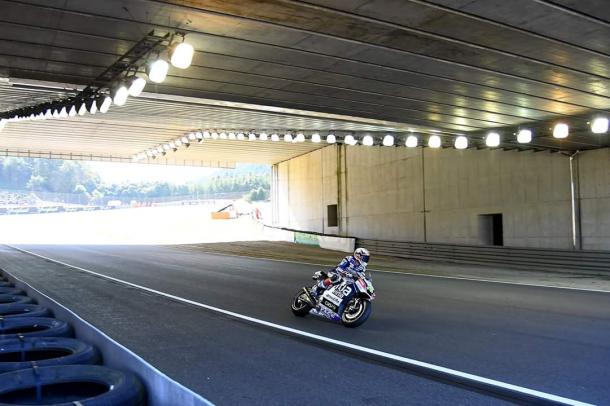 Injured Loris Baz just missed out on the points finishing 16th on his Avintia Racing Ducati. Barbera was 17th after recovering from his crash. Australian Ducati Superbike rider Mike Jones, who was brought in to replace Barbera on the Avintia Racing Ducati, who was replacing Iannone on the factory Ducati, completed the MotoGP field in 18th on his debut with the class.
The battle for second in the championship continues between the teammates
The battle in the championship for second will continue as the MotoGP riders travel to Philipp Island, Australia for the 16th round of 18. Rossi still leads his teammate with a 14 point difference in the championship as they battle for second. Pedrosa remains fourth and Vinales has closed the gap to six points as he sits behind him in sixth.
Crutchlow has extended his independent team championship lead with the result in Japan. He is sixth in the tableone point ahead of Dovizioso but has a nine point cushion between him and Pol Espargaro.