What an amazing performance this weekend at the Twin Ring Motegi from Team Suzuki Ecstar rider Aleix Espargaro. An underdog in the competition, and someone who has the possibility of becoming the ninth different winner of the 2016 MotoGP season, the Spaniard was within the top seven throughout the weekend, his best result coming during FP4 when he finished second quickest.
Aleix on the pace during morning warm-up session
Race-day and Aleix was fourth quickest during the morning warm-up session. Having qualified to start from fourth on the grid, his best MotoGP qualification ever, a great start combined, with the morning pace meant that he had a chance of making it onto the podium.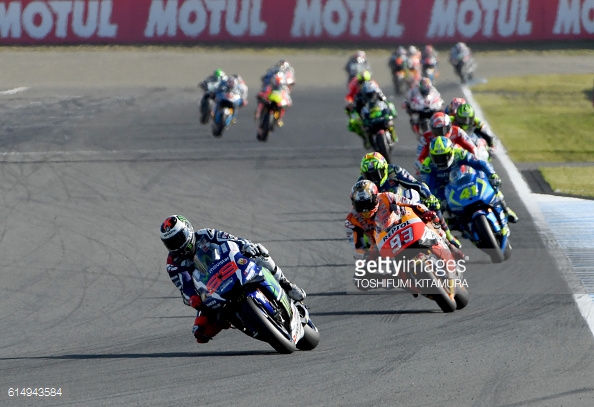 He did just that and was in fourth as they passed through the first few corners of the race. Cal Crutchlow tucked in behind him on his LCR Honda. Aleix was brave enough to battle with Valentino Rossi (Movistar Yamaha) who was trying to collect as many points as possible in Motegi in an attempt to stop Marc Marquez from sealing the 2016 championship on his Repsol Honda.
Suzuki v Yamaha
On the first lap Espargaro made an attempt on Rossi getting passed the Italian although it was not for long as he immediately retaliated. Behind them Ducati Team rider Andrea Dovizioso managed to pass Crutchlow to take fifth. Not wanting Marquez to get away, Rossi continued on in pursuit of the Spaniard and they commenced in battle. This allowed Aleix to close up on him again but he as unable to pass him.
Aleix under attack from Dovizioso
By lap three, Aleix was under pressure from Dovizioso who was closing in on him to take fourth. Within a few laps he lost the position to the Italian. On lap seven Rossi crashed out of the race at turn 10 when the front tucked under; despite getting going again he was forced to retire, but once again Aleix was in fourth on track.
Wanting the podium he remained on the back of Dovizioso's tail for several laps. He could not keep up the pace though and a gap formed between the two. This is when he found himself under pressure from his teammate Maverick Vinales (Team Suzuki Ecstar) who had passed Crutchlow and was looking to progress further.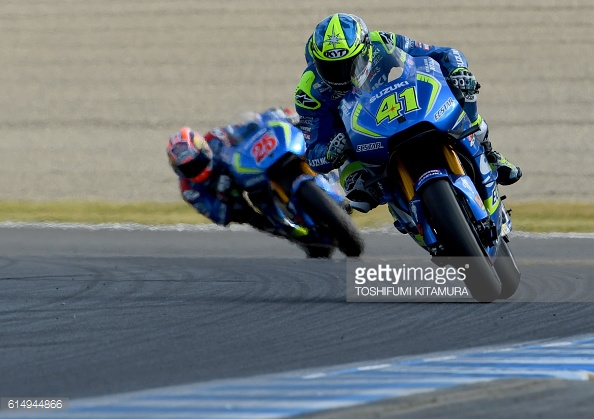 The Suzuki teammates battled it out
With seven laps remaining, Vinales had tracked him down and they commenced in a battle switching places on several occasions before Vinales managed to make it stick. Aleix was down in fifth but not for long as with four laps remaining Jorge Lorenzo binned his Movistar Yamaha.
Aleix crossed the line in fourth just 0.626 seconds behind his teammate Vinales. It was a great double result for Suzuki on the 54th anniversary of when Ernst Degner won the first World Championship title for the manufacturer at the Argentinian GP on the Suzuki RM62.
Aleix disappointed with the result
Despite finishing fourth, a great result, Aleix was "disappointed" as he was "expecting a little more". However, he reassured himself saying, "At the end of the day the whole weekend has been very positive." Praising his team he said they "did a great job" and he was happy that "finally" they were "seeing the improvements [he] was waiting for".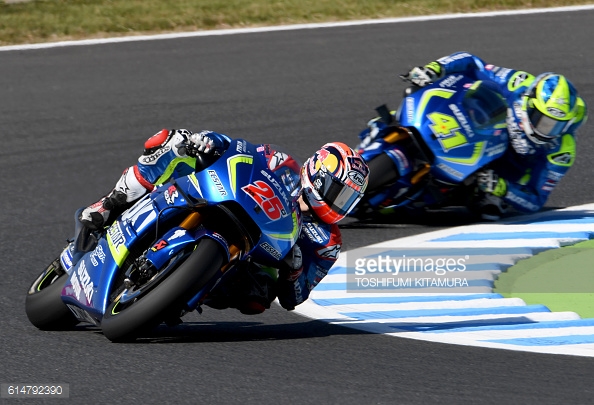 He spoke of how it was the "first time in the season" that he had "managed to stay very close to the head of the race and fight for the podium", and because of this he felt it was "a pity [he] couldn't get up there" despite trying all he could and said, "Finally I had to settle in fourth".
Aleix proud of his best result of the season
Aleix confirmed it was his "best result of the season" and how he was "proud of it". He is "happy that the next race will be immediately next weekend". He hopes to "keep the focus" and said they will "try to continue this positive period" that they are having as a team.