What a disaster this weekend turned out to be for Movistar Yamaha rider Valentino Rossi and his teammate Jorge Lorenzo. His aim was to keep the championship open by finishing ahead of Repsol Honda rider Marc Marquez who had a 52 point lead in the championship on the Italian prior to the Motul Grand Prix of Japan.
Contributing factors that could have prevented Marquez's championship win in Japan
A win from Marquez, 14th or less from the Italian, and anything below second for Movistar Yamaha rider Lorenzo would mean that Marquez would be crowned the 2016 MotoGP champion. That's a big ask right? It sounds almost impossible… but luck was on the Spaniard's side as that is exactly how it turned out.
Rossi had stolen pole position from the championship leader during Qualifying on day two of the meeting at the Twin Ring Motegi. In a final surge on track he was the only rider that was able to lap under 1:44 minutes, meaning he would start the race from the prime spot on the grid.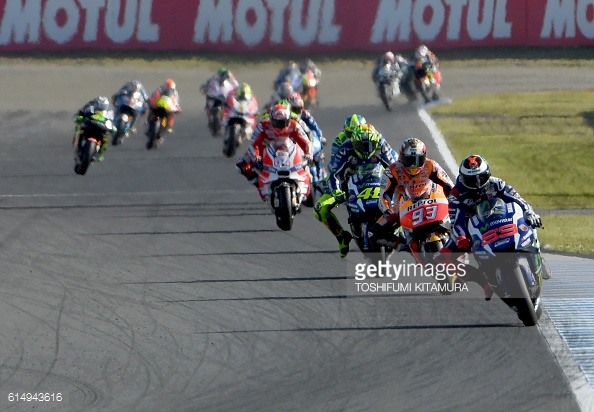 He got a good start, but not as good as what Marquez and Lorenzo did as they joined him on the front row. When the lights went out they slotted in to the lead ahead of him, and Rossi was left to battle it out for third with Aleix Espargaro on his Team Suzuki Ecstar GSX-RR. Seeing that Marquez had took the lead and was getting away, along with his championship hopes, he caught his teammate Lorenzo in second and worked on pursuing Marquez by lap six.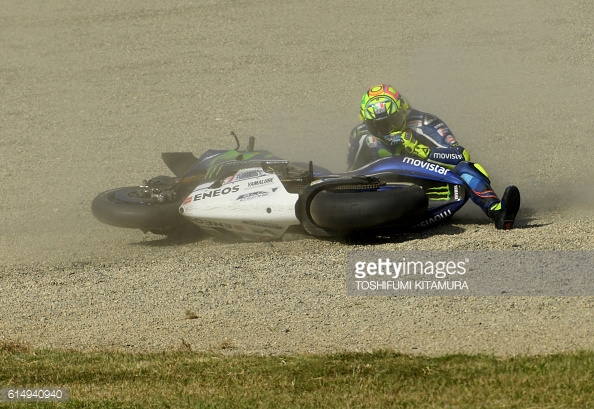 Rossi crashed on lap seven of the Japanese GP
Pushing, Rossi lost control at turn 10 of the next lap; the front end tucked under and he slid out. Marshals were able to assist him in getting the bike restarted but he had no choice but to retire to the pits and hope Lorenzo could finish in the top two to keep the championship open.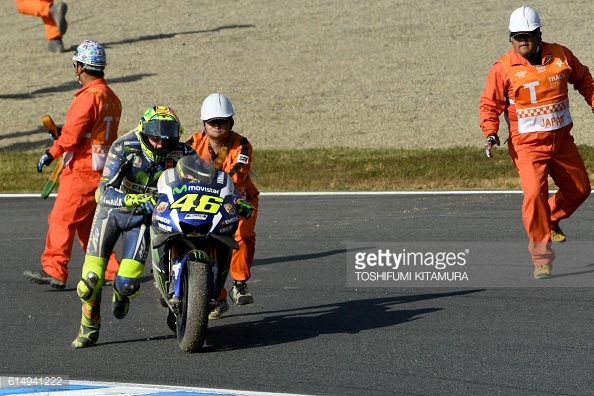 Lorenzo also crashed out with four laps remaining
But with four laps remaining, Lorenzo crashed out of the race after the front end of his M1 tucked under causing him to slide out. The Spaniard had already experienced a big off during Free Practice 3 the day previous; he suffered a huge high-side that threw him up in the air, before he came down hard and bounced on his back.
After limping to the medical centre, the doctors thought it was best that he got checked out more thoroughly and so he was airlifted to the local hospital where they performed a CT scan. He was declared fit to race and returned to the track in time for Free Practice 4 where he heroically claimed a front row start after Qualifying third.
It was an extremely disappointing end to what looked to be a more promising one in Japan. We can sit and say, "If only…" however that won't change the fact that not only did they not finish, they did not win, score points and lost the championship. Now they are left to battle it out between themselves as second place in the championship is yet to be decided.
Rossi trying to find the positives
After the race, Rossi confirmed that he was OK saying, "Fortunately no problems!" However, "on the other hand" he felt it was "a shame" as he thought he was "quite strong" and that he "had a good pace". He said, "Unfortunately my start was not fantastic" and he "lost a position to Marquez and Lorenzo".
After the start he felt "Marquez was a bit faster" than him and managed to "overtake Lorenzo" sooner whereas he "lost a bit more time behind him"; however he thought the "pace was good". Rossi found that he was "able to push a lot to try and catch Marquez" but that is when "unfortunately [he] lost the front."
Rossi says incident was rider error
The Italian, who won't be claiming his tenth world championship title this season said, "Sincerely, I felt nothing like going into the corner too wide or too deep, but I lost the front and logically I made a mistake."
Lorenzo very disappointed with the result in Japan
After everything he went through in the build up to the Motul Grand Prix of Japan, Lorenzo was "very disappointed" because he "made a mistake". He spoke of how he "tried to push too much when the bike was not working well with the tyres". Reflecting on Aragon he felt they "made a good decision with the tyres and this time it was the opposite".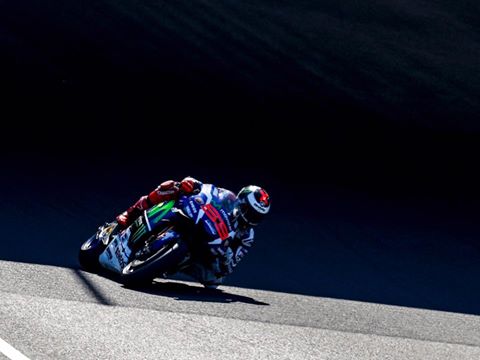 He claimed they "chose the wrong front tyre" and thinking back he though "with the soft" that he "would have made a better race". This was because he found his "front tyre on the first laps was vibrating and closing". He admitted he "didn't have a good feeling" and admitted that was the reason that he "couldn't keep up with the pace of Marquez".
Lorenzo annoyed with the wrong tyre choice
Feeling the pressure "because Dovizioso was coming" he spoke of how he "pushed more than before in that corner" which is when he found the front tyre didn't give him "any support or feedback" which is when he crashed.
Lorenzo felt it was "a pity" as he thought they "had the potential to fight for the victory with the right front tyre". He thought it was "impossible" on race-day in Japan and that they "lost a great opportunity to be second in the championship".
The 2015 MotoGP champion went on to "congratulate Marquez" saying that he "didn't have an advantage from his bike this year" and that he was the "most consistent rider" and he felt that Marquez "deserves this championship".