The Moto3 race at the Twin Ring Motegi, where the 250cc class met for the 15th round of the season, was an intense battle right up until the end; which in all honesty is nothing new regarding this class.
A lead broup of riders consisted of newly crowned 2016 Moto3 champion Brad Binder (Red Bull KTM Ajo), Enea Bastianini (Gresini Racing Moto3), Sky Racing VR46 Team teammates Andrea Migno and rookie Nicolo Bulega, Francesco Bagnaia (Pull & Bear Aspar Mahindra) and Honda Team Asia rider Hiroki Ono; who was hoping to do well on home turf.
Ono received three grid positions penalty
Ono had originally qualified on pole, however he knew before the session that he had been penalised for riding too slow on track during the first day of Free Practice. It meant that Migno, who finished second on the time-sheet, claimed his first Moto3 pole in Japan, Binder was second on the grid and Bastianini was promoted to the front row starting from third while Ono took his place in fourth.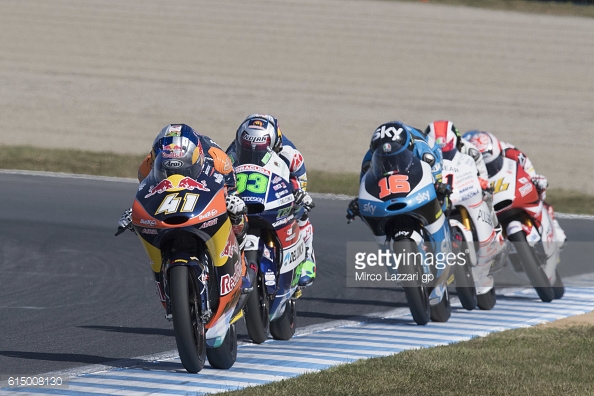 Binder got an early lead
Binder forced his way to the front of the pack eventually during the race where he was followed closely by Bastianini who wants to secure second in the Moto3 championship. This was after Bastianini eventually managed to shake of Migno who in one of the best performances by the Italian in the year in Japan, he continuously battled to remain near the front.
The battle continued behind Binder
After switching places constantly with Bastianini, Ono and Bagnaia, and feeling the pressure from his teammate Bulega, Migno worked incredibly hard to try and scoop a podium. Towards the final stages of the race, Bagnaia had dropped off the back of the group (the Mahindras all appeared to be struggling in Japan). They had Philipp Oettl (Shedll GP Racing) and Fabio Di Giannantonio (Gresini Racing Moto3) creeping up on them; Di Giannantonio did a fantastic job getting so high from all the way down from 18th on the grid.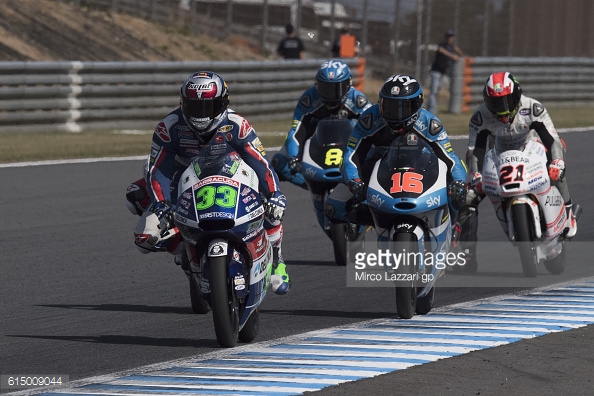 Drama on the last lap as the results were decided
The final lap was probably the most dramatic out of the lot. At the front Bastianini had caught right up to race leader Brad Binder. After stalking him for a few laps he made his move with just four corners remaining. He passed him, Binder was unable to retaliate and although he did try at the very end of the race, Bastianini crossed the line in front just 0.017 seconds ahead of second place Brad Binder.
Behind them, Ono was in third and under immense pressure from Migno who was followed by Bulega. Migno made his move on the inside of a left handed corner, but went in to hot and clipped the back of Ono who was able to continue, however Migno came off. By the time he picked up his bike and recovered he crossed the line in 24th; all of his hard work undone in one moment.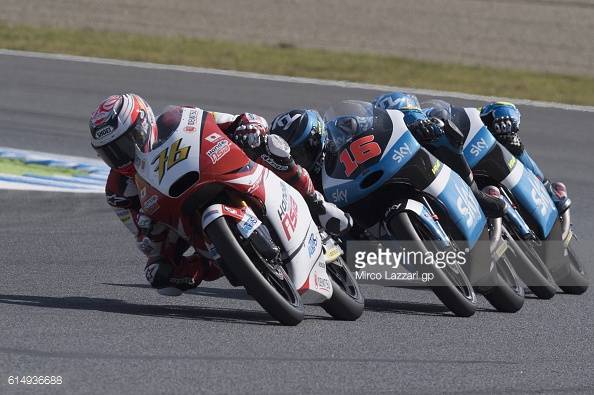 Ono again penalised, this time disqualified from the Japanese Moto3
Ono did enter parc ferme and stood on the podium alongside Bastianini and Binder collecting the third place trophy. He was later penalised for the second time during the meeting, this time he was disqualified for failing to meet the weight criteria. This meant that Bulega was promoted to third place collecting 16 championship points instead of 13.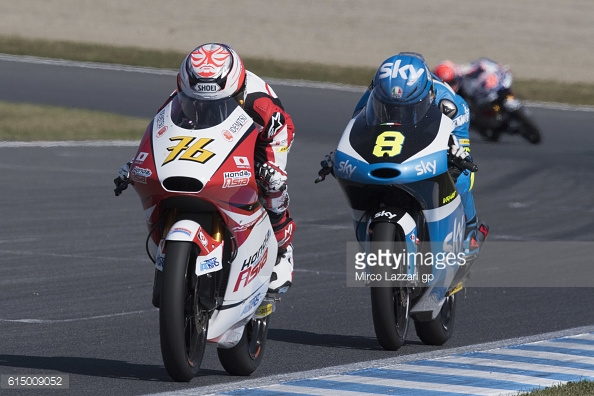 Bastianini reveals his strategy that allowed a last minute win
After the race Bastianini spoke of how he knew "Binder has always pushed very strong at the beginning" and he was aware that "Migno and Bagnaia could make a nice rhythm". He noticed that in the second half of the race Binder "again changed pace" and was "pushing even stronger" which led to him "taking a little margin"; the Italian said, "At that point I tried to chase him".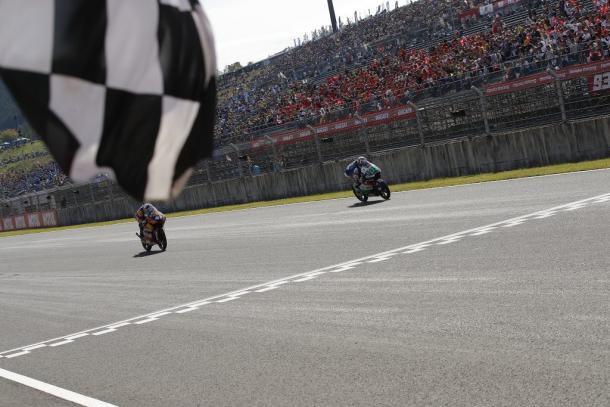 He "succeeded" in doing so although he admitted "bridging the gap was not at all easy". He found that their "times were very similar" and so in the last six laps he "really gave it everything [he] could"; it was then on the last lap he "managed to hook it". He said it was "a great feeling to get there" and was especially happy with turn 11.
Here he described how watching Binder through the race paid off as he "knew that Brad would be in a straight line very fast", but in previous laps he had also witnessed him "coming out a bit off the bend that leads there". So this is what led to Bastianini taking "the opportunity", he described it as "taking his wake and then attacking him on the brakes". He said, "I did it, although it was not easy."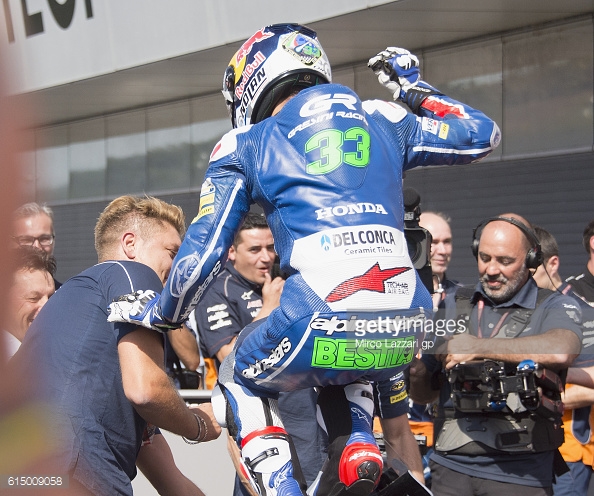 Bastianini said he was "very happy" with the result in Motegi, which was not only his first win this season, but was his second Moto3 win ever. He said, "Podiums are always beautiful, but the victory is quite another thing!"
Binder discusses finishing second in Japan
Discussing the 15th round of the season, Binder highlighter how there is "usually a large group" fighting for the win in Moto3 races; in Motegi he spoke of how he "tried to push hard and escape and it worked out". He thought that the "race was going well" and that he "felt comfortable and confident in the lead". However he revealed that "with eight laps remaining" that he "started to suffer at every corner because of lack of grip".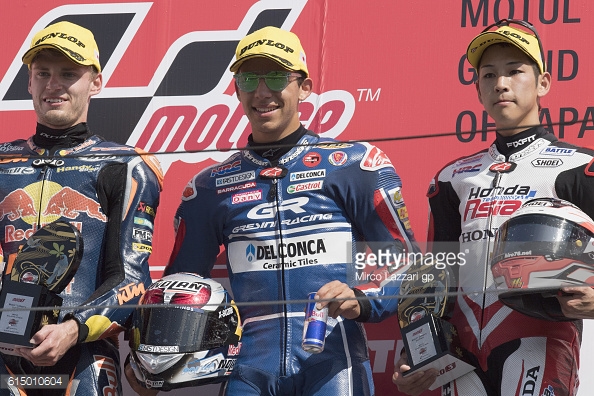 The South African admitted it was "very difficult" for him to "try and continue at the same pace". Remaining optimistic he felt "overall" that it was a "near-perfect race" that he "lead for almost the entirety", and that it was "just a shame that the win got away on the last lap". He identified the positives highlighting it was "another podium" which he feels is "also important". He went on to "thank the team for another great weekend of work".