It turned out to be a weekend to forget for Irishman Eugene Laverty as he suffered several big crashes at the Twin Ring Motegi where the MotoGP class met for the Motul Grand Prix of Japan.
Several high-sides during Motegi Free Practice
Moments after Dani Pedrosa (Repsol Honda) suffered his huge high-side, the Pull & Bear Aspar Ducati rider followed in his tyre tracks, with another high-side during Free Practice. Laverty came off at turn six and was clearly in pain requiring medical assistance trackside; he had to be carried off on a stretcher.
He was then later taken to hospital via hospital for further checks; he underwent a CT scan. As a result of it he was not permitted to continue the following day during Free Practice 3. He was given the all clear prior to Free Practice 4 and went on to complete qualifying securing 19th on the grid.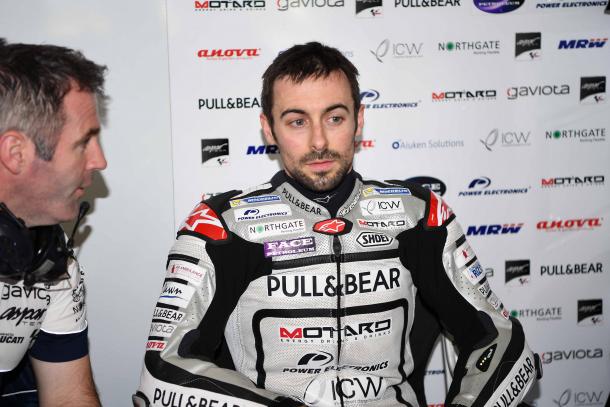 Laverty suffered another crash
The race got underway and unfortunately for Laverty it did not last long as on just lap three, he crashed at turn nine. It was game over; he must have had enough (who can blame him).
Laverty admitted, "The crash was my mistake" as he explained he was "overtaking Nakasuga in turn nine, the first gear left corner". He spoke of how he "tried to turn too tight" which is when he "overtook him and lost the front at the apex".
A strange weekend; one to forget
Disappointed with himself he felt that "the third lap of the race is too early to make a mistake like that" and so he was "upset" as, "after everything that has happened this weekend" he is main target was to "try and get a result". However, making what he called "a silly mistake on lap three" is why he said he was "disappointed".
He described the 15th round at Motegi as "a strange weekend for sure" and thought "maybe it wasn't meant to be". He felt that they "started the weekend so strong until the crash". Now he said they will, "try to regroup and start again in Australia".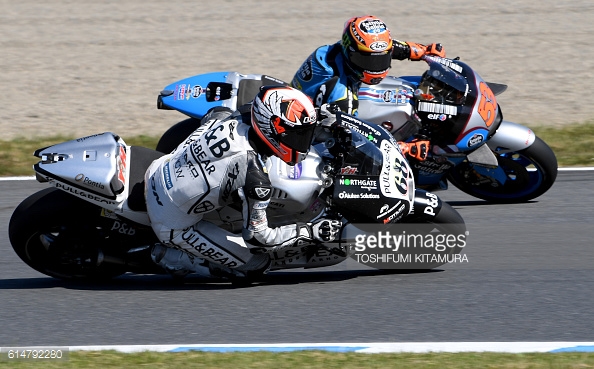 Hernandez finished 12th in Motegi
The most important thing is that he is not hurt as some other incidents proved more unfortunate for other riders. It wasn't a complete loss for the Pull & Bear Aspar team in Motegi though as Yonny Hernandez was able to collect four points in what he felt was "a good race".
He explained how at the beginning of the race he "struggled to get the bike stopped" and how it meant he "lost a lot of ground to the others". He confirmed they "had to use the hard rear" but that "lots of guys went with the soft", something that he found "limited" them a little. He knows that his "style on the soft" would have meant they "wouldn't have made it to the end of the race".
He felt he had "gained more experience and improved [his] pace" in Motegi at the weekend which he described as "positive". However, it is not enough for the Columbian as it has been announced that next year he is to be replaced by Karol Abraham.
Hernandez and Laverty to be replaced by Bautista and Abraham
Earlier in the season, the team announced that Aprilia Racing Team Gresini rider Alvaro Bautista will be joining them as he was without a ride as the places were filled up in his garage. Laverty revealed he would be making his return to World Superbike next season instead. Nothing was every confirmed for Hernandez, until now, when it has been announced that Abraham is joining Bautista and will be riding the older out of the two Ducatis that the team will have.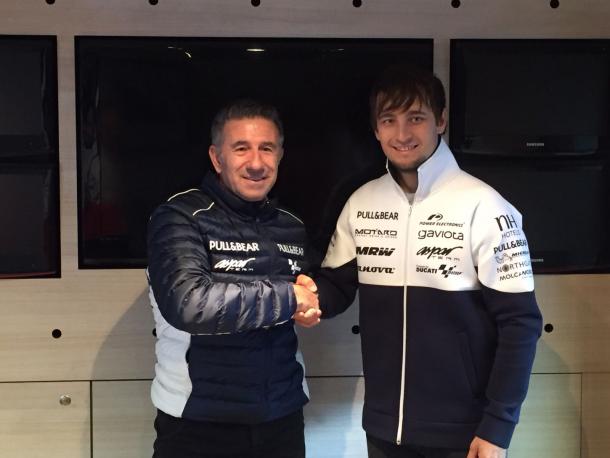 Karol Abraham discusses signing for Pull & Bear Aspar Ducati
Making the move from Milwaukee BMW in the World Superbike, the former MotoGP competitor will be riding the Desmosedici GP15. He is "really pleased to come back to the MotoGP". Revealing that he "started to work on this goal" as soon as he knew "there was a possibility". Declaring Ducati as his "favourite bike" he reflected on his first season with them, one he thought was his "best".
He said, "It's an honour to be a part of this team" who he said are "so famous in the paddock". Describing them as "professional and so good" he thinks that "together with Ducati" they can "make a very good connection"; something he is "really looking forward to".