There were some changes in the MotoGP line-up ahead of the Motul Grand Prix of Japan mainly caused by injuries, one injured rider making their return from injury and there was also a wildcard appearance. It certainly was a mixed bag of results as they share their experiences from Motegi.
Iannone out, Barbera in
Ducati Team rider Andrea Iannone, who fractured vertebrae during Free Practice in Misano, was ruled out of the Misano GP, Japanese GP and will also not be competing in the Australian GP.
Where Michele Pirro has stepped in previously, instead Hector Barbera (Avintia Ducati) was given the opportunity to replace him at the factory team Ducati for the first time, at the Japanese GP.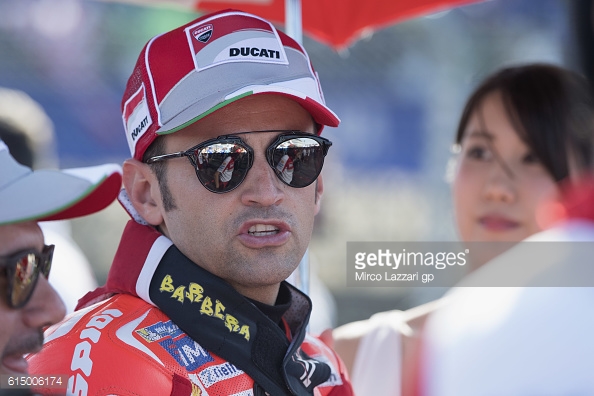 Already familiar with the Ducati he immediately took to it well; 10th in FP1, 14th in FP2, fourth in FP3, he qualified in eighth starting the 15th round of the season from the middle of the third row. He remained eighth quickest during the morning warm-up session, however his success did not continue throughout the race.
Unfortunately he crashed out, with 16 laps of the race remaining he went down at turn one. Although he was able to recover the bike and continue with the race, he only managed to finish in 17th. But, at least he has another chance to improve on his result.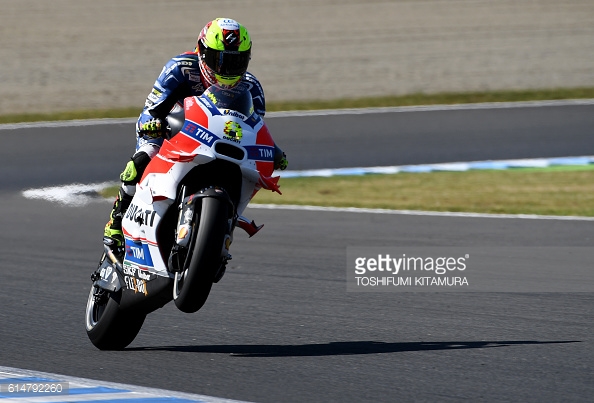 Barbera grateful for fantastic opportunity
Barbera felt it was a "fantastic opportunity" that he was given "to ride the 2016 Desmosedici GP", and to also "race for a factory squad like the Ducati Team"; he was very grateful to both Ducati and Avintia Racing for it. He said that for him "it was all new", as he "didn't know the either the bike or the guys in the team", but he found that "after every session the situation improved a lot".
Discussing a race he felt it was unfortunate that he was "not able to get a good start", the reason being because he found "the clutch is very different" to the one he normally uses aboard his Avintia Ducati.
He explained how he "immediately lost two positions" as a result, and then he "took a bit of time to pass Petrucci" before he "caught Pol Espargaro" who he said he "tried to overtake several times". It was when he was attempting this that he crashed,
He felt "bad about it" because he felt that he "could have finished in fifth or sixth place". Still, he "picked the bike up to finish the race" but when he did he discovered "two wings had broken off" and that meant he was "no longer able to ride it well". He still felt that "it was a great experience" and he was "very happy" that he had "been given another chance next week at Philip Island".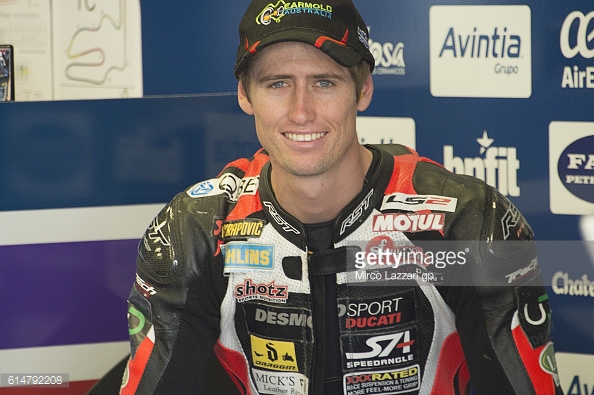 Superbike rider Jones replaced Barbera at Avintia
As Barbera was busy with the factory Ducati team, Australian Superbike rider Mike Jones was brought in to replace him at Avintia Ducati. It was sort of sprung on him; however he was not going to turn down that sort of opportunity.
He was at the bottom of the timesheets as should be expected from someone on their debut, but between Free Practice 1 and Qualifying 1, he did well to improve by almost six seconds, going from being over seven seconds off the pace initially, to just over two seconds off it.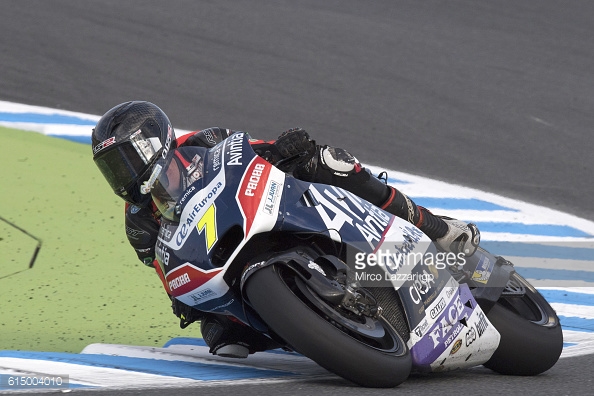 Jones made up with finishing his first ever MotoGP
He finished behind the lad he was replacing though, finishing the Japanese GP in 18th; however, he finished it! He was "very happy" and couldn't believe "the experience of finishing [his] first ever MotoGP race".
He said that it was "fantastic to be part of the Avintia Racing Ducati team" in Motegi. He praised them saying that they "worked so hard to help [him] learn so much" and he felt that he "definitely" has "gained more experience through the race".
He admitted that his "start wasn't very good", but they had "changed the clutch for the race" after trying a start in the warm-up, and he found that when he went to do the race start for the Grand Prix that it "it felt different", so he "really struggled". However he said that once he got going, he "tried to follow the guys in front of me" but came across "a few small problems" and that he "couldn't get the bike stopped like in Qualifying".
Jones' aim was to finish the race "no matter how" and he was made up that he did just that. The Australian said, "I really want to thank Avintia Racing and Ducati for this opportunity and I hope to do it better at Phillip Island."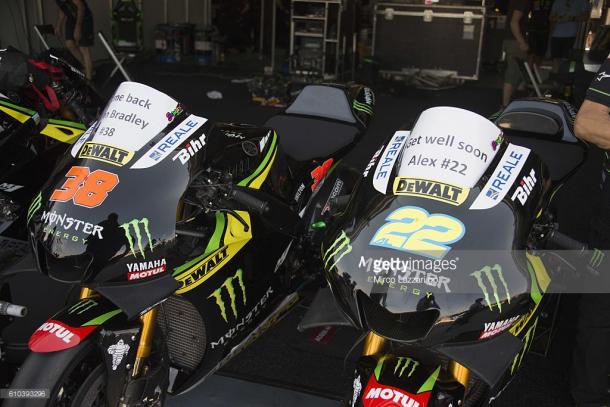 Monster Tech 3 Yamaha rider Bradley Smith made his return to the MotoGP in Japan after missing several rounds due to a crash during an endurance event between rounds, and suffering knee ligament damage. He was replaced for a bit by Alex Lowes who crashed out of the last round during Qualifying ending his stint as a MotoGP rider.
Smith found it incredibly hard adjusting to being back on a bike. His injury would have been affected throughout his time. Still, despite originally being over 5.5 seconds off the pace during FP1, he was able to adjust and improve his pace and finished the race in 13th after starting from 15th on the grid.
Motegi a very hard day for the Brit
Smith admitted that race day in Japan had been "a very hard day" for him, but he felt it was "definitely nice to get some points as a reward for the effort". Having spent the last seven weeks watching the "rest of the MotoGP world racing" whilst he has been at home he said it was "a good feeling to be back on the grid" and getting himself involved.
He said, "I can't be disappointed about a 13th place finish as I didn't even know if I was going to be able to complete the GP a few days ago." He had "forgotten how long the races are in terms of distance" and found that "riding out there for 24 laps at the absolute maximum was really demanding", and that "doing it without making mistakes is the hardest challenge" for him at the moment.
He was very grateful to the whole team as he said they had "done a great job over the weekend in preparing a great bike, as well as taking a lot of care, even if [he] wasn;t able to work as closely as usual as them, because the physiotherapy took a lot of time away".
He was also grateful for "all their assistance during [his] stay in Japan", he said, "Being away from home meant that I truly needed a helping hand and they have been very supportive so I'm really grateful for that."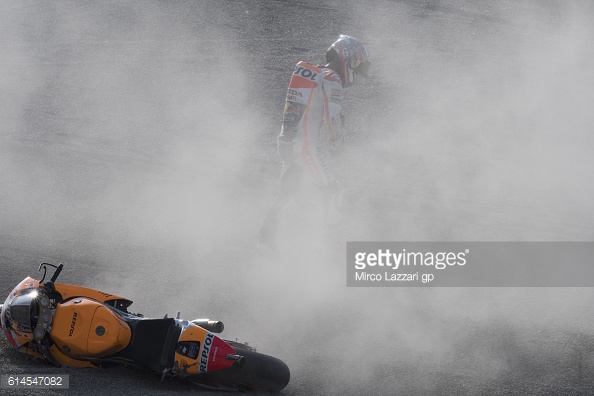 Pedrosa out, Aoyama in
During Free Practice 3, Dani Pedrosa suffered a huge high-side that threw him up high and over the bike. He immediately knew damage was done, and after being seen checking his collarbone as he boarded a scooter to take him back to the pits, he was taken to the medical centre where they confirmed he had broken his right collar-bone.
He flew home to Spain where he underwent surgery following a CT scan where they also discovered he had fractured his fibula. The operation was considered to be satisfactory.
Honda test rider Hiroshi Aoyama was the man chosen to step in for Pedrosa at the Motul Grand Prix of Japan at the Twin Ring Motegi. He was already familiar with the track that was designed by the Japanese manufacturer and used by them for testing.
The meeting for him began on day two with Free Practice 3, he qualified in 22nd on the grid (at the back) but used the race to improve and finished in the points; he claimed the last championship available (which will be useful to his manufacturer's championship) as he finished 15th.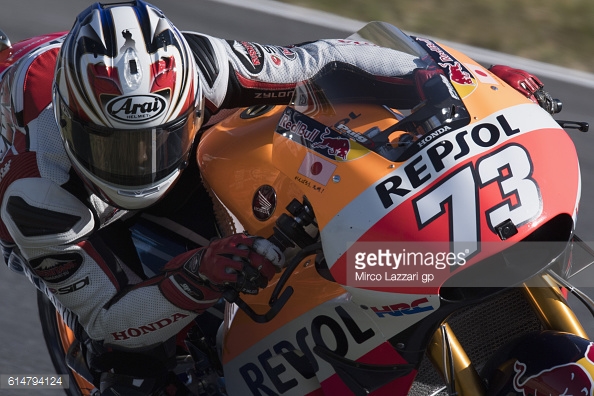 Long and tough race for Aoyama
Aoyama found the Japanese GP to be "quite a long and tough race" especially as it had "been a long time since [he] last raced". It helped that it was his "home Grand Prix" and that he "had a lot of fans and friends" there.
He found that gave him "a lot of positive energy" and he was "able to push until the end of the race". Although he fell on day one, on race-day he knew that "crashing wasn't an option". Instead he "tried to stay on the bike and do [his best".
The Japanese rider said, "In the end I was able to finish in the points, even if it was just one." Talking about his colleagues he said, "Today Marc won the title, and it was really a great day for HRC and Honda - congratulations to him! I'm happy that Dani's surgery went well and I hope to see him back on his bike soon."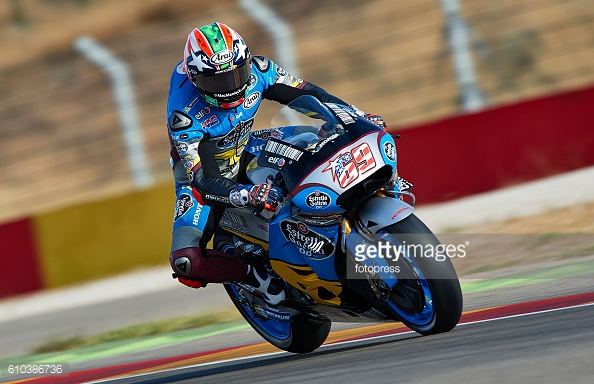 Hayden to replace Pedrosa in Phillip Island
Since, Repsol Honda have confirmed that Nicky Hayden will return again to replace Pedrosa at Philipp Island where the MotoGP have made their way to for the 16th round of the season, the Australian GP.
He has made an appearance recently when he was brought in to replace injured Jack Miller aboard the Estrella Galicia 0,0Marc VDS, so will be more familiar this time round however he is on a more modern machine.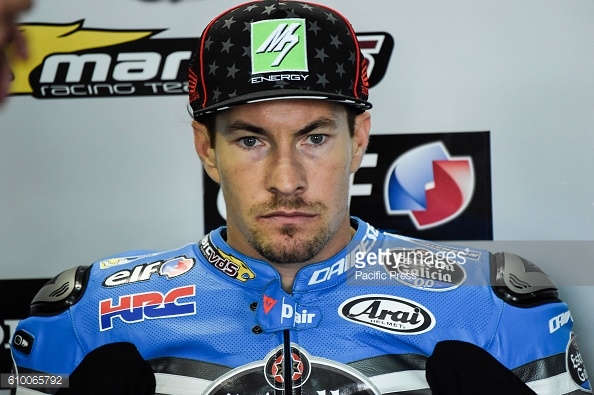 After sending his best wishes to Pedrosa and believing the Spaniard "will come back stronger than ever like he always does", Hayden seen the opportunity as "crazy hard work" but also a "chance". He is looking forward to being reunited with his "old 'dream team'" with whom 10 years ago he won his world title.
He described a weekend in Phillip Island on a factory Honda as "pretty emotional for [him] to even think about" and he is "very grateful for this opportunity and the trust that Honda gives" him. He is also grateful to is current team and sponsors "for allowing [him] to go and do this".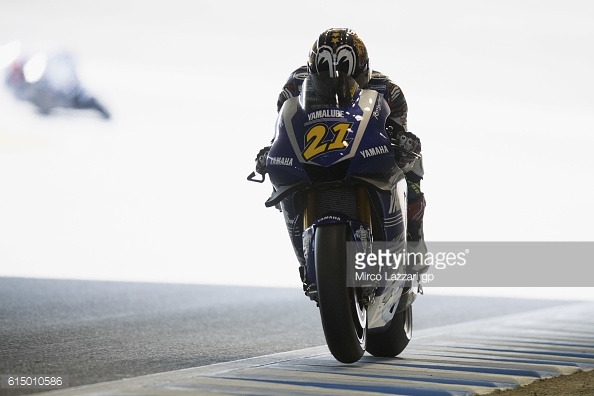 Wildcard appearance for Nakasuga at home round
Last but not least, making a wildcard appearance at the Japanese GP, was Katsuyuki Nakasuga who was representing Yamahalube Yamaha Factory Racing. Before the race his best result came during Free Practice 3 when he was the 14th quickest on track.
He qualified in 16th position on the grid and went on to finish the race in 11th position claiming five championship points. It was an extremely solid performance from the wildcard in front of his home fans.