 With day one of Free Practice at Phillip Island being a washout after serious amounts of rain fell throughout the day leaving standing water on track and more falling, a new revised schedule has been introduced in an attempt to give the riders more time on track.
Wet start to the day for the Moto3 class
The Moto3 class started the day off in wet conditions completing their first Free Practice session which was followed as usual by the MotoGP class and then the Moto2 class. The conditions had worsened as the day went on and there were no signs of improvement at the track on the Australian coast.
After the lunch break, the Moto3 class made their way out on to the track for their second session of the day. However the lap times had dropped significantly and the riders were unable to match the pace from the morning session; they were approximately six seconds off.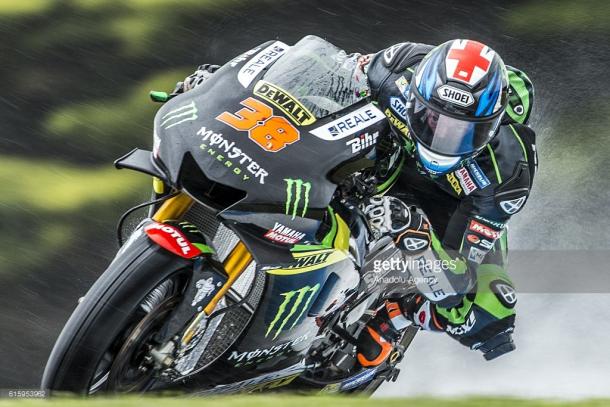 The conditions went from bad to worse until there was no choice but to abandon the day
The second Free Practice session for the MotoGP was delayed as they hoped for the weather to improve. Taking their opportunity when they could the session got underway, only a handful of riders decided to risk things and venture out on track. The session was eventually red-flagged as conditions worsened at what is already a windy track.
Officials had no choice but to abandon the rest of the day cancelling the second session for the Moto2 class altogether. To make up for the loss of track time on day one, and for those of you crazy enough to stay up and watch it like us, day two of the Australian GP at Phillip Island will go ahead as mentioned in the table below.
Basically the day will start an hour earlier than planned…
MotoGP Free Practice & Qualifying Revised Schedule

| Time (GMT) | Class | Session |
| --- | --- | --- |
| 23:00 - 23:40 (Friday) | Moto3 | Free Practice 3 |
| 23:55 - 00:55 (Friday) | MotoGP | Free Practice 3 |
| 01:10 - 02:10 (Saturday) | Moto2 | Free Practice 3 |
| 03:35 - 04:15 (Saturday) | Moto3 | Qualifying |
| 04:30 - 05:00 (Saturday) | MotoGP | Free Practice 4 |
| 05:10 - 05:25 (Saturday) | MotoGP | Qualifying 1 |
| 05:35 - 05:50 (Saturday) | MotoGP | Qualifying 2 |
| 06:05 - 06:50 (Saturday) | Moto2 | Qualifying |
| 08:05 (Saturday) | | Press Conference |