What a relief for the Moto3 class who finally got some time on track without the rain falling down on them at Phillip Island ahead of the Michelin Grand Prix of Australia. It was like they were at a totally different country as the sun was shining as they took to track it had rained though but had held off enough allowing a dry line to form the track was dry and they just had the wind now to contend with.
Revised schedule in place to make up for lost time
A revised schedule had been put in place so that riders could receive more time on track. However as the 250cc class had completed their two sessions on day one, they had to take to the track an hour earlier to compensate for the fact that the other two classes were given extended sessions.
Great battle at the top of the leaderboard
During Free Practice 3, several riders were fighting it out for the top spot of the leaderboard. Leopard Racing team riders Andrea Locatelli and Quartararo, John McPhee (Peugeot MC Saxoprint) and Aron Canet (Estrella Galicia 0,0) were all working hard improving on each other's times.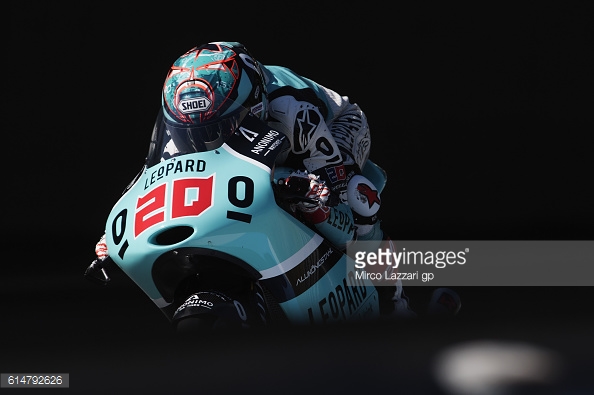 With 13 minutes remaining it was Locatelli on top as his time of 1:48.581 was the one to beat. McPhee was on a strong time attack and reduced his time by 0.172 seconds. On his next lap, Quartararo improved on the Scottish rider's time by a further 0.175 seconds, and McPhee had to settle with second as his next lap was let down by the third sector and he could not improve any further.
On his next lap though, McPhee took over half a second off Quartararo's lap time, again becoming the first to lap under 1:48 minutes all weekend with a time of 1:47.677. Quartararo improved further on McPhee's time by 0.1 seconds, as did Jorge Martin (Pull & Bear Aspar Mahindra Team) who improved by a further 0.04 seconds; meaning his time of 1:46.536 that came as the rain started to fall again at certain corners. McPhee again improved his time to 1:47.328 and then became the first to lap under 1:47 minutes with a time of 1:46.874.The rain did not stop him as he continued to improve further.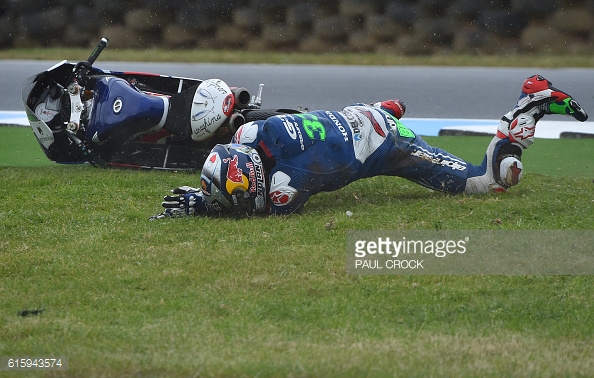 Crashes earlier on in the session
Earlier on in the session Fabio Di Giannantonio (Gresini Racing Moto3), Marria Herrera (MH6 Team) and Niccolo Antonelli (Ongetta-Rivacold) had all crashed out during the session; fortunately none were seriously hurt. With less than 12 minutes raining Antonelli crashed again at turn four; he appeared unhurt.
Crazy moments for Quartararo
What a crazy few minutes it turned out to be for Locatelli as he returned to his pit garage to make a quick stop. They restarted his bike and as he pulled off the concrete and crossed the white line to join the pit lane, the rear slipped and he almost crashed into the barrier. When he got out on track as soon as he got to turn four he accidentally tucked the front on the entrance to the hairpin and crashed. He slid onto the grass and was unhurt as he immediately got back to his feet and ran to recover his bike.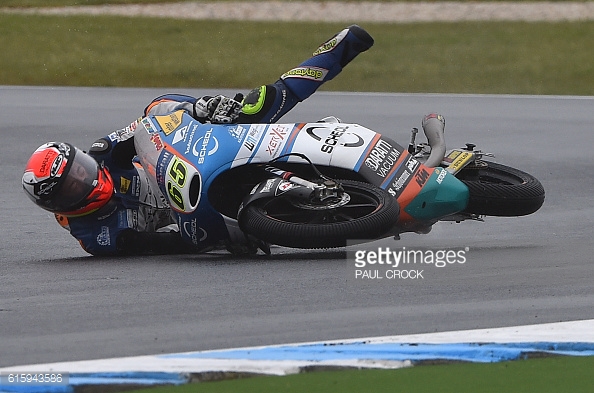 Bagnaia quickest after Free Practice 3
In the closing stages Gabriel Rodrigo (RBA Racing Team) was one of many riders who were on a strong lap, but McPhee again was on from and completed his last lap of the session in 1:45.623 seconds meaning Rodrigo had to slip into second. Francesco Bagnaia (Pull & Bear Aspar Mahindra) completed his fastest lap at the right time claiming the top spot with a time of 1:45.429 becoming the fastest man at the end of Free Practice 3.
Locatelli and Hiroki Ono (Honda Team Asia) were only able to complete personal best laps as riders completed their last laps and no further improvements meant Bagnaia was quickest ahead of Martin, McPhee, Locatelli and rookie Canet who completed the top five. Quartararo was sixth quickest ahead of Rodrigo, Marcos Ramirez, Ono and 2016 Moto3 champion Brad Binder (Red Bull KTM Ajo) who completed the top 10.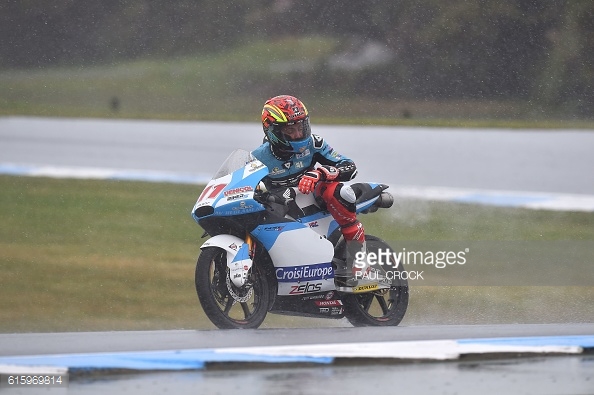 Rain at the start of Moto3 Qualifying
Not long after the Moto3 Qualifying got underway, it began to rain heavily forcing the 250cc riders to retire to the pits to change towers. While they were in the process of switching tyres, the track already appeared to be drying out making it more difficult for the riders.
Incident involving Bagnaia and Bulega on track
Francesco Bagnaia was touring on the race line and got in the way of Bulega who was forced to run wide on the turn running over the rumble strips. When he accelerated back on to the track his KTM wobbled and he lost control and ran off track, heading through the gravel and hit the wall along with his bike. There is a possibility Bagnaia would be penalised for causing the incident, but Bulega was OK fortunately and able to return to track later on.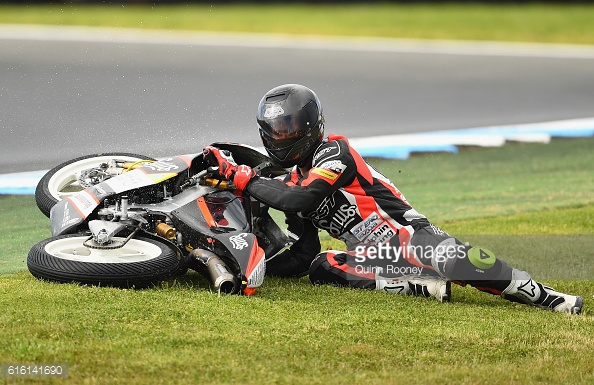 Severl riders were caught out in the tricky conditions including second in the championship Enea Bastianini (Gresini Racing Moto3), Lorenzo Dalla Porta (Sky Racing Team VR46), Philipp Oettl (Schedl GP Racing) and wildcard Matt Barton (Suus Honda).
Session red-flagged with less than 5 minutes to go as Guevara crashes out
With just under five minutes remaining the session was red-flagged after an incident involving Juanfran Guevara. The RBA Racing Team rider came off at turn 12 as the back end wobbled and threw him over the bike and they tumbled through the gravel. Although he was conscious, he required medical assistance and the race was sopped so he could be tended to. He was taken to the medical centre and it was confirmed that he was conscious.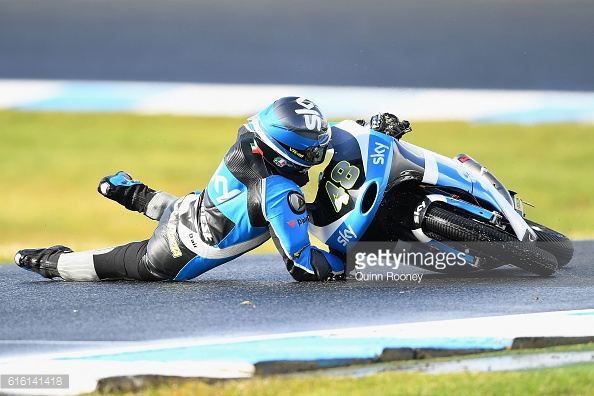 Brad Binder hoping to retain pole after restart
Brad Binder was on pole when the session was red-flagged ahead of McPhee, Locatelli, Quartararo and Enea Bastianini (Gresini Racing Moto3). It was only a short stop and the riders queued up at the end of pit lane hoping to get out as soon as possible. It was like a swarm of geese migrating away for the winter, (who could blame them in those conditions) as they attacked the track at Phillip Island.
Mistake from Locatelli causes crash
Locatelli was riding through the run off area at turn four looking for a certain rider to join to try and get a decent tow that may help him to get a better grid position. He accelerated as he crossed the white line to leave the exit whilst his rear tyre was on the white line which caused the back end to spin, flip round and threw him off the bike. He was able to get up and recover his bike immediately.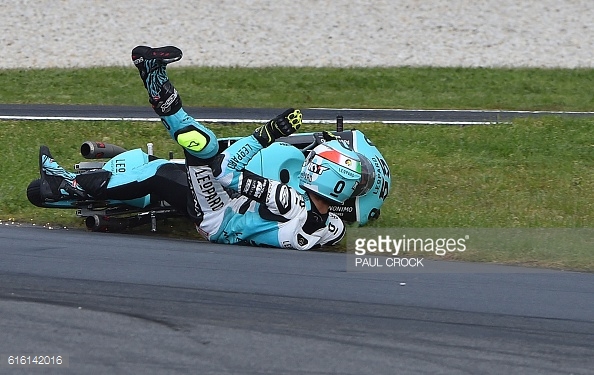 Moments later, Canet crashed at turn one; the fast turn named after MotoGP legend Mick Doohan. After the flag went out Ono crashed out at turn four. Both riders appeared to be OK as they recovered their bikes and continued on track.
Rookie Bulega goes top of the timesheet
Bulega went to the top of the timesheet with a time of 1:38.487 making it across the line prior to the chequered flag to start one more lap in time. Brad Binder improved on the rookie's time by 0.791 which allowed him to go pole just ahead of Bulega. Quartararo then stuck in a strong time 'upping the ante' making his time of 1:37.696 the one to beat.
Great battle to the end of the session
Four riders were showing three red sectors as they made their way to the finish line to complete their last lap. It was 2016 Moto3 champion Brad Binder who 'pulled it off' claiming pole ahead of the Moto3 Australian GP at Phillip Island. Quartararo secured second on the grid and they will be joined on the front row by rookie Bulega who has looked incredibly strong over the last few rounds and in Phillip Island a track he has never been to before.
Gabriel Rodrigo will start from fourth on his RBA Racing Team KTM. British rider McPhee broke the list of KTM's leading the grid becoming the fastest Mahindra starting from fifth, and he is joined on the second row by the highest Honda rider Loi in sixth.
Will Migno repeat his form from Motegi?
Andrea Migno (Sky Racing Team VR46) who was incredible in Motegi will start from seventh ahead of Darryn Binder (Platinum Bay Real Estate) in eighth, and Martin completed the third row. Bagnaia makes up the top ten ahead of Joan Mir (Leopard Racing) and Bo Bendsneyder (Red Bull KTM Ajo) who completes row four.
The battle for second in the championship continues
Jorge Navarro (Estrella Galicia 0,0), who is battling with Bastianini for second in the championship starts one row ahead of his rival in 13th; he is joined by the only female in the class Maria Herrera (MH6 Team) who collected her best ever grid position in 14th, and Locatelli whose crash meant he had to settle for 15th. Bastianini starts from the front of the eighth row ahead of Jules Danilo (Ongetta-Rivacold) and Khairul Idham Pawi who usually thrives in the wet riding for Honda Team Asia.
Antonelli is 19th on the grid ahead of Phillip Oettl (Scehdl GP Racing) who crashed on day one of the meeting, as did Fabio Di Giannantonio (Gresini Racing Moto3) who joins him on the seventh row. Rookie Canet's crashed spoiled his chances of a good grid position and he will start from 22nd ahead of Adam Norrodin (Drive M7 SIC Racing Team) and Guevara who failed to make it back out on track after his track as he underwent checks in the medical centre; he will start from 24th.
Jakub Kornfeil (Drive M7 SIC Racing Team) is 25th ahead of Tatsuki Suzuki (CIP-Unicorn Starker), Albert Arenas (Peugeot MC Saxoprint), Lorenzo Dalla Porta (Sky Racing Team VR46) who crashed during qualifying, and Ono who starts from 29th after his crash. Stefano Valtulinini (3570 Team Italia) will start from 30th ahead of Marcos Ramires (Platinum Bay Real Estate), Fabio Spiranelli (CIP-Unicorn Starker), Lorenzo Petrarca (3570 Team Italia) and Australian wildcard rider Matt Barton who completes the grid on the Suus Honda, FTR Honda after crashing during the session.