Free Practice 4 is the last chance for the MotoGP riders to finalise settings ahead of Qualifying, and just one lap was enough for Repsol Honda rider Marc Marquez, the newly crowned 2016 MotoGP Champion, as there was rain at certain parts of the track, who returned to the pits reluctant to risk anything further; for the time being.
Hayden goes to the top of the timesheet for the first time in years
Within minutes, his temporary teammate at Repsol Honda, Nicky Hayden, who is standing in for injured Dani Pedrosa who broke his collarbone after a huge highside in Motegi, went to the top of the timesheet. The former MotoGP champion now World Superbike rider re-familiarised himself with the Honda a few rounds ago when he stepped in for injured Estrella Galicia 0,0 Marc VDS rider Jack Miller. He returned this time on the factory Honda, an emotional and exciting opportunity he jumped at.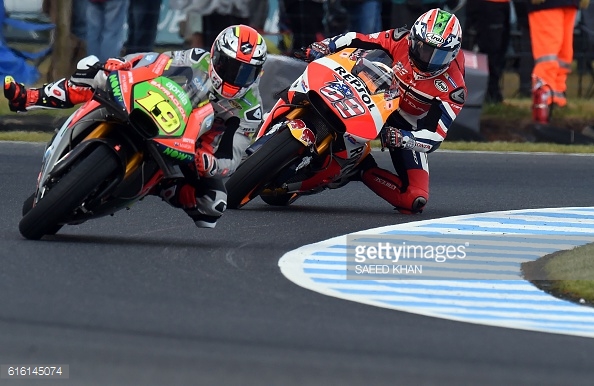 Rain caused riders to retreat to pits
The rain put the riders off, the wind was extremely strong and many of the riders returned to the pits when the shower hit. It looked like a storm was brewing as they retreated. But keen to get as much time on track as possible, Australian Superbike rider Mike Jones, who is standing in for Hector Barbera at Avintia Ducati who is in turn standing in for injured Andrea Iannone on the factory Ducati as he continues to recover from broken vertebrae sustained in Misano.
Session red-flagged due to the weather conditions
The weather got harder as Jones struggled to return to the pits, and as rookie Estrella Galicia 0,0 Marc VDS rider Tito Rabat was just exiting the pits to get some more wet track time in, the session was red-flagged. An umbrella had made its way on to the track and had to be caught by a Marshal. The Marshals are doing such an exemplary job in Phillip Island, as do all Marshals who volunteer to do the job worldwide. The conditions have made it extremely difficult and extra enduring for the men and women in orange who deserve full credit.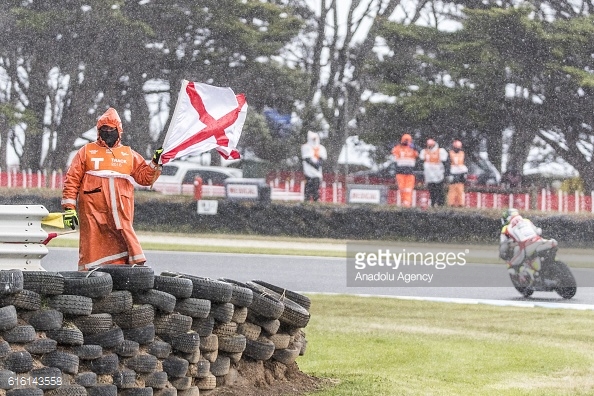 Very wet track as session was restarted
The remainder of Free Practice 4 session got underway for the MotoGP class and some riders decided not to return to the wet track ahead of Qualifying that was slightly delayed. There was an incredible amount of spray coming up from the bikes as there was a lot of standing water on track. Rumours began circulating that Michelin had very limited supplies of the Michelin Full Wet tyre in the super-soft compound remaining in stock on the truck… interesting!
Eventful Qualifying 1 got underway
The 16th round of the MotoGP season has resulted in some peculiar results so far as factory riders such as Maverick Vinales (Team Suzuki Ecstar), Movistar Yamaha riders Valentino Rossi and Jorge Lorenzo, and the likes of the top independent rider Cal Crutchlow (LCR Honda) were left to battle things out during Qualifying, hoping to be in the top two so they could progress through the Qualifying 2.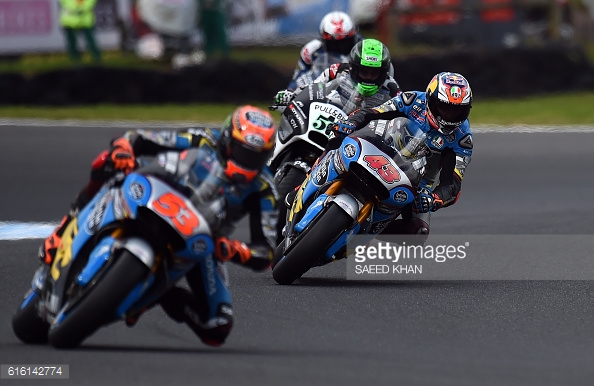 With 10 minutes remaining Crutchlow was on top ahead of Lorenzo and Rossi and was about to complete another fast lap having improved by 0.4 seconds midway through the session. The four battled and Irishman Eugene Laverty (Pull & Bear Aspar) threw himself into the mix but Crutchlow managed to lap 1.7 seconds quicker with less than eight minutes to go. Rossi slotted into second behind him but was 1.3 seconds slower, however Rossi was 0,3 seconds quicker than Lorenzo who was in the pits having heavy discussions with his teammate.
Several riders battling for the top two spots
Bradley Smith, who has been bravely riding round at Phillip Island which is his second meeting back since he torn ligaments in his knee, went to second on his Monster Tech 3 Yamaha with less than six minutes to go. Lorenzo returned to track and a Crutchlow made a very quick stop to change bikes. Vinales was unsure what to so as the sun began to shine down on the track; he returned to track on brand new full wets. Smith pitted and returned to the track on intermediate tyres. Rossi also returned and was unsure what to do; he made a risky and late choice for a wet front and intermediate rear tyre.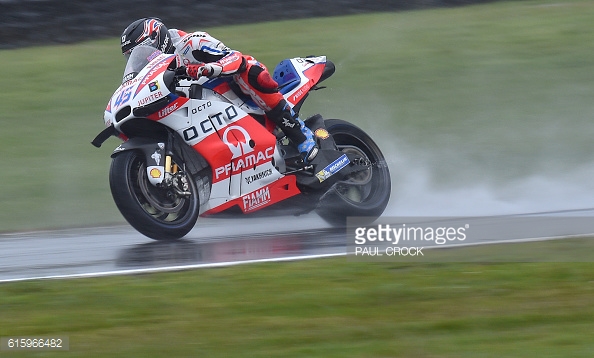 Crashes at the end of Qualifying 1
Already injured, unfortunately for Smith he crashed out of turn eight of the circuit. It was difficult to tell whether he was injured from the crash as his airbags had appeared to have gone off at the fast turn as he limped through the gravel after takin Loris Baz (Avintia Ducati) also crashed out in the closing stages at turn four of the circuit. He also appeared unhurt but it was session over for the both of them.
Crutchlow lapped 2.3 seconds faster than Smith in second as he lapped at 1:38.752.Vinales slotted into second briefly as Lorenzo soon knocked him down to third in FP4. It looked like Yonny Hernandez (Pull & Bear Aspar Ducati) was going to be able to knock Lorenzo out of the second spot but he crashed out at turn 10 on intermediates as the front of his Ducati tucked under.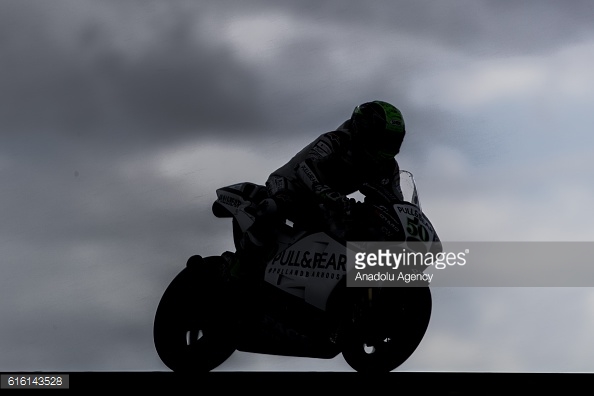 Crutchlow and Lorenzo progress through to Qualifying 2
Crutchlow was quickest and lapped at 1.985 seconds quicker than second position Lorenzo. The two progressed through to Qualifying 2 and Vinales just pissed out on a spot. Smith's crash and Rossi's late pit meant his risky tyre choice did not have enough time to kick in. As Qualifying 2 approached, Race Direction announced "Heavy rain expected at 16:15 LT (06:15 GMT)". There was no telling what was about to happen.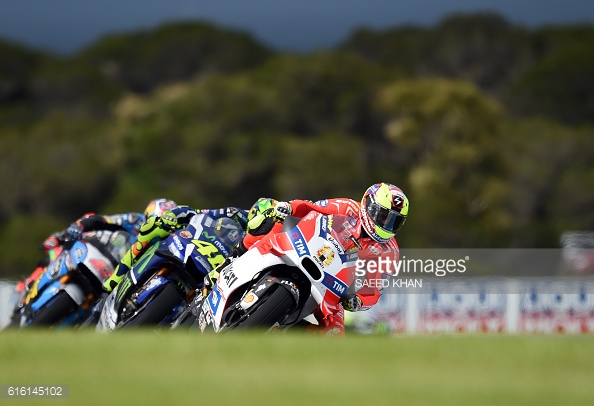 A queue formed at the end of pit lane as riders wanted to get started before rain came
Keen to get started, riders queued briefly at the exit to pit lane waiting for the green light. A lot of riders had chosen to run with the Intermediate Michelin tyres as they took to the track to decide the grid positions hopefully before the heavy rain predicted hit. Local rider Jack Miller (Estrella Galicia 0,0 Marc VDS), Marc Marquez (Repsol Honda) and Danilo Petrucci (Octo Pramac Yakhnich) pitted after one lap to make changes to the tyre choices as the sun shone and the track dried out.
Bradl on top on the Aprilia
Aprilia Racing Team Gresini rider Stefan Bradl took the top spot initially with Scott Redding (Octo Pramac Yakhnich Ducati) slotting into second briefly before Crutchlow put his name on the position. Bradl lapped consistently to confirm his pole position before Hector Barbera on the factory Ducati went to the top of the timesheet.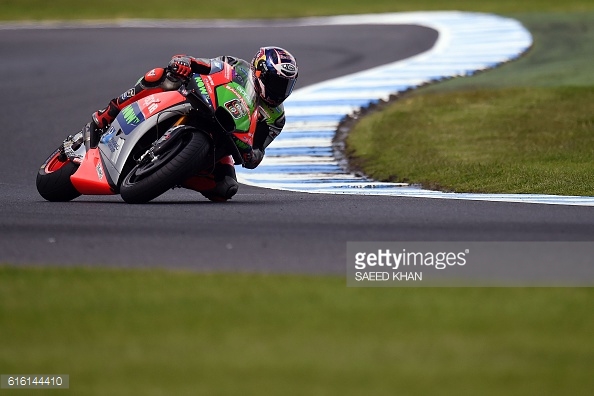 Crutchlow soon took over, and Miller and Andrea Dovizioso (Ducati Team) slotted in between him pushing Barbera down to fourth, Meanwhile, Marquez had completed a long pit stop to change to the Michelin Power Slick tyres, Dovizioso was running the intermediate front and set a fast time of 1:33.090 however Marquez's decision appeared to be paying off as he had two red sectors on the slicks.
Marquez on pole before Crutchlow steals it
Lapping at 1:32.239, the fastest lap set all weekend so far, Marquez took pole position until Crutchlow improved on his time by 0.90 seconds making his time of 1:32.189 the new pole time. Lorenzo had returned from the pits and was completing and out lap when Marquez shot round the outside of him and improved the pole position time by a further 0.6 seconds. Redding was the next to 'beat up' Lorenzo as the Spaniard was reluctant to allow the British rider past.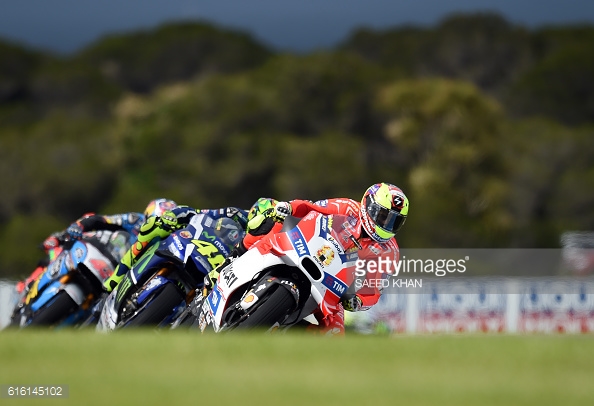 Marquez continues to improve
Shaving another 0.885 seconds off his previous time, Marquez again lapped quicker with the first lap under 1:31 seconds setting a time of 1:30.670. The 2015 MotoGP champion amazingly was travelling so slow around the track on the slicks as he did not seem to push as he struggled to get heat in the tyres; which wouldn't have helped matters for the Spaniard.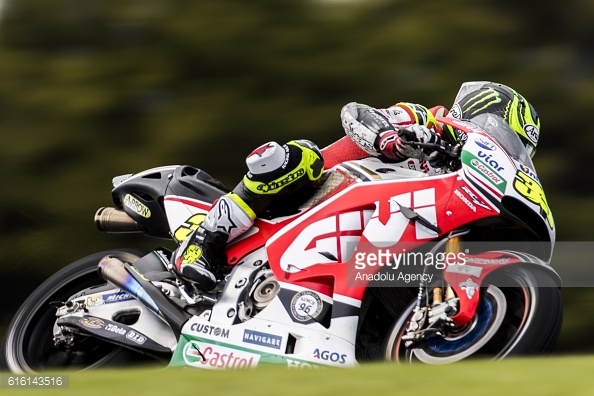 Late tyre change for Crutchlow to intermediate front
Crutchlow returned to the pits where he switched to an intermediate front tyre. Several riders were still pushing to improve. It appeared there would be no more pit stops as Miller moved up to fourth behind Pol Espargaro (Monster Tech 3 Yamaha) and ahead of Aleix Espargaro (Team Suzuki Ecstar), Dovizioso and Hayden. As Marquez made further improvements, Pol Espargaro briefly claimed second before Crutchlow took it back. Then on his last lap Miller claimed third however it was not yet secure as riders had crossed the line before the flag and had one more lap.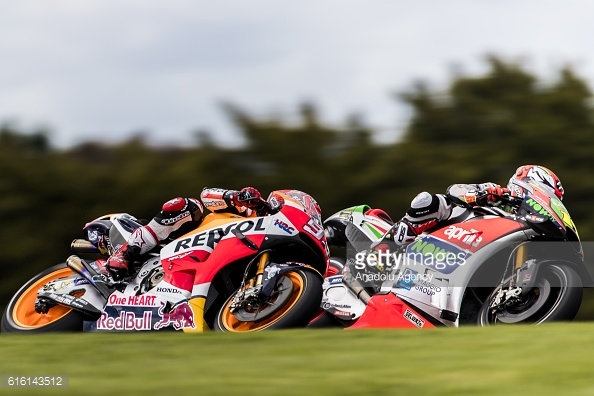 Marquez secures pole ahead of the Australian GP
Marquez was quickest and secured pole with a time of 1:30.189 after his strategy paid off; it was worth the risk with rain due of losing the time to change to slicks for the remainder of the session. He finished ahead of Crutchlow as second highest placed Honda and the highest independent team rider. Pol Espargaro joined him after a last minute battle with his brother Aleix on their final lap; he secured third making it two independent team riders on the front row.. it's amazing what the rain does to the MotoGP!
Aleix Espargaro has to settle for fourth and unfortunately Miller was pushed down to fifth on the grid at his home GP. Petrucci was sixth completing the second row. Hayden, replacing Pedrosa, heads the third row and is joined by Bradl and Dovizioso in ninth.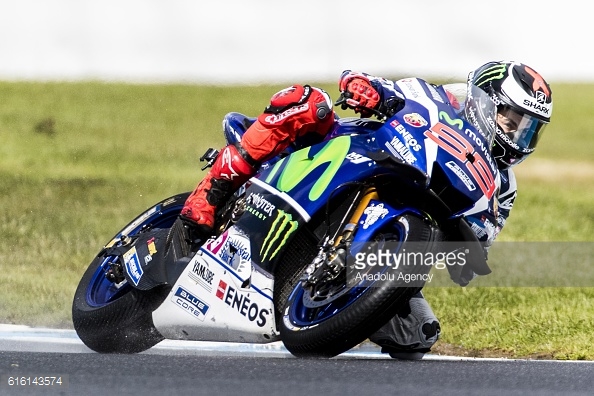 What is going on with Lorenzo?
Barbera will start from 10th on the grid ahead of Redding in 11th and Lorenzo who will start from 12th after struggling on track. The 2015 MotoGP champion's time was 6.65 seconds slower than that set by Marquez on pole. What is going on with him? His time was similar to what would usually be set by a Moto2 bike in dry Qualifying; how are Ducati feeling seeing him perform like this in the mixed conditions when there have been five wet rounds this season and likely to be the same again next year?
The results from Qualifying 1 meant that Vinales will start from 13th leading the fifth row ahead of Smith and Rossi. Laverty is due to start from 16th ahead of Hernandez and Bautista in 18th. Replacement rider Jones will start from 19th, an amazing result considering the newbie will be starting ahead of Baz in 20th, and Rabat completes the grid in 21st.