To make up for lost time on day one of Free Practice at Phillip Island in Australia, the MotoGP class had an extended third Free Practice session. It was another wet start to another day of showers and the riders switching between tyres and setups as the track dried before another shower would start again.
The rain threw things wide open at Phillip Island
Repsol Honda rider Marc Marquez was the fastest on track at the end of the session. Ahead of local rider Jack Miller (Estrella Galicia 0,0 Marc VDS) and Team Suzuki Ecstar rider Aleix Espargaro. A lot of riders who are normally found on the bottom half of the leaderboard were able to embrace the opportunity given to them by the rain and automatically progressed through to Qualifying 2 to contend for positions on the first front four rows of the grid.
Free Practice 4 was wet and windy which was enough to send some riders, including Marquez, back to the pits after completing very little laps. Some riders did risk it though staying out as long as possible until race officials decided to red-flag it when a storm hit. When things were restarted many riders chose to remain in the pits.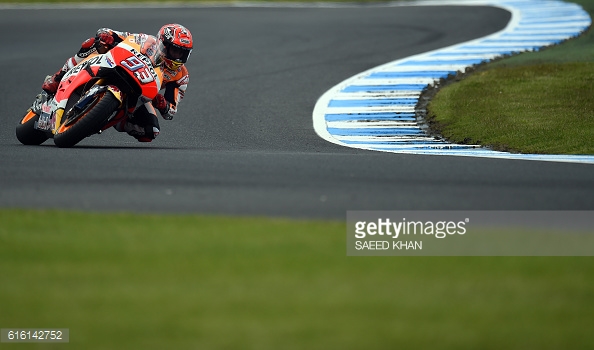 Crutchlow fastest after Qualifying 1
Any further rain held off allowing the track to dry out and the riders in Qualifying 1 to push harder as they battled it out for the top two places which meant they could compete in Qualifying 2. Lapping almost two seconds quicker than anyone else, Cal Crutchlow (LCR Honda) was quickest and progressed through along with Movistar Yamaha rider Jorge Lorenzo.
There was just a short gap between the first and second Qualifying sessions, rain was forecast to hit towards the end of the session so riders went out hard and pushed immediately to set a quick lap instead of waiting until the end of the session as they usually do.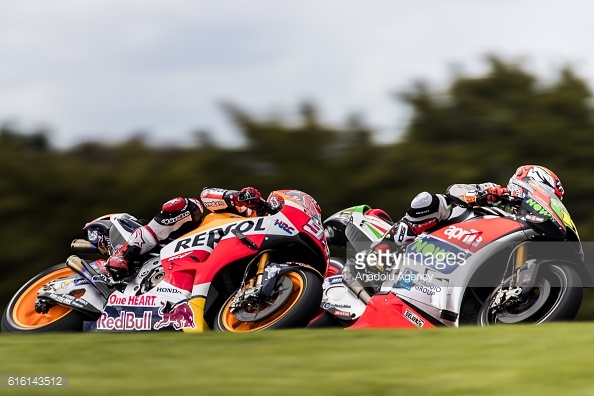 The rain held off for Qualifying 2
Crutchlow made a last minute tyre choice as the track was still drying, and so opted for an intermediate front tyre. Marquez initially made his way out on intermediates, but came in so his team could make the pain-staking time-consuming switch to slicks; the setup of the bike needs adjusting as well as the tyres switching.
He made his way back out on track and was able to produce a fast time lap after lap switching places with Crutchlow for the prime spot. Eventually, Marquez collected his 65th career pole as the risky tyre choice paid off and his lap of 1:30.189 secured him pole with Crutchlow in second.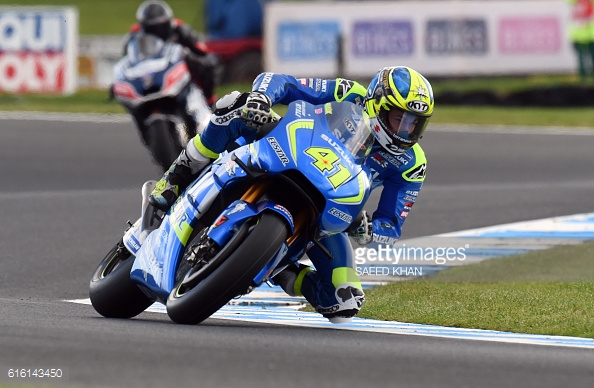 Now the Espargaro brothers were having their own little battle on track whilst both completing strong, competitive times. Pol Espargaro (Monster Tech 3 Yamaha) proved victorious over Aleix Espargaro claiming the third on the grid making it two independent riders on the front row.
Marquez claimed his 65th career pole ahead of Australian GP
Marquez was "happy" as he explained "in addition to pole" that he was "able to put in five laps" which led to him being able to "notice some things [they] can improve" ahead of the ace. Revealing that they can "get more grip, especially with the rear and on corner entry". He spoke of how he felt "very comfortable" in the wet and it confirmed to him that so far over the weekend they are "getting things right" and he hopes to "maintain this dynamic".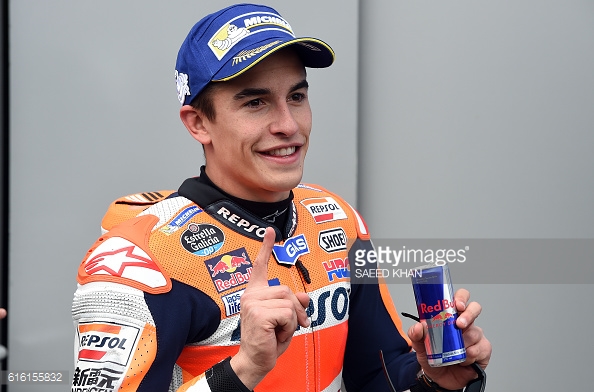 He is aware that the race in Phillip Island is "still an unknown" as he said they "aren't sure what tyres" they will use, "nor who [their] rivals will be" however he hopes to "try and make the best of any situation" that they may find.
Crutchlow regretting not following gut instinct
Crutchlow described how his aim was to "set a benchmark with intermediates first" during Qualifying in the knowledge that he could "at least come in at the end and do a faster lap with the slick tyre". He was aware that he "couldn't change to a front slick" as it "wasn't ready" on his second bike. He admitted it was his "own mistake" and that it turned out that the intermediates weren't working as well as they might.
He was disappointed as he felt he should have followed his "gut instinct at the start of the session". He said, "It's not normally like me" as he explained, "I'm normally the one who will go out on slicks first, but I'm happy enough."
Crutchlow grateful to his team and the fans
Praising his team, Crutchlow said that they have "done a great job this weekend" and that they have "worked so hard to make all the changes". He spoke of how it's, "not been an easy weekend for anyone with the cold and rain", and he said, "we need to appreciate the support the fans have given in those conditions too". He said that he hopes they "are able to put on a good show for them all tomorrow".
Pol Espargaro feels strange starting from the front row
Pol Espargaro, the second independent team rider on the front row spoke of how he was "very happy with the qualifying result" and described that "it is a great feeling". He admitted it was "a little bit strange to know that [he] will start on the front row".
He too admitted that "this weekend has not been easy with regard to the weather". However, he said, "We always have to expect it to be like this" at Phillip Island. He felt that in qualifying they were "lucky" as it "didn't rain" and he found they were "fast straight away". He knew it was "risky to go on slicks whilst the sky is dark" and when it "looks like it could rain at any moment", but he said, "At the end of the day, we made the right choice at the right time and we got the front row."
Contemplating the race he knew that a front row start "does not mean that [they] will automatically finish in the top five" on race day, but instead he "expects a tough fight"; not denying what he achieved he said, "Today's result is positive for us, the team and the sponsors."
The Spaniard felt that they had done "a good job" and they "will have to see" what they can do "in the dry conditions" on race day. He said, "We have ridden a handful of laps in the dry, so it is really useful that the warm-up has been extended." Either way, he is "delighted" with the performance from day two of the meeting and he looks forward to the race.