The MotoGP class woke up to blue skies with white clouds ahead of the Michelin Australian Motorcycle Grand Prix at Phillip Island; a vast difference to the weather they have experienced so far over the weekend.
The morning warm-up session, where pole position man Marc Marquez was quickest on his Repsol Honda, was the first real opportunity to experience the circuit in warm and dry conditions which would have been vital ahead of the race.
The weather had cleared for race day
By the time they took to the grid, it was still blue skies and looking as if it was going to remain that way. Marquez was joined by Cal Crutchlow (LCR Honda) and Pol Espargaro (Monster Tech 3 Yamaha) on the front row; two independent team riders battling it out for the top spot in their championship.
Aleix Espargaro (Team Suzuki Ecstar) was joined by local lad Jack Miller who was wanting to do well in front of his home fans on his Estrella Galicia 0,0 Marc VDS Honda, and Octo Pramac Yakhnich Ducati rider Danilo Petrucci was in sixth.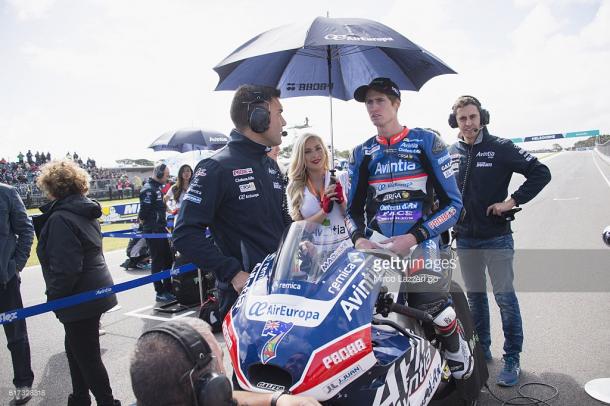 Adjustments to the MotoGP line-up
Standing in for injured rider Dani Pedrosa, World Superbike rider and former MotoGP champion Nicky Hayden was in seventh on the Repsol Honda. A disastrous qualifying from the Movistar Yamaha duo meant that Jorge Lorenzo was starting from 12th and Valentino Rossi was down in 15th.
As Andrea Iannone is out of action with broken vertebrae (and all the seagull's sigh for relief), Hector Barbera stepped up for the second time to ride the factory Desmosedici GP16; he qualified in 10th on the grid. Replacing him at Avintia Ducati, Australian Superbike rider Mike Jones was taking on the Desmosedici GP15 after making his debut Motegi debut for the same reasons in Motegi; he qualified 19th.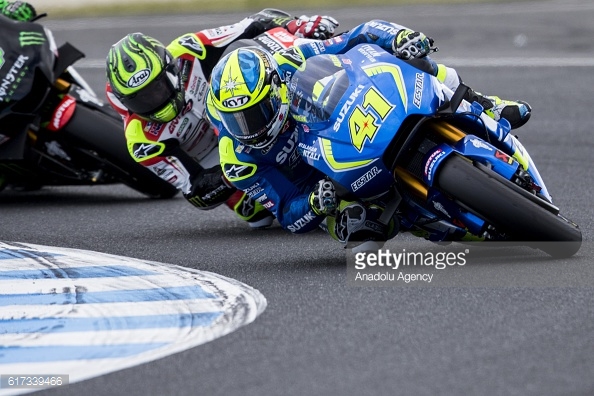 Great start from Pol Espargaro
The lights went out and the 27 lap race got underway, a fantastic start from the Pol Espargaro on the front row allowed him to immediately create a gap as he entered the long and fast turn one.
His brother Aleix also got a brilliant start from the second row and was about to slot into third before Marquez swept in front of him bringing Crutchlow along with him. Avintia Ducati rider Loris Baz had problems on the grid and had to start from pit lane.
Crutchlow got swallowed up through the next couple of turns however as Petrucci overtook Aleix to take third ahead of Aleix. Marquez had caught Pol who remained the leader until they got to the hairpin when Marquez made his move and took the lead.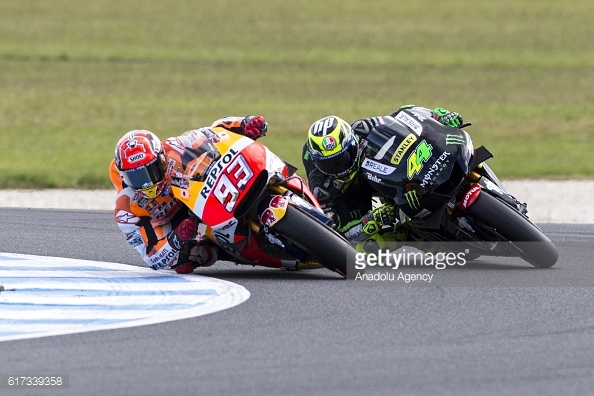 Aleix overtook Petrucci towards the end of the first lap to take third bringing Crutchlow with him and forcing Petrucci down to fifth. Then as they crossed the start-finish line to complete the first lap Crutchlow overtook Aleix to take third as they entered turn one.
Marquez leads at the end of lap one
Marquez led, ahead of Pol, Crutchlow and Aleix, and Petrucci. Ducati Team rider Andrea Dovizioso passed Miller to take sixth as Lorenzo followed them in eighth ahead of Hayden and Aprilia Racing Team Gresini rider Stefan Bradl.
Maverick Vinales (Team Suzuki Ecstar) followed ahead of British rider Scott Redding who had just overtaken Rossi on his Octo Pramac Yakhnich Ducati, forcing the Italian down to 13th.
Vinales soon overtook Bradl for 10th as Rossi reclaimed 12th from Redding. Continuing on his mission he soon passed Bradl and had Vinales in his sights.
There was a battle beginning between Dovizioso and Miller as they were extremely close braking late into a right hand turn which forced Lorenzo out wide and he almost lost eighth to Hayden. At the hairpin, Miller passed Dovizioso but ran wide allowing the Italian to slip back through. Baz had re-entered the pits as he had issues with his Ducati; he retired from the race.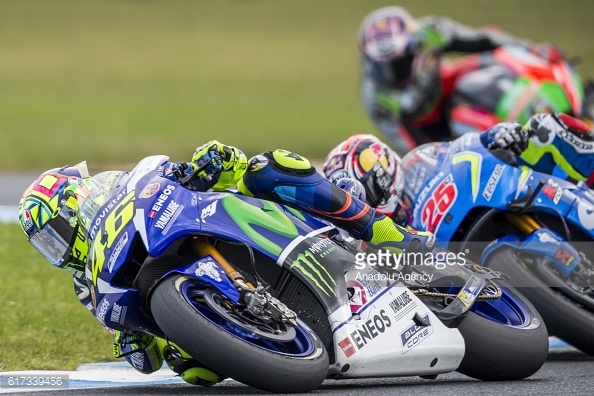 The battles continue behind the 2016 champion
By the end of the second lap, Marquez had a half second lead after he had set the fastest lap. Vinales had made an attempt to go round the outside of Hayden for ninth but ran wide which invited Rossi to come up the inside of him. Another wide line allowed Rossi to pass as he went up to tenth. When they got to the hairpin, Rossi passed Hayden and Vinales followed through forcing the American down to 11th.
Rossi soon passed Miller on the Honda and it was not long before he overtook his teammate too. This move was significant for the championship as the dup are battling it out for second after Marquez claimed the title the weekend previous in Motegi.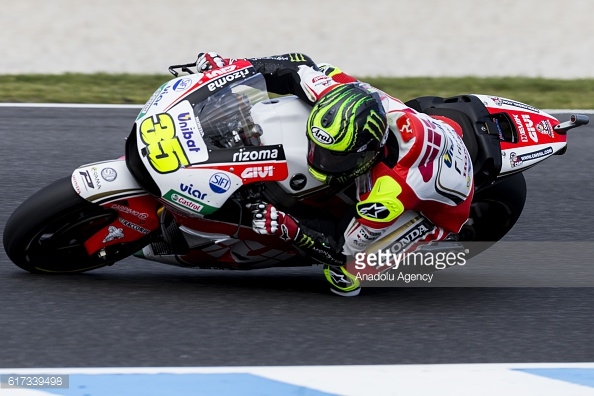 Crutchlow applying the pressure
Lap three led to Marquez lapping for the first time all weekend under 1:30 minutes. Pol was under immense pressure from Crutchlow who passed him as they came to the start-finish line on the forth lap.
But just as they braked on the approach to turn one of lap five, Aleix had accelerated up the inside on the straight and overtook both of them to take second; an amazing move from the rider. He has been performing extraordinarily lately and definitely has the potential to become the ninth different MotoGP winner this year.
Lorenzo passed Petrucci to take sixth as Rossi worked to chase down the leaders who had pulled ahead of him. However, Vinales was also making his way through the pack and he passed Lorenzo to claim seventh. The Italian was continuously plucking away at the gap between him and Dovizioso. Crutchlow was trying every way to get passed Aleix and was able to overtake him at the second hairpin to reclaim second.
Rossi continues with his surge
As Dovizioso passed Pol, the Spaniard found himself under pressure from Rossi who passed him midway through lap seven. As they entered Doohan's Pol indicated that he was struggling as he ran incredibly wide around the corner completely missing the apex.
Rossi was soon again on the tail of Dovizioso and within a few corners passed him on the inside of a right-hand corner to take fifth. Ahead of them, Crutchlow had joined Marquez in the 1:29 minute laps on lap seven. Further down the field Miller had passed Petrucci forcing to take ninth and Redding passed Bradl to take 12th.
Marquez was leading, however Crutchlow was chipping away at the gap that was just over two seconds between him and the 2016 champion; he had just set the fastest lap time during lap seven. Aleix was under pressure from Rossi who had caught him and an overtake was imminent. As they entered turn one of lap 10, he slotted passed the Suzuki rider to take third.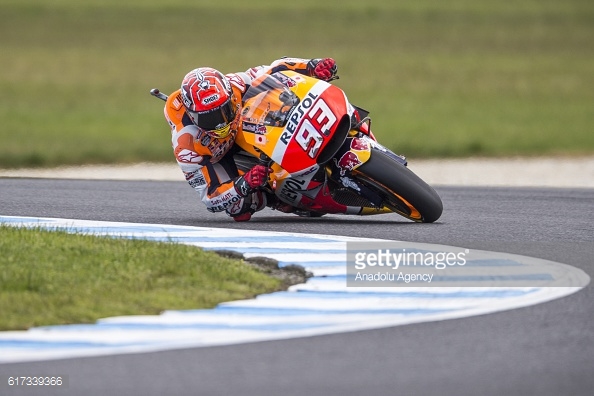 Marquez crashes out of the race
Then, at turn four of lap 10, a turn that has caught out many riders over the weekend, race leader Marquez crashed out of the race. His bike was so damaged he was unable to rejoin and Marquez, who lay on the floor briefly after landing on his front, soon got to his feet to check the damage and threw his hands up when he realised it was race over. The front had tucked on him as he trailed the brake into the corner and the bike catapulted through the gravel.
Crutchlow leads the Michelin Australian Motorcycle Grand Prix
Crutchlow was now leading the Michelin Australian Motorcycle Grand Prix with a gap of just under two seconds over Rossi who was flying. Could the Brit win his second race of the season at his favourite track? Crutchlow was on the hard front, and Rossi was on the soft; both riders had the medium compound rear tyre that Michelin had brought specifically for Phillip Island. Knowing Rossi followed as signalled by his pit board, Crutchlow responded and worked to maintain the gap extending it to over two seconds on lap 11.
Behind them, Aleix was under pressure from Dovizioso who had caught them. But then behind them Vinales made his attack on Pol and passed him to take fifth. He now had a few seconds of clear track of him before he would find Dovizioso. Hayden, had passed Redding to take 10th from the Brit who had lost several places in the previous laps as he had made it up to eighth.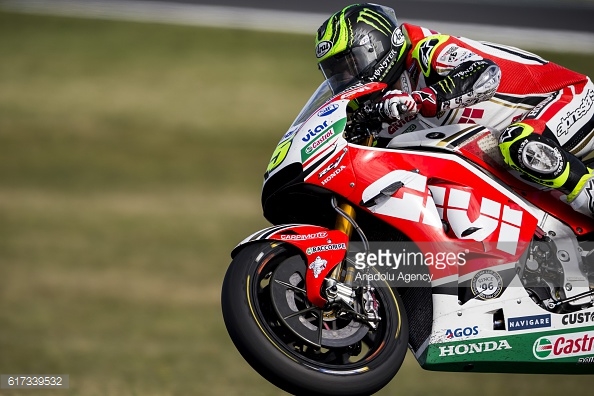 Great battle for eighth
A battle was on for eighth as Miller chased Petrucci on home ground. Hayden was hot on their tail and Redding was trying to get his positions back. Bradl was closing in on Redding however and Barbera was seen running wide as he came to terms with the factory Ducati.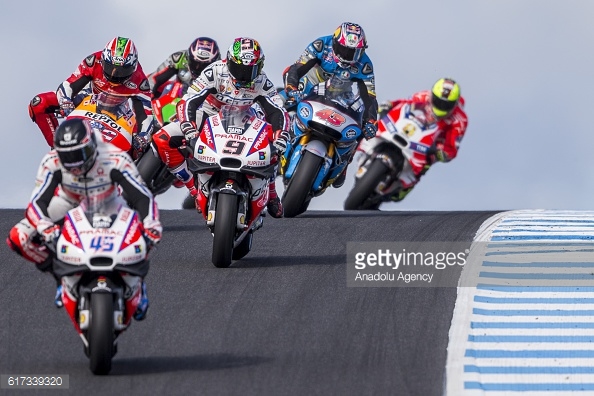 Crutchlow had definitely responded to the pressure from Rossi and with 12 laps remaining he had extended the gap between them to over 3.5 seconds; he increased that even more to just under four seconds by lap four. He had no choice but to keep pushing so that he could retain heat in his hard front tyre; the reason it turned out to be what caught out Marquez previously.
Miller had passed Petrucci to take the lead of the group battling for eighth but the Italian soon responded. It was so close between the group of now five as Bradl was looking for a way past Redding. As they approached turn four, Hayden took a very tight inside line and passed Miller who also lost another place to Redding as he was forced wide. He then lost another place to Bradl who passed him before the lap was over.
Battle for third heats up
Dovizioso was looking for a way passed Aleix for third after witnessing Rossi run wide at turn four which allowed the duo to catch him up. As they crossed the line with nine laps remaining, Dovizioso went up the inside of Aleix and passed Aleix to take third. Vinales had closed in on them both and looked to soon be taking on his teammate. As Aleix tried to find a way back past Dovizioso, Vinales caught right up to them. He made an attempt on his teammate, but retreated.
In response, Aleix overtook Dovizioso but the Italian was able glide passed him down the start-finish straight. When they got to turn four, Aleix went up the inside of the hairpin passing Dovizioso again who was forced wide which then allowed Vinales to also pass him.
Dovizioso calmly retaliated and forced his way past Vinales to regain fourth. He then again went on to take third from Aleix down the straight, but then Aleix attacked again at turn two. Further round the lap on the approach to the hairpin, Vinales out-braked Dovizioso and took fourth again.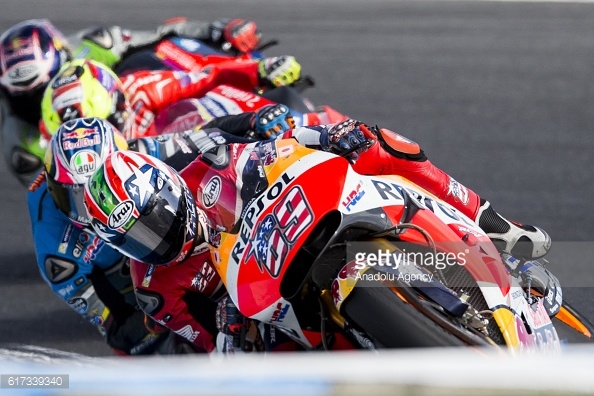 The Octo Pramac Ducati teammates continued to battle it out for eighth. Redding got in front briefly, but Petrucci retaliated and forced him back down to ninth. Within a few corners, Redding passed him again to take the place back. Miller had also recovered a place back from Bradl and was in 11th and then he soon recovered another place from Hayden on the factory Honda.
Just five laps of the race remained
As they crossed the line with five laps to go, Crutchlow continued to lead out on his own ahead of Rossi who was also solo on track. Vinales used the slip-of his teammate to catch him and overtook him heading into turn one. Dovizioso used the acceleration of the Ducati to catch the two. But then Vinales ran wide and Aleix was able to pass him again. Unfortunately for Aleix, he tucked the front end heading into turn four and fell both he and the bike slid out of the race; such a disappointing end to a great ride from the Spaniard. Vinales was third and Dovizioso moved uo to fourth.
Redding breaks away in seventh
Redding had managed to pull away from the group that followed Pol and Lorenzo. He was sitting comfortably in seventh as the battle for eighth continued behind him. Petrucci was leading them ahead of Hayden who had recovered the place from Miller. Barbera had caught the group and had passed Bradl to take 11th. As did Monster Tech 3 Yamaha rider Bradley Smith who recently made his return, still injured, after damaging the ligaments in his right knee .Barbera overtook Miller to take 10th as Bradl lost another place to Smith who was now in 12th.
Barbera crashes out on the factory Ducati
Unfortunately for Barbera, who was wanting to get a good result especially after crashing out on his debut in Motegi, he crashed out at turn eight of the track. He was unhurt but they struggled to recover the bike from the gravel.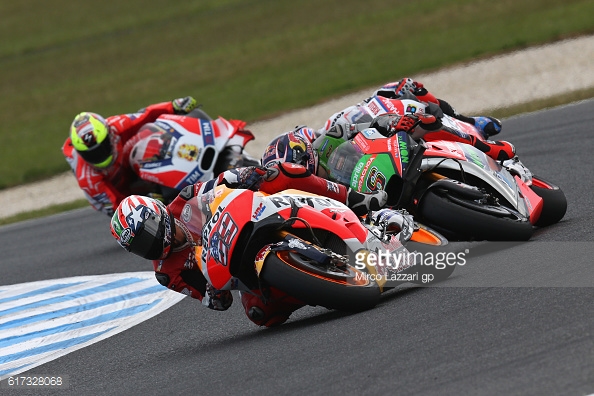 Just three laps remained as Crutchlow led and Rossi was coming under pressure from Vinales who was continuing his surge through the field. He has reducing the gap between him and the Italian but it was unlikely that he could catch him by the end of the race as Rossi retaliated and increased the gap slightly.
Hayden crashes out of turn four
Then on the penultimate lap, at the notorious turn four, Hayden crashed out following an incident involving him and Miller who was now in eighth. Miller had gone up the inside of Hayden on the approach to the hairpin to overtake the replacement rider, Hayden tried to prevent him from passing and they touched, but Hayden came out of it worse. He slid out and appeared unhurt as the Marshals assisted his return to the track.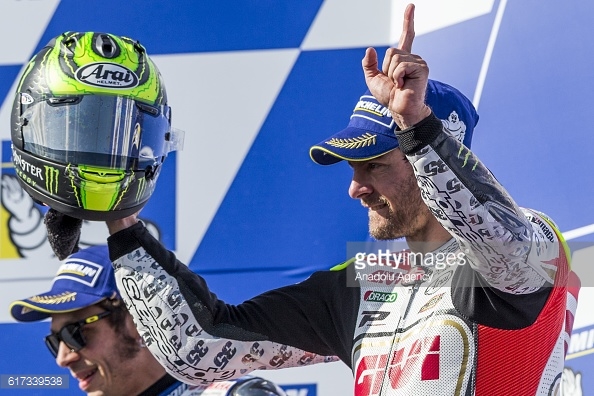 Crutchlow becomes the first British winner of the Australian GP
Crutchlow began his final lap of the race where he was about to claim his second win of the season. Such an amazing ride from the Honda rider, who was strong throughout the wet and miserable weekend, became the first British rider to ever win the Australian GP.
Winner, top independent, top Honda, and the first Brit to achieve two MotoGP wins in over 35 years, it was an incredible and historic podium for Crutchlow. Rossi crossed the line in second from 15th on the grid, and Vinales claimed the last spot on the podium in third after; both also put on a fantastic performance.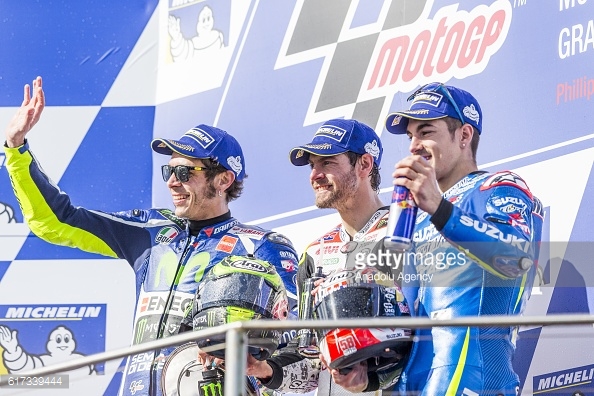 Smith steals eighth at the line
Pol Espargaro was fifth ahead of Lorenzo who was sixth. Redding was seventh but behind him the battle continued right up to the line where Smith used the slipto pass Petrucci and Miller taking eighth ahead of the Italian Petrucci in ninth and Miller had to settle for 10th. Bradl was 11th ahead of his Aprilia Racing Team Gresini teammate Alvaro Bautista in 12th.
Yonny Hernandez (Pull & Bear Aspar Ducati) who responded to his team replacing him with Karol Abraham by collecting three points in 13th. The Columbian will return to the Moto2 where he will ride for the AGR Team. His Irish teammate Eugene Laverty was 14th ahead of Jones who finished his second ever MotoGP in the points in 15th. Rookie Tito Rabat (Team Estrella Galicia 0,0 Marc VDS) crossed the line in 6th and Hayden completed the field in 17th.
How the championship looks…
The results meant that Rossi extended his lead over his teammate in the championship by 10 points. Although the title has been claimed by Marquez, and his crash in Australia won't change anything, Rossi (216 points) is second to Marquez (273 points) and is now 24 points ahead of Lorenzo with 192 points. Finishing ahead of him in Sepang at the next round will secure second in the championship.
Vinales is in fourth with 181 points ahead of Pedrosa on 155 points. Crutchlow's race win takes him to 141 points and moves him up to sixth in the championship, and he remains the top independent team rider.