Penalised by the weather in Phillip Island, the Moto2 class were desperate for some dry weather as it had tormented them all weekend. The weather improved significantly on race day however which was a huge relief for them, although it was still very cool and windy.
Moto2 missing track time
On day one of the meeting ahead of the Michelin Australian Motorcycle Grand Prix, the 600cc class had a wet Free Practice 1 and the second session cancelled altogether after a delayed started to the MotoGP FP2 session which was eventually red-flagged led to them abandoning proceedings for the day.
Marquez ruled out of Australian Moto2
They received an extended FP3 to give them much needed extra track time but they were again prohibited by the weather. The conditions changed throughout the day and caught out many of the riders as they continued through to the end of Qualifying. One of those riders being Estrella Galicia 0,0 Marc VDS rider Alex Marquez who was involved in an incident along with Julian Simon (QMMF Racing) who ran out of fuel and required medical attention. He was ruled out of the round as a precaution.
Significant improvements with the weather on race day
Race day and the weather had improved significantly and it seemed that it was going to remain that way. During the morning warm-up session, Federal Oil Gresini Moto2 rider Sam Lowes crashed out as he adapted to the track in the dry conditions. He was unhurt and able to continue with the race.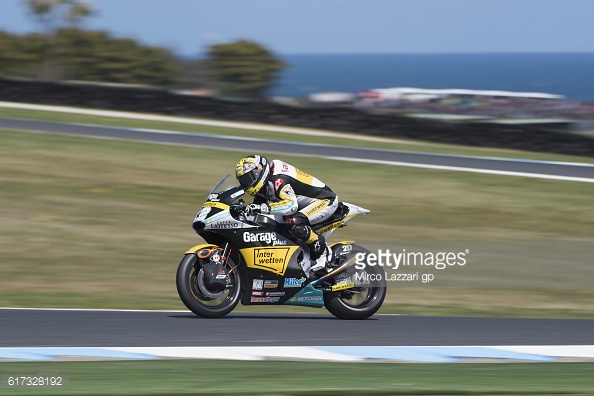 Luthi on Moto2 pole in Phillip Island
Garage Plus Interwetten rider Thomas Luthi was on pole in Phillip Island for the first time this season. After winning in Japan he was hoping to continue his success on in Australia however was only 17th quickest during the morning warm-up session.
He was joined on the front row by Mattia Pasini (Italtrans Racing Team) in second, his best qualifying since 2009 on his adapted bike; the Italian is haunted by an old injury and has the front brake and clutch both set up on the left handlebar. Lowes completes the front row.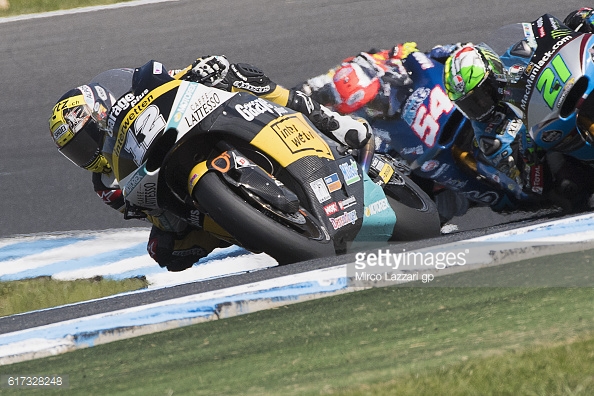 Morbidelli quickest during the warm-up
Estrella Galicia 0,0 Marc DS rider Franco Morbidelli was the fastest during the warm-up ahead of Lowes and Sandro Cortese (Dynavolt Intact GP) who will start from fourth on the grid. The 2015 pole position man and race winner Alex Rins (Paginas Amarillas HP40) was fourth quickest (16th on grid), ahead of Jonas Folger (Dynavolt Intact GP) in sixth where he is placed on the grid.
Sports-Millions-EWME-SAG rider Jesko Raffin secured his best Moto2 career grid position as he qualified in fifth on the grid although he was only 19th during the warm-up. He may have been the only rider hoping for rain.
Great start from Luthi
The riders lined their 600cc Hondas up on the grid waiting for the lights to go out for the 25 lap race. Luthi got a fantastic start and was followed into turn one by Pasini and Folger. Some were forced out to the kerbs in the initial corners but it was better than coming off like in the previous class.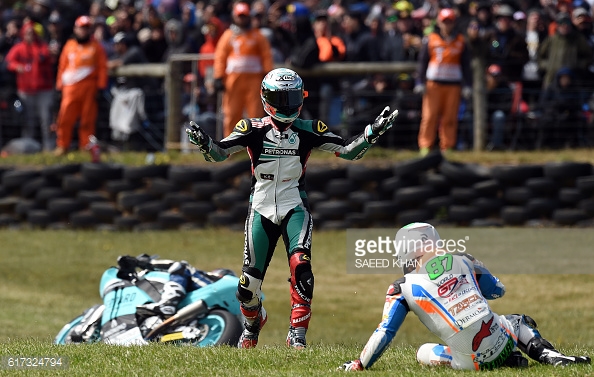 Towards the end of the first lap, Remy Gardner (Tasca Racing Scuderia Moto2) and Hafizh Syahrin (Petronas Raceline Malaysia) were involved at an incident at turn ten. Gardner looked hurt as he struggled to get back to his feet.
Luthi crossed the line to start the second lap in the lead ahead of Pasini and Morbidelli. Folger was fourth ahead of Xavi Vierge (Tech 3 Racing), Simone Corsi (Speed Up Racing), Lowes, Lorenzo Baldassari (Forward Team), Simon and Rins who was 10th.
When they got to the start-finish straight for the second time to commence lap three, Morbidelli who set the fastest lap so far used the slipof Pasini to pass him to take second, as did Lowes to take seventh from Baldassarri. Morbidelli was immediately on the back of Luthi's tail applying the pressure for the lead.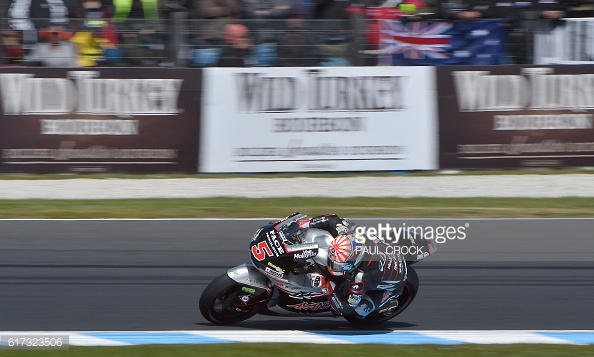 Lowes has fifth crash ending weekend early
It was definitely a weekend to forget for Lowes as he crashed again over the weekend on turn two of lap two. He had been off several times throughout the meeting and this one meant it was time to call it a day in Australia. He walked away from the crash looking very disappointed but unhurt. Going into the race after completing the sighting lap, he was not happy with the bike as he felt it was off line; his team adjusted the handlebars and Lowes had to make do.
Morbidelli soon passed Luthi when he touched the kerb and lost grip on the rear tyre which almost resulted in him being thrown from the bike. He lost momentum and it was not long before Pasini benefited from Luthi's mistake also and he passed him in the final sector of the third lap.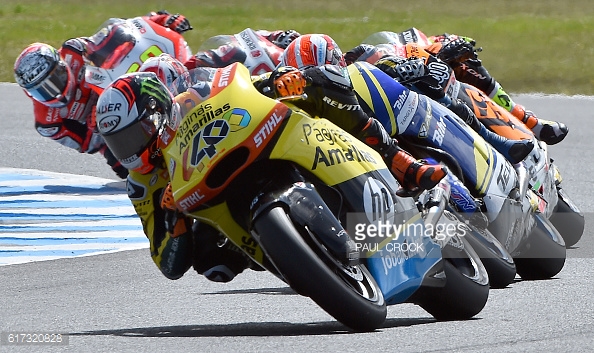 Rins looking for championship points
Rins had made his way up to sixth on the track after he passed Vierge towards the end of lap three. Luthi, determined to get a consecutive win, had passed Pasini and stole the lead back from Morbidelli as they entered turn one of lap four. Morbidelli stuck behind him applying the pressure while Pasini stalked them in third. Chasing them, Folger was in fourth under less pressure as behind him Baldassarri was being hunted down by Rins.
Cortese lost two positions to Takaaki Nakagami (Idemitsu Honda Team Asia) and Simon on the fourth lap as Corsi overtook Vierge on the last corner of the track. Corsi then was passed by Nakagami who moved up to seventh. Behind them, championship leader Johann Zarco made his way up to 13th when he overtook Simon. He then gained another placed when he passed Schrotter which placed him in 10th as he looked to extend his lead by gaining more points on track.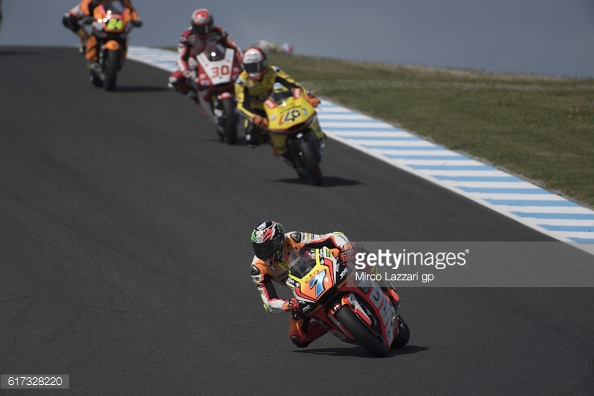 Rins crashes out of the race
Then the best thing happened for Zarco's championship fight, second place in the Moto2 standings Rins crashed out. He went incredibly wide into the left handed turn two after he missed the gear which meant he was completely off line and he ran hot onto the grass.
The bumps led to him losing control and he was thrown off the bike and into the gravel and his bike tumbled. It was race over as Zarco moved up to ninth as Rins was ahead of him in fifth. Schrotter then passed him pushing him back down to 10th but he regained the position when they next crossed the finish line.
The battle continues at the front
With 17 laps remaining, as Morbidelli was attacking Luthi for the lead, Pasini took advantage of his distraction and passed Morbidelli heading into the hairpin at turn four. Behind them a big battle was on for ninth as Zarco got to the front of the group of seven when he re-passed Simeon. Axel Pons (AGR Team) then passed Schrotter to claim 11th. Julian Simon then crashed out of turn two of the next lap when he tucked the front and slid out of the back of the group.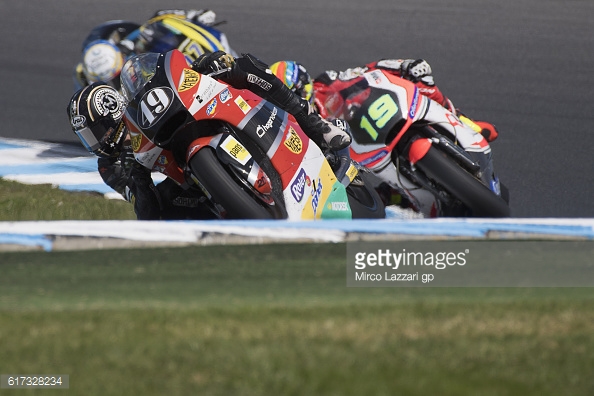 Using the slipof Pasini, Morbidelli was able to pass him with ease as they crossed the line to take second. Nakagami was closing on fifth place Folger as Pons passed Simeon after Zarco lost several places ending up in 11th. Vierge then passed Raffin to take 13th and gained another place when he passed Schrotter who had Zarco on his tail after he passed Raffin on the next straight. Danny kent (Leopard Racing) moved into the points when he passed Ratthapark Wilairot (Idemitsu Honda Team Asia) to take 15th.
Iker Lecuona, the youngster who has been brought in to replace Dominique Aegerter on the CarXpert Interwetten Kalex as he was sacked for signing to race with Leopard Racing Moto2 next year, then crashed out of turn 10 of lap 10.
Morbidelli made an attempt to regain the lead as they crossed the line with 4 laps to go. But again taking advantage of Morbidelli being focused on looking for a way past Luthi, Pasini attacked and took second from Morbidelli undoing all the work he had just put in. Morbidelli fought back when they crossed the start-finish line the next time round, breezing past him after sitting in his slipstream.
Nakagami on the move
With 13 laps to go, Nakagami had passed Folger and then made a move on Cortese and was able to claim fifth. A few corners later Cortese retaliated taking the position back from the Malaysian and looked towards hunting down Baldassarri who was in sight. A second crash from Gardner who had recovered his bike earlier on, crashed out with 11 laps to go in front of his home crowd; this time he retired from the race.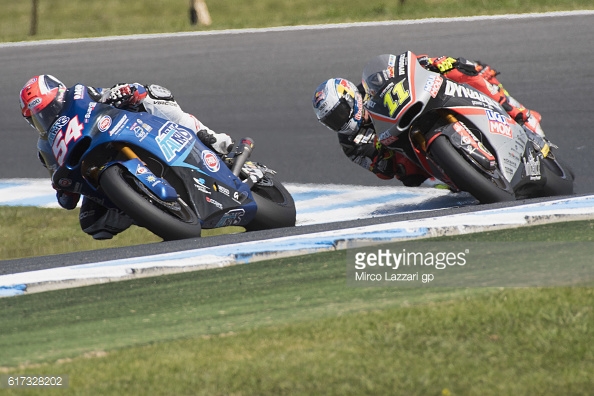 Baldassarri catches the lead group
The battle continued at the front as Pasini passed Nakagami on the inside of turn four but again on the start-finish straight Morbidelli took it back. All of this allowed Baldassarri to catch them up. Morbidelli again applied the pressure to Luthi. He stayed there for a few laps and then with eight laps remaining on turn three he almost connected with the back of Luthi's Kalex as he lost the grip in the rear. It ran Morbidelli wide and Pasini again took second from him. Morbidelli passed Pasini at the same spot on the next lap meanwhile Baldassarri and Cortese were now on their tail; as they began the 19th lap, Cortese overtook Baldassarri.
Vierge was applying the pressure to Pons in ninth who made a mistake and slid the rear, almost resulting in him being thrown from the bike. He rescued it though but it did spoil his momentum and Vierge made an attempt to pass him; he was unsuccessful.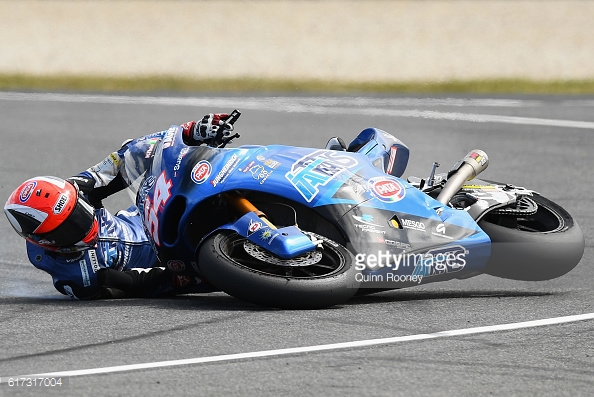 Pasini crashes out; a disappointing end after a great ride
As they crossed the line with three laps remaining, Cortese passed Pasini to take third from the Italian. Then Pasini's luck went from bad to worse as he got caught out at the notorious turn four. As he entered the corner he lost the front and slid out. He held on the bike to try and keep it running but required assistance from the Marshals. At the same corner moments later, Kent also crashed out.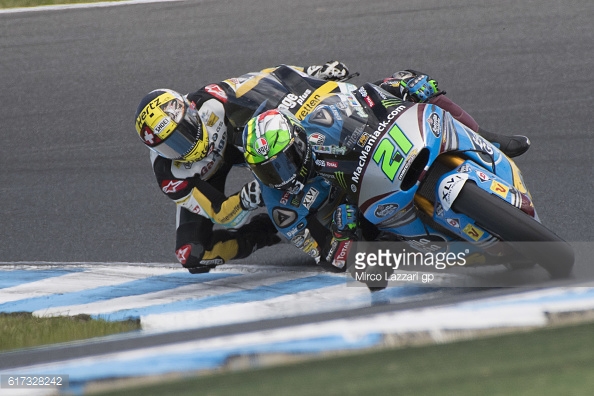 Luthi makes a mistake and loses the lead
On the penultimate lap, Morbidelli made his move on leader Luthi as the German rider. They had just passed a back-marker heading in to turn one, but then a few turns later Luthi ran wide and Morbidelli slipped past him on the inside to take the lead. Morbidelli was at a clear advantage as he had spent several laps following Luthi and he had knowledge of where Luthi was strong and where he was weak however Luthi had all that to learn about the new leader. Luthi made an attempt to pass him on the first turn of the last lap but had to take an outside line instead. Morbidelli did what he could to make his lines defensive so Luthi could not catch him.
Luthi remained on the back of Morbidelli as they made their way through the last corner. Staying tucked in the slipof the leader Luthi waited as wait as he could to move out and overtake Morbidelli on the final straight and crossed the line ahead of Morbidelli by 0.059 seconds. It was an amazing finish to a very strong race from the Moto2 class.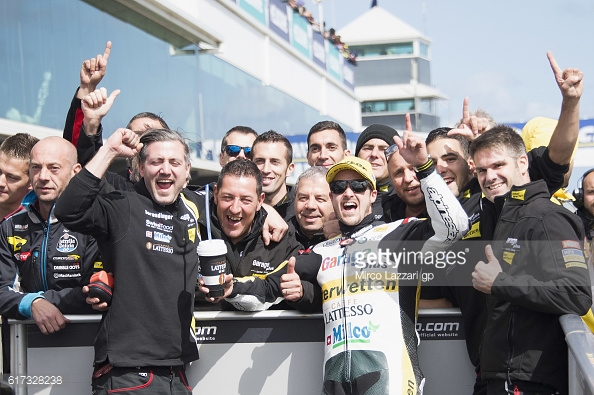 Luthi wins the Michelin Australian Motorcycle Grand Prix Moto2 race
Luthi claimed his second consecutive win, his fourth win of the season. Morbidelli had to settle for second, he wasn't going to get his well-deserved first win in Australia, and Cortese completed the podium. Baldassarri was fourth ahead of Nakagami in fifth. Folger finished sixth ahead of Axel Pons, Schrotter and Vierge who completed the top 10.
Simeon was 11th ahead of championship leader Zarco whop picked up just four points in 12th. Raffin finished in 13th ahead of Edgar Pons (Paginas Amarillas HP 40) and Wilairot who claimed the last point in 15th. Luca Marini (Forward Team), Robin Mulhauser (CarXpert Interwetten) and wildcard rider Ramdan Rosli (Petronas AHM Malaysia) completed the standings in 18th.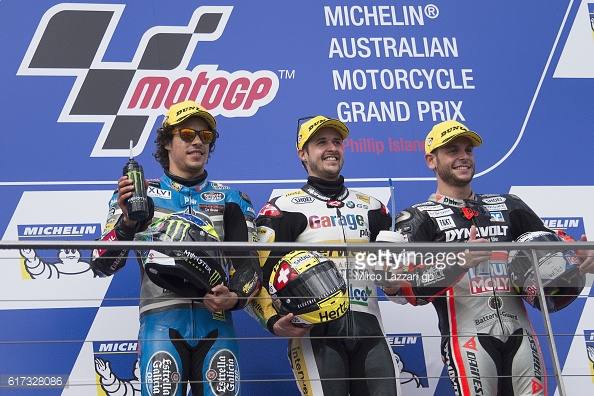 Movement in the championship
Zarco's championship lead is now under jeopardy from Luthi as his win means he is on 204 points, just 22 behind Zarco on 226. Rins has dropped down to third in the championship now as he remains on 201 points. Morbidelli is closing in on him on 177 points after passing Lowes who remains on 162 points.