Knowing that he could not afford any more mistakes, Lewis Hamilton dominated the United States Grand Prix, securing his 50th Grand Prix win, fourth at Austin and fifth stateside, leading home team-mate Nico Rosberg by 4.520.
For a long time, it seemed that Daniel Ricciardo would be the man to take second, although his chances of that were scuppered when his Red Bull team-mate Max Verstappen retired with a gearbox issue, with the Virtual Safety Car called for to remove the RB12 from the kitty litter. Rosberg then got effectively a free pit-stop, dropping him to a net third.
Sebastian Vettel tried his best to keep up with those in front, but the Ferrari's pace wasn't there, and the German was amused when his engineer, Riccardo Adami, told him about a situation with his rear-wing. Late on, he pitted for a fresh set of tyres, to set yet another fastest lap.
The battle for fifth livened up the race, with Fernando Alonso claiming 10 points for McLaren after an epic battle with fellow Spaniard Carlos Sainz coming home a respectable sixth for Toro Rosso. Williams' Felipe Massa was the other driver involved in the battle, and although a late puncture dropped him out of contention, he still came home seventh.
After being spun at T11 on the opening lap by Daniil Kvyat, Sergio Perez brilliantly drove his Force India into the points, with P8, ahead of Jenson Button making it double-points for McLaren, who were expecting a strong result.
The final points paying position, P10, was claimed by Haas' Romain Grosjean, a fine result in an American team's first home race since Detroit in 1986.
Before the Verstappen Virtual Safety Car, Hamilton would've gained 10 points back on Rosberg, reducing the gap to 23 points. However, as the order settled itself, the fact that he only took seven out of the deficit will be the blot on Hamilton's otherwise faultless copybook this weekend.
Chaotic opening laps
At lights out, Ricciardo muscled his way into P2, whilst the battle for fourth between Force India and Williams took an interesting twist.
Valtteri Bottas was attempting to go up the inside of both Vettel and Nico Hulkenberg, and three into one doesn't go, with the Force India breaking a left-front track-rod, leading to DNF, and the Williams racer, receiving a rear puncture, which made the Finn an also-ran for the rest of the race. Force India's first lap then went from bad to worse with the Perez-Kvyat incident 10 corners later.
Hamilton's advantage was 0.8 at the end of lap 1 and as the order settled down, attention began to switch to the interesting strategic battle between the Mercedes and Red Bull's. Ricciardo was on the faster, but brittle SuperSoft, as opposed to the Softs of the other runners in the top 4.
As expected, the SuperSoft runners pitted around lap 9, with both Ricciardo and Raikkonen doing so on that particular lap. Mercedes' response to that was to tell Rosberg to "push hard now", which is usually the Mercedes code for an imminent stop, to which Rosberg replied, "push hard isn't the long game".
However, Rosberg did stop two laps later to cover off the threat of the undercut from Verstappen, who surprisingly pitted after just 10 laps on the Soft tyre. Hamilton responded to Ricciardo on lap 12, and widened the gap between the two to around 4s, with it being 2.5s before the first round of stops.
When things settled down, the Dutchman began to close in on Rosberg, and when told to remember his stint lengths, basically an instruction to slow down and preserve his tyres, he snapped back, "I'm not here to finish fourth".
Whilst this was going on, Vettel didn't box and briefly led the race, and when he re-joined after his own stop. he quickly reeled in team-mate Raikkonen, who was struggling and was easily passed by Verstappen in the stadium section.
Verstappen - from fourth to retirement
Around lap 25, the second stops started, with Raikkonen switching to a three-stop, by fitting a set of SuperSofts, in a bid to gain back some time after a disastrous second stint, he rejoined just ahead of Massa, who put up a brief fight but quickly backed out.
Ricciardo then boxed, to negate the threat of the charging Rosberg, switching to Mediums, for the final 31 laps. Whilst one Red Bull was nailed on for a podium, the others race was soon to go from hero-to-zero-to-retirement.
On lap 27, Verstappen appeared, unannounced in the pits, believing his team had called him in, he apologised over radio. The team, to their credit, quickly serviced the car and got him on his way.
Dropping to P7, the floor then fell out from his race, with a gearbox issue slowing him to a crawl along the back straight. Crawling from T11, he eventually parked it in the gravel at T16, after weaving across the track to move out of the way of other healthy cars.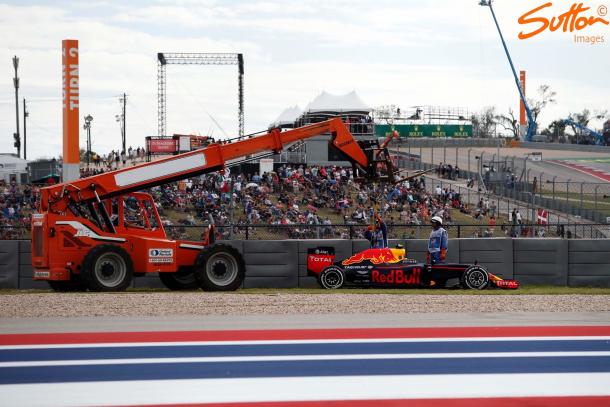 He reported: "There is something hitting the engine, the faster I drive the harder it hits." When the neutral button on his RB12 wouldn't work when pressed by the marshals, the VSC that destroyed his team-mates race was thrown, with Rosberg taking advantage and emerging a few seconds up the road. Exiting from his stop, Rosberg very nearly overtook Pascal Wehrlein's Manor, but realised just in time.
Ricciardo was now coming under threat from the flying Raikkonen, although this was purely academic when the Finn pitted for the final time.
A quick stop was delivered by the Ferrari pit-crew, but it turned out to be too quick for the right-rear when the No.7 ground to a halt whilst exiting the pits. His engineer, Dave Greenwood, told him to "stop, Stop, there's still a wheel gun attached". Raikkonen then rolled back down the T1 hill into the pit-lane, without engaging reverse, which is illegal and retired.
Vettel was then told about his "rear-wing drop-outs", which he was so amused by, he replied "some?, Some is good", before ending the conversation with "keep joking". These two incidents just about sum up Ferrari in Formula One 2016.
The Present - The Future
After the Verstappen and Raikkonen retirements, Sainz found himself under immense pressure from Massa, with Alonso closing in fast. The Toro Rosso somehow held off the Williams, which then fell into Alonso's grasp, with a forceful move at T15 enough for the McLaren to force himself in P6. Massa got a puncture as a result ,a couple of laps later, which took him out of contention and sealed a visit for him and Alonso a visit to the stewards after the race.
Sainz then went up against his boyhood hero, with the two dicing for three laps, before the elder Spanish driver took P5 on the penultimate lap, with the Honda showing good straight-line speed.
Perez's drive to eighth meant Force India lost just two points to Williams, as Massa secured six for seventh, meaning the current gap is just eight points with three races remaining.
Button was happy with his overall race, although he thought the second half of it was boring and brought home another two points for McLaren to bring their tally to 74, up from 29 in 2015.
Whilst his team-mate retired with yet more brake troubles, Grosjean secured Haas's fifth points finish of the season in P10.
Things got tasty at Renault, as Jolyon Palmer was frustrated at not being allowed to pass Kevin Magnussen before he was forced to do so late on to allow the Dane to try and claim some points. Reports suggest it will be Magnussen who stays on to partner Nico Hulkenberg, with Palmer being dropped.
Magnussen came home 11th, Kvyat 12th, Palmer 13th with the two Sauber's claiming 14th and 15th as time runs out for them to claim a point that would move them above Manor in the standings on countback.
Bottas trailed home ahead of the two Manor's with Esteban Ocon claiming the wooden spoon for last place.
Conclusions
Lewis Hamilton did all that was within his power this weekend. A stunning pole lap and commanding win was everything he could do and just had to hope team-mate Nico Rosberg hit trouble. Instead, Rosberg got lucky getting the extra three points just based on the timing of the VSC. World Championships are determined on such fine margins.
Despite fearing yet more reliability issues in the race, Hamilton was able to save his engine by turning everything down from the first stops onwards and just has to hope that Rosberg does hit trouble in Mexico, Brazil and Abu Dhabi. If Rosberg finishes second to Hamilton in every race, he will still win the title by five points. That 'big-end bearing failure' in Malaysia is beginning to look pivotal .
Red Bull look to have secured second in the standings, 53 points ahead of Ferrari, whose season goes from bad to worse. Good thing for them is that things can only get better from here.
Fernando Alonso will be liking what he is driving. The Honda PU in his McLaren has powered him to 50 points this season, 39 more than in the calamitous 2015. Things are looking up at McLaren.
Next up for Formula One is the Mexican Grand Prix from the Circuit Hermanos Rodriguez next weekend.
2016 United States Grand Prix - Race Classification

| | | | | |
| --- | --- | --- | --- | --- |
| Position | Driver | Team | Time/Gap | Points |
| 1. | Lewis Hamilton | Mercedes | 1:38:12.618 | 25 |
| 2. | Nico Rosberg | Mercedes | +4.520 | 18 |
| 3. | Daniel Ricciardo | Red Bull | +19.692 | 15 |
| 4. | Sebastian Vettel | Ferrari | +43.134 | 12 |
| 5. | Fernando Alonso | McLaren | +1:33.953 | 10 |
| 6. | Carlos Sainz Jr | Toro Rosso | +1:36.124 | 8 |
| 7. | Felipe Massa | Williams | +1 lap | 6 |
| 8. | Sergio Perez | Force India | +1 lap | 4 |
| 9. | Jenson Button | McLaren | +1 lap | 2 |
| 10. | Romain Grosjean | Haas | +1 lap | 1 |
| 11. | Kevin Magnussen | Renault | +1 lap | 0 |
| 12. | Danill Kvyat | Toro Rosso | +1 lap | 0 |
| 13. | Jolyon Palmer | Renault | +1 lap | 0 |
| 14. | Marcus Ericsson | Sauber | +1 lap | 0 |
| 15. | Felipe Nasr | Sauber | +1 lap | 0 |
| 16. | Valtteri Bottas | Williams | +1 lap | 0 |
| 17. | Pascal Wehrlein | Manor | +1 lap | 0 |
| 18. | Esteban Ocon | Manor | +2 laps | 0 |
| NC | Kimi Raikkonen | Ferrari | Pit-stop error | 0 |
| NC | Max Verstappen | Red Bull | Gearbox | 0 |
| NC | Esteban Gutierrez | Haas | Brakes | 0 |
| NC | Nico Hulkenberg | Force India | Collison damage | 0 |