Build up to the race didn't work out for Vinales
Free Practice 3 is the chance for the
MotoGP
riders to automatically progress through to
Qualifying 2
for the chance to contend for the front four rows on the grid. Choosing the wrong tyres at the wrong time, as many riders did during the session tormented by the weather conditions, Vinales missed out and had to go through to
Qualifying 1
.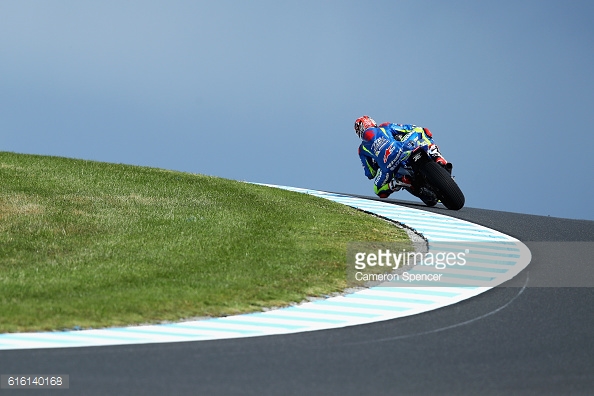 The competition was tough and Vinales was one of several riders who missed out on Qualifying 2 as he only managed to set the third quickest time and had to settle for 13th on the grid, leading the fifth row. Race day had been the best weather conditions the class had seen and a warm and dry warm-up meant they could test all the tyres and confirm settings for the race.
Incredibly strong performance from the Team Suzuki Ecstar riders
Vinales got a strong start and after battling through a group of riders adamant to do well in Phillip Island, he continued with his surge through the pack chasing Rossi who was also making his way uo to the front. A battle with his teammate
Aleix Espargaro (Team Suzuki Ecstar)
and
Andrea Dovizioso (Ducati Team)
however prevented him for battling it out with Rossi who had to settle for second in the race behind British winner
Cal Cruthlow (LCR Honda)
.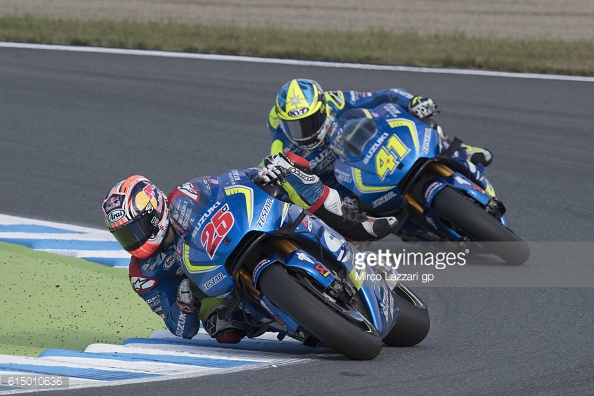 Great battle for third
It was great to see both the Suzuki riders looking incredibly strong on track and in contention for a podium. Aleix fended off Dovizioso for several laps, was passed by the Italian but stuck with him. When Vinales came along to join them in the battle for third as 2016 MotoGP champion Marc Marquez (Repsol Honda) crashed out ahead of them, Aleix reacted by passing Dovizioso to regain third.
Unfortunately for Aleix he also became victim to the notorious turn four; partly as a result of the temperatures at Phillip Island affecting the tyres significantly. This meant it was down to Dovizioso and Vinales, the Spaniard pulled it off and began his pursuit of Rossi for second however he was previously caught up with his teammate and Dovizioso for too long as he ran out of time and laps to be able to challenge the Italian.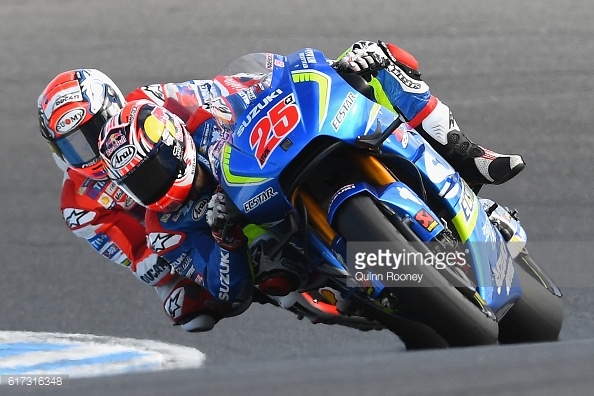 Vinales finished third in the
Michelin Australian Motorcycle Grand Prix
claiming 16 points towards his championship meaning he closed the gap between him and
Movistar Yamaha
rider
Jorge Lorenzo
for third. Vinales currently has 181 points whereas Lorenzo is now only 11 points ahead in 192 points.
Perfect tyre choice on race day
The Spaniard explained how the "podium has a very good taste to it"; it came after what he described as a "very hard" weekend, however when he woke up on race day and "saw the sun" he was "happy". He explained how the warm-up session on race day meant he "had very little time to finalise a setup for the race", however he said that "finally the machine was very good" and along with the fact the "tyre choice proved to be the right one", it allowed him "to recover and go for the third".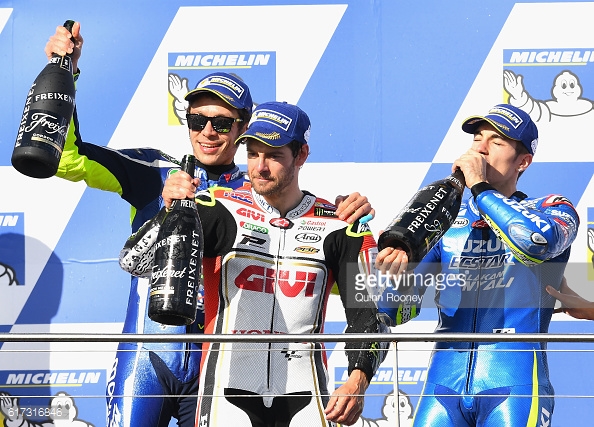 Vinales felt he "only had to be careful in the very early stages of the race" as after "not having had the time to test the tyres" which meant he was "not totally sure the front would support", he felt that "after two or three laps" he realised he could "trust" it. He found that his "pace was very good" and he was "sorry for Aleix's crash" as he thought they were "having a strong race" and they both had a "good pace".
Vinales out of time to challenge for second
The Spaniard thought that "at the end" that he "could catch up for second place" especially as his "pace was good enough to do it", however he knew that he "had lost too much time in getting from sixth to third and the race was gone". Despite this, he was "really happy with the result" and was grateful to his team saying, "I want to thank tmy team because they did a very good job having such a short time to prepare."