The Moto2 race at Phillip Island has been by far one of the most exciting of recent from the 600cc class as many intense battles took place throughout. Garage Plus Interwetten rider Thomas Luthi won by the smallest margin, and was joined on the podium by Franco Morbidelli (Estrella Galicia 0,0 Marc VDS) and Sandro Cortese (Dynavolt Intact GP).
Bad weather meant restricted track time for Moto2
It was a tough weekend in Australia for the Moto2 riders as an abandoned Free Practice 2, cancelled because of continuous rainfall, meant that they had very limited track time. Free Practice 1 was prohibited by rain and Free Practice 3 was still affected weather-wise and limited the riders' track time despite being extended.
A lot of riders fell on the second day of the meeting throughout Qualifying meaning the grid was mixed up more then usual. Luthi qualified on pole, Mattia Pasini (Italtrans Racing Team) and Sam Lowes (Federal Oil Gresni Moto2) joined him on the front row.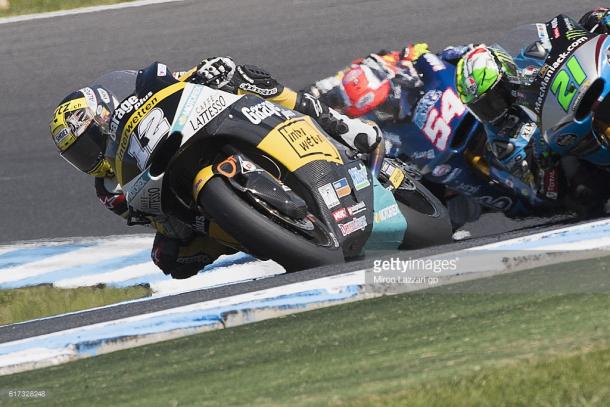 Conditions improved in Phillip Island for race day
Race day was the first real bit of dry track time that they experienced in Phillip Island and had the weather not cooperated during the morning (where Morbidelli was quickest) they would have been going in blind.
Perfect start from Luthi
When the race got underway Luthi got the perfect start and he led into the first corner where he remained for a good duration of the race. Behind him the battle for second took place between Morbidelli and Pasini, and further back again several mini battles commenced for other positions.
The two Italians were persistent with their efforts using various locations around the track to gain advantage; Morbidelli favoured the straight wheras Pasini, who rides with a modified front brake (lever on the left handlebar with clutch lever due to an old arm injury) favoured the hairpins.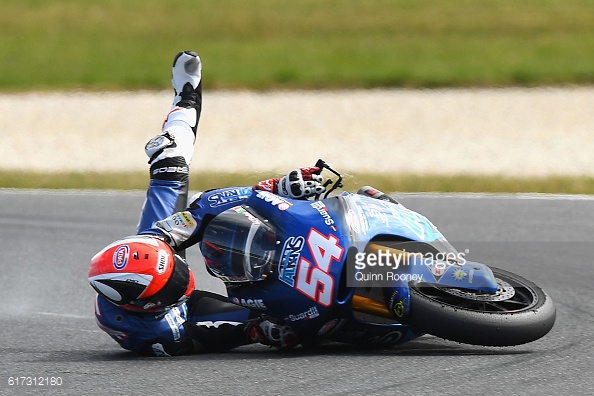 Pasini crashes out
It was immense and continued throughout the race until unfortunately for Pasini, when they began dicing with Luthi, he crashed out ending his chances of a long await and well deserved podium. Instead, they were joined by Cortese, who had been on a triumphant journey of his own before catching up to them at the end of the race.
It remained incredibly close at the front
Within the last few laps, Morbidelli was able to focus on attacking Luthi without the pressure of losing another place and stole the lead from him. The German rider was not going to hand over the win that easy and fought back until it came down to the last few corners.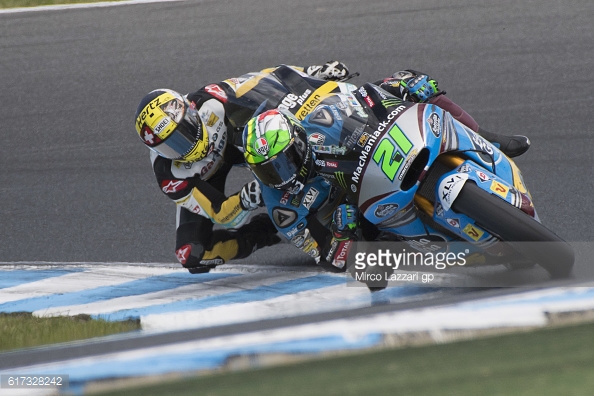 Morbidelli was in front, he just had to make it to the line first to claim his fist ever Moto2 win. Luthi, who had lost the lead as he went wide, tucked in behind Morbidelli and stayed there right up until the final straight where he used the slipfrom him for as long as possible, before coming out and accelerating past him and took the win just 0.010 seconds ahead of him. Luthi won (his first back-to-back win ever), Morbidelli was second and Cortese finished third at the Michelin Australian Motorcycle Grand Prix.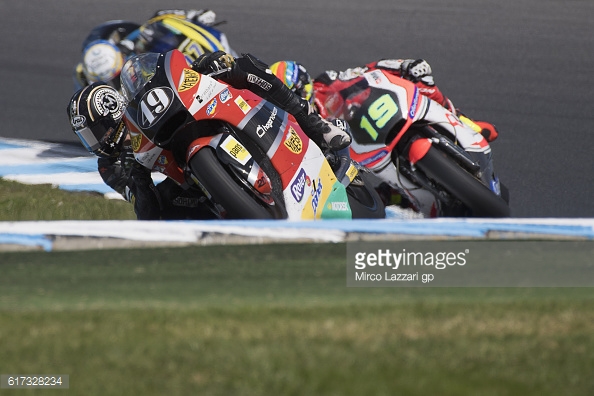 Luthi struggled during the warm-up
It may not have resulted in the desired outcome for Luthi prior to the race as he described that during the morning warm up session as he explained that he "tested different set-ups in the morning's warm-up" but found that "it did not work" and he was "far off and on the limit".
To overcome this he described how they "stepped back" to the setup they had on day two of the meeting "during the couple of minutes when the track was dry" and found that that setup "was great".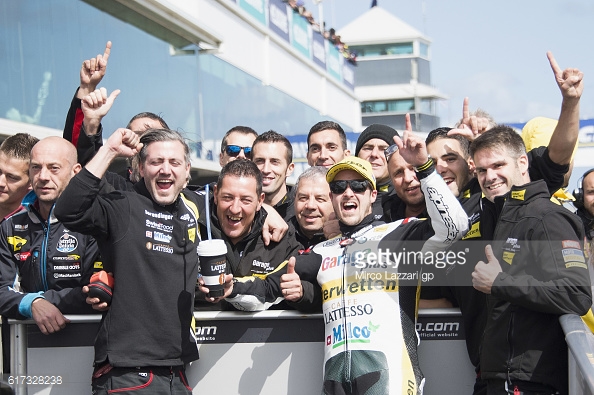 Luthi benefited from a great start and affective strategy
Discussing the race he felt his "start was really good" as he "tried to get away" by "maintaining [his] pace" however he found that "Pasini and then Morbidelli managed to stay" with him. Luthi explained, "Each time I crossed the line I saw that the gap was very small, 1 tenth, 1 tenth, 2 tenths, maybe 3 tenths one time, it was very close."
The trouble with being at the front and pursued by the competition, Luthi was aware "Morbielli was reading" him and therefore knew "where [his] weak spots were". To change that as he felt, "I didn't know much about him," Luthi decided to "let him pass" him so he could "study him".
The consecutive race winner said, "I understood that there was a gap if I exit really hard from the last corner, I could overtake him on the final straight." It proved successful and the German rider explained that he "will not change anything" but instead he will, "Concentrate on myself and not where others are in the championship."
Morbidelli happy despite missing out on his first Moto2 win by a fraction
Despite being beaten to the line fractionally Morbidelli was still "happy" because he felt he "rode a great race" after what he described as "a very difficult two days with big crashes" which led to the team having to "fix the bike and change the engine". Overcoming the setbacks he still felt "confident for the race"; he described the pace "with Lüthi out front was unbelievable; he was really fast".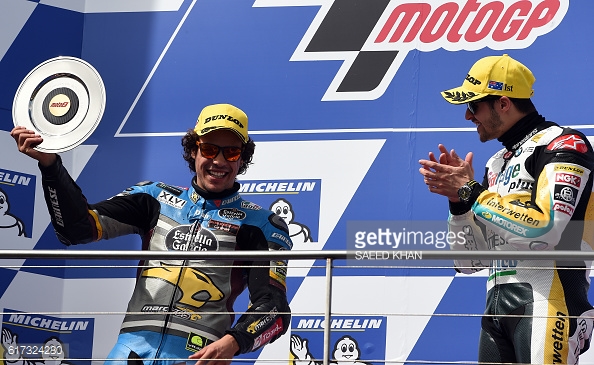 Discussing the final stages he said, "I understood the chance to overtake at turn one with two laps to go and make a strategy for the end of the race." He put his plan into action but found that "on the run to the finish [Luthi] took [his] slipand won".
Still, Morbidelli felt "it was a great second position after a tough weekend and good result for the team". Grateful for their efforts he said, "I must say a big thanks to my team who a did lot of work to fix my bikes after my crashes."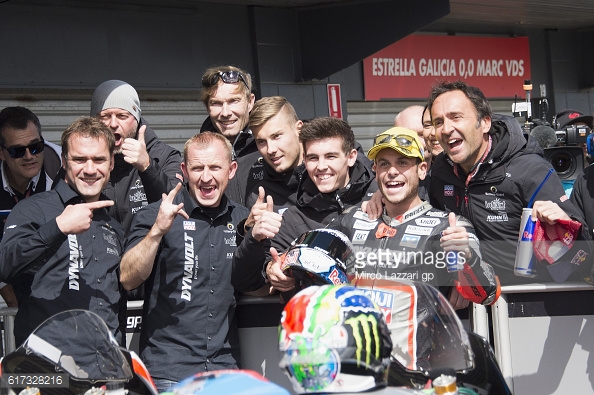 Cortese delighted with consecutive results
After finishing fifth at the previous round in Japan, Cortese spoke of how "had a really good feeling" and how he had "really set [his] mind on the podium". He said, "The whole weekend has been great" and his confidence was boosted as they "were already in third position" in the warm-up.
During the race he found he was "going at good speed and able to catch up with the leading riders". He revealed his "plans to keep up with them however were smashed right after the start" as he descried how he "fell back to twelfth position during the first lap". He then found that it "took some time for [him] to work back towards the front of the field."
Discussing his own battles he emerged victorious from, he explained how he "finally managed to get through the different groups of riders" and then also "managed to catch up
with Takaaki (Nakagami) and the others". He described how he was on the "back of their heels for the last seven laps and had a good pace", which meant that by the time he had passed them and "reached the top two the race was already over".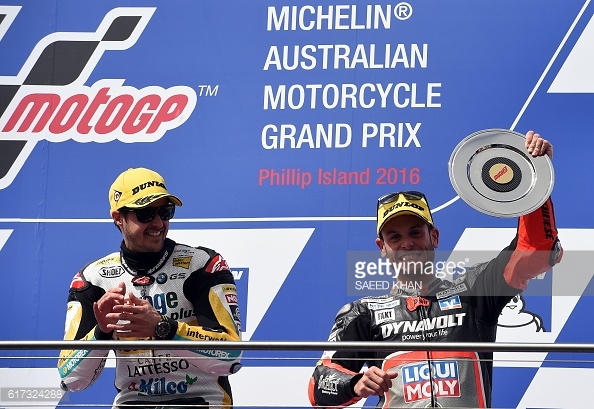 Still, Cortese spoke of how he was "thrilled about being on the podium" as he reflected on "having had a really though season with a few injuries, lots of bad luck and also mistakes from [his] side". He felt he was "finally able to prove that [he] can make it onto the podium". Talking about the remaining two rounds he said, "It will be important to achieve good results in the last two races in order to improve my overall position and start confidently next season."