Such an eventful Moto3 race in Phillip Island
There were many incidents throughout the race that had to be restarted at one point. Binder won comfortably in the end as he was able to pull away, Andrea Locatelli (Leopard Racing) finished almost six seconds behind him in second and there was an amazing battle for the final podium spot that Aron Canet (Estrella Galicia 0,0) claimed despite the fact he crashed out of the race... twice.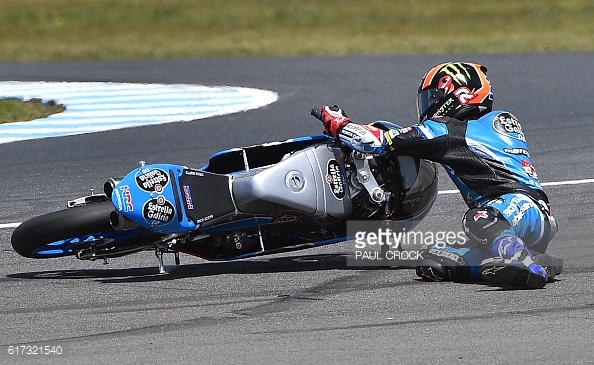 When the race restarted Brad Binder pulled away as did Locatelli, but 12 to 14 other riders wanted to be on that podium and they did what they could in the 10 lap race that got underway after the short race restart procedure.
Binder's plan to pull away paid off
Binder described race day in
Phillip Island
as "
fantastic
" as he felt they again had a "v
ery good race
". He thought he "
started very well
" as he felt "
very strong on the first few laps
" and so he "
decided to push to open a gap to [his] rivals
". He thought that if he "
extended the advantage and broke out of the slipstream
" that he could "
keep away from the chasing pack
"; he said, "
I managed to carry that out
."
He found that knowing he had a gap of a few seconds was "
key to relaxing and going even faster
", and he felt the Australian
Moto3
race was the race in which he "
had the best feeling
". The South African 2016 Moto3 champ said, "
I'm very happy that I got another win, but today is more special because my brother finished fourth.
"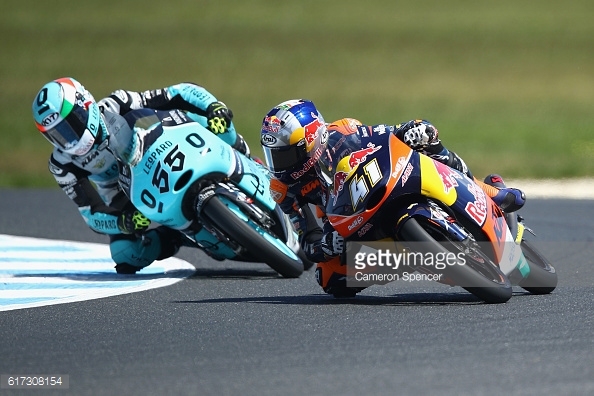 Incredible day for Locatelli
Locatelli described the Phillip Island round as "an incredible day" as he made the return to the podium for just the second time in his career. However, he felt the 16th round was "one of the most difficult weekends" due to the rain, wind and his "mistakes" which is what he felt led to him suffering with a poor grid position.
The warm up was an indicator to him that he "had great rhythm" and he thanked his team as he felt they "did a great job". Looking to the next round in Malaysia he is again expecting "another difficult weekend" as they "pass from cold to warm", but remains optimistic saying, "I am sure we can get another great result!"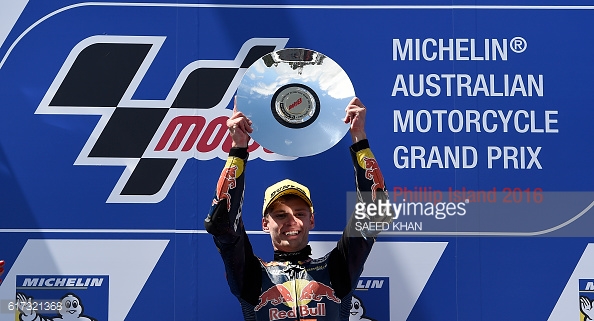 Canet took first Moto3 podium after crashing twice
What a race it was for Canet who crashed twice and still took his first podium. He was involved in a pile up at the very beginning where a rider fell and slid out into the path of the riders behind him causing more chaos. Canet recovered and rejoined the race and then had his own crash at turn four where he slid out at the hairpin; which caught many riders out throughout the weekend.
Canet then benefited from the second pile-up where Scottish rider John McPhee went down and the race have to be stopped as he was hurt after also being ran over. The Spanish rookie was able to return to the pits where he got his bike back to race ready before the short race restart procedure got underway. There were many Moto3 riders wanting to get on that podium and them 10 laps were some of the most exciting of the season as up to 16 battled for the podium, but Canet got it.
Rookie overwhelmed with emotion
When he crossed the line Canet revealed he "started to cry of emotion" which he felt sums up his experience at Phillip Island. He said to "achieve your first world podium is something impressive" and that it meant more following the chaos from race day in Australia. He explained how he fell, there was the red flag and he was able to return.
.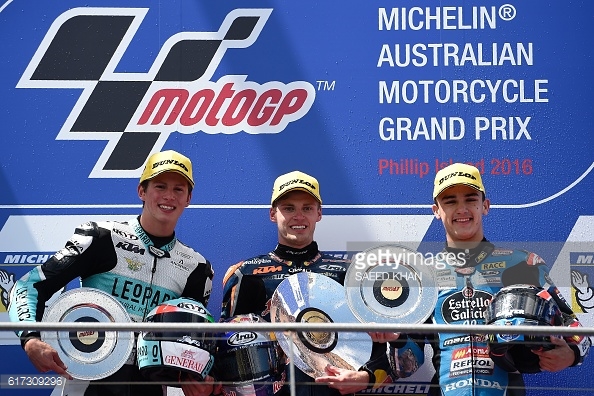 When the race restarted he immediately made up positions in the group and in the last few laps "decided to take courage" and place himself at the front of the group "to try and break away". He "made it" and then "opened a little hollow" but Darryn Binder (Platinum Bay Real Estate) was able to beat him in the lead up to the line. This is when he decided to keep in "his wake" and to "practice overtaking him at the finish line", which is what he did at the end of the race.
The rookie described that seeing himself "third on the screens" was when he struggled to "hold back the tears". He explained how it helped him to realise "the experience [he] has accumulated throughout the whole year, along with [his] technical team Estrella Galicia 0,0". He said that on race day on Phillip Island it gave its "fruits in the form of a podium" and that is why he explained he "can't be more happy!"