Cast your mind back to this time last year and you will probably remember, as chances are you haven't forgot, the huge amounts of controversy surrounding the
MotoGP
. It split the MotoGP world several ways as it became one of the biggest topics of discussion amongst every time of motorcycle fan, even the ones who aren't necessarily into the racing.
Rossi felt Marquez and Lorenzo were conspiring against him
The 'incident' was the result of a build up of tension started during the press conference prior to the 2015 Australian MotoGP when Movistar Yamaha rider Valentino Rossi accused Marc Marquez (Repsol Honda) of helping Jorge Lorenzo (Movistar Yamaha) to win races and receive championship points as the Movistar Yamaha teammates battled it out for the 2015 championship. Rossi was going after his 10th world championship title and Lorenzo was getting in his way, with what he thought was help from Marquez who was not in any contention.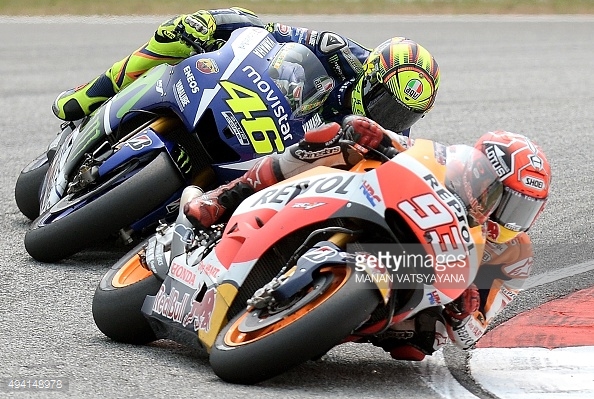 The uncomfortable atmosphere grew when they came to Sepang for the Malaysian Grand Prix. During the race, Rossi and Marquez where enthralled in a battle as they fought for the third spot on the podium. The points were vital to Rossi and Marquez was preventing him from catching Lorenzo who sat in second behind race leader Dani Pedrosa (Repsol Honda). This is when the incident occurred.
The incident explained
Rossi forced both he and Marquez wide ruining their momentum, and prior to the apex Marquez leaned in to try and make the turn. He lay on Rossi's bike otherwise he would have crashed, which is when Rossi nudged his left leg as if to say 'Get off me', he then went to make the turn, and Marquez who had already reached the 'limit' surpassing the lean angle, crashed out of the Shell Malaysian GP at the Sepang International Circuit; Rossi went on to finish third.
Now this incident was studied by every racing expert, whether they were official ones or not everyone had a take on what happened on track that day. People were disgusted that Rossi was allowed to ride so aggressively, forgetting the incidents earlier on in the season when the championship was wide open, where Marquez hit the back of Rossi but fell crashed out the race himself as a result.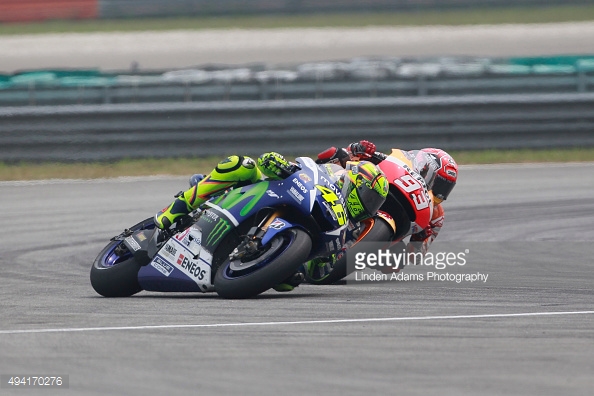 Rossi to start the Valencia GP from the back of the grid as a result
Race Direction for the MotoGP decided to penalise Rossi; Repsol Honda had appealed the incident and heck Lorenzo even went up their to stick his oar in and was demanding that his teammate and championship rival be seriously punished (now the Spaniard is moving to Ducati... I wonder if these are related?) Anyway Rossi received a penalty that added points to his licence which increased it by so much that it meant he had to start the last race of the season at Valencia from the back of the grid.
Rossi finished fourth after a valiant effort
The Italian gave it all he had in a valiant attempt to overcome the penalty, surging through the pack of riders ahead of him to make up many places before he had nothing left and had to settle for fourth; this meant that Lorenzo took the 2015 championship. Rossi and his fans were upset, those who dislike the Italian still triumph in his penalty and failure to claim his 10th title, and it carried on the bitter atmosphere continued on until mid way through the 2016 season.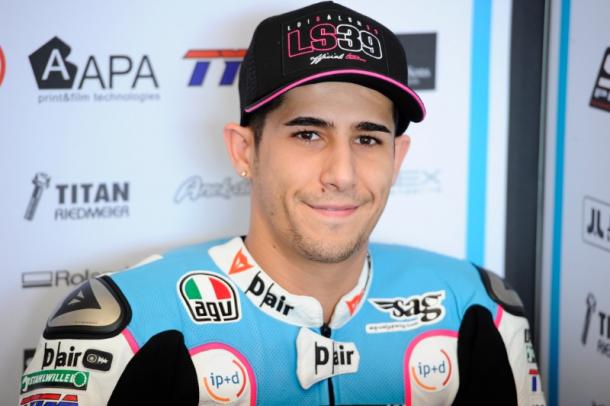 The death of Luis Dalom ended the feud
In June of this year ahead of the
Barcelona GP
at
Catalunya
,
Moto2
SAG Team
rider
Luis Salom
sadly lost his life following a racing incident during Moto2 Free Practice. His passing shook the whole biking world as the harsh reality that 'Motorcycles are dangerous' and that no rider, no matter how good they are, is invincible.
This was what turned things around for the rivals, and during a press conference in Barcelona, the two ended their feud with an apology in Luis' honour. Marquez, the former fan of his once idol Rossi, we're now friends again, well that is until they become rivals on the track only again.
Riders also remembering Marco Simoncelli
Five years ago, on October 23rd at Sepang, Italian rider Marco Simoncelli lost his life following a racing incident. Those involved in the sport in anyway, as a former colleague, associate and fan, also continue to pay tribute the number 58 rider 'Super Sic'; especially at the corner of the circuit where he lost his life.
Fresh start at the 2016 Sepang GP
Knowing all of this, we head back to Sepang most definitely not hoping for a repeat of history... but instead a bloody good race. The championship has been decided, Marquez recently claimed it in Motegi, but the battle for second continues between the Movistar Yamaha duo. Rossi extended his lead over Lorenzo at the last round in
Phillip Island
as he finished second to British winner,
LCR Honda
rider
Cal Crutchlow
; who made history becoming the first Brit in years to win two MotoGP rounds in one season.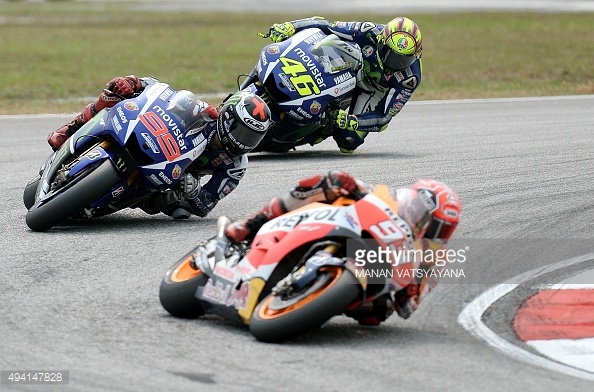 Crutchlow's win meant he extended his lead in the independent teams championships as he battles it out with
Pol Espargaro (Monster Tech 3 Yamaha)
who was incredibly strong in
Phillip Island
. It was his teammate
Bradley Smith
(Monster Tech 3 Yamaha) who is still recovering from his right knee injury after damaging ligaments, who was victorious in Sepang last year out of the independents, in fourth ahead of Crutchlow and Pol Espargaro in ninth. A lot has changed since then though...
Vital statistics of the Sepang International Circuit in Malaysia
The Sepang International Circuit, located approximately 50km south of Kuala Lumpur city, is about to host the Shell Malaysia Motorcycle Grand Prix; it was also announced today that they Shell will continue to sponsor the event until 2020. Host to the world championship series since 1999 it was 'specifically built for speed and exciting racing' across 2300 acres which is also home to its own hotel, shipping centre and golf centre amongst other sports facilities after £50 million was invested into the project that took 14 months to complete.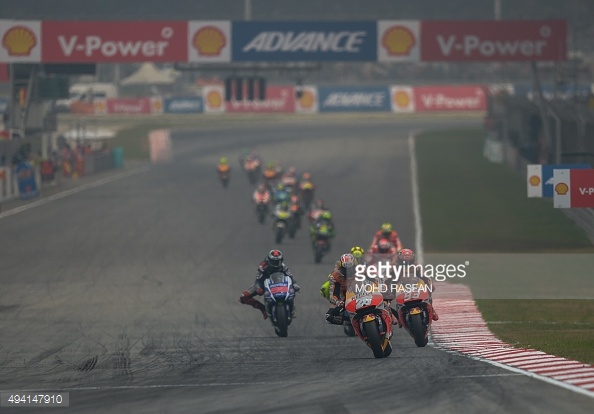 The 5.5km (3.44 miles) track is predominantly right handed as it is made up of 15 corners, 10 right and the rest left. The track is 16 metres (Over 52 feet) wide and the longest straight measures 920metres (3018 feet). The track is quite twisty considering it is made up of two long straights at the beginning and end of the lap.
The new layout....
The start finish straight is followed by a tight right hand corner, immediately followed by a tight left that is ahead of a long sweeping right hander that leads down a straight to a 90 degree right. Riders then accelerate down another short straight before a long sweeping left that twists to the right for another short straight that is met by two box corners, another straight, a left hand hairpin ahead of another sweeping right followed by a sharper one.
A short straight comes between that and the chicane that leads to another sweeping right hand r that meets a sharp right turn that leads to the second longest straight prior to a sharp left hand hairpin that takes the riders to the finish line. And the MotoGP class have to complete 20 laps of this covering 110.9km (68.8miles) in what can be gruelling heat... it was most definitely likely to be a complete contrast to the conditions they experienced in Phillip Island at the coastal track.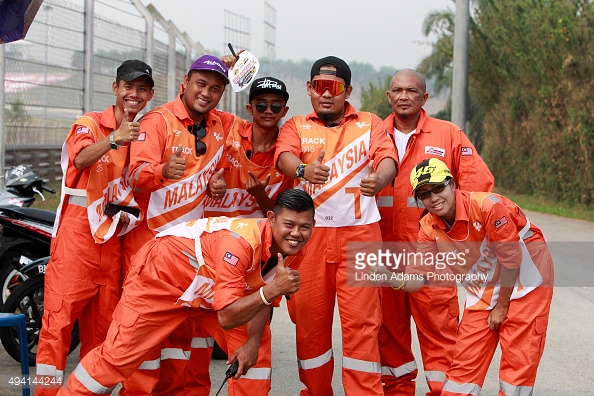 Rossi has the most wins in Sepang
Rossi has had the most successful in Sepang with six wins, second to him is Pedrosa who has won three times but the Spaniard holds the joint title with Rossi for having the most pole positions in Sepang. The Spaniard is injured though, and as he recovers from a broken collarbone sustained after a crash in Free Practice at Motegi, Marquez, Rossi and Lorenzo to continue to compete for who holds the most pole positions ever as they are now on 65. Lorenzo however, has never won in Sepang.
Pedrosa is the record holder in Sepang as his blisteringly hot pace last year that secured him his fourth pole with his time of 1:59.053. His time was quicker than the official Circuit Lap Record, that can only be set during the race, which is held by Lorenzo from last year set at a time of 2:00.606.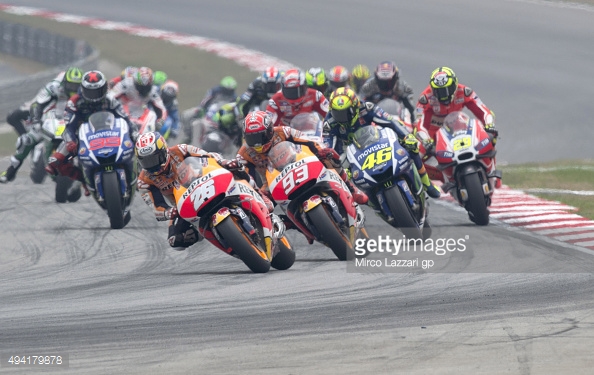 Tyre concerns after Sepang was resurfaced since test
Again, like every round this season, the main subject on everyone's mind is the tyres. French supplier Michelin became the new tyre supplier to the class this season taking over from Bridgestone, and although they tested at the circuit in February, the track has since undergone a complete resurfacing and modifications have also been made to the track layout. So if the riders were hoping for an easy and familiar round after a tough weekend at Phillip Island, they won't get it.
Michelin will be providing the riders with an asymmetric Michelin Power Slick tyre, which will be built up on the right hand side, and will come in three compounds in the front, soft, medium and hard, and in the rear they will be available in medium and hard. The weather in Spenag can still be unpredictable and two version of the Michelin Power Rain tyres will be available in soft and medium for both the front and rear. As usual the Michelin Power Intermediate will also be available however the track does dry quickly after rain.
Who does it suit most?
When trying to determine what manufacturer is most suited, it is hard to decide going off past results. Both Yamaha and Honda have had five wins, Ducati have three and Suzuki have not placed higher than fifth, however, have you seen their amazing form of late? And Aprilia Racing Team Gresini. The straights will benefit the Ducati, and Honda have struggled this year with hard acceleration so the Yamaha should be most suited as it has both covered enough.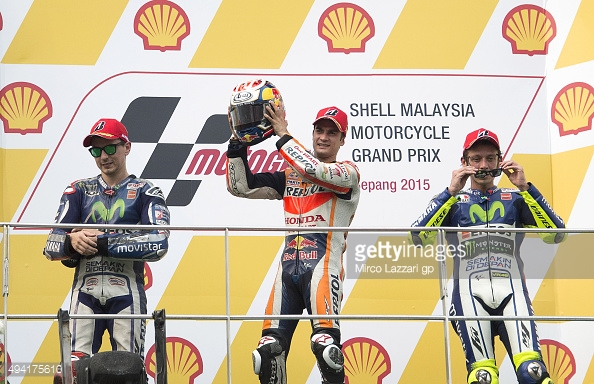 The MotoGP line up
The 17th round of the season will see the return of
Andrea Iannone
for the
Ducati Team
meaning that
Hector Barbera
will return to the
Avintia Ducati Team,
a hopefully with a lot of experience he can put to good use, and
Mike Jones
will not be required.
Hiroshi Aoyama
will again be replacing injured
Pedrosa
who is continuing his rehabilitation at home as he broke his collarbone that had to be operated in, and also fractured his right fibula and fourth metatarsal on his left foot.
Two riders ruled out of the Moto3 following injuries in Australia
In the
Moto3
class there will be wildcard appearances from
Ayumi Sasaki
replacing injured
Enea Bastianini (Gresini RACING Moto3)
and
Hafiq Azumi
who will be replacing
Peugeot MC Saxoprint
rider
John McPhee;
both are continuing to recover from injuries sustained in the several crashes that took place during the
Phillip Island Moto3
which led to the race being red-flagged. There will be 10 rookies making their first appearance at the international circuit but that hasn't stopped them before with new tracks as we have seen so far this year.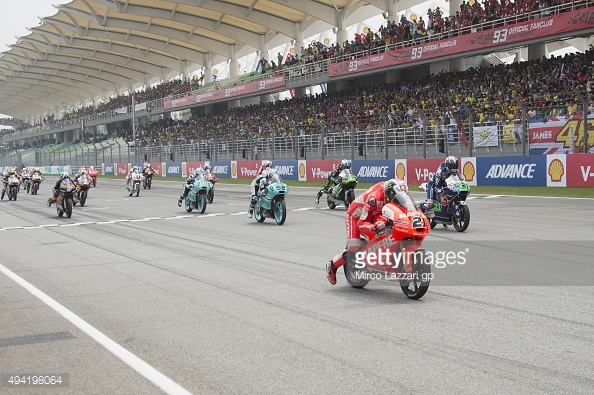 Who knows who will win in the Moto3
It would be wrong of me to try and predict the winner of the
Moto3
class, simply because it's the Moto3 class and there is no telling who will pull it off. There have been eight different winners this season, and many more showing their potential; several of which have claimed their first ever pole position too.
Instead I will tell you, it was
Ongetta-Rivacold
rider
Niccolo Antonelli
who was on pole in Sepang last year and he was joined on the front row by
Jorge Navarro (Estrella Galicia 0,0)
and
Miguel Oliveira (Leopard Racing Moto2)
. The Portuguese rider went on to win the
2015 Moto3
race, so taking him out of contention this year has he is not in the
250cc
class any more, it was
Brad Binder (Red Bull KTM Ajo)
in second who will more than likely do well here; not that it will be easy for him. Navarro was third last year ahead of Antonelli in fourth.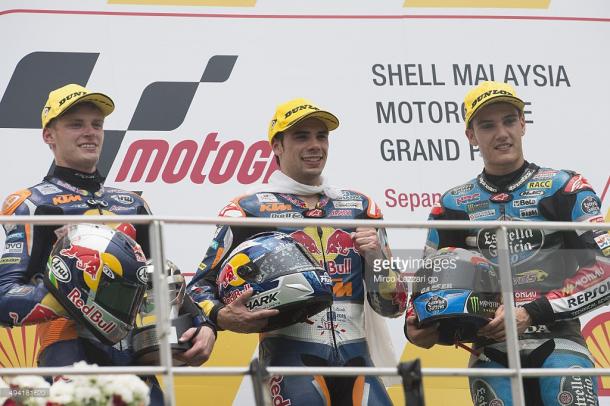 Brad Binder holds the record
Brad Binder also holds the official Circuit Lap Record from last year as he set the fastest lap during the race at a time if 2:13.571. The best ever lap for this class though was set by the 2014 champion Jack Miller who lapped at a time of 2:12.450; let's see if that lasts. There are plenty of places for the riders to benefit from each other's slipso it will definitely make for an exciting race from the 250cc class.
The Moto2 championship still far from undecided...
With these two championship winners decided, all eyes remain on the
Moto2
class where the title is still pretty much up for grabs.
Ajo Motorsport
rider
Johann Zarco
is leading the championship, and extended his lead slightly over
Alex Rins (Paginas Amarillas HP 40)
, however he was overtaken by
Thomas Luthi (Garage Plus Interwetten)
who is now second after he claimed his first ever second consecutive win in
Phillip Island
.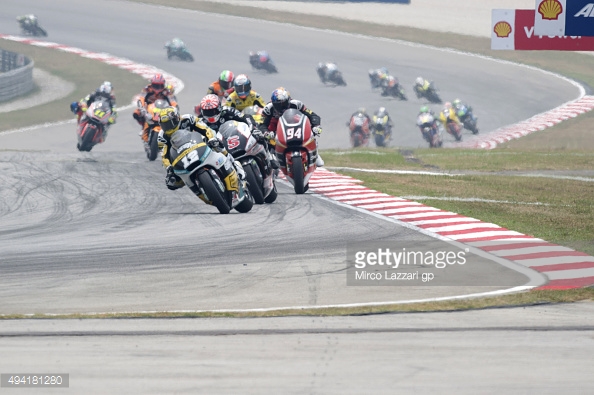 Luthi form has been exemplary of late and he heads to a circuit where he claimed pole in 2015 and finished second on the podium. Zarco was second on the grid but won the race lady year. Rins completed the front row of the grid but it was Jonas Folger (Dynavolt Intact GP) with the AGR Team who completed the podium.
How the championship looks...
Luthi holds all the Malaysian records for the
Moto2
class he set the official Circuit Record Lap during the race last year on the second lap with a time of 2:07.321. His best ever lap time though was the one that secured him pole position set at an amazing time of 2:06.383. So the German rider is definitely one to watch as he works on closing down the 22 point gap that Zarco has ahead of him. However, if Zarco finishes high enough above Luthi to increase the gap to 25p points or over... he will become the 2016 Moto2 championship.
Zarco is in 226 points, Luthi on 204 and Rins on 201. Franco Morbidelli (Team Estrella Galicia 0,0 Marc VDS) moved up to third after just missing out on his first win by 0.01 seconds in Phillip Island as Luthi beat him in the drag race to the line; he is now on 177 points, 15 points ahead of British rider Sam Lowes (Federal OIL Gresini Moto2) who remains on 162 points after he crashed out.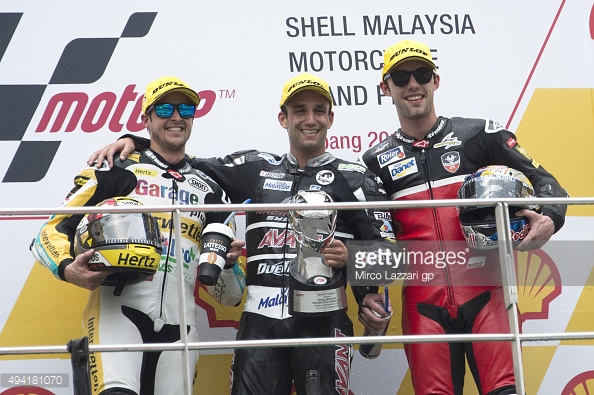 A couple of riders to definitely look out for are Takaaki Nakagami (Idemitsu Honda Team Asia) who is very hungry for his first Moto2 win. He has been strong throughout Free Practice and Qualifying in the build-up to the race, and again throughout the race, but he has not yet made it to that much deserved top step of the podium. The Malaysian GP is also the home round for Petronas Raceline Malaysia team and rider Hafiz Syahrin whose name has cropped up several times of late as he has continued to thrive in the 600cc class.
In the Moto2 class, Alessandro Niccolo will again be replaced injured rider Miguel Oliveira on the Leopard RACING Kalex as he recovers from his collarbone injury. Malaysian Ramadan Rosli is making another wildcard appearance for the Petronas AHM Malaysia team.
Shell Malaysia Motorcycle Grand Prix Schedule
The proceedings for the Malaysian GP as usual kicks off with Moto3 Free Practice 1 on Friday 28th October at 02:00 (GMT), the same time that Free Practice and Qualifying will get underway on Saturday 29th October. On race day on Sunday 30th October, warm-up will start at 01:40 (GMT). The Moto3 race will start at 04:00 (GMT), the Moto2 takes off at 05:20 and the main event gets underway at 07:00 where will find out who will win the 2016 Shell Malaysian Motorcycle Grand Prix.