The 250cc began proceedings at the
Sepang International Circuit
ahead of the sellout
Shell Malaysian Motorcycle Grand Prix
Moto3
race; the 17th round of the season. The riders were welcomed to a damp track as it had rained prior to the first session, but the sun was out and the newly surfaced track was continuously drying out.
Two riders ruled out as a result of incident in Phillip Island
Both
Enea Bastianini (Gresini Racing Moto3)
and John McPhee (Peugeot MC Saxoprint) missed out due to injuries sustained during racing incidents in the previous round at
Phillip Island
. At Sepang they were to be replaced by
Ayumi Sasaki
who is in for Bastianini who has fractured vertebrae and a broken rib, and
Hafiq Azum
i is stepping in for McPhee; who is due to be released from hospital today however, he is not able to travel anywhere via aeroplane sue to the pressure that his lungs would number under and so he had to stay in Melbourne.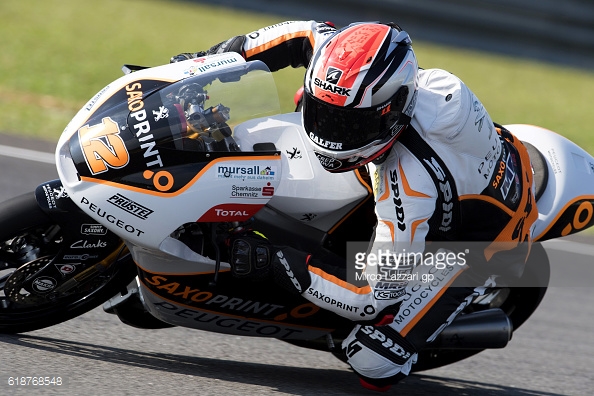 Damp conditions welcomed the 250cc riders to Sepang
A group of riders initially made their way onto track for the start of the session, they remained out for 11 minutes before returning to the pits to make some adjustments. Fabio Quartararo (Leopard Racing) was the first to the top of the time sheets but the times soon dropped as many others challenged for the top spot.
Joan Mir (Leopard Racing), Juanfran Guevara (RBA Racing Team), Francesco Bagnaia (Pull & Bear Aspar Moto3), Aron Canet (Estrella Galicia 0,0), 2016 Moto3 champion Brad Binder (Red Bull KTM Ajo) and eventually Jorge Navarro (Estrella Galicia 0,0) all took their turn at the top of the time sheets as times dropped significantly towards the end of the session, with the champion Brad Binder being the man to beat finishing top with a time of 2:15.520.
Relaxed start to the weekend for the champion
Brad Binder had only emerged from the pits after a relaxed start with 15 minutes of the session to go. His fastest time came within 10 minutes on track. Niccolo Antonelli (Ongetta-Rivacold) was also reluctant to venture out in the mixed conditions (who can blame them after Phillip Island), as he waited until halfway though the session to make his first appearance.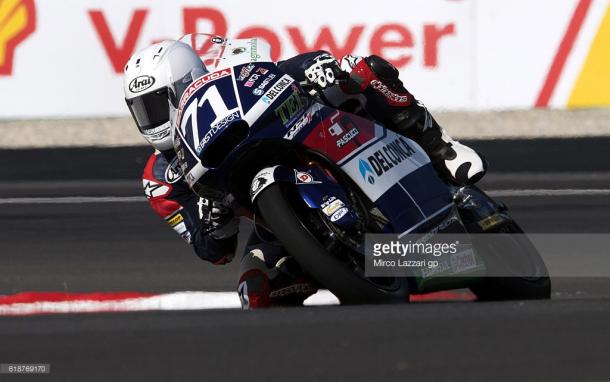 The first Free Practice session with as a chance for Marcus Ramirez to show off what he is capable of on his Platinum Bay Real Estate Mahindra. He came close to taking the lead, but missed out on several occasions, as did Navarro until the end of the session for him where he managed to make it work.
Rodrigo first to crash out
Free Practice 1 was not without incident as several riders got caught out on the new cambers of the track that was modified since the MotoGP class last tested here. Gabriel Rodrigo was the first to crash out on his RBA Racing Team KTM at turn 14; the turn that leads on to the back straight. Rodrigo went wide and he touched a wet patch that caused the front to tuck under and he slid out, he was unhurt.
The only female in the class, Maria Herrera (MH6 Team) also got caught out at the same turn with just four minutes remaining; she also tucked the front on her KTM and she too slid out; she looked unhurt from the incident.
Last minute battle for the top spot
In the closing stages of the initial session, as usual, there was a last minute battle at the top of the timesheet. Brad Binder was the first to lap under 2:17 minutes, improving on Bagnaia time. He was joined in the 2:16 minute territory by two other riders but they were unable to beat him and so Brad Binders time of 2:15.520, although it was way off the Moto3 record pace, was enough to secure him the top spot, despite him experiencing 'a moment' that spoiled his momentum.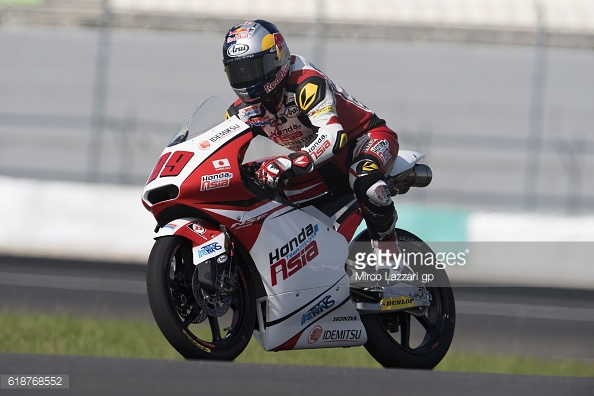 Malaysian rider, Khairul Idham Pawi, has thrived several times in the wet this season; I can understand why now after witnessing the weather in Sepang on day one. He finished second quickest ahead of Bagnaia who had to retire quickly at the end of the session as he discovered a fault with his Mahindra, and Ramirez finished in fourth. Livio Loi (RW Racing GP BV), Canet, Jorge Martin (Pull & Bear Aspar Mahindra Team), Mir, Navarro and Quartararo made up the top 10.
Heavy rainfall between the Moto3 Free Practice sessions
Between the Free Practice sessions, the track was wet from when it rained during the Moto2 Free Practice 1. The 250cc class took to a wet track and in those conditions it was Bagnaia and Tatsuki Suzuki (CIP – Unicorn Starker) that proved to be strongest immediately. As the track dried the times improved, Bagnaia was able to push and at one point he ran off track.
Migno crashes at turn nine
Midway through the session, Andrea Migno (Sky Racing Team VR46) crashed out at turn nine. Fortunately he was OK and with assistance from the Marshals was able to get his bike going again allowing him to return to the pits to have it checked over by his team.
Pawi again put to use his experience at a damp Sepang as he made his way up the time sheets as did Navarro; who with Bastianini being out, could take great advantage of collecting as many championship points as possible to close the gap between them as they battle for second. The times were significantly slower due to the water on the track, but Bagnaia and Navarro continued to knock each other off the top spot as Brad Binder ran on at turn seven with 15 minutes of the session remaining.
Close call for Rodrigo as others also get caught out
Rodrigo had another near miss as he was shook up as he practiced new lines at turn 15, he was fortunately able to rescue himself out of what could have been a sticky situation. A few crashes followed though; Antonelli came off at turn nine with nine minutes to go when the front folded and he slid out, but he was unhurt.
Two minutes later Navarro came off at turn two when the front end of his bike also folded. He tried to save it initially with his arm but fell and required assistance to get it going again; he was also unhurt but the day had come to an early end for him. With just three minutes remaining, Azumi, McPhee's replacement came off at the newly restructured turn 15. The back end spun round on him and he held on tight as he fell off the left hand side of the bike, luckily avoiding a high side, and tried what he could to keep the bike running. He was unhurt but his day also took an early end.
Bagnaia quickest at the end of Free Practice 2
Bagnaia remained the quickest during Free Practice 2 ahead of Navarro in second and Pawi in third. Sky Racing Team VR46 rookie Nicolo Bulega was fourth quickest with a late lap, ahead of Suzuki and Antonelli. Bo Bendsneyder (Red Bull KTM Ajo) was seventh ahead of Canet, Quartararo and Phillip Oettl (Schedl GP Racing).
Because of the conditions though, when combining the times from the whole day, no rider was able to improve on the time they had set previously during Free Practice 1 and so that meant that Brad Binder remained the man to beat at the end of day one.