With the championship still yet to be decided the
Moto2
class have gathered at the Sepang International Circuit for the penultimate round of the season, where they are meeting for the
Shell Malaysian Motorcycle Moto2 Grand Prix.
Moto2 championship undecided
Although Ajo Motorsport rider Johann Zarco is leading the championship, Thomas Luthi's (Garage Plus Interwetten) first set of back to back wins in his Moto2 career has allowed him to close right up to him and Alex Rins (Paginas Amarillas HP 40). Luthi is now in second just 22 points behind the French man and just four ahead of Rins as they continue to battle it out with a maximum of 50 points left. If Zarco is able to extend his lead to 25 points he will become the 2016 Moto2 championship.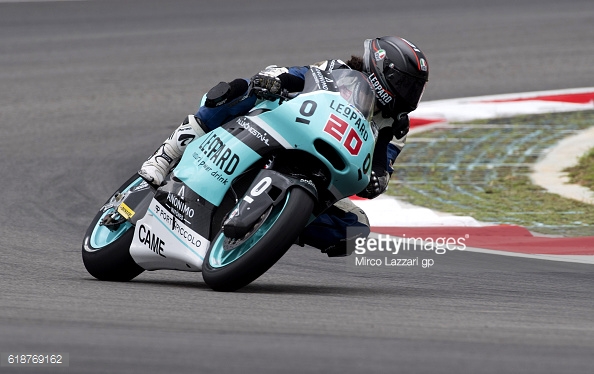 Oliveira out again
Miguel Oliveira is still out of contention as he continues to recover from his broken collarbone. Instead, Alessandro Niccolo is replacing him for Leopard Racing. A dark cloud was looming overhead but the rain held off for the start of their first Free Practice session.
First crash within minutes
Just three minutes into the session, Julian Simon (QMMF Racing) and Edgar Pons (Paginas Amarillas HP 40) came together on track at turn 14. Both riders fell off and while Simon slid into the gravel with his bike, Rins landed in the track and his bike continued running upright and ran into the oncoming jacket. Fortunately there were no more collisions.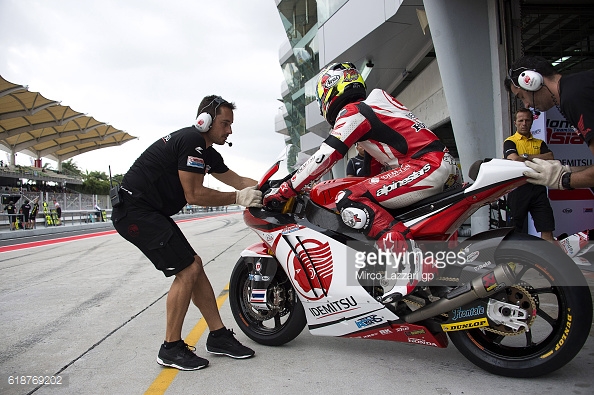 Rins was able to get straight back up to his feet and looked unhurt, seeing there was nothing he could do about his bike he went to check on Simon who was in distress and struggling to get back v his feet. Both have been involved in many incidents lately and chances are ttypically aggravated old injuries. As well as that, Simon fractured his T6 and T7 vertebrae and he was declared unfit to continue with the meeting.
Sepang International Circuit resurfaced
The track in Sepang has been resurfaced and parts of the track have been adjusted; turn 15 has proved the hardest for all riders to adjust to in all of the classes. Zarco was one of the first to be caught out as he carried on straight at the turn and avoided a crash.
Double crash on same corner for Lowes as Zarco wipes him out
Later on in the session, British rider Sam Lowes (Federal Oil Gresini Racing Moto2) crashed out at turn 14 of the track. The front had folded on him and as usual he held on tight as they slid into the gravel to avoid the bike cutting out. He got back up and was returning to the track when Zarco slid out at the same corner; as he slid he hit Lowes and wiped him out so he crashed a second time.
Lowes was unhappy as he threw his hands up in the air in anger, but just as they recovered themselves the red flag was waved to stop the session. Not only had the second crash emptied the stones from the belly pan of Lowes' bike from the first crash, Marshals suspected some sort of spillage on the track and they worked to clean it up.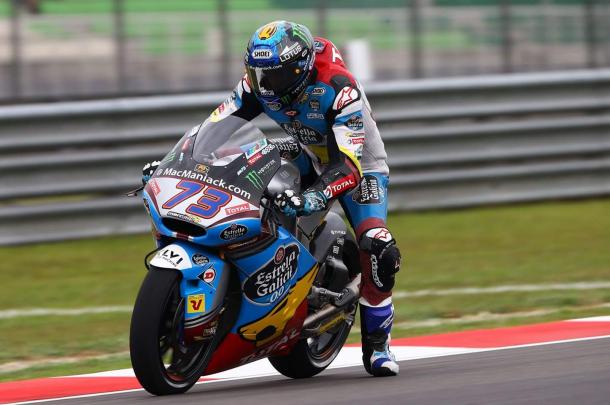 Riders greeted by rain after restart
When the session restarted with 38 minutes of it left, Luthi was a on top of the leader board with his time of 2:10.121. The riders made their way out, unfortunately for Simone Corsic (Speed Up Racing), when completing his out lap he crashed out. It looked like he was struggling for grip and it turned out that it had began to rain on the Moto2 riders... again!
Lecuona takes the risk in the wet
Rain initially began to fall in one sector causing riders to retreat to the pits, it was not long until the whole place was soaked as a large dark clouds loomed over the circuit with its own microclimate. Iker Lecuona (Garage Plus Interwetten) decided to venture out in the rain with 25 minutes of the session remaining. After making a few wildcard appearances he was brought in last round to replace Dominique Aegerter who was sacked when he signed for Leopard Racing Moto2 next season.
So any track time was good for the young 16 year old, and he tried to gain whatever experience he could however visibility was poor when the rain continued to fall and he eventually retreated to the pits with the others.
Wet track meant slow lap times
When the rain stopped, some riders decided to return to the very wet track in case these were the conditions they would be facing on race day. Marcel Schrotter (AGR Team) made his way out first and was soon joined by some more. Rain continued to fall and although experience would have been gained, no further improvements were made on the time sheets
When the drivers returned later on in the day for Free Practice 2, the rain had held off and the track hadn't to began to dry. The track was damp but there was a mixture of wet patches, dry lines and rubber.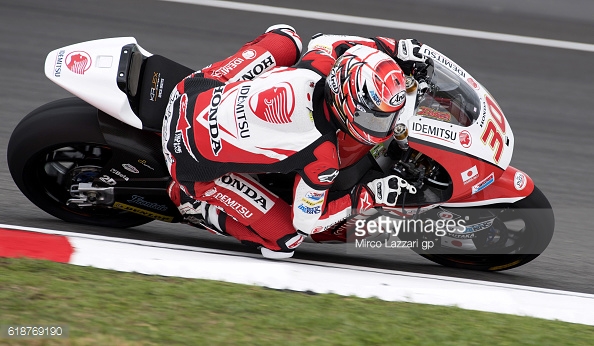 Dynavolt Intact GP rider Jonas Folger initially topped the time sheets during the second session. The significant improvements in the session meant that the times tumbled in comparison to the first session. Lowes avoided his third crash if the day when he slid the rear (further than usual) and nearly fell off the side of the bike and then was nearly lifted out of his seat; he rescued it though and continued with the practice.
Battle at the top of the timesheet
Team Estrella Galicia 0,0 Marc VDS rider Franco Morbidelli (who was sporting a new livery along with his teammate Alex Marquez) had a bobble going into turn 15 but still managed to go to the top of the time sheets with his time that knocked Xavier Simeon off the top where he had just gotten to. Folger, Morbidelli, Luthi, Marquez and local rider Hafizh Syahrin (Petronas Raceline Malaysia) all visited the top of the timesheet as they lapped under Luthi's previous time from FP1.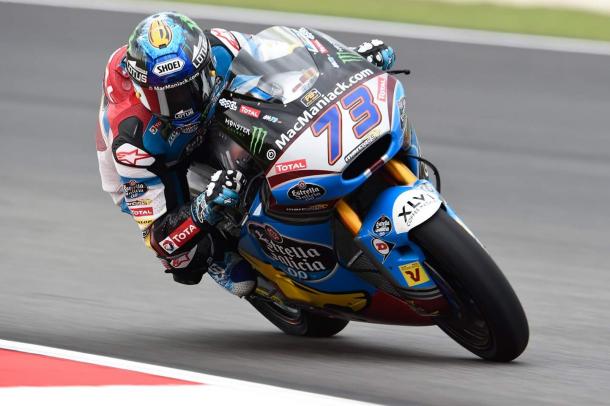 In the final stages, Edgar Pons crashed out again this time at turn 8 of the track. He managed to get back up to his feet after coming off at the fast turn but limped away to ghetto safety area trackside. Minutes later, Syahrin crashed out at turn 15 after he went wide over the kerbs on the entry to the turn and tucked the front. He slid out ending his day early as he returned to the pits.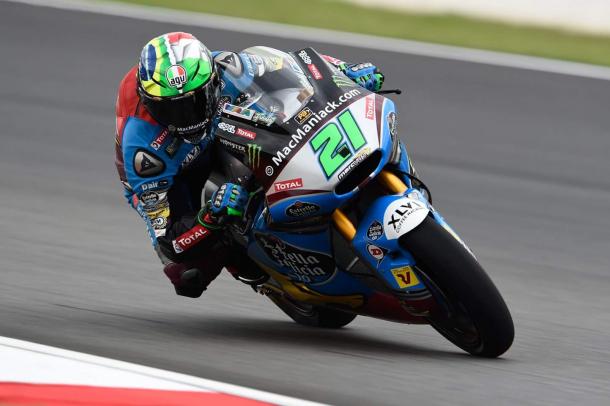 Morbidelli fastest in Sepang at the end of day one
The day finished up with Morbidelli on top with his time of 2:08.816. A late lap from Takaaki Nakagami (Idemitsu Honda Team Asia) allowed him to secure second ahead of Marquez who was third quickest at the end of Free Practice 2 and day one. Folger was fourth ahead of Zarco, Cortese, Luthi, Syahrin, Xavi Vierge, Axel Pons and Remy Gardner completed the top 10.