This could finally be the weekend that Ferrari take the win that would mean so much to them and Sebastian Vettel, as he showed his hand by topping Second Practice on Friday afternoon from Lewis Hamilton by just 0.004s.
Topping Ferrari's first practice session since Belgium FP3, the German built on a solid morning session to take top spot, in a session that saw many drivers spinning, locking up tyres, and the now obligatory complaints about traffic and slower cars that has become part of the Formula One furniture in recent times.
Nico Rosberg was third for Mercedes, ahead of the Red Bull of Daniel Ricciardo and Nico Hulkenberg, with the former's car looking a handful and the latter edging out Max Verstappen by 0.045.
Valtteri Bottas was eighth for Williams, ahead of the two Spainairds, Toro Rosso's Carlos Sainz and Fernando Alonso of McLaren.
Yet more Grosjean misery
After completing his install lap, Romain Grosjean was forced to sit out a majority of the session, as his Haas VF16 contracted an ERS problem, leading to the team putting the warning barriers up and being forced to change the dodgy component. He did get out for around 25 minutes towards the end.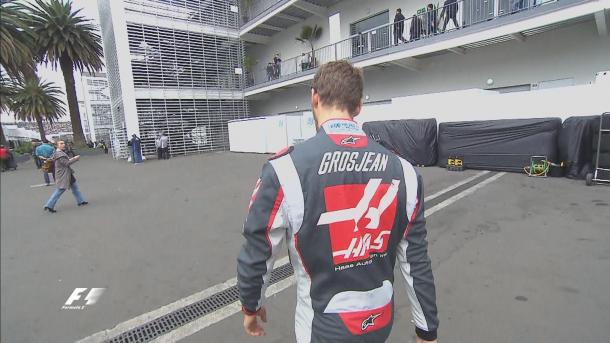 Meanwhile, out on track, Raikkonen's early fun as leader was halted when Vettel took P1, with a 1:22.024, as drivers took a couple of laps to optimise their balence and tyres before pushing for a full flying lap.
The lack of grip that was present in the morning hadn't gone away, with Sergio Perez, Rosberg and Felipe Nasr all taking trips onto the green stuff or ending up pointing the wrong way.
Despite the conditions, Hamilton put in the first representative time of the session, a low 1:20, which had him the best part of 1.5s clear of the pack.
Rosberg then tried to catch the pace his team-mate had, slowing nibbling away at the gap, managing to eat away around 0.5s before attention then switched to the qualifying simulations and race simulations.
As these runs came to an end, it was time to bolt the SuperSofts on and pump in some fast times.
Vettel by a Ferrari nose
Posting the first lap of the weekend under the 1:20 barrier, Vettel's first lap of a 1:19.790 was originally deemed a good effort, but enough to seriously challenge the Mercedes'.
However, one by one they came to take Vettel's fastest time, and one by one they all failed. Rosberg could only manage a time 0.4 down on the Ferrrari, with Ricciardo a tenth or so behind him.
Hamilton had traffic on his first lap on the SuperSoft, and managed to put his W07 Hybrid just 0.013 down on his second flyer.
They say, if at first you don't suceed, try and try again, which Hamilton did and he improved by 0.009 on his final lap, but his 1:19.794 was still 0.004 down on what he needed to do.
Looking at the race-pace averages of the top three teams, Mercedes were lapping in the low 1:24's, Ferrari in the low 1:23's and the Red Bull's in the mid 1:23's.
Before anything can be derived from that, it must be noted that the two Mercedes drivers average is taken from a much longer stint length than the other two, but points towards a close battle on Sunday.
Hulkenberg did well to split the Red Bull's, with as Sainz and Kevin Magnussen put on a little show down the main straight, getting unncessarily close to each other.
Vettel was on the radio complaining about slower traffic in front, in the shape of Alonso, calling him "an idiot"​, although to be fair, the McLaren was caught in the twisty second sector esses.
The session ended under yellow flags, as Danill Kvyat stopped his Toro Rosso on entry to the pits, with what appeared to be an engine issue.
2016 Mexican Grand Prix - Third Practice classification

| | | | |
| --- | --- | --- | --- |
| Position | Driver | Team | Time/Gap |
| 1. | Sebastian Vettel | Ferrari | 1:19.790 |
| 2. | Lewis Hamilton | Mercedes | +0.004 |
| 3. | Nico Rosberg | Mercedes | +0.435 |
| 4. | Kimi Raikkonen | Ferrari | +0.469 |
| 5. | Daniel Ricciardo | Red Bull | +0.658 |
| 6. | Nico Hulkenberg | Force India | +0.784 |
| 7. | Max Verstappen | Red Bull | +0.829 |
| 8. | Valtteri Bottas | Williams | +0.839 |
| 9. | Carlos Sainz Jr | Toro Rosso | +1.184 |
| 10. | Fernando Alonso | McLaren | +1.213 |
| 11. | Danill Kvyat | Toro Rosso | +1.403 |
| 12. | Jenson Button | McLaren | +1.408 |
| 13. | Felipe Massa | Williams | +1.536 |
| 14. | Kevin Magnussen | Renault | +1.652 |
| 15. | Sergio Perez | Force India | +1.789 |
| 16. | Jolyon Palmer | Renault | +1.995 |
| 17. | Pascal Wehrlein | Manor | +2.190 |
| 18. | Marcus Ericsson | Sauber | +2.207 |
| 19. | Felipe Nasr | Sauber | +2.247 |
| 20. | Romain Grosjean | Haas | +2.315 |
| 21. | Esteban Ocon | Manor | +2.508 |
| 22. | Esteban Gutierrez | Haas | +2.618 |