Hoping to remain in the top 10 so they could progress straight through to Qualifying 2, it took just 10 minutes for them to match the times set during day on of the meeting ahead of the Shell Malaysian Motorcycle Grand Prix.
Although they had not yet matched
Repsol Honda
rider
Marc Marquez'
s time during
FP1
, they were just a couple of tenths off with
Ducati Team
rider
Andrea Dovizioso
getting things underway slotting into second.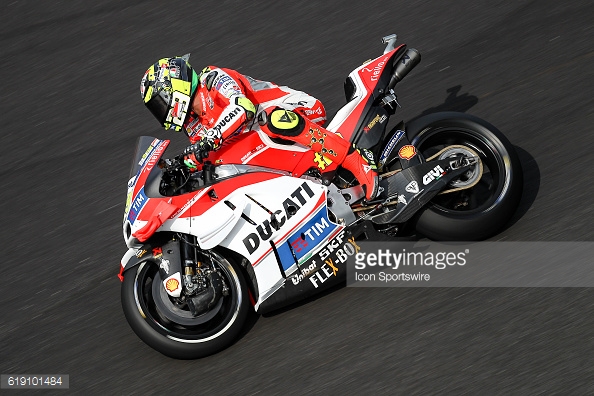 Marquez and Iannone return after missing FP2
Marquez returned to participate in FP3 after missing FP2 on day one due to the fact he was suffering for Gastroenteritis. He decided to use the wet session to relax and recover in the humidity, as did injured
Andrea Iannone (Ducati team)
who is still recovering from fracturing his vertebrae back in
Misano
.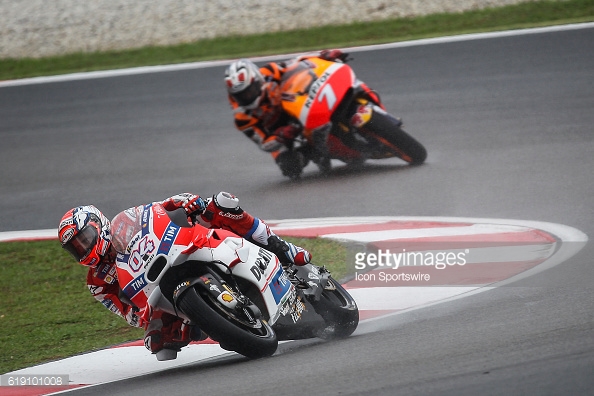 Hernandez crashes out
Dovizioso was soon joined by the likes of Maverick Vinales (Team Suzuki Ecstar) who knocked him down before Movistar Yamaha rider Valentino Rossi then went top with a time of 2:01.043. His lead did not last long as Vinales soon took him the prime spot back from him just five minutes later improving on Rossi's team by 0.03 seconds.
Unfortunately for Yonny Hernandez (Pull & Bear Aspar) he was the first to crash out at turn seven; despite the fact he was looking really strong in the wet conditions the day previous.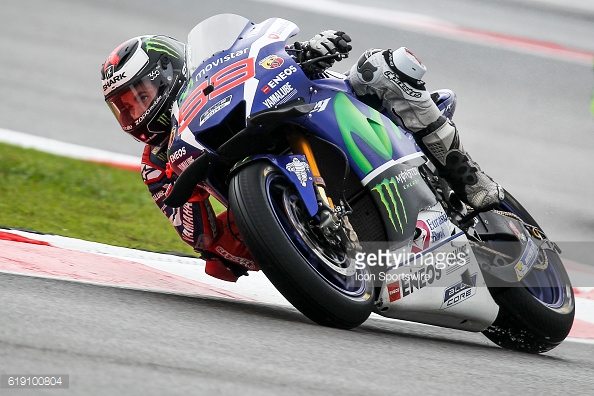 With 18 minutes of the session remaining it was Jorge Lorenzo (Movistar Yamaha) was the first to lap under 2:01 minutes. However, just prior to the riders making their final put stop before the end of the session, Marquez reclaimed the lead.
Crashes in the closing stages of FP3
Like usual with FP3 it comes down to the last few minutes were all the action is. Aleix Espargaro (Team Suzuki Ecstar) who has been looking like he could be the ninth different MotoGP winner this season, went top for a few minutes before his teammate Vinales managed to go half a second quicker.
Trying to push, Pol Espargaro ran on twice at turn 15 and then in the final stages of the session, Crutchlow went down at turn seven; the front tucked as he braked going over the bumps and he was thrown off the bike kicking his airbags off.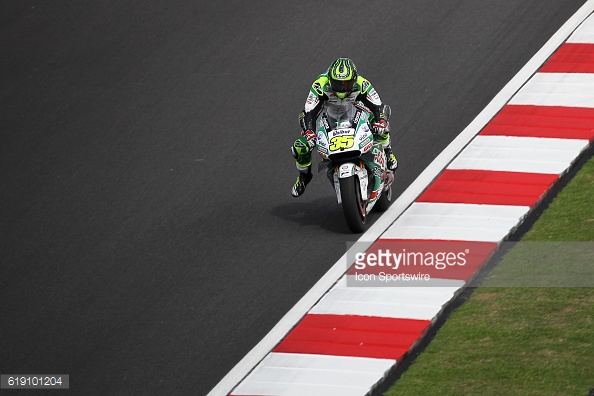 Vinales finishes FP3 on top
Vinales topped the list of 10 riders who automatically progressed to qualifying 2 ahead of Marquez and Lorenzo in third. Rossi was fourth ahead of Hector Barbera back on his Avintia Ducati, Iannone back on his factory Ducati who was sixth quickest.
Aleix Espargaro dropped to seventh ahead of Dovizioso, Pol Espargaro and Alvaro Bautista who completed the top 10. The Octo Pramac Yakhnich Ducati teammates Scott Redding and Danilo Petrucci just missed out on the top ten as did the other three British, Crutchlow, Smith and Laverty who completed the top 15.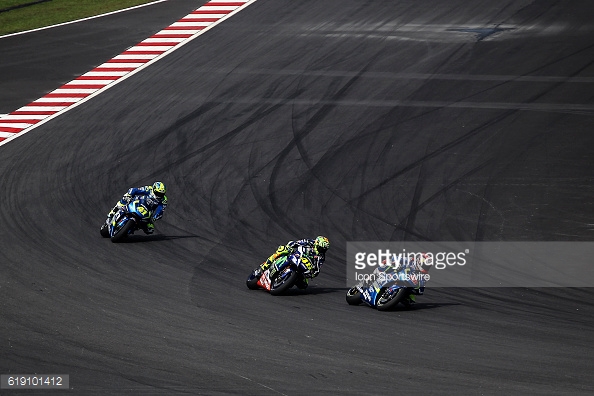 Wet Free Practice 4 got underway
Free Practice 4
is a short session designed to finalise settings prior to the Qualifying sessions that follow. It had rained during the
Moto3
Qualifying session that was just before the MotoGP riders took to the track, and the session had to be red flagged, so although the rain had stopped it meant they had no choice but to go out on a full wet set up.
Unfortunately for Aleix Espargaro, he ended up in the gravel at turn 15 as he was caught out by the camber on the turn since it was resurfaced. Marquez, Lorenzo Iannone and Crutchlow all took their turn at the top of the time sheets lapping at low 2:13 minute laps.
Hernandez and Baz were pushing on track when they almost came together with Hernandez being forced wide by the French man; fortunately Baz did not crash as he was able to use the tarmac run-off area.
Crutchlow bravely battled on on his birthday
Crutchlow, who was celebrating his birthday with wife Lucy and daughter Willow in Sepang, was hurt from his crash in Free Practice 3 and was seen in between runs with an ice pack on his right hand.
It didn't stop him from performing though as he went out and lapped at 2:11.792. The only other rider to go faster than him was Marquez who lapped at 2:11.723, just 0.79 seconds. A performance like that from Crutchlow was sure to help him advance to Qualifying 2.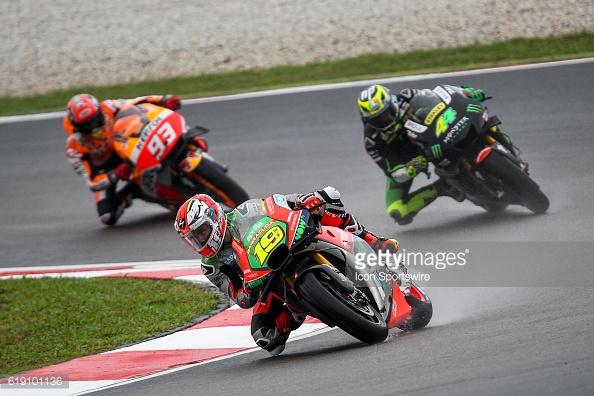 Marquez tops FP4
Marquez remained quickest at the end of FP4, finishing ahead of Crutchlow, Vinales, Lorenzo and Dovizioso who completed the top five. A late lap from Jack Miller (Team Estrella Galicia 0,0 Marc VDS) saw him take sixth from Baz who finished ahead of Rossi, Bautista and Aleix Espargaro who completed the top 10.
Baz progressed to Q2 despite crashing
The track was still wet by the time Qualifying 1 began as the 11 riders fought to be in the top two spots. Baz instantly went straight to the top and was joined by Miller.
However he then crashed at turn two with just seven minutes remaining jeopardising his chances to progress. Smith completed a fast lap that brought him up to second, however he was then knocked out of second by Crutchlow.
Then on his next lap, the British Honda rider went to the top of the timesheet as knocking Baz down to second. It then began to rain again as the session came to an end. Crutchlow was quickest meaning he and Baz would then enter Qualifying 2; Smith just missed out as did Miller.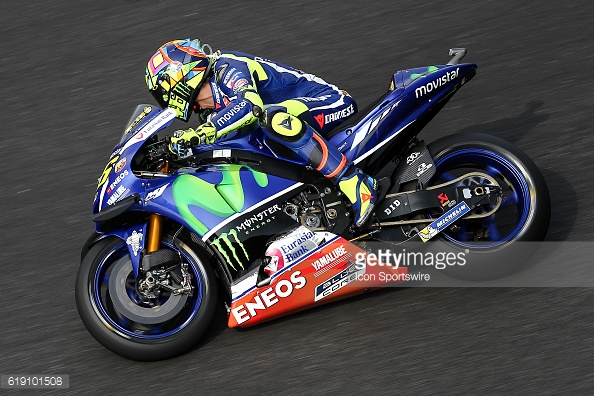 Final MotoGP session of the day got underway
The track was still wet as the remainder of the riders, the top 10 from FP3 along with Crutchlow and Baz took to the track for their final session of the day. Barbera was seen doing his usual antics, tagging on to the back of the faster riders in the hope he would learn something.
Crutchlow has second crash on his birthday
Lorenzo, Rossi and Dovizioso battled it out for pole position each thing their turn at the top spot of the short 15 minute session. Then, Crutchlow suffered another crash similar to that from the morning, this time at turn 11.
Only a few minutes of the session remained and Crutchlow had a choice, to recover the bike and stay out on track, or return to the pits and end the day earlier.... of course, he chose to stay out and push for a better position as he was 12th on the timesheet.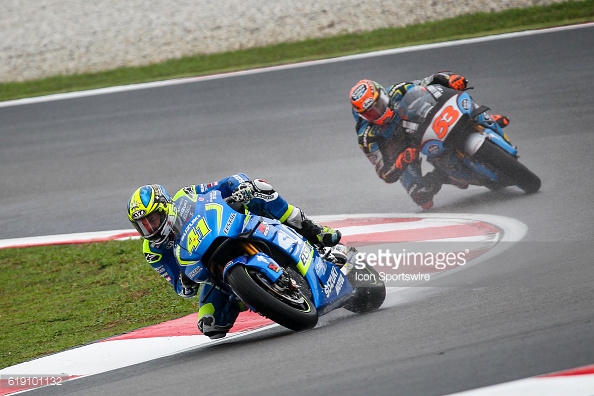 Dovizioso was on top as Rossi made his way up to third behind Lorenzo and Marquez moved up to fourth. They began to make mistakes, Rossi ran wide at turn four, as Rossi had a moment when the rear end slid at turn one and Dovizioso ran wide.
Aleix Espargaro came out worse however as he crashed out at turn nine near the end of the session. As Dovizioso improved on his pole position time, Rossi was able to progress up to second by passing his teammate.
Dovizioso on pole for the Shell Malaysian Motorcycle Grand Prix
Day two at the Sepang International Circuit ahead of the 17th round of the season will start with Dovizioso taking pole position on the grid and he will be joined on the front row by both Rossi and Lorenzo in third.
Marquez, should he be well enough will start from fourth leading the second row ahead of Crutchlow who heroically was able to complete a flying lap despite having had crashed his bike, to qualify on the grid in fifth and remaining as the top independent rider; injured Iannone completed the second row in sixth.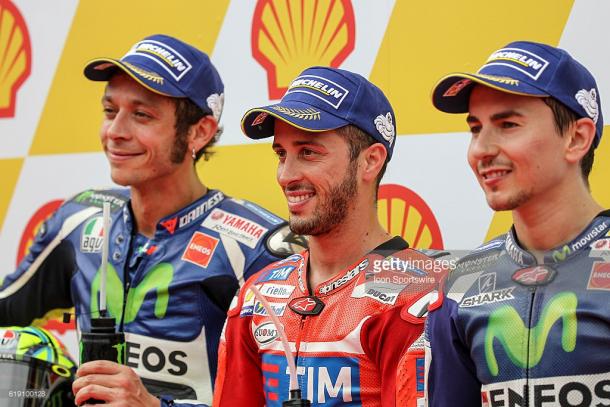 Aleix Espargaro will start ahead of his teammate Vinales in eighth and Bautista joins them on the third row in ninth. Due to his crash Baz will start from 19th ahead of Pol Espargaro and Barbera who made up the fourth row. Smith heads the fifth row in 13th ahead if Miller and Petrucci in 15.
Stefan Bradl (Aprilia Racing Team Gresini) pipped Aoyama to 16yh with a last minute lap in Q1 pushing the replacement rider down to 17th on the grid; Redding joins them on the sixth row in 18th. Laverty, Hernandez and rookie Tito Rabat (Team Estrella Galicia 0,0 Marc VDS) complete the grid making up row seven.