The Shell Malaysian Motorcycle Grand Prix at the Sepang International Circuit had to be delayed and cut short for the MotoGP class as heavy rain fell significantly reducing visibility. Officials waited for the storm to pass and cute the 20 lap race down to 19 laps to account for the wasted time and the riders took to the grid for the penultimate round of the season, round 17 out of 18.
RIP Super Sic 58
Several tributes had been made throughout the meeting remembering Marco Simoncelli who lost his life following an incident at the race track. A commemorative plaque was left at the corner where he sadly died as many gathered to reflect and remember the Italian MotoGP legend.
Dovizioso on pole after showing promising form in the wet
Ducati Team rider Andrea Dovizioso was on pole hoping to become the ninth different MotoGP winner we have witnessed so far this season. He as joined by Movistar Yamaha teammates Valentino Rossi in second and Jorge Lorenzo in third; both were ready to battle it out for second in the championship.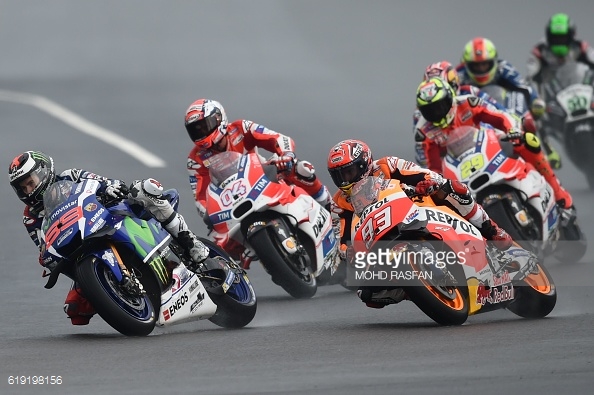 Iannone returns to race
Behind them the recently crowned 2016 MotoGP champion Marc Marquez on his Repsol Honda, who was joined by Cal Crutchlow on his LCR Honda who made it onto the second row with a last flying lap and broken bike as he had binned it in the final stages. Speaking of heroes, Andrea Iannone, who was making his return for the Ducati Team after breaking his vertebrae and missing several rounds qualified to start the race from sixth.
Lorenzo led into turn one
After a careful yet aggressive start, Lorenzo was the first into turn one leading the pack as Marquez went wide at the first corner. Working hard to overcome his mistake, Marquez pushed and caught Lorenzo and passed him on the outside bringing Dovizioso with him and pushing Lorenzo down to third.
Iannone passed Rossi to take fourth but then the nine times World champion gained three places in one move going from fifth to second and tucked in behind Marquez in second; it was not long before he went on to take the lead for the first time. It didn't last long however as pole position man Dovizioso accelerated past Rossi on his Ducati Desmosedici GP 16 as they made their way down the main straight, but using the newly restructured turn 15 to his advantage, Rossi reclaimed it and crossed the start-finish line ending the first lap still in the lead.
Iannone on the move through the pack
Dovizioso then lost another place to his teammate Iannone who moved up to second leaving Dovizioso to fend off Marquez in fourth. Lorenzo came under attack from Aleix Espargaro (Team Suzuki Ecstar) who had been incredibly strong of late on his GSX-RR . Ahead of them, Iannone was on Lorenzo's tail and managed to take the lead for the first time when he passed Rossi at turn 12 of the second lap. Iannone then tried to use the straight to feet away but Rossi was too good on the brakes.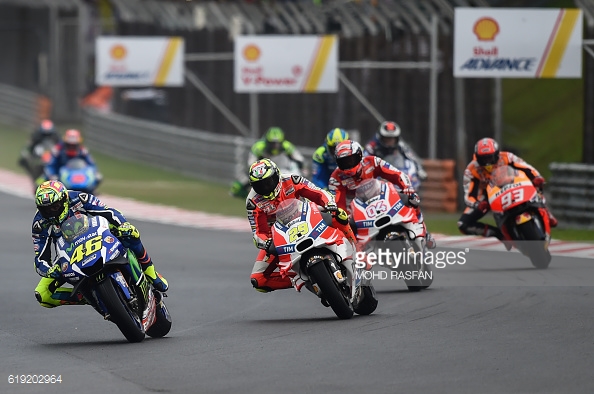 Ducati quick on the straights
The start-finish race became a drag race for the duo as they exited turn 15. The Ducati out-accelerated the Yamaha and Iannone remained in front on lap three. Lorenzo salvaged fifth place back from Aleix Espargaro when he ran on at turn one. He was able to recover but this placed Lorenzo back in fifth, and Crutchlow moved up to sixth ahead of Maverick Vinales (Team Suzuki Ecstar) and Jack Miller (Team Estrella Galicia 0,0 Marc VDS).
On the fourth lap, Dovizioso passed Marquez to claim third and it was not long before he soon caught up to Rossi. Behind them Hector Barbera (Avintia Ducati) was able to fend off Miller who he had taken eighth place from as behind them Alvaro Bautista (Aprilia Racing Team Gresini) passed Pol Espargaro (Monster Tech 3 Yamaha) for 12th.
Crutchlow bypasses Lorenzo
Lorenzo who usually lacks confidence in the wet, was passed by British rider Crutchlow who had emerged victorious at the precious round in Phillip Island, taking his second win of the season and who was looking to make it three in Sepang; he definitely had the pace in the wet as was witnessed in the Qualifying sessions the day previous.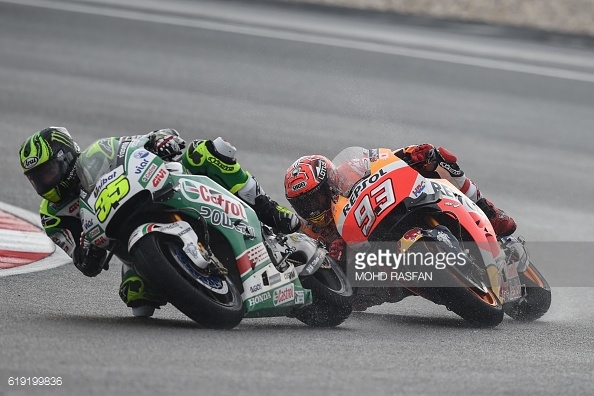 Back at the front, on the fifth lap, Rossi passed Iannone to take the lead but the Italian 'Maniac' retaliated. The duo battled for several corners which allowed Dovizioso to close the gap that had formed between them. On the next lap, Crutchlow, who was celebrating his birthday weekend in Sepang, passed Marquez to take fourth and become the top Honda.
Rossi again went up the inside of Iannone at turn one on the same lap, he remained in front until turn 15 when Iannone braked later and entered the turn first, however Iannone went wide and Rossi was able to sneak back through. Then, again, Iannone won the drag race down to turn one and it turned out that everyone bar Bradley Smith (Monster Tech 3 Yamaha), who is also still coming to terms with injured knee ligaments, completed their personal best lap so far of the race as the track was beginning to dry and the Michelin Power Wets were starting to come good.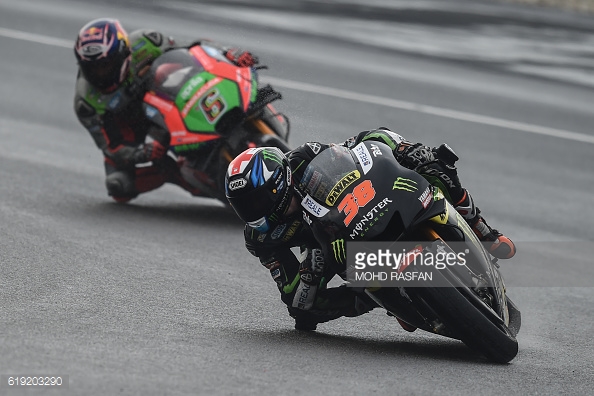 On lap seven, Crutchlow was able to close in on Dovizioso, until he too became victim to the straights as Dovizioso was able to accelerate away and undo all of Crutchlow's work in the process. Marquez was lapping quickest however and was able to close in on the Brit.
Battle to remain in the points
A battle was taking place behind them for more positions; Bautista passed Aleix Espargaro to take 11th and Vinales and Barbera were battling for eighth behind Barbara's teammate Loris Baz (Avintia Ducati) in seventh. Behind them Miller and Bautista had commenced in battle for 10th; Bautista passed the Aussie rider at turn nine on lap nine but Miller fought back corners later.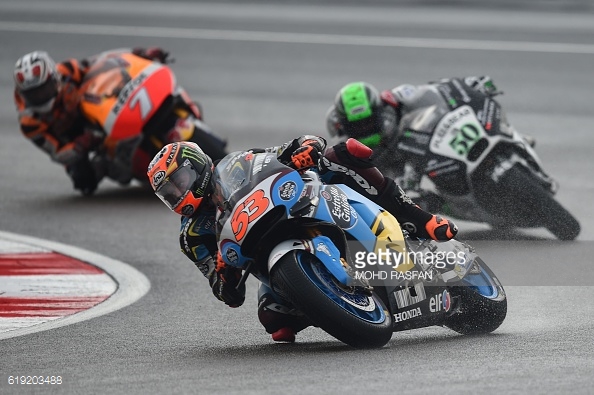 As they approached turn 15, Marquez made a successful move on Crutchlow to take fourth on the start-finish straight. The first crash of the race then occurred when Stefan Bradl (Aprilia Racing Team Gresini) came off at turn one from 15th position in the race. The German rider was OK and once restarted with the help of the Marshals was able to continue on with the race.
Just nine laps remained and Rossi again took the lead from Iannone at turn nine. Iannone tried to take it back when he made his move at turn one of lap 12 but Rossi bit back and retained his lead in Sepang.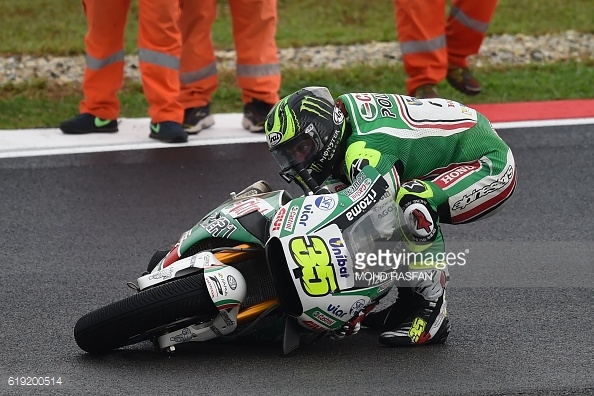 Crutchlow has third crash if the weekend
Unfortunately for Crutchlow, he experienced his third crash of the weekend coming off at turn two. He was thrown off the bike which caused his airbags to inflate to protect him. He was so frustrated as he shouted and gestured to his bike that lay in the gravel. He was unable to recover it and was out of the race ending his recent amazing streak.
Marquez crashes out
As this occurred, Dovizioso passed his teammate Iannone to take second, and Rossi tried to break away at the front. Then another Honda rider crashed out, this time it was the champion Marquez when he fell out of fourth position on lap 11 at turn 11. The front tucked and he slid out; he was unhurt and was able to get it restarted and rejoined the race in 15th. Baz was up to fifth now as Dovizioso set the quickest lap so far. Unfortunately for Yonny Hernandez, the Columbian was forced to retire due to problems with his Pull & Bear Aspar Ducati.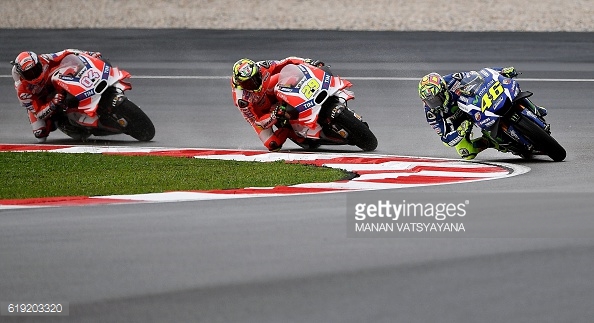 Weekend ends early for Iannone
Then , as much as he didn't need further injury, Iannone crashed out when he came off at turn nine when the front folded. It was race over for the Italian who was unable to recover his bike, however he deserves full credit for his performance following his return after several rounds from injury.
With just six laps remaining, Dovizioso had caught Rossi and was seen testing an outside line heading into turn 15. Miller had passed Pol Espargaro further down the field to take ninth as Irishman Eugene Laverty (Pull & Bear Aspar Ducati) overtook Smith to take 12th. Marquez was also dicing with Scott Redding (Octo Pramac Yakhnich Ducati) for 14th. Redding, who has struggled in Sepang during the meeting went wide under pressure at turn one and this let Marquez get through.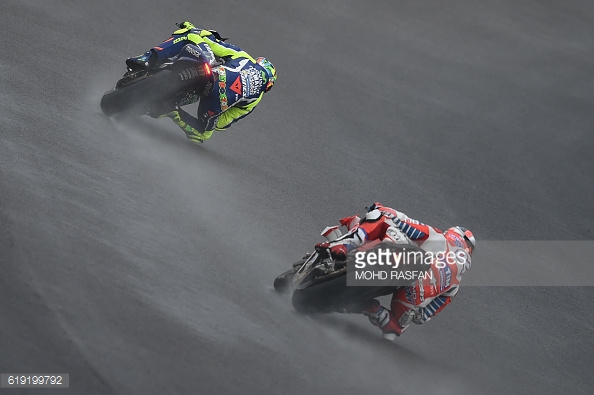 Rossi goes wide allowing Dovizioso to take the lead
With five laps remaining, Rossi went hot into turn one which resulted in him going wide which allowed Dovizioso to take full advantage as he passed him and began to pull away immediately as Rossi's momentum was spoiled by the mistake. Dovizioso continued at the front, all he had to do was continue at a steady pace on the drying track for a few more laps and he would claim the win.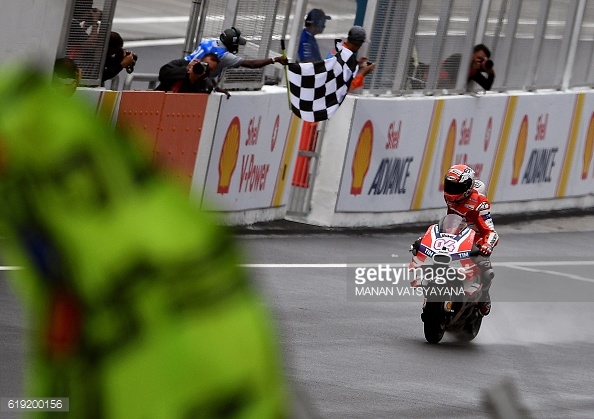 Teammates battle for top independent team title
There was not much movement further down the ranks for the final four laps. Barbera caught his teammate Baz who when was chasing for fourth position; with four laps remaining he passed the French man to become the highest placed independent. It seemed everyone else had settled and just looked to finish the race, everyone that is bar Marquez who was after securing manufacturers' championship points and he made his way past Smith, Aleix Espargaro and Laverty in the closing stages.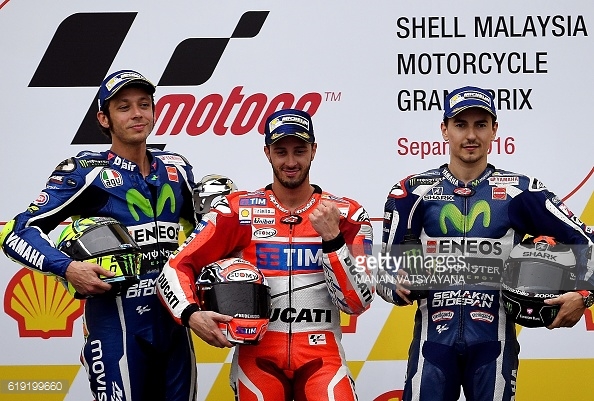 Dovizioso becomes ninth winner of the 2016 MotoGP season winning the Malaysian GP
Dovizioso did it, he won the Shell Malaysian Motorcycle Grand Prix, becoming the ninth different MotoGP winner of the 2016 season, with his second ever MotoGP win; a result that has been a long time coming and well deserved considering his unfortunate experiences at the beginning of the season. He finished ahead of Rossi in second and Lorenzo who completed the podium in third ; the 20 points Rossi collected n four more than his teammate, was enough for the Italian to secure second in the 2016 championship leaving Lorenzo to battle for third.
Barbera collects first top independent team victory of 2016
Barbera was fourth as the highest independent team rider claiming his first independent team win of the season, the experience aboard the factory Ducati must have paid off. His teammate Baz was fifth ahead of Vinales who crossed the line in sixth. Bautista collected his best ever MotoGP result aboard the Aprilia in seventh and Miller got a superb result finishing eighth. Pol Espargaro and Danilo Petrucci (Octo Pramac Yakhnich Ducati) completed the top 10.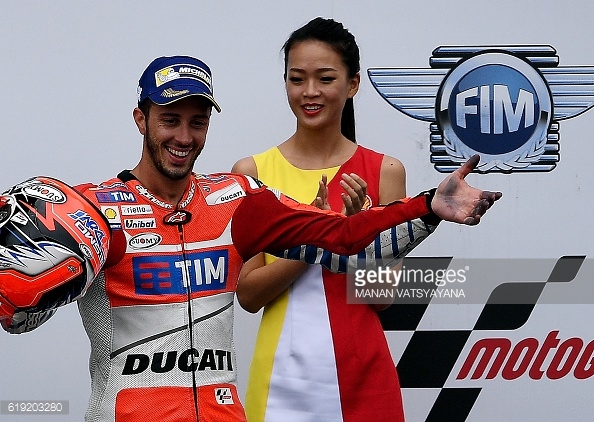 Marquez was able to recover to 11th after his crash collecting five vital points for the manufacturers' championship, he finished ahead of Laverty in 12th, Aleix Espargaro in 13th, Smith in 14th, and Redding collected the last point available in 15th. Just outside the points was Hiroshi Aoyama who is standing n for injured rider Dani Pedrosa on the Repsol Honda, after the Spaniard broke his collarbone, fibula and metatarsal when he suffered a huge high-side in Motegi. Bradl finished in 17th and rookie Tito Rabat completed the grid on his Estrella Galicia 0,0 Marc VDS Honda in 18th.
The championship as it stands now...
In the championship Marquez increased his amount of points to 278. Rossi has secured second as the 20 points from Sepang leave him on 236 points, and with one round left, there is no way Lorenzo on 208 points can catch him with only a maximum of 25 left. Vinales remains in fourth with 191 points meaning third is not yet secure for Lorenzo. Dovizioso win allows him to close the gap between him and Vinales to 29 points however there is no chance the Italian can claim fifth from Vinales. Despite crashing out, Crutchlow remains the highest independent team rider as he is in seventh behind Pedrosa in sixth.