With a track temperature if 38 degrees Celsius and air temperature of 31, it looked like we may have been in for a lovely days racing in the warmth with a track that although it was slightly damp, would dry out in the warmth and remain like that. But this is Malaysia, and that doesn't happen there.
Brad Binder on sixth pole of the season in Sepang
The Moto3 were first to line up on the Sepang International Circuit ahead of the Shell Malaysian Motorcycle Grand Prix Moto3 race on Slick tyres and hoping to be able to avoid the damp patches. Red Bull KTM Ajo rider Brad Binder, the 2016 Moto3 champion, was on pole and joined on the front row by Jorge Navarro (Estrella Galicia 0, 0) who was looking to take advantage of Enea Bastianini (Gresini Racing Moto3) being ruled out due to fractured vertebrae, and Francesco Bagnaia who was on third on the Pull & Bear Aspar Mahindra.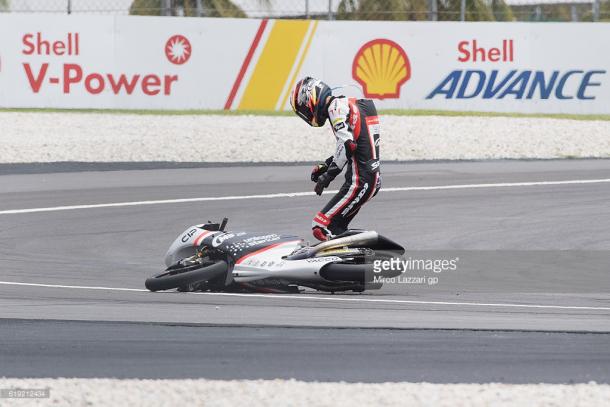 Carnage on lap one of the race
They got away great and it was Brad Binder who led into turn one of the 18 lap race, Gabriel Rodrigo (RBA Racing) tucked in behind hin before all hell broke loose. Sky Racing Team VR46 rider Andrea Migno went down at turn two, doing so he brought down Juanfran Guevara (RBA Racing) who in turn brought down Ayumu Sasaki (replacing injured Enea Bastianini on the Gresini Racing Moto3 Honda).
Moments later at turn six, the same happened again! Jorge Martin went down, this time with him he took out Phillip Oettl (Schedl GP Racing), rookie Aron Canet (Estrella Galicia 0,0) and Nicolo Bulega (Sky Racing Team VR46). As he remounted his bike that had lost his fairing and made his way back to the pits he was in clear pain with his right shoulder.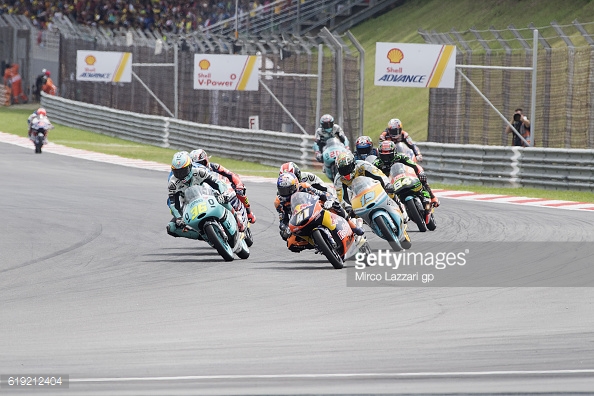 Red flag not waved
Everyone expected a red flag due to the amount of carnage that was witnessed on the first lap, but it did not appear and the race continued. No one has hurt and they managed to clear a good majority he wreckage as Brad Binder led the group round the track a second time. He was ahead of a Bagnaia who had passed Rodrigo and who went on to take the lead from the South African just several corners later.
Mir takes lead before briefly crashing out
They continued to push hard on the damp track and Binder had regained his lead shortly heading into turn one before Joan Mir (Leopard Racing), who had fought his way past Bagnaia and Lorenzo Dalla Porta (Sky Racing Team VR46) passed the South African a few corners later. However his lead did not last long as at turn seven he led a string of riders that slid into the gravel as if there was a substance on track causing them to lose control and slide out.
They managed to avoid the bike of Adam Norrodin (Drive M7 SIC Racing Team) that lay by the side of the track from earlier on in the race, and Marshals were attending to him when Mir, Brad Binder, Dalla Porta, Fabio Di Giannantonio (Gresini Racing Moto3) all slid out of the corner one by one. Surely this would cause the red flag to be waved?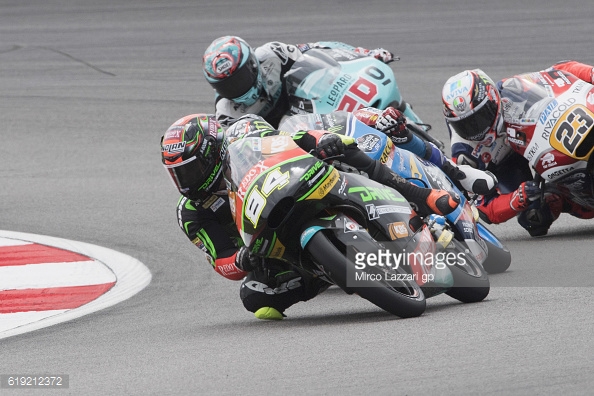 Bagnaia extended his lead
Again it did not appear as Bagnaia was able to break away on the Mahindra ahead of Jakub Kornfeil (Drive M7 SIC Racing Team), who was strong all weekend in Sepang. He had passed Rodrigo who was now in front folded Navarro, Fabio Quartararo (Leopard Racing), Bo Bendsneyder (Red Bull KTM Ajo), Nicolo Antonelli (Ongetta-Rivacold) and Marco Ramirez (Platinum Bay Real Estate).
In true Moto3 style the race continued with the 250 cc riders battling closely on track. Quartararo attempted to go up the inside but bailed on his attempts, Bagnaia continued to lead with 15 laps remaining and Kornfeil led a group of six riders who all ran different lines at the newly restructured turn 15.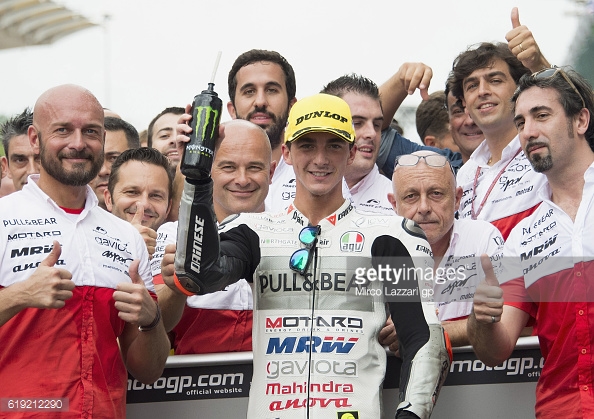 Conditions tricky still in Malaysia
Kornfeil, Navarro and Antonelli appeared to break away slightly and Antonelli was soon able to pass Navarro. Things went from bad to worse for the Spaniard as on the fifth lap he crashed out at turn 15 as he entered the corner too hot and was wide meaning he tucked the front and slid out; he appeared unhurt.
This was proof that conditions were still tricky in Malaysia; Antonelli was lifted up and out of his seat. Maria Herrera (MH6 Team) had made her way up to ninth and Brad Binder, who previously recovered his battered bike to the pits made his way back out onto track after his team made it fit for the purpose in the hope there would have been a red flag.
Antonelli crashes out in Sepang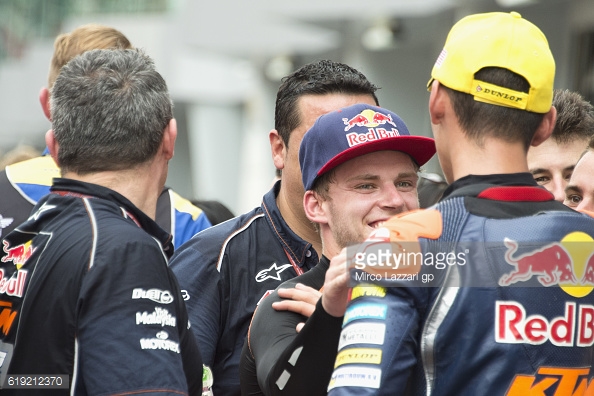 With 12 laps remaining, Bagnaia had worked up over four seconds of a leading over Kornfeil and Antonelli, and Bendsneyder and Rodrigo who were battling on track. Then Antonelli went down at turn nine sliding out at the left hander when the front tucked. Possibly distracted by his teammate, Jules Danilo (Ongetta-Rivacold) crashed moments later at the same corner, he was able to rejoin.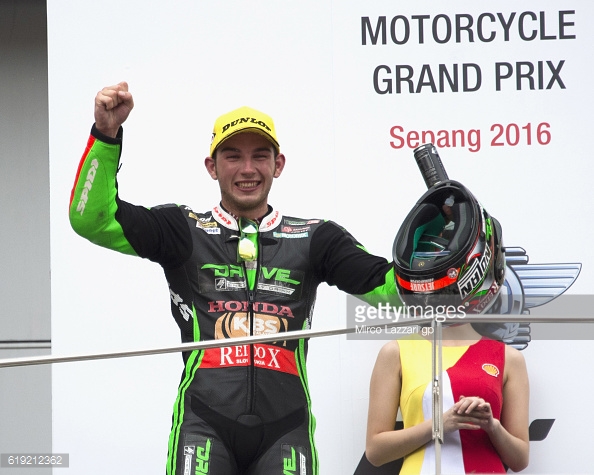 With 10 laps remaining, Khairul Idham Pawi (Honda Team Asia) had made his way into the mix after working his way up to sixth. Herrera made a move on Andrea Locatelli (Leopard Racing) to take seventh but he immediately retaliated. Whilst chasing Bendsneyder, Pawi brought with him a group that gmhad been battling on track containing Locatelli, Herrera and Ramirez. Rookie Bendsneyer who was in third found himself under pressure from Rodrigo and Quartararo which caused the rookie to react and push harder catching up to Kornfeil in the process.
The battle continued for sixth as Locatelli found himself in front of Ramirez who had passed both Herrera and Pawi, Herrera was at the back of the group but was doing well to hold on as they were under pressure from those behind and were beginning to catch back markers.
Big crash for Herrera
With just five laps remaining Bendsneyder passed Kornfeil to take second as Quartararo followed. They came across Brad Binder as a back marker who kindly came straight off the racing line to let them through. As they came to the end of the 13th lap, and the leaders had began lap 14, Herrera crashed at turn 15. She had been overtaken by Livio Loi (RW Racing GP BV) and she came into contact with the rear of his bike which initially forced her onto the kerb, she then came off and hit the ground hard, her head bounced off the tarmac and she hit her shoulder hard on the ground.
She landed in the centre of the track where she crashed and because of this, and as Kornfeil passed Bendsneyder to steal back second, the race was red-flagged so that Herrera could receive assistance. It had also started to rain and so the race, because more than two thirds of race distance had been ridden, was ended there and the results were determined by the results from lap 13. Herrera had managed to get back to her feet and walked away from the incident fortunately.
Bagnaia wins the Shell Malaysian Motorcycle Grand Prix Moto3 race
Bagnaia had won the Shell Malaysian Motorcycle Grand Prix Moto3 race at the Sepang International Circuit, his second ever Moto3 win and a great result for Mahindra. Kornfeil was awarded second place ahead of rookie Bendsneyder who collected his best ever Moto3 result in Sepang completing the podium.
Quartararo was fourth ahead of Locatelli and Ramirez who also collected his best ever Moto3 result in sixth. Rodrigo was seventh ahead of Pawi, Loi, and Darryn Binder (Platinum Bay REAL Estate). He finished ahead of wildcard Azmi who finished in 11th ahead if Antonelli and Stefano Valtulini (3570 Team Italia) who also picked up a a good result in 13th. Lorenzo Petrarca (3570 Team Italia) also did well to finish in the points in 14th and the last available championship point was claimed by Di Giannantonio who had restarted after his crash along with Dalla Porta own to finish 15th and 16th. Brad Binder completed the field in 17th.
Battle still on for second in the championship
Brad Binder sealed the championship several rounds ago, and Bastianini not racing and Navarro crashes out meant that the gap between them stays the same however Bagnaia has moved up to third ahead of Navarro in the standings and 19 points behind him with his win in Sepang. So, it will come down to the last round of the season in Valencia to decide the rest of the results from 2016.