Lewis Hamilton taking a 51st career win, equalling Alain Prost's tally in second on the all-time list will be overshadowed by the quite frankly embarrasing outburst delivered by Sebastian Vettel in the closing laps after the incident with Max Verstappen at T1/2/3 and Daniel Ricciardo at T4.
Over the course of the season, Vettel has often turned the airwaves blue with his outbursts, usually about blue-flags and memorably asking in Spain "​what are we doing, racing or ping-pong"​ after Ricciardo tried a move into T1.
On this occassion however, Vettel went too far and even swore directly at race director Charlie Whiting, which was broadcast to the world.
Ferrari team principal Maurizio Arrivabene and Vettel's race engineer Riccardo Adami tried to calm the quadruple world champion down, as he thought Verstappen's move was illegal, and he gained an advantage.
Ricciardo also belived that Vettel should've got a penalty for the defensive manner in which he blocked the Aussie's lunge into T4 and at the time of writing, both have been summoned to the stewards.
Below is the transcript of what was said.
Post Verstappen
Vettel: "Move! Move for **** sake!"
Vettel: "He's a (extended bleep), that's what he is."
Vettel: "I mean, am I the only one or are you not seeing what I'm seeing? He's just backing me into Ricciardo (bleep)"
Riccardo Adami: "Charlie (Whiting) said that..."
Vettel: "Yeah!, You know what, here is the message for Charlie: **** off! Honestly, **** off!"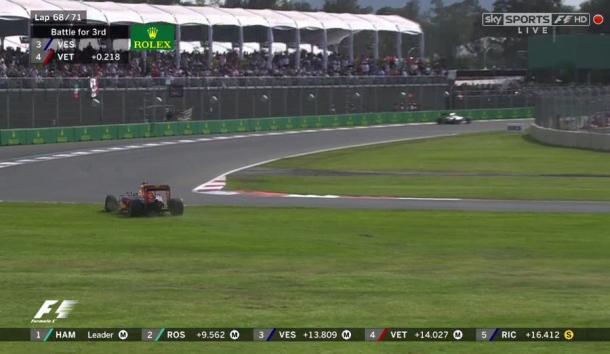 After Ricciardo's late lunge into T4
Vettel: "Honestly, I'm going to hit someone I think I have a puncture, rear left". (He did not have a puncture or hit anybody. With his car that is. Yet)
Adami: "Tyres are fine, tyres are fine".
On the in-lap
Vettel: "He has to give me the position. End of the story".
Maurizio Arrivabene: "Sebastian. Sebastian calm down, calm down. They (both Verstappen and Ricciardo) are under investigation. I know that it's not fair but calm down. Put your head down and we will talk afterwards".
Vettel: "Ok, copy Maurizio".
Why it was wrong for Vettel to act like this
No matter what happens during a race, driver's need to have the belief that the stewards will take appropriate action swiftly and sort anything out. This was done, as Verstappen received a five second penalty and was booted off of the podium, finishing down in P5, behind Ricciardo.
The race was being broadcast to millions of people worldwide. You've got the entirety of the Amercias, both North and South as well as an evening slot for the majority of Europe, including the UK, France, Germany, Spain and Italy. For such behaviour to be broadcast to families and young children just isn't acceptable and as a father to two young children, Vettel should know this better than anybody. Would he want his own children to have to listen to that. He should be ashamed of his outburst.
Even though Formula One drivers have been accused of not caring enough in the past, this was no way to go about it. As an ambassador for the sport, whether he likes that or not, Vettel should think about the audience. Will young racers in go-karting in the future now swear at the officials when a decision is or isn't made and say that it is ok as "Sebastian Vettel did it?".
He should be fined and made to publicly apologise in Brazil for his actions at another race where the timing suits both the American and European markets ideally.