Things are always incredibly close in the Moto3 class especially on the first lap when they all try to get away from the line and not end up further down the field after a few corners, and when they form into groups fighting several bodies-a-breast into a corner when battling for the same position. Throw mixed weather conditions, including rain, wind, and/or a drying track, and you are bound to end up with carnage.
Repeat of the carnage from Phillip Island in Malaysia
This happened again at the Sepang International Circuit in Malaysia where the world championship riders met for the penultimate round of the season at the Shell Malaysian Motorcycle Grand Prix. It had been a wet weekend, and extremely humid as things were not quite hot enough in Malaysia to hold the rain off. It meant that the round was going to be as enduring as the previous one in Phillip Island were the same occurred, carnage, pile-ups and red flags.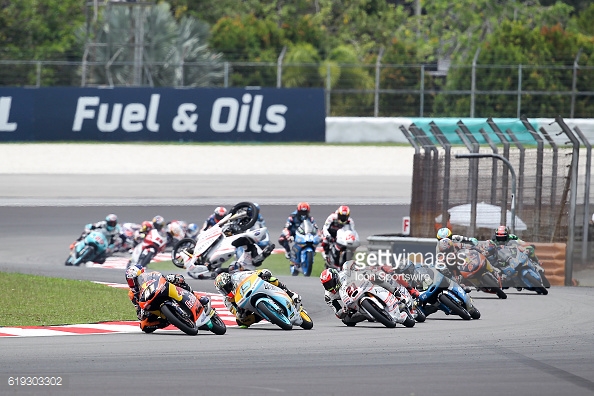 Several incidents led to 14 riders not completing the race
A rider went down at turn two of the race, taking several other riders out with him; some were ran over in the process and there was debris everywhere but the race continued as those who remained in contention continued on track narrowly avoiding the carnage. Later on in the race, just as Joan Mir (Leopard Racing) took the lead, he hit a patch that had previously caught out Adam Norrodin (Drive M7 SIC Racing), and Mir led a trail of riders who all slid out of the corner and into the gravel; but the race continued again with people avoiding close calls.
Bagnaia takes the lead at Sepang
This is when Francesco Bagnaia (Pull & Bear Aspar Moto3) took the lead. The riders around him crashed out, and so he was left with a short gap on track ahead of the likes of Jakub Kornfeil (Drive M7 SIC Racing) and Bo Bendsneyder (Red Bull KTM Ajo) who were able to act quick to avoid joining those in the gravel trap.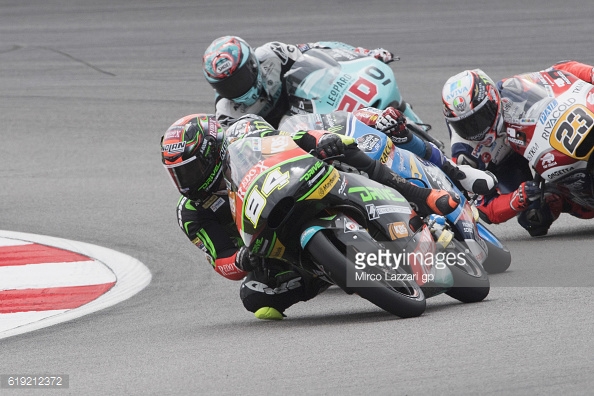 Race red flagged due to Maria Herrera's incident
The track began to dry out and Bagnaia worked hard to pull away from the group that followed him; this went on until Maria Herrera (MH6 Team) who was placed in 10th, what would have been her best finish this season, when she came into contact with the back of Livio Loi (RW Racing GP BV) who had just passed her.
The contact initially forced her onto the kerb and then back onto the track, she lost control and was thrown from her bike. She was slammed down hard on the tarmac, her shoulder and head coming into contact heavy with the ground. The red-flag went out, as she initially needed assistance as she lay in the track after the impact; fortunately she was able to get back to her feet and walk away from the incident herself.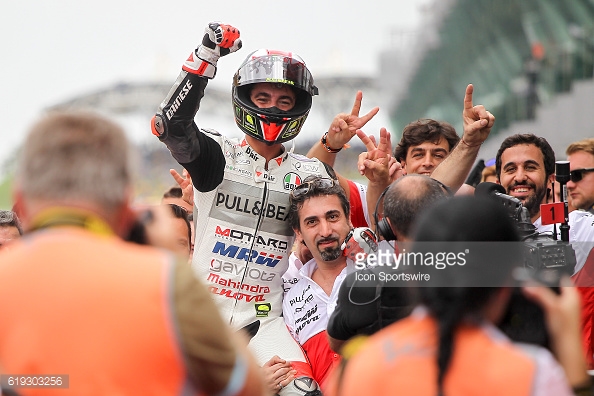 Bagnaia takes his second win of the Moto3 season
Because the race had ran more than thirds race distance it was declared as complete and the results from the previous lap were used as the end results. Bagnaia won the Shell Malaysian Moto3 Motorcycle Grand Prix, his second win on the Mahindra this year. He finished over seven seconds ahead of Kornfeil who collected his best ever result finishing second in Sepang and Bendsneyder too got collected his second Moto3 podium of the season, completing the race in third.
Bagnaia describes Malaysia as the best race of his life
Bagnaia declared the penultimate round of the season in Malaysia as, "the best race of my life" as he said that it is "never easy to ride at the front on your own". He found that he had to "learn where the limit is" and also "try to stay as fast as possible". He felt that personally he had "matured" as he thought that last year he "would have struggled to make a race like this", and so he said, "We have taken a big step forward and I have to thank the team a lot." He thought that this has "probably been [their] best weekend of the season" and its timing is coming "at the end of a year that has turned out to be very positive".
Discussing the race he found it was "much hotter for the race here that it has been for the rest of the weekend", and as a result at the start he "found it tough" but he "got used to it". He said, "Once I saw my rivals crashed out I decided to push hard to make a break, which then allowed me to calm down." He found that the "tyres started to drop" and mentioned that "in the corner where those guys crashed there was a little oil" and so he "had to be careful no to crash" also.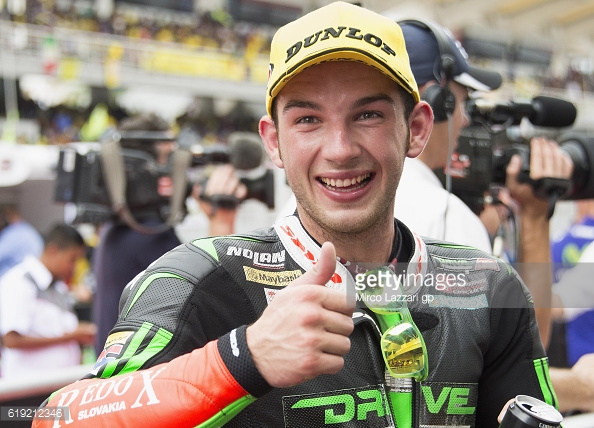 Great consequences for the Italian
Bagnaia is now "up to third in the championship" which he feels is "important" as they now "look to Valencia". He declared that the Malaysian Moto3 race was the "most difficult race of [his] life" but now they have "two wins and six podiums from this season" ... the Mahindra team must be delighted with that.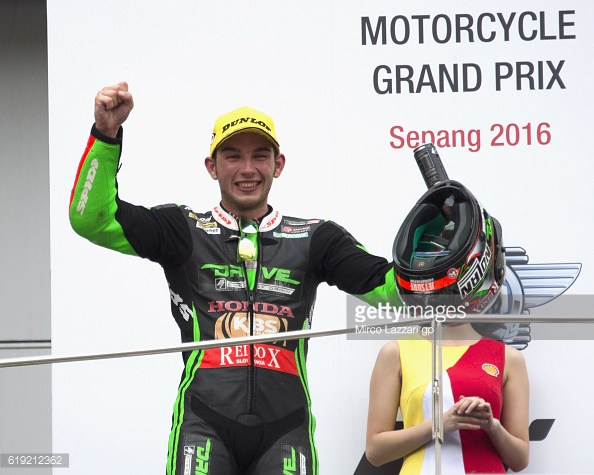 As an extra incentive, Bagnaia revealed a little award coming his way as he said, "Now we can think about Valencia, where thanks to a bet I made with the team for winning two races, I'll also get to ride the Ducati."
Kornfeil collects his best Moto3 career finish in second
Kornfeil described his "best career finish In Moto3" as feeling "amazing" and still felt that it hadn't "completely sunk in yet" as that is still felt "like a dream". He too found that it was "a very difficult race" which he put down to the fact there was "no grip in the tyre". He knew the "most important thing was to stay on the bike" and he chose made sure to "study the track because it was changing every lap", and so he was taking extra care to "avoid the wet patches".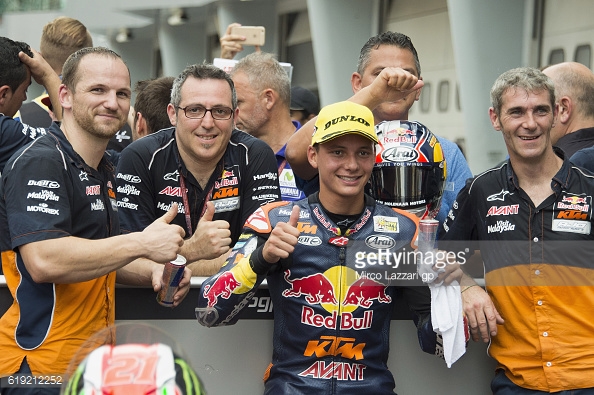 Victory at his teams home track
He was extremely grateful to his team SIC (that stands for Sepang International Circuit) and all of his sponsors and family, he said, "Without them I couldn't do this!" He then went on to "dedicate this second place to them". He spoke of how to him this "result means a lot" and that the "first podium of the year is always special". It was more sentimental especially as he gained his podium "at the home GP of [his] team", something he described as "incredible". He said, "To go back home with 20 points is fantastic!"
Bendsneyder earns his second podium of the 2016 season
Bendsneyder was "very happy" to finish the Malaysian Grand Prix with his "second podium of the season". He spoke of how he was "riding behind Jakub for a few laps" and then found he was "able to pass him on the final laps". Although he passed him and was second when the red flag went out, he was demoted to third. Talking about this he said, "It's a shame because in the end, due to the red flag, we went back to the previous lap for the final standings", which is where he was still third.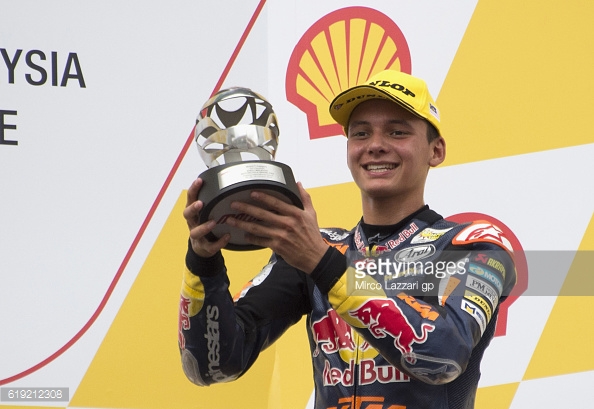 He felt that it was "a pity" but still described achieving a podium "at a circuit where [he] as never ridden before" as something "incredible". He was grateful to his team saying, "I want to thank them for all the week they have done over the weekend." They now head to Valencia where he hopes to finish the season "with another good result".