As they come to the end of the season, and the riders have just one more round left to help develop the GSX-RR, Team Suzuki Ecstar riders Maverick Vinales and Aleix Espargaro both feel there is still work to be done in the wet and mixed conditions on the bike.
Movements in the paddock in 2017
Vinales is set to make the move to Movistar Yamaha, and Aleix Espargaro is off to Aprilia Racing Team Gresini next year; Andrea Iannone (Ducati Team) and Moto2 rider Alex Rins (Paginas Amarillas HP 40) will be taking the reins at Suzuki.
Their reflections on how the bike performs in the wet, comes from the last round, the penultimate round of the season, at the Shell Malaysian Motorcycle Grand Prix at the Sepang International Circuit.
The meeting was again tormented by rain and heavy storms when although there was always the chance of rain there, it is usually a hot and humid meeting. The morning warm-up session before the race however was dry and Vinales proved that he was quick in Sepang as he was the fastest rider on track.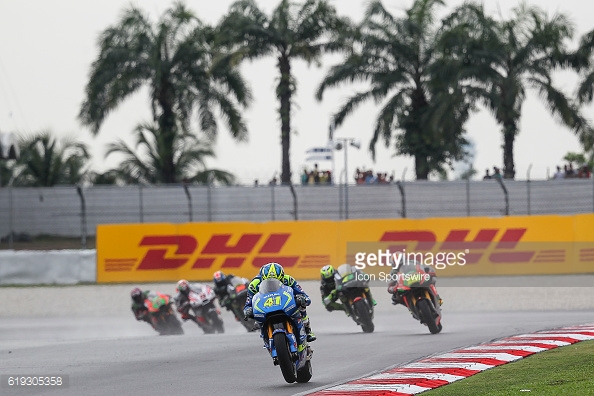 The rain spoiled things for Suzuki
Both riders were 'there' when the race got underway challenging for the lead amongst the first group of riders. Aleix Espargaro was in fourth at one point before he unfortunately ran wide and slipped down to 13th.
Vinales remained in the top 10 as he struggled with the GSX-RR, but three riders falling ahead of him including Iannone, Marc Marquez (Repsol Honda) and Cal Crutchlow (LCR Honda) meant that he was able to gain several positions. Vinales finished sixth in the race and Espargaro ended up in 13th.
In terms of the championship Vinales is still out on his own; in fourth with 191 points. He still has the chance to battle for third which is completely dependent on the Movistar Yamaha rider Jorge Lorenzo's result as he is still 17 points ahead in third on 208 points.
Aleix Espargaro is involved in a battle for ninth against Ducati riders Hector Barbera (Avintia Ducati) and Iannone; four other riders also have the chance to catch him at the last round in Valencia .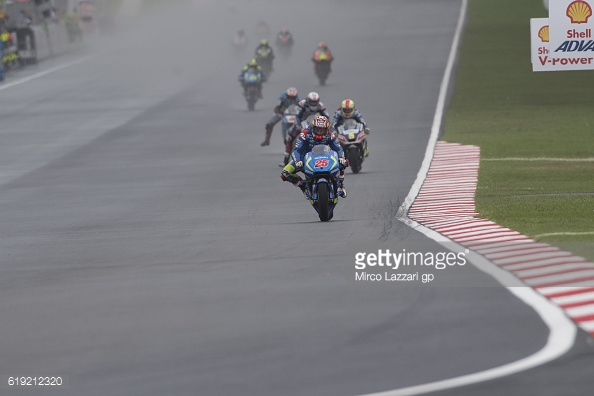 Vinales revealed they are struggling with the bike in the wet
Vinales was "disappointed with the race result" although he knew that "sixth place is not so bad". He felt they had a "very positive weekend" and he found that he "performed very fast in the dry."
Because of this, he "really had hopes for a podium and also for a victory", however he said, "Unfortunately in wet conditions are not competitive yet."
He revealed that they "struggle to find a good configuration with the electronics" which in turn he feels makes his "riding very hard" and felt this happens in particular "when it comes to acceleration."
He admitted he "can't feel confident with the traction control" which he feels results in him "riding very carefully" as he doesn't want to "incur a high-side that could prevent [him] finishing the race."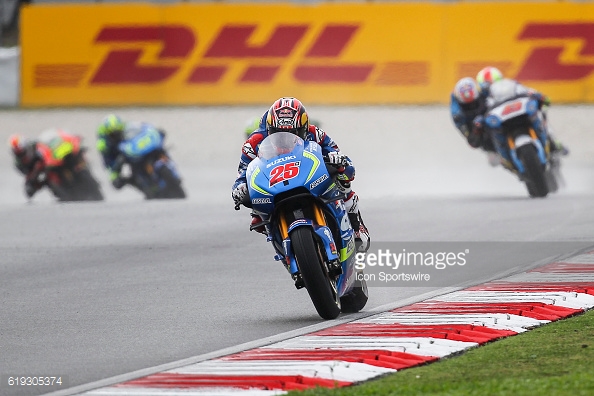 Still, he feels they have "made many improvements on the machine" and that now they have "reached a positive competitiveness in dry conditions", however he still is adamant that the "progress [they've] made in the wet is not enough."
He feels his result in Sepang has "also proved the positives of the last three races" and he highlighted that they were "at three completely different circuits" and he thinks they have proved that they can "adapt and be strongly-competitive in any kind of layout."
He said: "Now the objective is to have the same competitiveness no matter what the weather conditions."
Tyres and Suzuki setup were the problem for Espargaro
Aleix Espargaro too was "disappointed with the final result" as he felt that the "weekend overall had been positive", however he found in the race that he "couldn't feel competitive."
He chose to run with the soft compound of the Michelin Power Wet "hoping the conditions of the track would stay wetter" however he found that "this proved to be the wrong choice."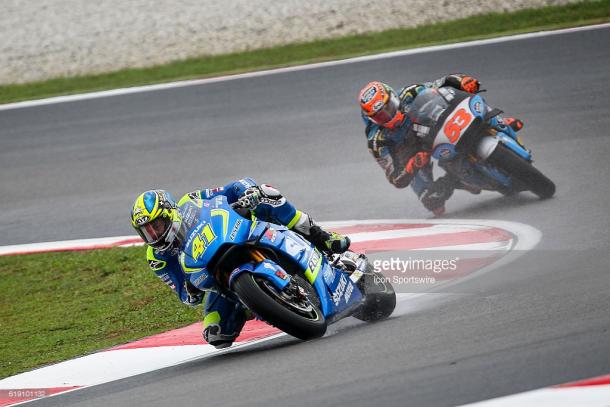 He knew "from the very beginning" as he felt that his "performance was not good" and the choice meant he "lost the feeling with the grip right after four or five laps."
This then led to him making "a couple of mistakes" and he knew that "doing them at the very beginning of the race when all the riders are still packed together" results in a rider to lose many positions and then he found it "really hard to recover."
The Spaniard too felt it was a "pity" as like his teammate he knows they have "made a lot of progress in the last few races" and also he "felt very competitive in dry conditions." Like Vinales he also highlighted that they "still need to improve our capability to have the same performance also in the wet."