Despite winning the Abu Dhabi Grand Prix, Lewis Hamilton was unable to stop team-mate Nico Rosberg winning an emotional first Formula One World Championship.
Hamilton was desperately trying to back Rosberg into the chasing Sebastian Vettel and Max Verstappen late on, but to no avail. Rosberg is the 33rd Formula One World Champion, and the second son of a World Champion to win the title, 34 years after his father Keke clinched his sole title.
A late-stop for Vettel saw him charging late on, on fresh supersofts, and for a while was pressuring Rosberg, but the German held firm, knowing that a podium would be enough.
Verstappen's comeback drive was outstanding, having spun at the first corner, before clever Red Bull strategy vaulted him into podium contention.
Daniel Ricciardo and Kimi Raikkonen played second fiddle to their team-mate coming home P5 and P6, ahead of Nico Hulkenberg and Sergio Perez, who secured Force India fourth in the Constructor Standings, their best ever result.
In his farewall race, Felipe Massa came home in the points, claiming two for P9, whilst Fernando Alonso scored the final point of the season in P10.
In his 305th and likely final Grand Prix, Jenson Button was forced to retire his McLaren, after suffering a suspension failure after just 13 laps.
Verstappen spin sets up strategy masterstroke
At lights out, Verstappen was hampered by his SuperSoft tyres, hitting Hulkenberg's sidepod at T1, spinning down to P22 and last. Hamilton led from Rosberg, and Raikkonen, who had jumped Ricciardo off the line.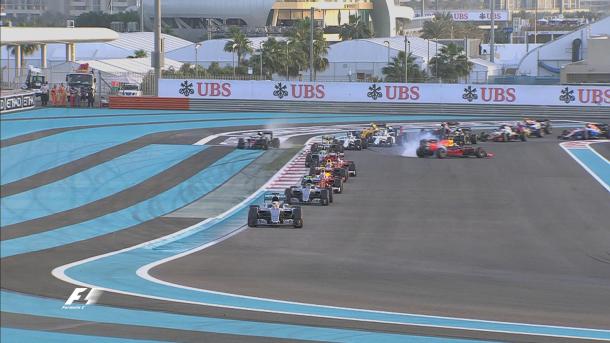 Valtteri Bottas let Massa past, after his Williams developed a problem with the rear damper, causing a retirement on lap seven.
Out front, Hamilton was easing away from Rosberg, with Ricciardo just about in Raikkonen's DRS, but unable to get close.
Mercedes pitted Hamilton on lap eight, as Ferrari did with Raikkonen, with the Finn holding the Brit in his pit-box for longer than the team would've liked. Next lap around, Vettel did the same trick to Rosberg. The German stayed ahead of Raikkonen, but was behind the recovering Verstappen, who was increasingly looking like he was on a one-stopper.
Red Bull pitted Ricciardo the lap after, and he was just behind Raikkonen, as Verstappen was coming under increased pressure from Rosberg, who was then told to look after his right-front and take things easy.
The Aussie was getting punchy behind the Finn, and attempted a move into T11, just overshooting the braking point, coming under pressure from Vettel, who was in close attendance.
On lap 13, the career of Button came to an end, after he clouted the kerb at T9, breaking the front suspension of his McLaren. As he drove into the pits for the last time, there wasn't a dry-eye in the house.
Rosberg risks it all
As the Mercedes pit-wall realised Verstappen was one-stopping, they urged Rosberg to try and get by the SuperSoft shod Red Bull. Into T8, at the end of the main straight, he tried an audacious lunge, and with the World Championship flashing before his eyes, got better drive out of T9, and made the move stick into T11.
Verstappen made his only stop on lap 22, going onto Softs for the remaining 33 laps, as Rosberg began to put the hammer down. The chasing Raikkonen, Ricciardo and Vettel had no answer to the W07 Hybrid.
Ricciardo then undercut Raikkonen, as Ferrari were caught napping again on strategy. Perez then briefly held Verstappen up, but was quickly despatched.
Ferrari then got their own back on Red Bull, with a long stint for Vettel allowing for a late charge on SuperSofts, which eventually was enough to clinch the podium place, after a stunning move on Verstappen into T11.
Hamilton mutiny
As Vettel and Verstappen began to close in on the Mercedes duo, Mercedes repeatedly told Hamilton to pick up his pace, as they were worried that Vettel was a threat for the win. He was asked for a 1:45.1, but was pumping in 1:45.9s lap-times.
Rosberg was starting to get agitated behind Hamilton, telling his team: "This is a slow pace. He is very fast in Sector 1 so it is hard to pass." After another instruction, Hamilton's tactics became ever clearer, radioing back: "I suggest you guys let us race."
After Vettel's pass on Verstappen with four laps to go, Hamilton's pace slowed to a crawl, with Team Boss Paddy Lowe intervening by instructing Hamilton: "We need you to pick up this pace, that's an instruction." Hamilton then responded that he was comfortable out in the lead.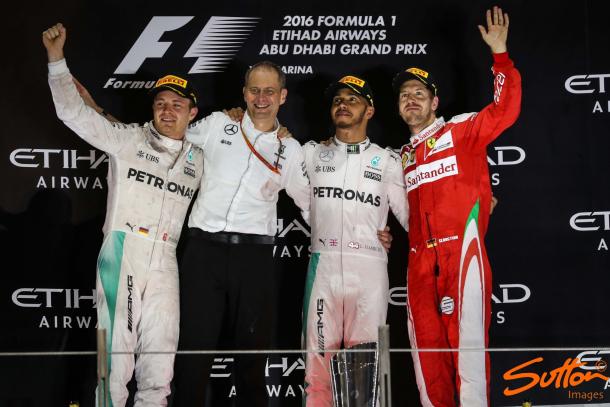 "Right now I'm losing the world championship so I'm not bothered if I win or lose this race," said an increasingly desperate Hamilton.
Heading into the 1,268th lap of the season, the final one, Hamilton's pace had dropped to nearly nine seconds slower than his Pole lap but his tactics had failed, as he came across the line to take a 10th win of the season, 53rd overall, but fell five points short in the title race.
Rosberg just about came across the line in P2, with Vettel and Verstappen taking it right down to the death.
Force India secure fourth
A long-time ambition of Force India owner Vijay Mallaya has been fourth in the Constructors'. This was confirmed with Bottas's retirement, but Hulkeneberg in his 78th and final race for the team and Perez secured 10 points to put the icing on the cake for the Silverstone squad.
Romain Grosjean's miserable end to the end was summed up, after he tried a move on Carlos Sainz's Toro Rosso, leading him to comment about being "fed-up" with the driving standards of the Spaniard.
Toro Rosso's terrible weekend was completed when Danill Kvyat's gearbox seized up, and Sainz was unable to continue after contact with Jolyon Palmer's Renault.
Late on, Manor team-mates Esteban Ocon and Pascal Wehrlein came together, in a wheel-banging side-by-side pass into T11. Earlier on, Ocon had hit Felipe Nasr's Sauber, breaking his front-wing in the process.
Esteban Gutierrez, Marcus Ericsson and Palmer were the last of the finishers, the Brit having a five second penalty for the Sainz incident.
Retirements
In his final race for Renault, Kevin Magnussen had contact on lap one, and was forced to pit for a new nose, before the call came from the team that he had to retire, a suspension issue the problem.
Bottas, Button, Kvyat, Sainz, were the other retirees in the 956th race in the World Championship.
Conclusions
In 1962, Graham Hill became World Champion. In 1996 Damon Hill became World Champion. For the last 20 years they were the only father-son combination to conquer the F1 summit. Until, 34 years after Keke Rosberg won.
Nico Rosberg is a deserving World Champion. There will be some who say he only won because of Hamilton's unreliability, but that could be said for many a season. Rosberg joined Mercedes in 2010, and has been through the bad times at the team. There is not a more deserving World Champion.
2016 Abu Dhabi Grand Prix - Classification

| | | | | |
| --- | --- | --- | --- | --- |
| Position | Driver | Team | Time/Gap | Points |
| 1. | Lewis Hamilton | Mercedes | 1:38:04.013 | 25 |
| 2. | Nico Rosberg | Mercedes | +0.439 | 18 |
| 3. | Sebastian Vettel | Ferrari | +0.843 | 15 |
| 4. | Max Verstappen | Red Bull | +1.685 | 12 |
| 5. | Daniel Ricciardo | Red Bull | +5.315 | 10 |
| 6. | Kimi Raikkonen | Ferrari | +18.816 | 8 |
| 7. | Nico Hulkenberg | Force India | +50.114 | 6 |
| 8. | Sergio Perez | Force India | +58.766 | 4 |
| 9. | Felipe Massa | Williams | +59.436 | 2 |
| 10. | Fernando Alonso | McLaren | +59.896 | 1 |
| 11. | Romain Grosjean | Haas | +1:16.777 | 0 |
| 12. | Esteban Gutierrez | Haas | +1:35.113 | 0 |
| 13. | Esteban Ocon | Manor | + 1 lap | 0 |
| 14. | Pascal Wehrlein | Manor | + 1 lap | 0 |
| 15. | Marcus Ericsson | Sauber | + 1 lap | 0Su |
| 16. | Felipe Nasr | Sauber | + 1 lap | 0 |
| 17. | Jolyon Palmer | Renault | + 1 lap | 0 |
| NC | Carlos Sainz Jr | Toro Rosso | Gearbox | 0 |
| NC | Danill Kvyat | Toro Rosso | Gearbox | 0 |
| NC | Jenson Button | McLaren | Suspension | 0 |
| NC | Valtteri Bottas | Williams | Mechanical | 0 |
| NC | Kevin Magnussen | Renault | Suspension | 0 |