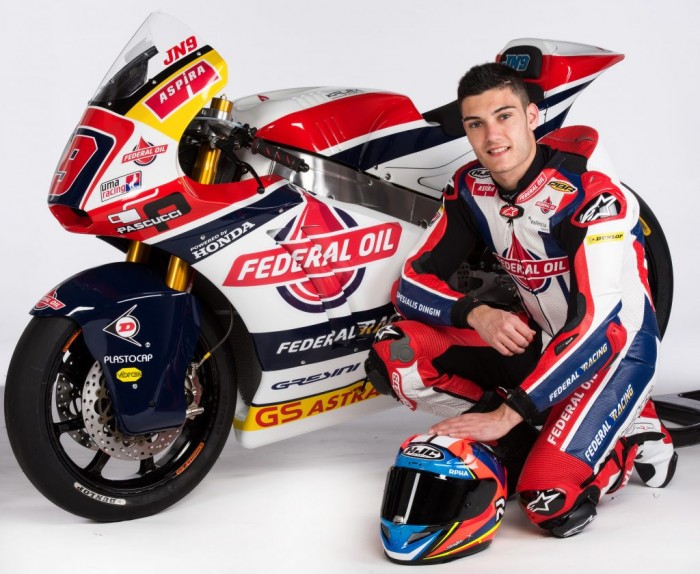 What a way to celebrate turning 21, by unveiling your new bike, livery and team for the 2017 Moto2 season. Former Moto3 rider Jorge Navarro was recently unveiled in Italy as the replacement rider for Sam Lowes for the Federal Oil Gresini Moto2 team in Faenza, Italy.
Navarro to replace Lowes in the Moto2 class
As part of his contract with the Gresini Racing Team, British rider Sam Lowes progressed up the classes to the MotoGP where he will make his debut aboard the Aprilia that is still in its developing stages in the elite class. Replacing him in the Moto2 class is Navarro, the Spanish rider who has been promoted from the Moto3 class where he was a title contender. Navarro will continue with a very competitive team in the 600cc class; an important step in his career.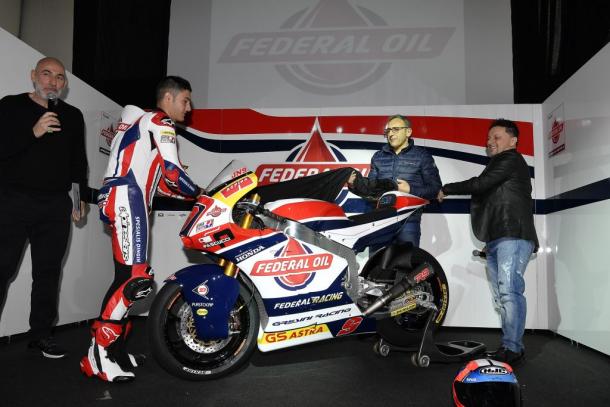 At the Gresini Headquarters he was unveiled in his new colours; the Kalex machinery will continue in the red, white and blue branding of the Federal Oil Company. Navarro will again be the only rider for the team in the 600cc class; as Lowes was previously. The Federal Oil Gresini Moto3 team "launched an ambitious project" in 2016 where they work to invest in young and talented riders. The partnership between Gresini and Federal Oil (Indonesian lubricant company) is in its sixth year.
The 2017 Moto3 team also revealed at Gresini Head Quarters
As well as officially unveiling birthday boy Navarro as their Moto2 rider, the new look Del Conca Gresini Moto3 line up was revealed. Italian rider Fabio Di Giannanntonio continues with the team after making his debut in the world championship in 2016 with them and just missing out on claiming the title as "Rookie of the Year". He will be joined by Spanish rider Jorge Martin who has moved over from the Pull & Bear Aspar Mahindra Moto3 team.
Navarro has come a long way since his rookie year
After finishing on the podium four times in his Moto3 debut year in 2015, Navarro picked up the title as the Moto 2 'Rookie of the Year'. He finished a difficult second year, plagued by injuries last season, in third in the championship after claiming the top step of the podium twice in Barcelona and Aragon. He is soon due to test for the first time this year on 8th and 19th February at the Ricardo Tormo Circuit in Valencia, Spain where they finished the 2016 season up.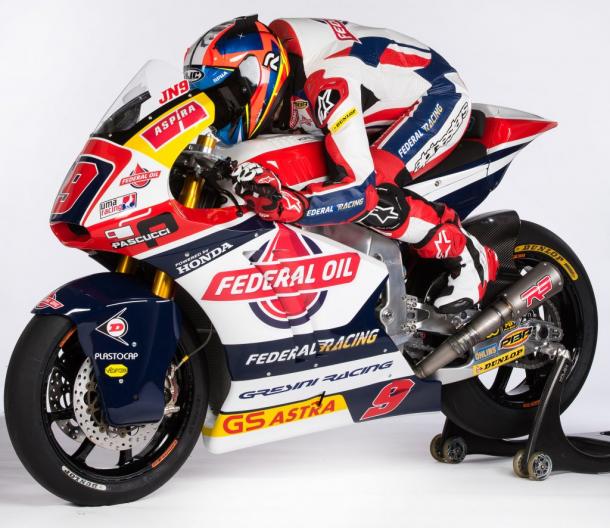 Gresini discusses Navarro's potential
Fausto Gresini, Team Manager was alongside Navarro as he unveiled the bike in Italy. He spoke of how the program alongside Federal Oil "continues to be a very ambitious project". Introducing their new signing, Navarro, he feels they are about to debut "one of the most talented riders expressed by Moto3"; who he described as an "undoubted talent" and also who he thought in 2016 was "one of the great protagonists of the smaller displacement". He felt that the injuries he sustained throughout the season did not "allow him to fully express his potential".
He feels that "Jorge has a great desire to do well" and that in November 2016, although he was still not fully physically fit, the Spaniard was keen to try the Kalex so that he could "start getting to grips with a totally new category for him". Gresini spoke of how Navarro has since undergone surgery, and since began training so he can "recover his physical fitness", an aspect that the Team manager feels is a "necessary set-up that will allow him to face in the best possible way, the upcoming test in preparation for the first race in Qatar".
Gresini spoke of his awareness that Navarro is a rookie, and that they "therefore cannot expect to be among the teams that can aspire to fight for the world title". Knowing this though, Gresini remained optimistic that Navarro will "grow up quickly", and that they will be able to "start in a short time to fight for important results".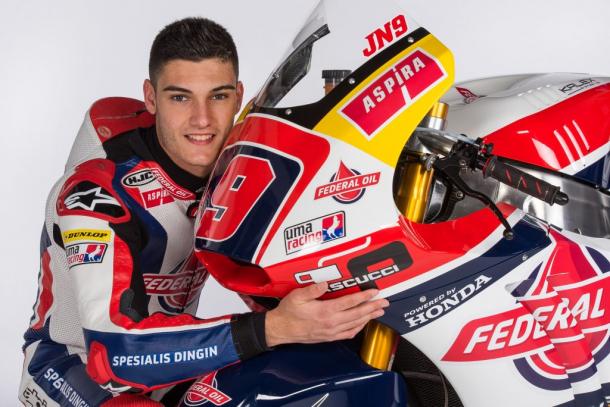 Special day for the Spaniard turning 21 on the day of his presentation
Navarro spoke of how although the "official presentation of a new season is always a very special moment", he felt that this year it was "even more exciting" as he felt it "marks the beginning of an exciting adventure insure a solid and ambitious project".
He discussed his "opportunity to ride the Kalex Moto2" during the first winter test in November, which he said was "halted by [his] physical problems". The Spaniard went on to explain how over the winter he had "time to recover" and as a result now feels "stronger and stronger every day and full of energy". He is happy to have "a few more days rest before getting back on track", and so feels that he will be "fully fit ahead of the first test of the year".
His plan for the 2017 Moto3 season, his debut in the class, is to "together with the team" working to try and "progress step by step in order to learn and to adapt in the best possible way in this category". Feeling positive he said, "I know I can do well", as he feels that he has "everything [he] needs" when he reflected on "a great team and a great bike".
New sponsor for the Moto3 team
Taking on the Honda NSF250RW machinery in the Moto3 class, is Di Giannantonio and Martin. They were joined on stage by Davide Mularoni (CEO of Ceramica Del Conca SPA) who was happy to share the dreams of his father in collaborating with the Gresini Moto3 team. Also present from Del Conca, was Chairman of Ceramica Faetona SPA, Paolo Mularoni.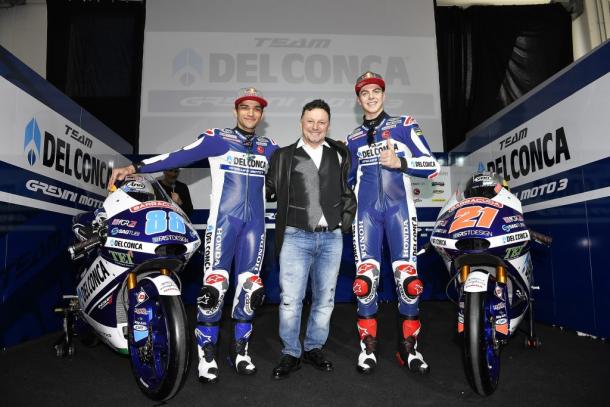 Gresini discusses his 2017 Moto3 venture
Gresini expressed his gratitude to Del Conca, thanking them for the fact they have "embraced this ambitious project with a lot of enthusiasm". He feels that they can "definitely claim to be a top team in the category", and he thinks that this factor means they "have the credentials to fight for the world title"; something they have tried to do for the last two seasons.
With Di Giannantonio, he acknowledged that the Italian "already achieved great results in 2016" and so taking that into consideration he spoke of how they "expect a lot from him" as after completing his rookie year he "can now count on more experience".
When referring to new signing Martin, Gresini feels the Spaniard "accumulated a good experience in the past years" and mentioned how he "likes him a lot as a rider". He described him as "talented" and he thinks that he will bring them "great satisfaction". He explained how the "choice of Jorge" as replacement for Enea Bastianini fell "in order to have a team with two potentially winning riders". This, he revealed, was the goal of his and the Team Del Conca Gresini Moto3 team. Gresini said, "We don't feel pressure, we feel ready and prepared to face this challenge."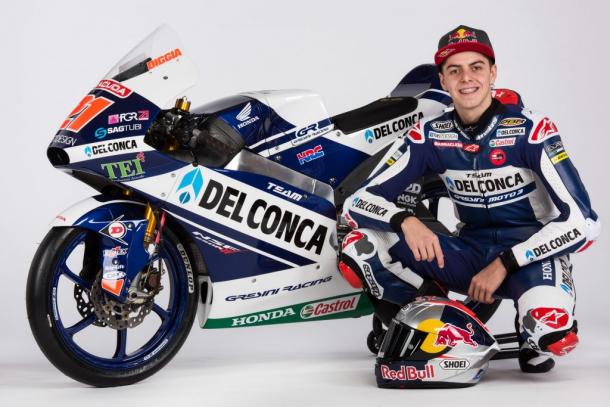 Di Giannantonio optimistic about his second year with the team
'Diggia' reflected on his first season in the World Championship with the Gresini Moto3 team and how he "enjoyed it a lot" as he felt is meant he was "growing and collecting a lot of experience". He now feels "ready to restart together for the 2017 season" and that "undoubtedly" their target is to "do very well". His plan for the season is to "make every race a good race" and to "try to fight for something important".
Talking about the presentation he said, "Today we took the covers off my new bike" and as he awaits the Valencia test set to take place on the 8th and 9th February at the Ricardo Tormo Circuit in Valencia, Spain, he shared his thoughts that "it's really beautiful". He explained how he "particularly likes the new livery" which he described as "aggressive and elegant, with many white areas". He believes they "can do great things together".
Discussing the November test he felt that it was an opportunity to "try some changes to the bike" that they liked. Their plan for the next test in Valencia are to "continue to work to try to get prepared in the possible way" for the opening round. He said they are "ready and excited for this new challenge".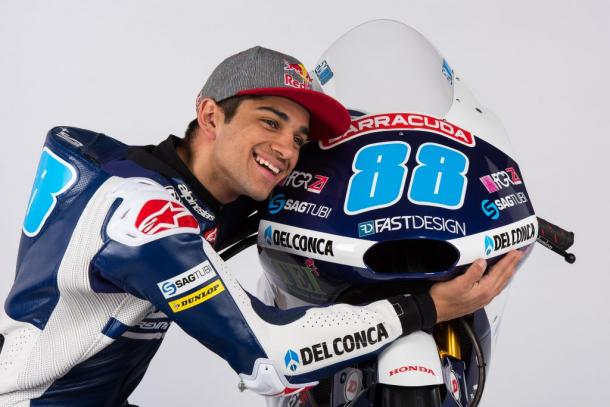 New signing Martin reflects on a great start with his new team
Martin felt that the presentation "kicks of a great season" for all of the team. He spoke of how he "trained hard over the winter" and now feels "full of energy to get back in action". He revealed he was "very pleased to be joining this team" as he feels they can "do a great job together and achieve great results".
He was patiently waiting to "get back on track" at the upcoming test where they can "return to work". He confirmed he was feeling "confident" as in November when he first came to grips with the Honda he "felt very comfortable" and he was able to be "fast right away". He explained that the "bike is different" from the one he rode so far in his career in the World Championship, still, he "love it from the first moment". Martin feels that they "can still grow" and he is convinced that they can "fight for the top positions" even though he knows "it won't be easy", still, he feels they "have the potential to do it".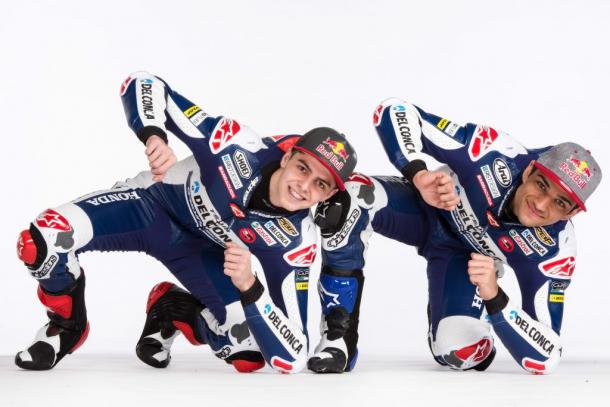 Testing for the Moto3 and Moto2 classes is due to take place at the Ricardo Tormo circuit in Valencia, Spain. For the 250cc class, it will take place between February 8th and 9th. For the 600cc class, it will take place on the 8th and 19th February.